12 Beautiful & Practical Kitchen Basics To Get You Cooking More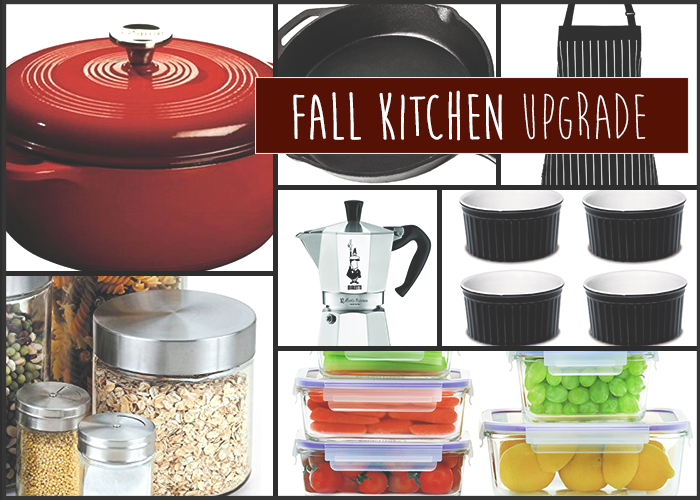 The fall season is more than upon us, which means a few things around our household, but none more exciting than the beginning of True Cooking Season. I generally cook about 4-5 nights a week, but I'd be lying if I said it was as exciting in summer as in the colder months. Frankly, my favorite food adjectives tend to be things like "braised," "stewed," and "oven-roasted," and even if I didn't love all things cozy, it's still Hot as Hell in the summer here, and no one has time to run two burners and an oven when all you have to cool you are a dinky window AC unit or two. Summer cooking for us means a lot of salads and sandwiches and light pasta, which can be delicious, but which just isn't quite as fun as making a huge batch of delicious, rich stew or pan of roast, glazed veggies.
Fall is always the time when I get even more into cooking and expanding my repertoire of go-to recipes, and this year has been no exception. I recently did a bit of a kitchen upgrade myself with the spending money from my tax refunds, getting things like more storage, a few new tools, and more efficient items to maximize my relatively-small kitchen space. It's been great so far, and I find myself even more motivated to a) cook nearly every night and b) take meticulous care of my space. I simply love being in my kitchen, now more than ever! And living in a city with near-limitless restaurant and delivery options, that's huge for my monthly budget.
As I mentioned a few days ago on Twitter, TFD is starting a once-weekly roundup of products all available on Amazon Prime, covering tons of themes from "budget party planning," to "organization," to simply "awesome products currently on clearance." Full disclosure: we are working with Amazon Affiliates now as a new channel for us to monetize in a passive, fun way. (Basically, if you buy one of these items or another item on Amazon via clicking with us, we get a little percentage of the sale.) While we by no means expect anyone to buy anything, we wanted a way to share the practical, well-reviewed and good-value items we ourselves love or want as a team, while killing two birds with one stone.
And while spending frivolously is never something we'd endorse, there are plenty of things you might need or have been planning to get anyway — why not get them through TFD and help support a site you (hopefully?) love!
When I asked the kind of roundups you guys wanted to see, we got a ton of diverse responses (and we'll get to all of them, and always want feedback on the roundups you guys want to see!), and one of the most popular responses was "kitchen basics," and since I recently did a bit of an upgrade myself (and often get questions about the products I have on my Instagram!), I thought I'd kick off the new series with these products.
So, without further ado, here are 11 kitchen basics to get you cooking more this fall! (All available on Amazon Prime.)
1. A BIG, STURDY DUTCH OVEN.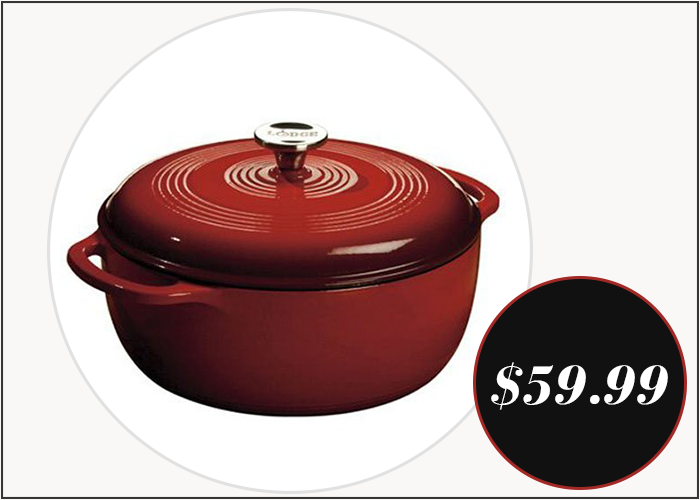 Not long ago, I got my first-ever dutch oven, and as someone who LOVES making all things braised and stewed, I couldn't be happier that I did. My plan was to get a less-nice (but still v much quality) one to learn how to use it, before eventually treating myself to the investment item I've so long coveted: the lifetime-warranty, cerise Le Creuset dutch oven of my dreams. I'm glad I got a less-precious one first, because it taught me a few things: proper care and cleaning (I've already accidentally messed up the enamel on mine a bit), how much I'll use it (constantly), and how big I actually need one in practice. (I wouldn't go any smaller than 6 quart, and am probably going bigger when I get my investment one, because I love making things in big batches to freeze.) Regardless of the color/size that's right for you, though, I couldn't recommend an item more as a fall/winter cooking staple, and this Lodge pot is a great place to start. | Lodge Color EC6D43 Enameled Cast Iron Dutch Oven, Island Spice Red, 6-Quart
2. RAMEKINS IN YOUR FAVORITE COLOR.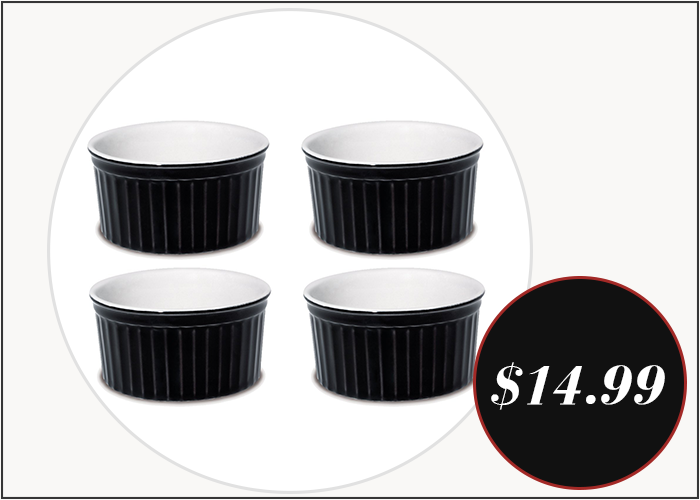 Ramekins are the shit. You can bake in them (I love using them to portion cute little side dishes like baked mac n cheese or gratin), use them to serve hors d'oeuvres, put dipping sauces in them, or even to put out salt and pepper with tiny spoons like some classy restaurant. They have endless uses in the kitchen, they're practically indestructible, and you can get them in whatever color you love! | Oxford Porcelain Ramekin- Black- Set of 4
3. OVEN-SAFE GLASS FOOD STORAGE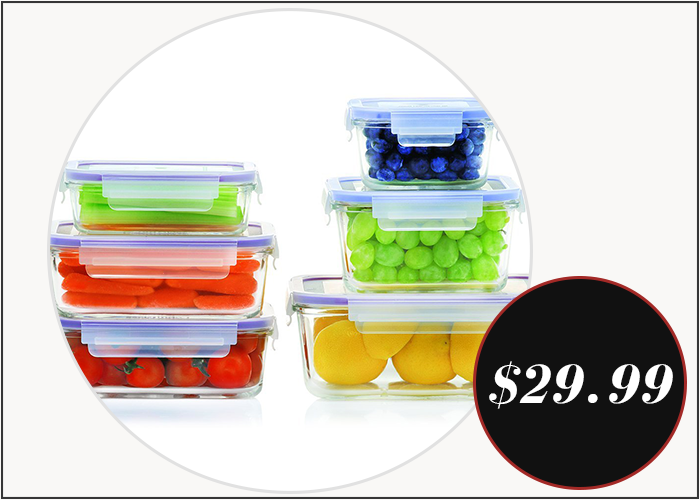 Once I learned that you can get glass tupperware that a) lets you see your food in your fridge so you don't let things go bad constantly, b) goes in the oven so you don't have to have a ton of superfluous Pyrex bakeware, and c) is way easier to stack, store, and clean than crappy plastic stuff, I switched and never looked back. Get thee some oven-safe glass storage, and start killing several birds with one stone. | Popit! Glass 6+6 set (12 piece airtight borosilicate glass set, Oven and Microwave safe – remove lids)
4. A COFFEE-LOVER'S STOVETOP ESPRESSO MAKER.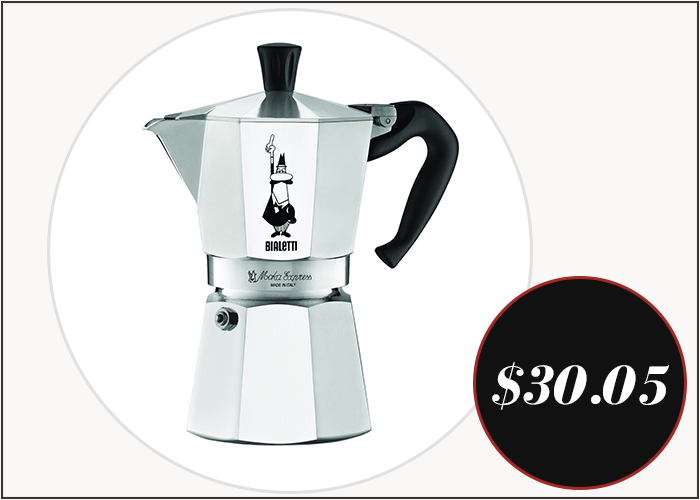 If you love espresso-based drinks, but are not about to shill out god-knows-how-much money on a countertop espresso machine, get a moka pot. Affordable, nearly-indestructible (I only just had to replace mine after three years of heavy use), and makes delicious espresso. They come in different sizes for different servings, but the six-cup one is perfect for two to four, depending on how much you dilute your espresso. | Bialetti 6-Cup Stovetop Espresso Maker
5. CUTE-AND-PRACTICAL GLASS STORAGE.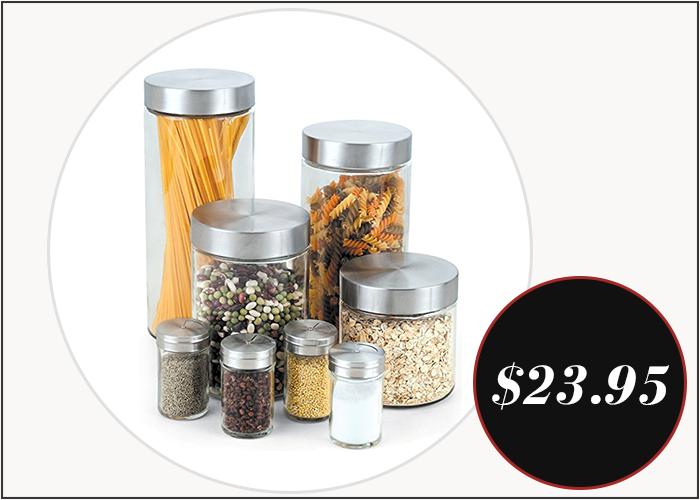 I absolutely love my big glass jars that I use to store things like coffee, pasta, flour, popcorn kernels, rice, etc. They look great on counters and shelves, and are actually quite practical for any home cook. They show you when you are low on things (for grocery runs), remind you of things you need to use more of, and generally look super pretty. (I should say that I prefer the lidded ones to the latch-top ones, because they're much easier to clean and stack to your preference.) | Cook N Home Glass Canister and Spice Jar Set, 8-Piece
6. BASIC CAST IRON SKILLET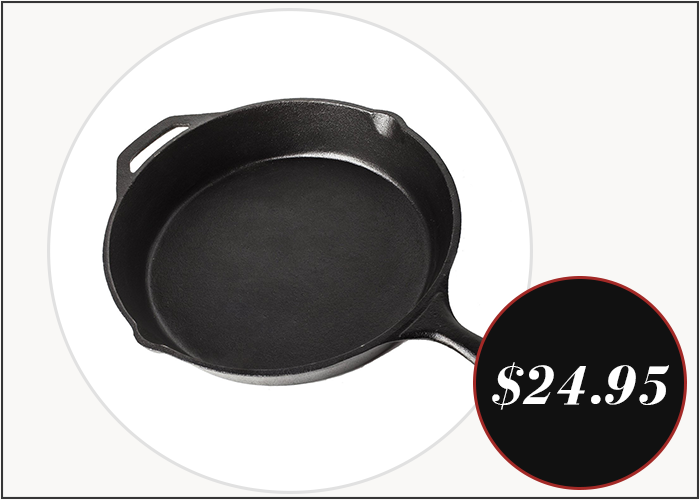 I have actually not yet gotten my cast-iron skillet, because it didn't make my last kitchen upgrade budget (I needed things like shelving way more), but it's definitely next on my list. Even if just for the endless cooking possibilities of being able to seamlessly go stovetop-to-oven, they are always worth the money, especially considering that you can get solid, quality skillets for not very much. They are definitely an item you have to learn to properly clean and care for, but if you're a frequent home cook, that seems like a skill worth learning.
| Pre Seasoned Cast Iron Skillet (12.5 inch) by Utopia Kitchen
7. A SPACE-SAVING (AND CHIC!) POT RACK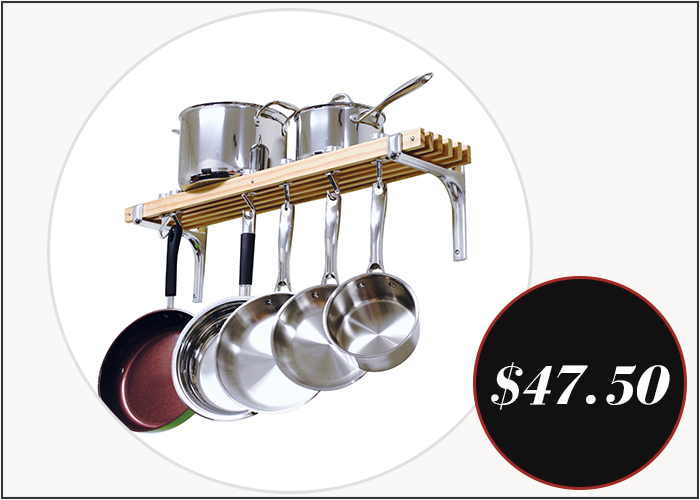 Everyone always asks on my Instagram where I got my pot rack. And now you all know the answer — Amazon. It's affordable, easy to mount, goes with pretty much any decor, is perfect for small spaces, and is sturdy as hell. It's been with me through two apartments, and holds up a somewhat-excessive amount of steel pots and pans like a true champ. I couldn't vouch for this pot rack any more, honestly. | Cooks Standard Wall Mount Pot Rack, 36 by 8-Inch
8. A LARGE, PRETTY PITCHER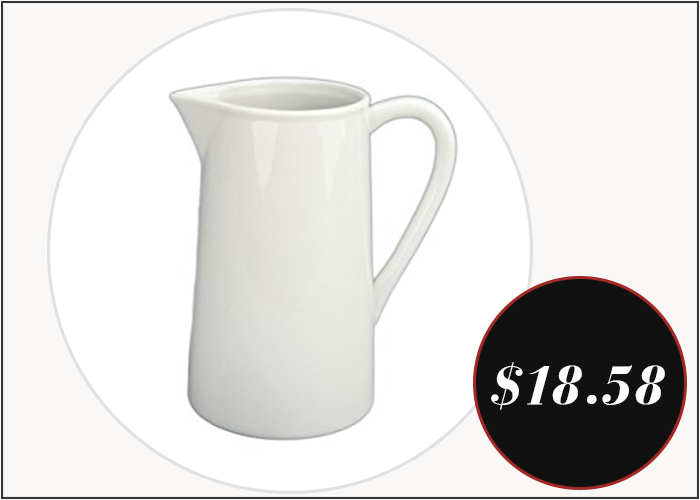 Pitchers are sweet as shit, because you can use them for batch cocktails, tea, lemonade, or cold brew, and when you're not using them, they look adorable as kitchen decor, especially with a few flowers in them. I use my pitcher, one way or another, pretty much every day. | BIA 900911 Straight Sided Pitcher, 2.5-Quart
9. A SLEEK AND EFFICIENT TRASH CAN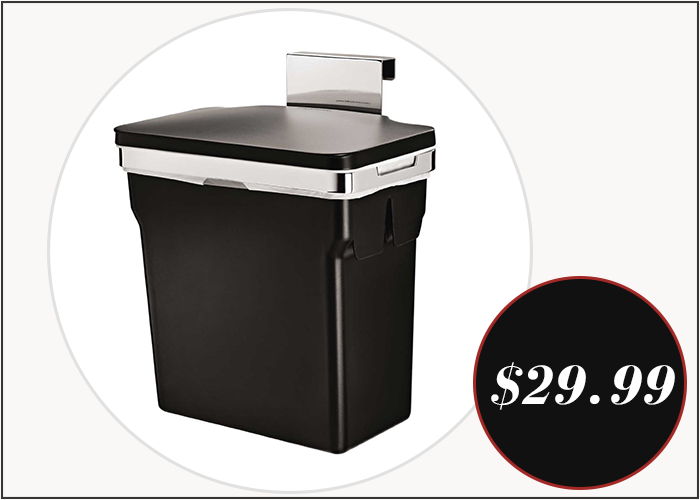 My NYC, small-apartment-based life pretty much changed forever when I discovered this trash can, which hooks onto the door of your cabinet (no assembly required) and immediately saves you an enormous amount of space. It's big enough that you don't have to change it all the time (grocery bags are actually great as trash bags for this, so you can basically get limitless free trash bags), and it keeps the potentially-smelly, rather unsightly trash corner out of your kitchen's floor plan. Because of this convenient trash can, I was able to set up my whole new corner with shelving, plants, and other actually-useful-and-pretty stuff, rather than just a dumb, bulky pedal can. | simplehuman In-Cabinet Trash Can, Heavy-Duty Steel Frame, 10-L / 2.6-Gal
10. NO-FUSS, FREEZABLE MEAL PREP TRAYS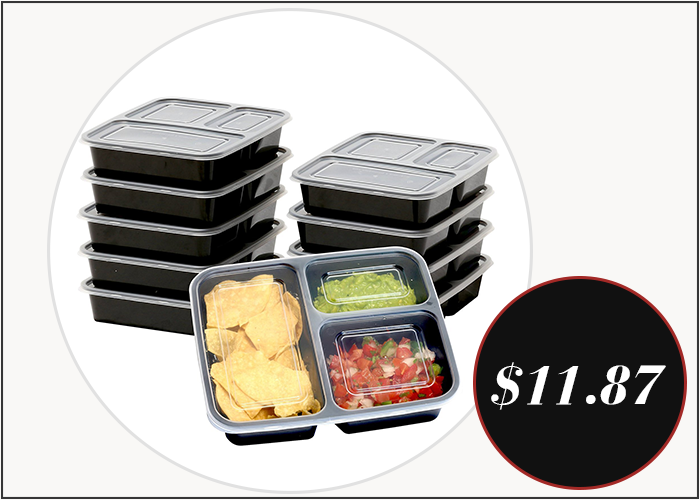 If you freeze your food at all, get these meal trays, especially if you live alone. I am alone three nights a week while Marc travels for work, and having single-portioned meals ready to go in my freezer is one of the only things that's likely to keep me from a Seamless-and-Bravo-shows night multiple times a week. | 10 Pack – SimpleHouseware 3 Compartment Reusable Meal Prep Food Storage Container Lunch Boxes, Stackable and Dishwasher, Microwave, Freezer Safe (36 ounces)
11. A CHIC LIL' APRON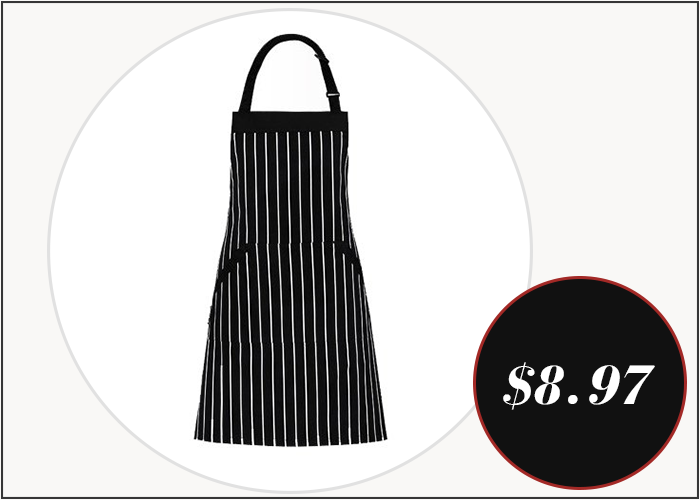 Aprons look adorable hung up on a hook in your kitchen, are great for entertaining (don't want to get grease on that cocktail dress!), and make you want to cook more even when you're home alone. Enough said. | Adjustable Bib Apron with Pockets – Extra Long Ties, Commercial Grade, Unisex – Black/White Pinstripe (33 x 27 Inches) – Homwe®
12. A HANDY-DANDY STICK BLENDER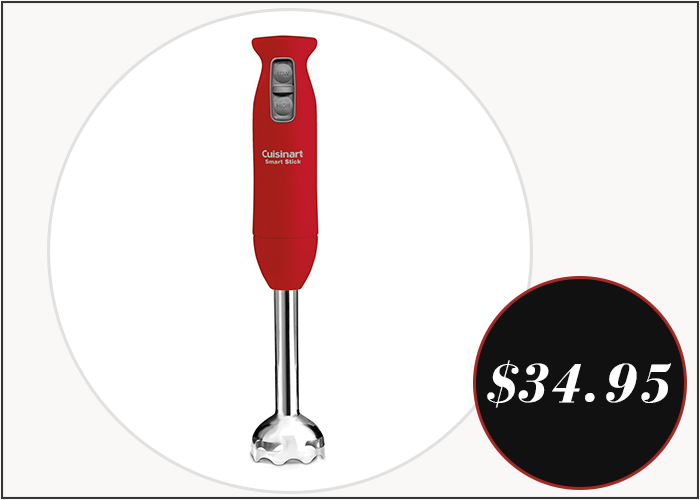 Do you make soup? Then you should have one of these, period. Blending up your soup in the pot, as you cook it, is one of the most convenient winter cooking experiences, and it opens up your world to a whole new dimension of purees and bisques and chowders. But more importantly, there is basically nothing a regular blender can do that a stick blender can't. (You can make pestos, sauces, hummus, smoothies, etc), all with this blender, and it doesn't have to take up counter space, or cost a fortune. Get thee a boat motor (as I always called them growing up), and start upping your blended game, if you haven't already. | Cuisinart CSB-75R Smart Stick 2-Speed Immersion Hand Blender, Red