7 Effortless, No-Stovetop Meals Perfect For Summer Weeknights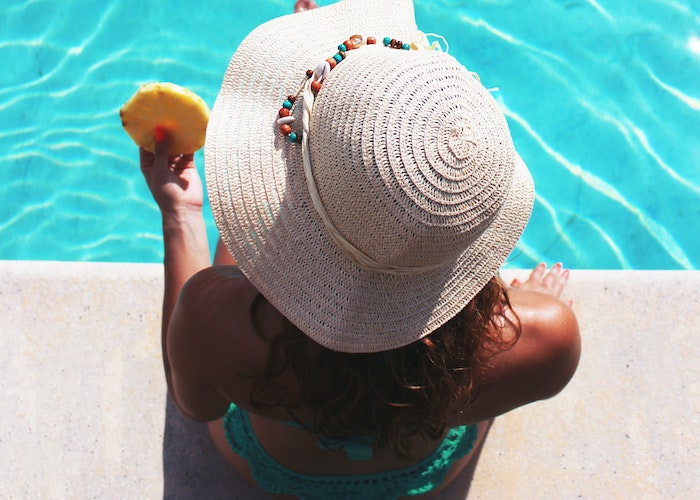 This year, I had to get creative with my cooking options when my kitchen was barely useable (with the exception of a few appliances). I have long relied on a stovetop for warm meals and my time without a stove made me embrace colder food items, as well as seek innovative ways to make a meal. Given the warm summertime weather, I figured these recipes may come in handy for those who want chilled meals or simply want to reduce the amount of time they spend in front of a warm stovetop.
1. Savory Sandwiches
Naturally, the easiest go-to without a stovetop are sandwiches. I used grilled chicken pieces (which you can easily purchase pre-made at any grocery store or deli), with halloumi cheese and topped it off with arugula and muhammara for a tasty, Mediterranean-inspired sandwich. Or, you can use Trader Joe's Romesco sauce with provolone cheese, pre-grilled chicken strips and mushrooms for a sandwich with a punch. I love these both warm or chilled with a simple salad on the side in the summer months, typically with leftover greens or even fresh seasonal fruit.
2. Broccoli Spoon Salad
The ras el hanout on this one really pops and this Broccoli Spoon Salad requires little-to-no heat, making it ideal for warm summer days. You might not have all the ingredients for this one in your pantry, but it's easily altered and tweaked, and a good meal to turn to when you want to put some effort into a summer meal with multiple textures and flavors.
3. Chilled Soup
I love soup year-round, including chilled versions in the summer. There are plenty of pre-made gazpachos from Trader Joe's or the store to pull together into an easy meal, but you can also put together a soup of your own, like this Chilled Cucumber Soup with Yogurt and Dill. A soup goes great with a simple salad or even a sandwich from above.
4. Korean Meatballs With Fried Rice
Kimchi fresh from the fridge makes for excellent fried ricem  add that to Korean meatballs that you can make in a toaster oven or air fryer, and you've got yourself a filling meal. Personally, I prefer to eat this warm, but it tastes just as good chilled. I also may  use the oven to quickly make these Korean meatballs, which are so delicious and come together quickly with just a handful of ingredients that you likely have in your pantry.
5. Spicy Kung Pao Sauce
I love making this sauce ahead of time and chilling it to add to roasted veggies fresh from the oven, or even cold vegetables for a quick nighttime salad. It takes just five minutes to put this sauce together and it's such a versatile staple in my fridge since I can always modify the recipe to add or reduce heat and then have found a myriad of ways to put this sauce to good use. From just adding it to vegetables and rice to making it a salad dressing on top of a compiling of mostly Asian vegetables to incorporating it on a to-go wrap, this sauce is the perfect staple to master this summer.
6. Filling Smoothies
I used to think smoothies were overrated. I scoffed at this latest fitness trend, rolling my eyes at everyone splurging on protein powder, kale, organic fruits, and chia seeds. But, with nothing but time on my hands during the global pandemic, I began to dig into the smoothie craze.
And, it turns out, there are a lot of nutritional benefits to consuming smoothies, that is, so long as you limit the amount of added sugar in your drink. Plus smoothies can be either savory or sweet but either way, they are filling. If you're vegetarian, in particular, a smoothie can help you hit fiber, protein, and vitamin goals quicker, and even if you're not vegetarian, chances are that you aren't eating as many fruits and vegetables as you should be. Check my DIY $3 smoothie recipe here.
7. Easy Pasta Salad
Some people look at pasta salad as a side dish but it's actually quite delicious and refreshing and stands alone as an entree. While there is no one way to make the perfect pasta salad, this easy recipe seems to be a fan favorite. It includes pitted black olives, cherry tomatoes, onions and a light Italian dressing to top it off. Not only is it perfect for the summer, pasta salads actually store well in the fridge, and taste even better the next day!
***
These seven dishes are simple and have become my go-to's that require very minimal cooking expertise—which is why I love them. Especially if you're just starting out in the kitchen, it can be easier to have the time and energy over the summer to experiment with recipes versus dive head-first into stovetop meals that can require more focus. Add these to your repertoire of cooler summer foods and see how they fare!
Keertana Anandraj is a recent college grad living in San Francisco. When she isn't conducting international macroeconomic research at her day job, you can find her in the spin room or planning her next adventure.
Image via Unsplash