11 Non-Wedding Life Events That Deserve Wedding-Sized Celebrations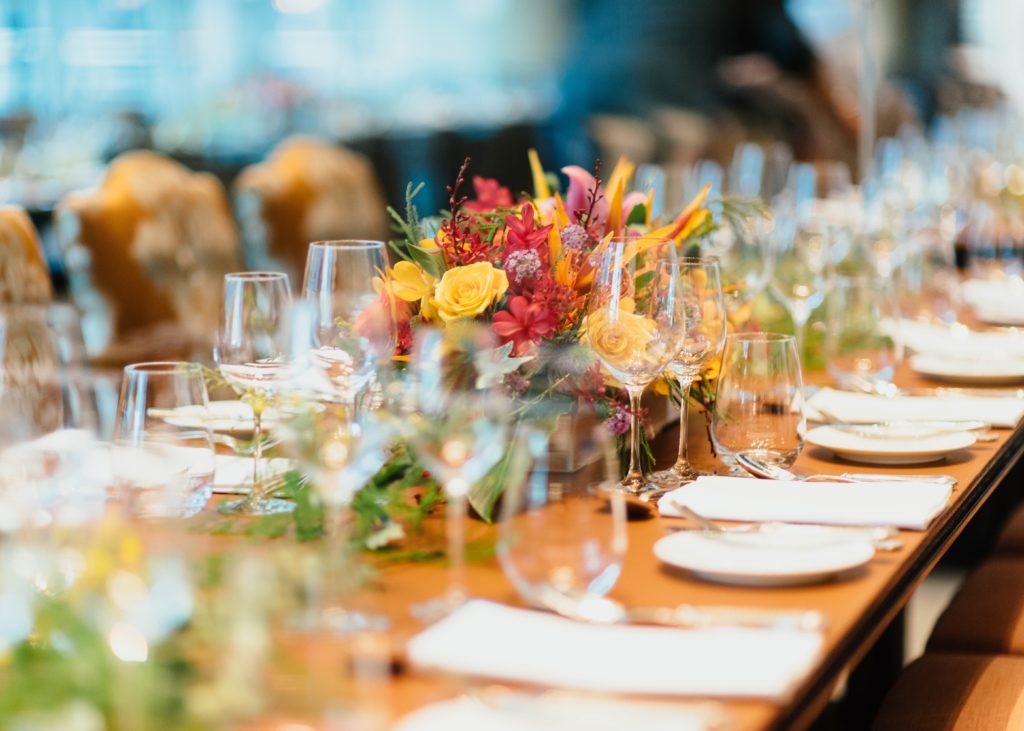 As a person in the midst of planning a wedding, I have come to a few conclusions:
A) It's really easy to scoff at how much "regular" Americans are willing to shell out for a wedding, considering the average cost is nearly $34,000. But even though I'm lucky enough to not be covering the majority of my wedding costs, I have a much better understanding of what actually goes into those huge-seeming costs. I've learned that so much of what you're paying for is literally just your own time. Yes, you could choose a bare-bones venue and do everything from renting tables and chairs to cooking to buying wine and beer to creating decorations yourself (and if you want to, you should). But if you don't want to spend the equivalent of a part-time job planning your wedding for several months, and you want a rather-big-and-traditional wedding, spending more is just a lot easier.
B) Nevertheless, it's not fair that those costs and our expectations for weddings are hugely inflated from what they once were. No one should ever feel pressured to spend that much, or any amount, on a wedding, especially if they know they can't afford it.
C) It's unfair that weddings get all of the attention, that they are the only life even that seems to warrant a lavish celebration.
I love weddings, and I love my fiance, and I'm beyond excited for our wedding day. I've had a somewhat stressful but mostly wonderful time picking out my dress and invitations and flowers. But it's also gotten me to think about all the life milestones that don't get as much attention — something which we recently posted about on Instagram and that I wanted to spend more time on here. Of course, no one should go into debt over a wedding or any other type of party. Throwing a "wedding-sized" party could mean anything from renting a space for 100 people to hosting an intimate backyard barbecue to taking a weekend solo trip to mark the occasion. But we shouldn't save up all of our thoughtful-party-planning energy for a day celebrating romantic love, especially for the sake of those who love big celebrations but don't ever wish to get married.
I couldn't include everything, of course, and I left off the more obvious (in my opinion) events like college graduations or retirement — though those 100% deserve celebrations as well. Here are just a few life milestones that I think deserve as much attention as we give weddings:
1. A birthday — literally any one you want. My mom's friend threw herself a lavish 50th birthday party just because she could, and it was wonderful. She'd never gotten married, but this felt just as ceremonial as a wedding, complete with a seating chart and beautiful flowers and a speech she gave and cake. It was so clear in her speech how much she genuinely loved her life and all the people in it, and it was honestly just as moving as any wedding I'd ever been to.
2. Getting a major promotion at work. Hopefully, this would also be complete with a salary increase that actually reflects your worth. But any kind of professional recognition is a cause for celebration.
3. Your anniversary of moving. To your beloved city, or back to your hometown, or whatever place feels most like "home." I moved to New York with my two best friends on June 1, 2014, making this year our five-year anniversary. Even though we don't live together anymore, we're still super close, and we all still live in the city. It may not be "wedding-sized," but we'll definitely find some way to mark the occasion.
4. A divorce. Because yes, sometimes a divorce can be a happy, or at least ultimately positive, decision. My own default is to always feel sad when a couple announces they're getting divorced, even if they are two celebrities I will never meet. But I think it's important to remember that it's impossible to know what a relationship is like from the outside, and making the choice to leave is often a really brave one. I'm trying to re-train my own brain not to default to thinking about the choice negatively, but to instead see it as the opportunity for a fresh start that it can often be.
5. Landing your "dream job" (or the anniversary of it). It doesn't have to be a super-impressive-on-paper job, at a highly recognized company, in a creative field, or any other socially-acceptable marker of what a "dream job" is supposed to be. If you manage to land a job at the type of company you've wanted to work at for years — one that reflects your values and compensates you appropriately — and you're proud of what you do and even enjoy it for the most part, that's something worth celebrating.
6. Starting a business. Or the anniversary of starting your own business, or successfully selling a business. Business owners have a whole different set of worries and career markers. Even just keeping a company afloat and keeping people employed is a huge accomplishment.
7. A major friendship anniversary. It's so overwhelmingly true that relationships take work, but that goes for every kind of relationship — not just romantic ones. In some ways, I feel like it takes even more work to maintain long-term friendships than a long-term partnership, and they can be just as life-changing.
8. Paying off student loans. Or consumer debt, or your mortgage. Of course, no one should celebrate getting out of debt by putting themselves in more debt. None of these celebrations are worth years of interest payments, but this one especially. That being said, getting out of debt is something that often takes years of patience, diligence, and follow-through — it's an amazing feat, no matter how long it takes. I think this is the literal perfect occasion to throw a lovingly-planned party.
9. Graduating from a "non-traditional" educational path. Maybe you apprenticed in a bakery, put yourself through an intensive coding program, or put yourself through an online master's degree that took up all of your free time for the past few years. No matter what they lead to professionally, these kinds of milestones deserve to be celebrated.
10. The anniversary of choosing not to do something. Especially when you have the hindsight to know that it ended up being the right choice for you. Mine would be not giving up on trying to build a career in media in New York and going to grad school about three and a half years ago. I may not have a master's degree to show for myself, but I wouldn't have gotten to this place in my life career-wise if I'd moved to a different state to pursue something else. (Plus, I wouldn't have the life I have with my partner.)
11. Completing a major personal project. Listen, I haven't read the blog or book Julie & Julia is based on. But if I had personally polished off every recipe in that truly giant cookbook in just a year, you bet it would have warranted a huge celebration. I think it's easy to think of professional accomplishments that are worth celebrating, but let's not forget about life achievements that are purely personal. Whether that's hitting a milestone with the blog you run for fun, running a marathon, learning to speak Spanish, or taking ballet lessons for the first time in adulthood — even if no personal accomplishment ever pays you, it deserves some recognition.
*****
If you have other ideas of life milestones that deserve wedding-sized celebrations, let me know in the comments!
Holly is the TFD's Head of Content. Follow her on Twitter here, or send her your ideas at holly@thefinancialdiet.com!
Image via Unsplash
Like this story? Follow The Financial Diet on Facebook, Instagram, and Twitter for daily tips and inspiration, and sign up for our email newsletter here.