Work/Life Balance
12 Simple Ways To Declutter Your Life & Start Your Summer Off Right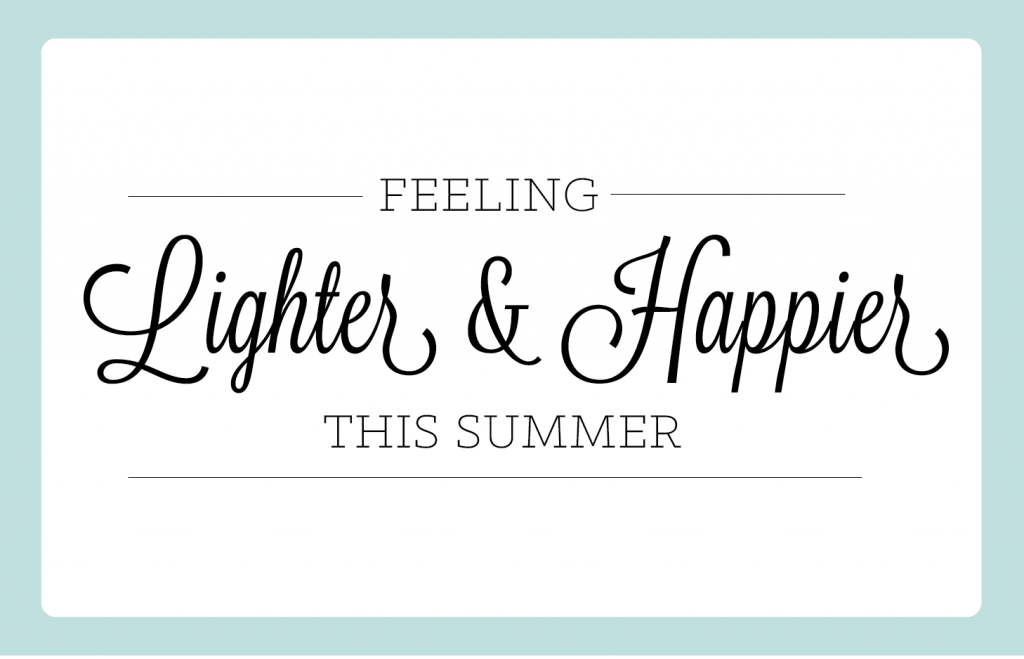 I was never one for self-improvement per se, as I always viewed it as a strain on my resources and it distracted me from focusing on work and tangible goal-oriented endeavors. ~Self-improvement~ for the sake of it felt like some vague concept that one ventures out on over the course of one's life. A long-term goal that the individual works on over the years to eventually arrive upon the best version of themselves — one they have shaped over a lifetime. For me, I always felt more interested in fixing things needed in the immediate, and I preferred to see results straight away rather than over time.
However, as I've gotten older, I've felt the ever-increasing gnaw inside of myself pushing me to be better in avenues outside of work. Part of my newfound zeal for self-improvement is focusing on living happier and lighter. I have begun looking at my life with the desire to purge the things that are no longer meaningful, to get rid of clothes and memorabilia I no longer care about, and give my space a deep thorough clean. I want to remove the material barriers that prevent me from focusing and concentrating on what is truly important, while embracing healthy changes.
There is no better time than the spring and summer to take a look around one's life and assess where the clutter exists. I always feel better when my surroundings are tidy, and I can clearly see the items I love most. The warm weather seasons present us with an opportune time to shake ourselves free from the mentality of the cold, unproductive winter, where we feel too slow to do anything other than lay around and eat soup. Something as simple as a haircut or a slight change in diet can make you feel stimulated to continue improving upon yourself, and provide groundswell for implementing larger changes. Below are 12 ways you can live lighter this summer and maximize the sense of balance in your everyday.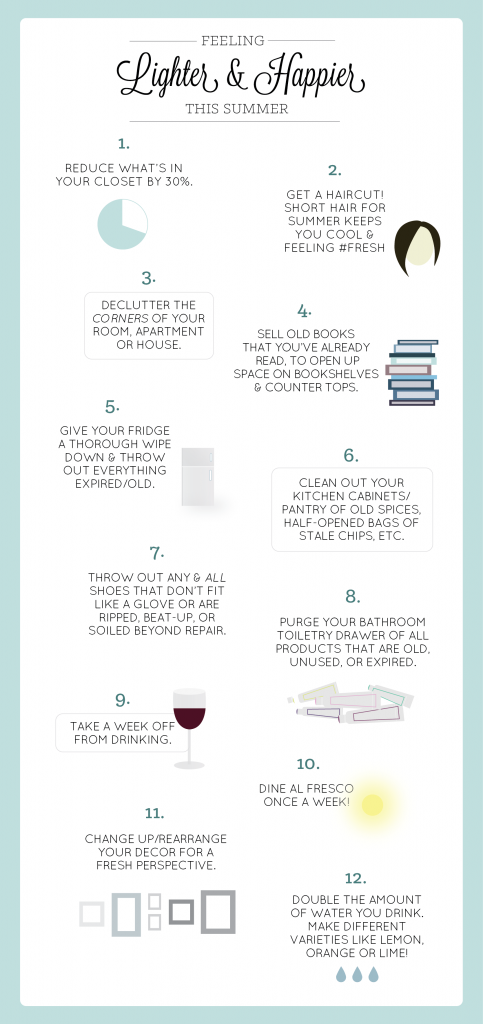 Let's make this the happiest and most productive summer yet! Let's focus on the little decisions that we make that add up and produce the biggest changes. Of those ideas listed above, the ones I am going to implement most enthusiastically are reducing the size of my closet, getting rid of old books to make room for new reads, and giving my bathroom toiletry drawer a much needed overhaul. Challenge yourself to alter your behaviors and surroundings so you can make room for simplicity and lightness. Let's enjoy this season as our best selves!