13 Last-Minute Halloween Party Items You Can Reuse All Year Long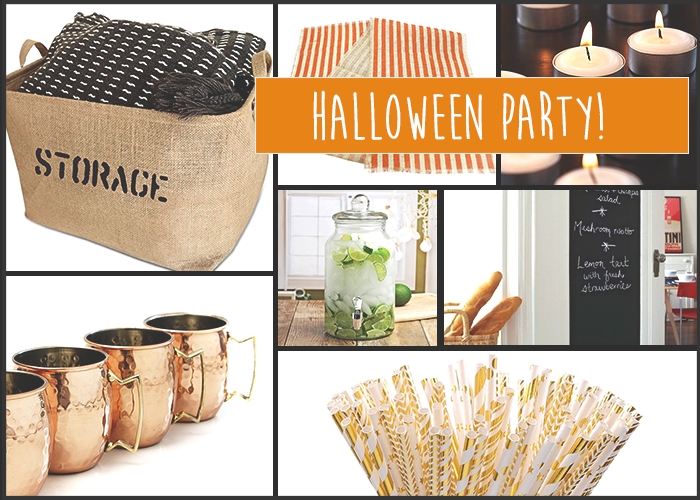 Halloween is less than a week away, and considering it falls on a Monday and most of us are past the point of going out til 2 AM on a Monday, chances are we're celebrating it this weekend. This is extremely exciting, as Halloween is (in my humble view) the best holiday of the year, and also an excuse to get ridiculously dressed-up. (I am trembling with excitement at being able to finally share my costume this Saturday.) Halloween is amazing but, as with any other holiday, the perfect excuse to spend way too much money on pricey cocktails, cross-town cab rides, and tacky, themed stuff you'll only use once and throw away. To that end, we decided to make this week's Amazon Prime roundup a double TFD whammy of budget-consciousness and usefulness.
These are all supplies to use for a Halloween-themed party this weekend (because it's way more cost-savvy than going to a bar, if you throw it potluck-style and get everyone to bring something), but they're also all supplies you can re-use year round. We believe that any good party decor is chic enough to use as regular decor, and are the perfect excuses to get the warm, happy little details to brighten up your place that you've been putting off.
So, without further ado, our 13 Halloween party items you can use year-round, all available now on Amazon Prime!
1. Gold Paper Straws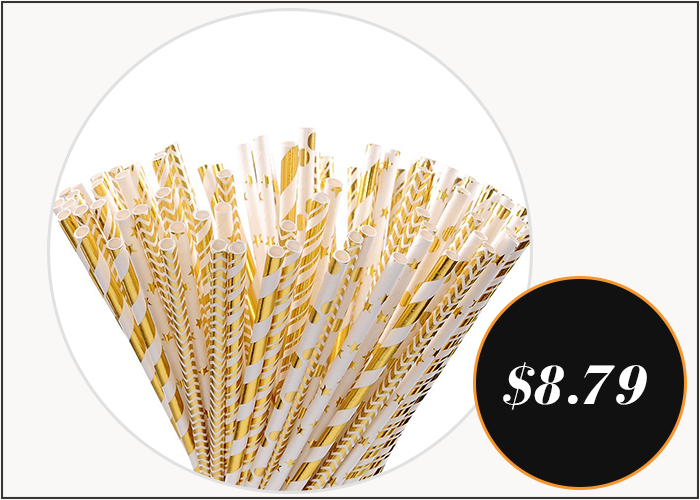 As TFD currently has gold-striped paper straws on both our office bar cart and coffee station, I think we can officially endorse these bad boys year-round. While they're happy and festive for a party, they're also great for dressing up pretty much any place you're making a drink. Any surface (end table, dresser, even deep window ledge) can be a cute makeshift bar cart with a few bottles and a mason jar of cute straws, or having a jar of them on your counter next to a jar full of coffee grinds immediately makes it feel like an adorable little coffee station, instead of just "the place I store X." Plus, obviously, these straws are great for a themed party. | Gold Paper Straws, Outee 125 PCS Party Straws Gold Star Straws | Gold Strip Straws | Gold Dot Straws | Gold Wave Straws | Baby Shower Straws
2. COCKTAIL NAPKINS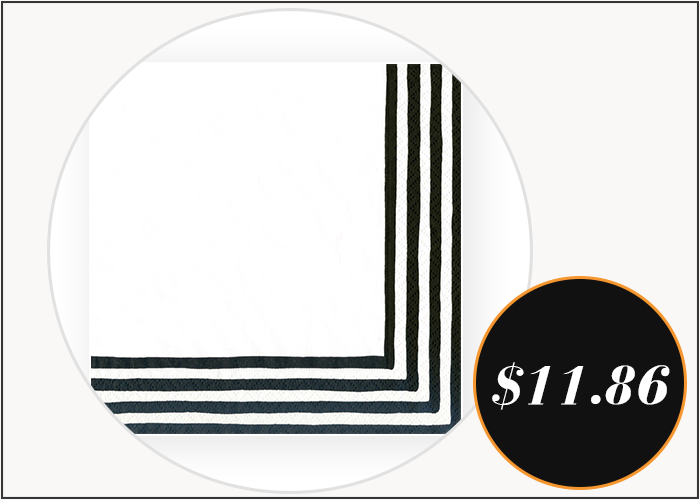 Everyone should have some cocktail napkins on hand if you almost literally ever have people over. These feel Halloween-y without being twee and covered with ghosts/pumpkins. | Entertaining with Caspari Stripe Border Paper Cocktail Napkins (Box of 40), Black/White
3. WHIMSICAL STRING LIGHTS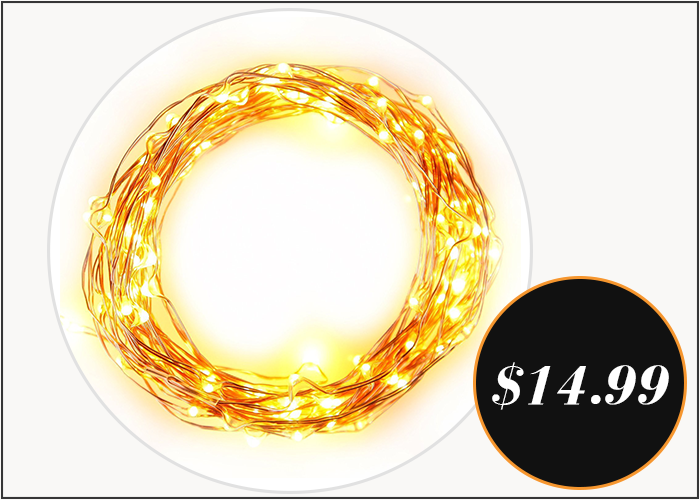 I have these currently wrapped around my bar cart, but they can be put anywhere from a bookshelf to a headboard to around a curtain rod. These lights consume little energy, are on a beautiful copper wire (looks way better when off than the Christmas string lights), and can wrap around pretty much any surface and stay there. They're great for a party, yes, but they're something you can re-use and repurpose any time of year, in whatever room you want them. | Gorgeous String Lights, Copper Wire Starry String Light, Soothing Décor, Elegant Rope Light Suitable for Christmas, Weddings, Parties Waterproof (33′ 100 LEDs) – Divine LEDs
4. INDESTRUCTIBLE-YET-CUTE WINE GLASSES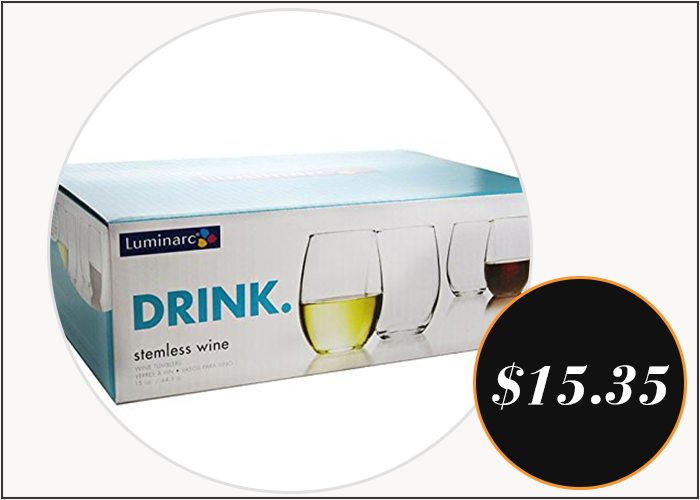 Two years ago, I had a Friendsgiving with a ton of people, which necessitated me getting a pack of these wine glasses to accommodate everyone. I didn't want to slave over this beautiful meal and have everyone drinking nice wine out of plastic cups, so I sprung for these glasses, which ended up being about a buck a glass, and which I've used regularly for parties ever since. It's great to have glasses you don't care about if someone breaks them, but which aren't total pieces of crap that detract from the ~vibe~ of the evening. | Luminarc Perfection Stemless Wine Glass (Set of 12), 15 oz, Clear
5. AN ADORABLE LIL' DRINK DISPENSER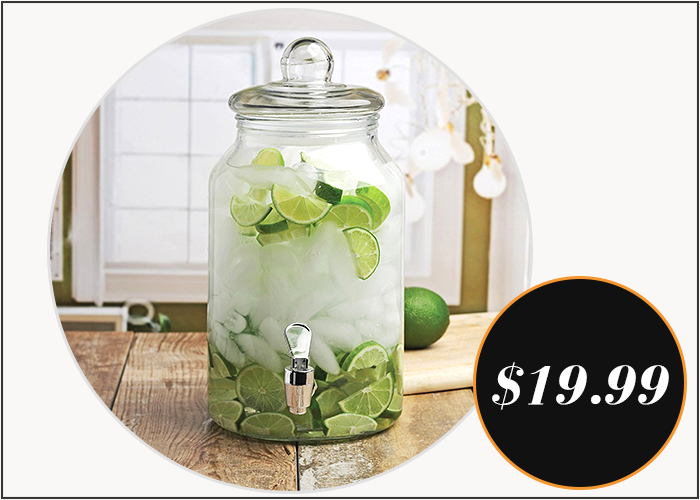 For everything from your Halloween punch/sangria/cocktail, all the way to day-to-day use of tea/flavored water/cold brew, these drink dispensers serve the dual purpose of being awesome for parties, and looking awesome in your kitchen. I'm personally obsessed with kitchen supplies that are useful and decorative, and the fact that I don't already own one of these feels criminal, especially considering how frequently I have people over. | Circleware Country Glass Beverage Drink Dispenser with Glass Lid/handle and Chrome Finished Spout/spigot, 1 Gallon, Limited Edition Glassware Drinkware
6. A VERSATILE CHALKBOARD WALL DECAL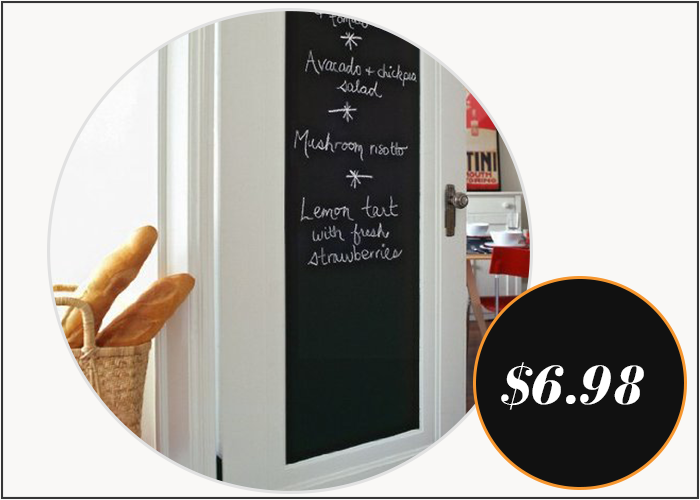 As I write this, I'm looking across the room at the TFD chalkboard wall, made from handy-dandy decals. These things are one of the highest return-on-investments you can get in terms of decor, because they're a) cheap as hell, b) easy to use, and c) super-functional. Plus, if you put a nice frame around it (either painted or hung in actual wood), you can take it to a whole other level. For this particular case, we recommend one of these long, thin rolls, to put on a door or wall with a ~sPoOpy PaRtY mEsSaGe~, then use for something like your grocery or to-do list. There's nothing more cute and functional than one of those giant chalkboard kitchen shopping lists. | Fancy-fix Blackboard Vinyl Peel and Stick Self Adhesive Chalkboard Wall Sticker with 5 Chalks- Big Roll 17.7 By 78.7 Inches
7. A GOLD SERVING TRAY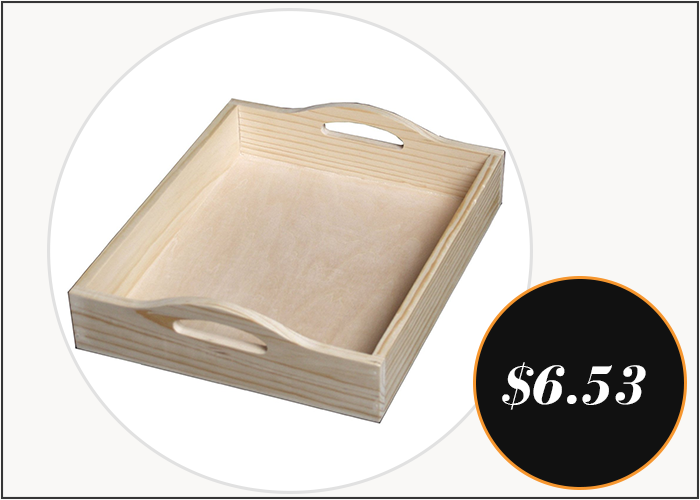 Life tip for instantly feeling fancy: Get a decent-quality-yet-cheap serving tray, paint/stain it the color of your choice, and put it on a coffee or end table with your various doodads/coasters/remotes/flowers. It's adorable and super-practical, and can also be used, like in this case, to serve food and drinks during parties. For this party, paint this tray gold and use it to put out things like snacks or napkins/straws/cutlery, then, when you're done, move it over to your coffee table! | Walnut Hollow Unfinished Wood Serving Tray, DIY Home Décor Accent Piece, 10-inch x 12-Inch
8. THE AFOREMENTIONED GOLD PAINT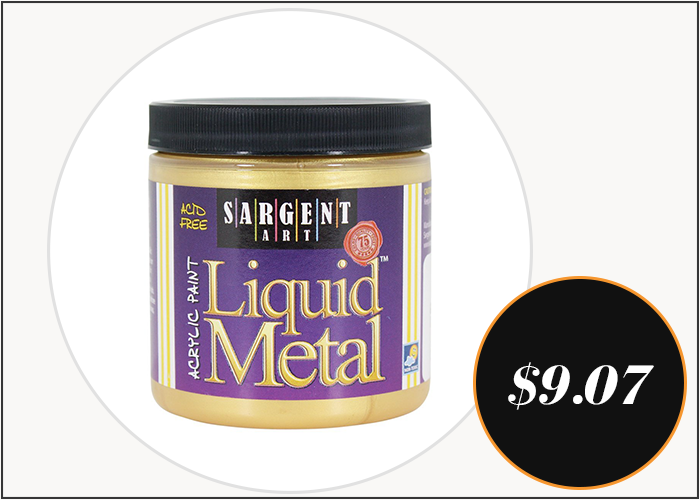 I've used this stuff many times and love it! It's a great value and quality for the money. | Sargent Art 22-1181 8-Ounce Liquid Metal Acrylic Paint, Gold
9. A SWEET-AND-FUNCTIONAL BASKET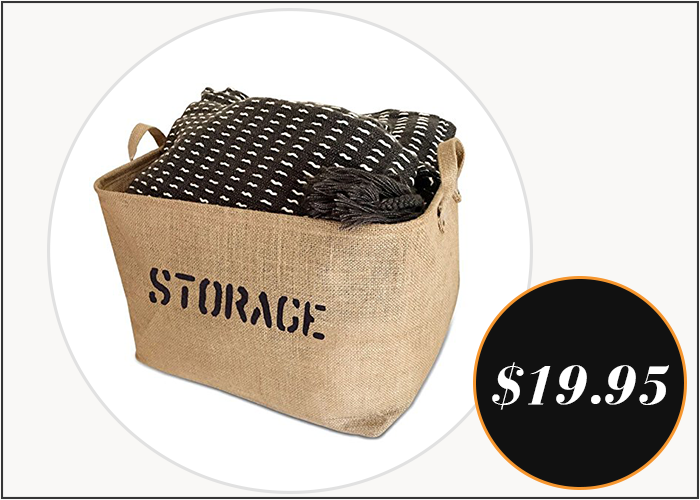 Use this lovely basket for storing your party favors or gifts for guests by the door, then use it to store things like throw blankets/extra linens/umbrellas and such near the door/literally anything else that you need to store in a cute way because people are going to constantly see it. | Large Jute Storage Bin 18 x 14 x 10″ perfect for Toy Storage – Storage Basket for organizing Baby Toys, Kids Toys, Baby Clothing, Children Books, Gift Baskets.
10. TEA. MOTHAFUCKIN. LIGHTS.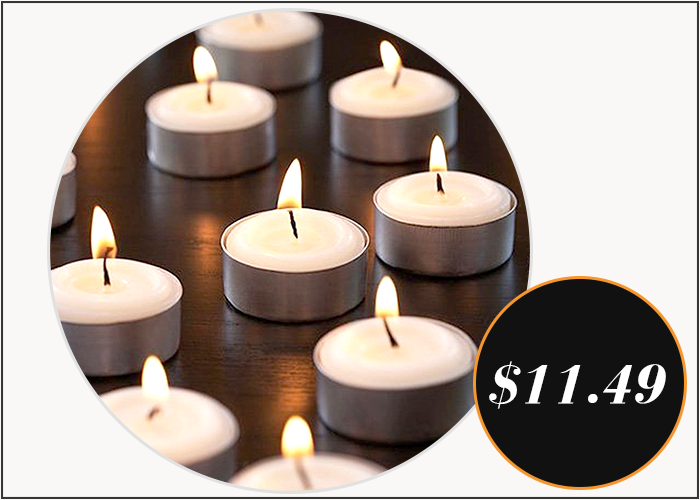 When it comes to party decor/ambiance, I always go for tea lights, because not only do they add the right vibe for pretty much any party (cluster them together and keep the lights super-low for a spoopy-Victorian vibe), but because they are incredibly useful for the rest of the year. I always have tealights around when people come over for dinner, lining my tub during baths, or just when I want to feel calm and zen while watching Netflix in bed. Tealights are probably the highest ambiance-to-price ratio you can get. | Zion Judaica Quality Tealight Candles Unscented Set of 120 – Stark White
11. MOSCOW MULE MUGS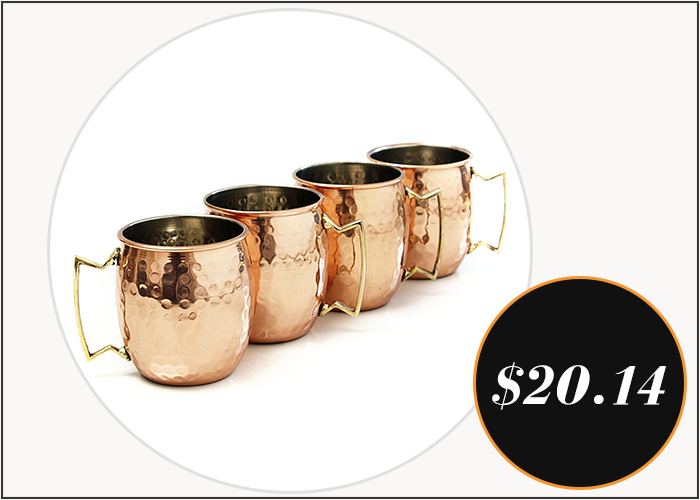 Obviously this calls for a smaller Halloween party (or pre-game), but it's a good excuse to get these adorable mugs, as they are a) on sale right now, and b) look wonderfully autumnal/Halloween-y while still being cute year-round. Make all kinds of cocktails in them, and use them as decor when not drinking out of them. I love my lil' copper mugs! Moscow Mule Hammered Copper 18 Ounce Drinking Mug, Set of 4
12. A GALLERY FRAME SET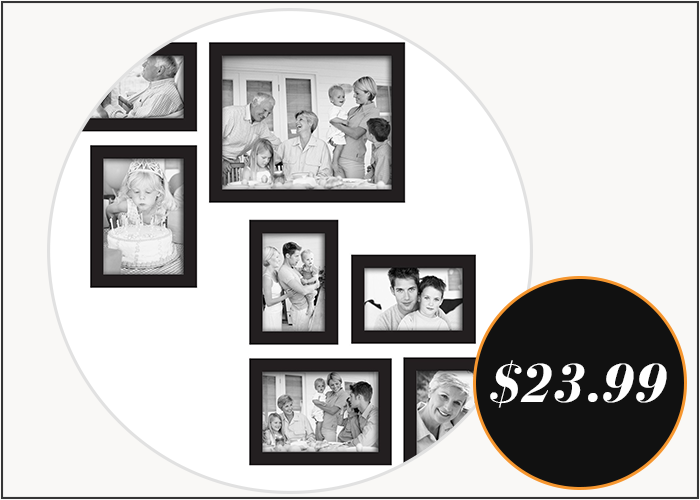 Use these for creepy prints you download for a Halloween party, then put pictures/prints you like in them afterward and make yourself an easy-peasy gallery wall. I'm a huge fan of the whole Etsy-downloadable-print thing, as it allows you to change the look and feel of a room with very little money or effort. In fact, when I'm done with work today, I'm headed to the corner shop to print some new prints for my living room and kitchen. Voila, a fall decor refresh for a smooth five dollars! | MCS 7-Piece Gallery Frame Set, Black (49709)
13. A FALL-READY TABLE RUNNER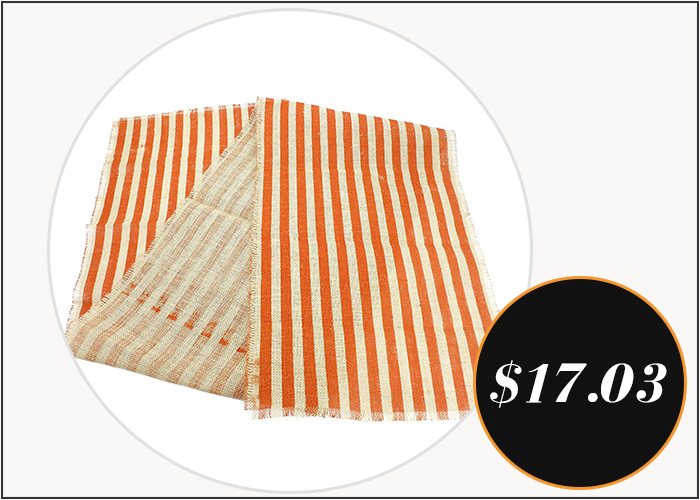 Few things immediately change the look of your dining area with as little involvement as a table runner, and this one hits the perfect balance between "themed for fall" and "wouldn't look weird or out-of-place year-round." In the spring and summer, put a bright, fresh (or silk) bouquet and some oranges/lemons as your centerpiece, and the orange has gone from "Halloween" to "citrus chic." But for now, have it as a classy decor element for your very grown-up Halloween party. | 15-Inch-by-72-Inch Striped Burlap Table Runner, Natural + Orange