13 Women Entrepreneurs On The Daily Routine That's Essential To Their Success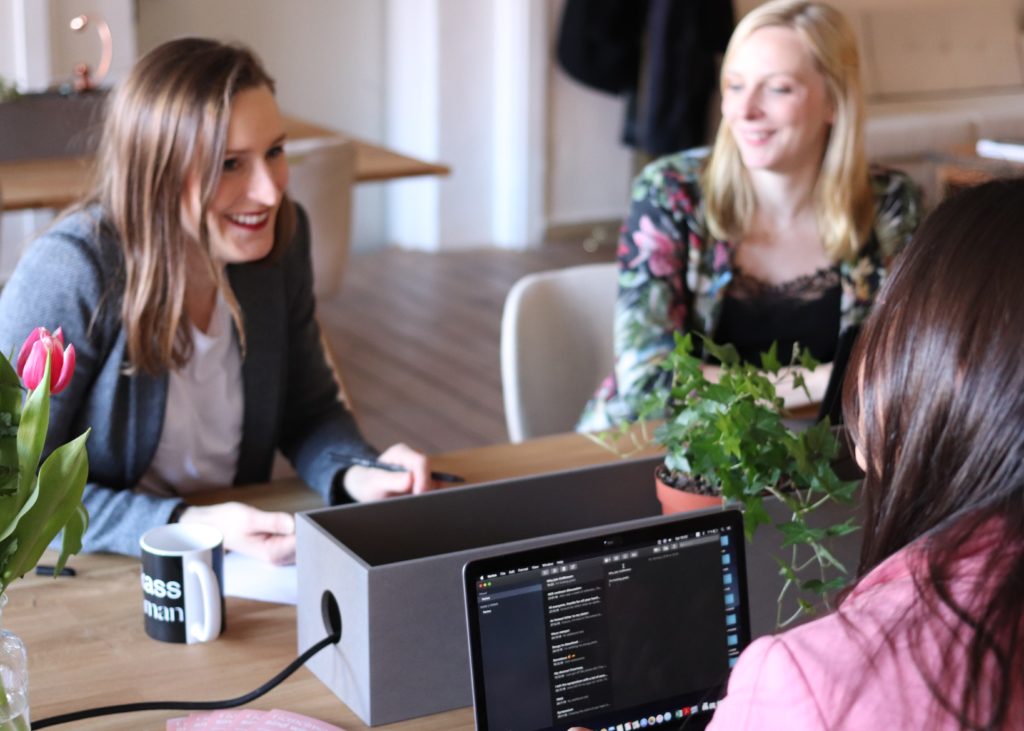 This post is brought to you by M&T Bank.
We're partnering with M&T Bank to bring you a series of smart savings tips from real women who've made their money work for them — and weren't always so savvy. We've always focused on bringing you personalized money success stories (and learning experiences!) because, at the end of the day, there is simply no one piece of generalized money advice that's going to apply to absolutely everyone. That's what we love about M&T Bank — they don't believe in a one-size-fits-all approach to finances, because everyone's situation is different. They take the time to understand what's important to their individual customers so they can help with their specific needs and goals.
For many of us, the word "entrepreneur" brings to mind nothing but aspirational images. Being your own boss, setting your own schedule, working on only what you want to work on, or maybe even living a glamorous digital nomad life, simply working to find your many travels.
But in reality, being an entrepreneur demands far more energy than many other career paths. Sure, you get to dictate the direction of your professional life, from how much time you actually spend working during the day to the kinds of clients you go after. But being in charge of so much necessitates taking on much more responsibility. As a former full-time freelancer myself, I wasn't just a writer and editor — I was also my own marketer, bookkeeper, office manager, administrative assistant…you get the idea. At least at the beginning, when funds are likely low and your biggest asset is your time, you find you spend much of it taking on the tasks that would be someone else's responsibility were you simply working as an employee. And that's on top of what your "actual" job is.
Put simply, being a successful entrepreneur almost requires being a good time manager. And no one knows this better than women entrepreneurs, who have historically had the odds stacked against them. According to a 2018 study from 99Designs, women are less likely than men to receive funding for entrepreneurship endeavors, but more likely to put in more hours. So even though the number of women-owned businesses increased by 114 percent between 1997 and 2017, women are still having to work harder to grow their professional dreams the way they want to. 
We've partnered up with M&T Bank to speak with 13 awesome female entrepreneurs about balancing all that running a business entails. And whether or not you have entrepreneurial aspirations yourself, we all find ourselves in busy patches, and there's a lot to learn from these hard-working women. Here's what they had to say:
1. "'No' is my instant response for any request — new clients, speaking engagements, anything. It's my default. I say 'no, I'm not doing this' this to myself — not out loud — and then convince myself why I should spend my time or money in a certain way. Every new endeavor I take on takes me away from someone or something else. So using this tool allows me to be choosier and smarter because I have to come up with real reasons why I should do something. It also ensures that I'm super confident of every decision I make and I never have buyer's remorse." – Jamie Lieberman, Founder and Owner of Hashtag Legal
2. "I'd say the productivity tip I find crucial to my success is using a planner every single day. There, I make a plan and stick to it, tracking milestones each month, and getting closer to those goals with each daily task I mark as completed. It's my navigation tool that I re-align myself with each week as I make a plan for the days ahead. Also, I batch my tasks between income producing, administrative, and family to-dos. This way, when I look at my list, it helps me prioritize what to tackle first…which for me is typically incoming-producing tasks. But during other seasons, let's say back-to-school, I might jump to do my family tasks first before I dive into work." – Heather Vreeland, Owner of Hopefuel
3. "My daily habit that I credit to our success is understanding that I have two roles in my life, and both of those roles need to be satisfied independently. I'm both the founder of a successful dental practice in Florida and the busy mother to a newborn child. Typically, those two titles don't mesh so well, but I've got a nice system in place. I always dedicate my mornings and evenings to spending time with my family — no exceptions. I keep strict hours at the office and arrive and leave the same time each day. It's a routine that has changed my work/life balance by allowing me time each day to be alone and appreciate that uninterrupted time with my family. Doing so gives me a clear mind without hesitation when I need to head into work, which then allows me to give my patients and staff the care and attention that they deserve. Everyone gets 'the best of me,' because I keep a strict schedule and honor it." – Dr. Ashley Paré, Founder and Dentist, Shoreline Smiles
4. "I set a calendar reminder on my phone for 3 PM each day that says, 'You are a strong woman. Keep an eye on your goals and keep pushing forward. Never, never give up.' I'm a busy stay-at-mom, wife and entrepreneur so things can get pretty hectic throughout the day, but whenever that alarm goes off, I stop what I'm doing and read it out loud. It keeps me motivated and on the route to my goals." – Sabine Josephs, Resumes for Women
5. "My biggest productivity tip is at the end of each day, I pick one difficult task to accomplish the next day, and I start that task first thing the following morning. I know how running a business can be, as you get pulled in so many directions, often without warning or consideration to your schedule. By designating time and direction at the start of your day, no matter how derailed your day becomes, you at least achieved that 'big task' that had been a thorn in your side. I try not to leave work without accomplishing it in full and if that can't happen, I at least make some sort of progress towards accomplishing it. This stops me from avoiding my most important work, which tends to be the most challenging as well. You'd be surprised how much you can whittle away from your to-do list by simply prioritizing it and sticking to your schedule." – Lisa Tadewaldt, Owner, Urban Forest Pro
6. "Following a system it the most important thing to success in any business. You have to have a pattern or path to keep you on track. It is interesting that young children are taught patterns a very young age. We have a proven system for success within our insurance agency to keep new and old agents on track. Don't reinvent the wheel! We started our business after my mother-in-law died without any life insurance in 2013. We now have a Life and Health agency with a team of hard working women!" – Katherine Adams, Founder, Creative Legacy Group
7. "I'm a total night owl, but I've noticed that my sleep quality has plummeted since grad school. To help, I've started to set timers for myself (think Pomodoro method) for my 'night work.' So, 30 minutes for email, 30 minutes for freelance work, etc. This way, I can make sure I get my eight hours in without feeling guilty for 'skipping' something on my to-do list." – Tabitha Britt, Founding Editor-in-Chief of DO YOU ENDO, Managing Editor & Director of Social Media at Mighty Scribes
8. "As an entrepreneur with a fairly new business, it's not at all unusual for me to feel overwhelmed with looming tasks and to experience a bit of paralysis by analysis. The biggest contributor to my daily productivity, by far, has been the constant pursuit of professional and self-development through books by Mel Robbins, Craig Ballantyne, Bedros Keullian, Jen Sincero, and more. Additionally, when I feel lost or overwhelmed, I have made a commitment to myself to complete just one task per day that I know moves me closer to my goals, no matter what. This could be writing an article, sending an email, researching and documenting new potential business contacts, and anything in between. This daily accomplishment helps me feel somewhat in control even when I feel that business and life are largely unmanageable." – Mariah Heller, CMT, CPT, Owner and Creator of Pain-Free Fitness
9. "I've found effective email management to be key to my productivity. Every morning, I set myself 15 minutes at the start of the day to get to an empty inbox. I delete everything non-essential, respond to any emails which can be handled in a minute or two, and then assign everything else to 'To-Do' folders (marketing, client needs, etc.). This helps me organize my day and block time efficiently. (For instance, instead of jumping between clients, I block out two hours to work on one client, and include in that everything in my email 'To-Do' folder for them.) I have so many meetings, calls, and staff questions throughout the day, that this little bit of time each morning does wonders to prevent my emails and action items from piling up while I'm away from my desk." – Courtney Barbee, Co-owner/COO at The Bookkeeper
10. "I have had my hair salon for the past 10 years and as a business owner, I wear many hats, from recruiting the best and most talented employees, payroll, marketing, social media, website maintenance, responding to customers, and making sure that they are all satisfied when they walk out the door.
I have an online booking system I have used for many years. This helps me to stay focus while performing my hair extensions services., this helps me to work more efficiently and prevents customers from waiting for long periods.
I built my own website using Wix and maintain it myself. I recently downloaded the Fiverr app and outsource my web development efforts. This move will definitely take some of the burden off me and I can focus on other business-related activities.
Hiring a salon assistant to help with many of the daily responsibilities, from answering the phones, checking my email and text messages, social media posting, etc.
Get enough sleep and exercise regularly." – Nadia Vassell, Celeb Hairstylist and Owner of the Nadia Vassell Salon in NYC
11. "Just like healthy eating and exercise for a healthier you, you will never regret having good business habits to stay on track. About four years ago, I discovered list-making.  On a recommendation from a friend, I picked up a book called Listful Thinking, and it changed my life and business. It sounds meaningless, but really understanding how to make good lists to get through your day and open windows of time for more productivity is actually an art. Also, I am always foraging for my food. I never stop looking for business opportunities and am always learning something new to expand or broaden my knowledge base so that when opportunities do arise, I am prepared to benefit from them." – Paula Conway, President and founder Astonish Media Group
12. "I've learned that the best way to get things done efficiently is to schedule everything. Put even the smallest of tasks on your calendar and if you don't complete it, keep rescheduling it until you can mark it as completed. It can sometimes make your schedule appear overwhelming, but once you start knocking things off the list, it feels pretty productive. Also, When I get to my desk, I organize my workspace. Having a clean workspace helps me focus and feel structured. After I organize everything, I settle in with a cup of coffee and try to relax for 15 minutes before diving into the hustle. Then, I prioritize my day's to-do list and map out the rest of my day!" – Lori Cheek, Founder/ CEO, Cheekd
13. "One habit I like to practice daily to support relationship building is either touching in with a client or someone new that I'd like to connect with professionally. Even if a client doesn't ask or require a check-in, it's important to make them feel thought of and cared for. With a new professional connection, maybe it's your first time contacting them; start with a moment of praise for a recent accomplishment they've had. See how the conversation progresses and if it doesn't feel forced eventually build-up to asking if you can meet and buy them a coffee to chat further. Good business spreads by word of mouth, so invest in relationships and the people that can do that for you!" – Katharine Phillips, Katharine Phillips Design
*****
To learn more about how M&T can help you reach your savings goals, visit their website or a branch near you.
© 2019 M&T Bank. Member FDIC.
Image via Unsplash
Like this story? Follow The Financial Diet on Facebook, Instagram, and Twitter for daily tips and inspiration, and sign up for our email newsletter here.