14 People Suggest Jobs For People With No "Real" Skills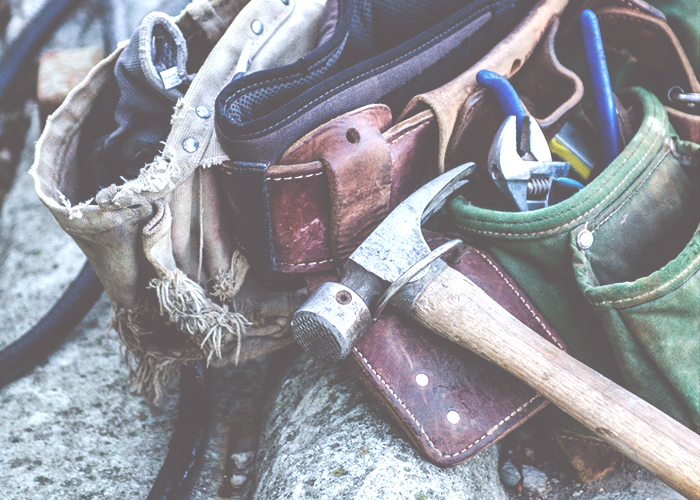 In today's job economy, we get wrapped up in discussing the most "marketable" skills one should focus on building in college and during the formative years of their career. Skills like networking, writing, social media, strategy, adaptability, communication, etc. are highly valued in our workforce. With such a strong emphasis on building a specific set of skills, it's easy to understand why there's such an insanely high value on going to college and getting a degree. And, the numbers say it all. According to the National Center For Education Statistics, it states, "The number of students projected to attend American colleges and universities in fall 2018 is 19.9 million, which is higher than the enrollment of 15.3 million students in fall 2000." Of course, there's a difference between hard and soft skills, which you don't learn entirely in college, but possessing a combination of them usually means you're prepared to enter the "real world" — you're fit to work as a cog in the corporate/freelance workforce machine.
This social dynamic — of approval based on having a specific set of skills — has been one I've thought about more and more since starting here at TFD. (We get a lot of people writing in who are uncertain of their own career paths, futures, and marketable skills, or perceived lack thereof.) Then, a few days ago, I stumbled upon a Reddit thread which explored the pursuit of non-traditional work (in the way we think about it) and how to go about finding it. The user wrote:
I've been doing warehouse work, the pay isn't great, and I hate it. I'm about to start a job at Best Buy doing inventory, hopefully I will be a LITTLE happier doing that (despite the pay cut). I'm socially anxious, awkward, and not a people person, so any customer service or serving job, any of that will send my anxiety through the roof and simply put me in a bad place. I do have a HS degree, but I've messed up my grants for college, and I can't go back to ivy tech. Just really wanting to kind of ask what other types of work are out there.
The question posed in the thread was a simple one, but, to me, it touched upon the larger issue of what our society deems to be "good" and "bad" work. I feel that having a college degree doesn't mean the work one does will inherently be "good" and more valuable than any other work. And, just because one might not have a traditional college degree, it doesn't mean they can't find meaningful work and a career path in which they can excel. There are tons of job-seeking articles online that will help anyone strategize what their next move should be, depending on a variety of factors. To me, starting from the metaphoric "bottom" means there's only one way to go — up. If you aren't a people person or don't do well in social situations because you suffer from anxiety (like the Reddit user above), research what you can do to find work that suits your needs and your lifestyle. Any pre-existing skill set can be expanded upon to include things that make steady work a real possibility.
The tips below are a combination of the best comments I found within the above Reddit thread, as well as short comments and blurbs from other threads and articles from around the Internet about no skill jobs. Together, their collective wisdom does a really awesome job opening one's mind to other viable opportunities for work, fields/industries, career paths, etc. Check it out.
1. "First you need to find a new field of work that looks promising to you. Then, you need to research about the requirements and start building your skill set." — Vlad Avram
2. "Work in construction, there is currently a huge shortage of laborers, operators, and welders in the Chicagoland region. All make $40-50 straight time with OT on anything over eight hours per day. Edit: Journeyman linemen (power work) also make $$$ dollars. And, if you're smart and hard working, you can leave the field after ten years or so and get into the management side of the business. Some of my bosses make $250k+, and these are guys who may or may not have graduated high school. Kind of the dirty little secret of the construction world." — Sun-up-sun-down
3. "These are other jobs that you can do part-time (and sometimes self-employed) to earn money. If you live near the US East Coast, there are several seasons and different lawn maintenance chores for each one. For example: Summer = mowing lawns, autumn = raking leaves, winter = shoveling driveways. You can go door to door and offer your services as a lawn maintenance guy, or place advertisements on college bulletin boards, in the paper, or online to get work." — Megan O'Malley
4. "I've made a great career in roofing and construction, and it's definitely a viable career option to consider. In my city, the vast majority of the people in this field are lower level workers (who don't have traditional job skills). Many are immigrants or poor in English. The majority are not "book smart"/educated, nor do they present themselves that way. The majority have a troubled pass or criminal history. So, the average person sees someone working in the construction field as not "well off" or "educated" and assume they are poor. However, if you are willing to learn numbers, practice excellent communication skills (both written and verbal), and study certs, there is a very easy path to becoming very successful there. Instead of competing within the same pool of jobs with other college grads, you will standout against your peers and eventually shine." — l1960
5. "I am a high school dropout who is currently making 50k+ a year doing technical support with a solid company. I also have severe social anxiety and am highly introverted. I was around the same age as you when I started doing this. My path was a crummy job working for a contracted company doing tech support for a major ISP. From there, I became a contractor with one of the three major burger fast food joints. I got hired there, and was making even more than the contract paid. Now, I'm at my current company, and I couldn't be happier. Going to school is all well and good, but it takes time and money and it worth really considering. I suggest you get yourself into a better place, and then think about formal education if you still see the need." — Alanthiana
6. "Honestly, I had started typing a list of steps to take (basic skills inventory, identifying your passions, strengths, weaknesses, etc.), but as I typed I realized that the best answer is really to work with a career coach. If you can't afford one, reach out to your local SBDC (Small Business Development Center), college, or unemployment office. They usually have programs or services that you can use to help build a skills inventory, a résumé, and a personal development plan." — John P. Benfield 
7. "Join an apprenticeship! If you get into the right trade with the right kind of company — and you're willing to work hard — you can make a BUNCH of money." — Saltyjohnson
8. "In the short term, I'd recommend trying to get a purchasing position. Not sure how it works at Best Buy, but it's going to be more money and a résumé builder. It generally doesn't take much 'people' skills…just a little math. And, the job is more engaging than just stocking." — Francisbacon669
9. "You can become certified for appliance repair at just about any community college in only a few months You could get a skilled trade in plumbing, HVAC, etc., For example, you can go fix RVs, where repairers charge $350 per hour. With the Internet and YouTube at your disposal, you can learn about anything fairly easy. Why not turn your hobby, or things you like to do naturally, into a business?" — Klopsnittle
10. "Getting a clerical job for the state is a good option. I'm 24 and have one myself. Even though I suffer from social anxiety disorder, I really don't find the job taxing at all. I have to answer the phones, yes, but all I do is transfer people; the most social interaction I have with the public is telling people they don't need to sign in and where the bathrooms are. (Putting up a sign cut those questions in half, too.) However, state jobs can be a little tricky to get, though. Assuming all states follow a similar procedure, you'll need to take a test, and then you'll get interview notices in the mail based on your performance. If state jobs aren't up your alley, document scanning might be another good choice. That was my previous job, and although it was filled with mismanagement and awful people, it was easy and there was no customer interaction. at all" — Eltana
11. "If you're interested in IT, go for certifications. You can buy a textbook (or take classes online or watch video tutorials) and teach yourself. These certifications, along with a little bit of work experience, is enough to get you into a Help Desk position. When it comes to IT, all you need is the drive to learn and the ability to learn quickly. The most popular for people starting out are the CompTIA A+, Network+, and Security+. There are many IT related subs you can check out. too! /r/ITCareerQuestions /r/CompTIA." — Stark Commando
12. "You can become a freelancer: find out what is it that you would like to work at, and begin learning that (a degree is not really necessary, just get very good at what you think you could love doing. I have some friends that don't have any degrees, yet they developed their skills in what they love so well, that they worked as freelancers their entire lives. Learn some marketing and personal accounting, find out what is the demand in the area where you live, and "marry" that need with your passion while working to become better and better at it." — Paul Culda
13. "My advice? Spend the next two to five years gaining any marketable skills to set you up for the remainder of your working life. Get that qualification or work towards gaining the required experience. Build it up slowly but surely." — Carl Logan
14. "Few people appreciate the full scope of what they bring to the table. Get started by listing as many of your experiences, skills, accolades, and past wins as possible. Ask yourself: What good things would past supervisors and co-workers say about me? What about friends, mentors, or professors? Who else thinks I'm awesome — and why?" (Just to name a few.) — Jon Carpenter, from How To Apply For A Job In A New Field When You Have No Traditional Experience
Below are some really good articles about jobs for people with no experience, which will help you navigate the workforce more efficiently if non-traditional work is the path you take.
This post was originally published on June 20, 2016, and has since been updated.
Image via Unsplash