14 Ways Black Lives Matter Protests Have Made A Difference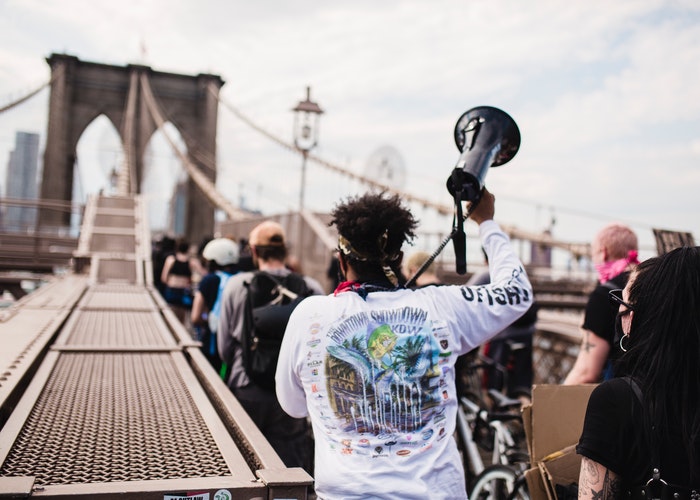 This article originally published on June 18, 2020.
A lot can happen in two weeks. Collectively, we should feel proud of the work we've done, and the work we've set out to do. After the world witnessed the murder of George Floyd in Minneapolis, many of us took to the streets to protest. We used social media to amplify black voices, provide useful content around what was happening, and learn. We promoted and prioritized black-owned businesses, and we pointed people in the right direction if they wanted to make an impactful donation. We emailed our local and federal government and blasted them in any space (real or digital) we could. We asked for change — and we've seen results.
Here are some of the achievements made from the 2020 Black Lives Matter movement. 
1. Derek Chauvin, the officer who murdered George Floyd has been charged with second degree murder, and is behind bars. His bail amount is $1.25 million. The other three who were complicit have also been arrested and charged. 
2. The Minneapolis City Council members are committed to disbanding their police department. Council President Lisa Bender stated, "We are here because here in Minneapolis and in cities across the United States it is clear that our existing system of policing and public safety is not keeping our communities safe. Our efforts at incremental reform have failed. Our commitment is to end our city's toxic relationship with the Minneapolis Police Department, to end policing as we know it, and to recreate systems of public safety that actually keep us safe."
3. The Minnesota Department of Human Rights filed a civil rights charge against the Minneapolis Police Department
4. Minneapolis, and other cities, have banned the use of chokeholds. Additionally, Minneapolis will require a police chief to authorize the use of "crowd control" weapons — like the rubber bullets that severely injured many peaceful protestors — instead of just a supervisor. "This is just a start. There is more work to do here, and that work must and will be done with deep community engagement," Human Rights Commissioner Rebecca Lucero said.
5. Minneapolis public schools will no longer be working with the Minneapolis Police Department. This also goes for The University of Minnesota, and select museums, and venues which have also either cut or limited ties with the police department, according to Star Tribune.
6. New York City Mayor, Bill de Blasio, is committed to defunding the NYPD. De Blasio is currently working on recalibrating the budget, and we should have a new budget proposal by July 1, according to The New York Times.
7. Cops and Live PD (shows that glorified and glamorized being a police officer) have been canceled. 
8. Los Angeles Mayor Eric Garcetti is cutting the LAPD budget and infusing $250 million into Black communities and communities of color. The funds will go toward "youth jobs, health initiatives, and 'peace centers' to heal trauma, and will allow those who have suffered discrimination to collect damages," according to The Los Angeles Times. $150 million of the $250 is coming from the LAPD budget. Before, Garcetti was proposing a 7 percent increase in LAPD's budget.
9. No-knock warrants have been banned in Louisville, Kentucky, and the law is called "Breonna's Law," in memory of Breonna Taylor. Taylor's mom shared, "Breonna, that's all she wanted to do was save lives. So with this law, she will be able to continue to do that. So we're grateful for that." However, the officers who murdered Taylor have yet to be charged.
10. Confederate statues have been dismantled across the U.S. Good riddance. Here's a full list of statues that have been removed.
11. The House Democrats are fighting for police reform with a new bill. According to CNN, the legislation "is the most expansive effort in recent years to crack down at a federal level on policing practices across the U.S." While the bill advocates for police reform, it's important to note that it doesn't include anything about the disbanding of the police force. 
12. Alexis Ohanian stepped down as CEO of Reddit and urged the company to find a Black candidate to fill his role. He also donated $1 million to Colin Kaepernick's Know Your Rights Camp organization. It was recently announced that Michael Seibel, who comes from Y Combinator, will be Ohanian's successor, proving that Reddit was serious to making change and progress in their leadership team
13. Media companies have pledged to make significant changes with their leadership roles and overall lack of diverse staffing. After being called out on social media for various types of appalling behavior, the EIC of Bon Appetit (Adam Rapoport) has stepped down, as has Refinery29's EIC Christine Barberich. If you're interested in more details, this is a really good article that dives deep into the media reckoning. 
*****
Of course, there's a lot of work left to be done. I'm personally taking this time to reflect on my privilege and previous leadership roles in which I should have been a better ally. I should have made diversity on my teams a number one priority instead of something that was "awesome to have." I think all of us can agree that this movement is not just a fad. Let's prove that by marching onward.
Gina Vaynshteyn is an editor and writer who lives in LA. You can find more of her words on Refinery29, Apartment Therapy, HelloGiggles, Distractify, and others. If you wanna, you can follow her on Instagram or Twitter.
Image via Pexels
Like this story? Follow The Financial Diet on Facebook, Instagram, and Twitter for daily tips and inspiration, and sign up for our email newsletter here.