20 TFD Readers Share Their Biggest Secrets For Budget-Friendly Travel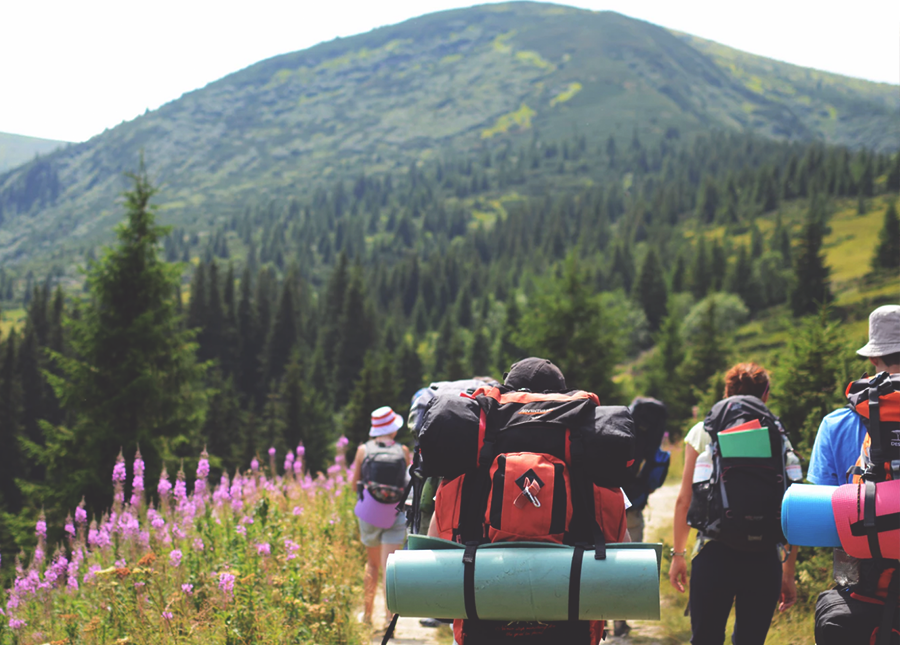 By now, we all probably know how important taking the occasional vacation is for our health — there's even plenty of research to back it up. Sadly, so many Americans don't use the allotted vacation days they totally have a right to. Why? A big reason might be that taking a vacation can be expensive. Not only are you taking (potentially unpaid) time off work, you're also signing up to pay for lodging, transportation, and other expenses outside of your typical budget.
Luckily, the TFD community is made up some extremely money-savvy badasses, each with their own unique insight on how to cut costs in many aspects of life. Because even if you can't afford to stay at a Four Seasons, you do deserve to take a vacation — especially one that won't put you in debt. We reached out to TFD readers and viewers to find out to see their biggest tips or saving secrets when traveling. We got so many incredible, unique responses — read on for our favorites, and be sure to include yours in the comments section!
1. "Research your bank and credit card's international transaction policies until you can recite them drunk. Don't use them like you would at home unless it's an emergency. And for G*d's sake download a VPN!" – Jill
2. "Sephora will give you samples of tons of products (even if they have to put a sample size in a container themselves) and it can be a lifesaver for trips." – Katie
3. "If you travel to see family or very close friends frequently, ask to leave a very small number of belongings with them (obviously only if they are settled into their homes for the longterm and have the space). I keep a winter coat with my boyfriend's parents in Chicago (don't need it in Seattle) and I leave a set of workout clothes, a pair of running shoes, and one nice outfit at my parents' place in Dublin. Now I never check a bag to see family." – Sofie
4. "1. Credit card points! If you have any large purchases coming up (for us it was a wedding), look into what credit cards offer the best sign up promotions with the least amount of fees. I follow The Points Guy on social media, he's always posting about new credit card offers. We took a week-long trip to the UK last year, flights and hotels were all paid for with points! 2. When researching hotels, check to see which ones offer free shuttle services, either to/from the airport or within the local area (usually there's a radius). That can save a lot of $$ on transportation costs. 3. Sometimes it's cheaper to stay at the airport hotel the night before your flight and utilize their parking lot versus paying a daily fee at an airport lot. 4.Trains in Europe have 'high peak' and 'low peak' travel times, which determine the ticket pricing, with 'high peak' times being more expensive. If your schedule allows, travel during 'low peak' times. Also, first-class train travel is totally worth the splurge, and it usually includes all the food and snacks you can consume, plus wi-fi, at no additional charge. 5.Check Groupon and Living Social for deals on food and activities. 6. Most hotel loyalty programs are free and have nice perks like free wi-fi, late check-in/out, discounts on room upgrades, etc." – Amanda
5. "Beyond a shadow of a doubt — Scott's Flights as a resource, and making an itinerary in advance with the price per person for activities listed! Then, you can decide beforehand what's worth it and not be spending big money unexpectedly." – Angela
6. "We make a grocery list in advance using a spreadsheet when on self-catered vacation with a group. Launching uncoordinated individuals on a grocery store leads to food and wallet waste!" – Caughlin
7. "Fareness.com!" – Christine
8. "Reusable water bottle so I don't pay for a 4 Euro bottle of water. Book everything as early as possible. Designate specific times for shopping so I'm not mindlessly picking things up everywhere I go." – Anon
9. "If you plan on eating out, see if the restaurants you want to visit are open for lunch. It's usually the same food, but a slightly smaller portion size, for much less money. Then just hit up the grocery store for dinner." – Hailey
10. "Individual instant oatmeal packs! Bring them with you in your carry-on for an easy in-flight meal (hot water is usually free). Also great for a hostel breakfast, or snack on the go — free hot water at cafes ;)." – Maggie
11. "Use Google Flights' flight tracking function, and track prices for a few weeks before buying. Don't buy on impulse, since flights are usually one of the biggest expenses. Also be flexible with your travel location, and be on the lookout for mistake fares / deep discounts." – Sheila
12. "I never plan a trip with a specific destination or time frame in mind. Obviously this won't work for everyone, but I follow a few flight deal sites and stalk Google Flights and Skyscanner, then snag the best deals when they pop up. (In the last year — Seattle to Stockholm for $350 and Portland to Paris for $450.) For European travel, find any cheap flight to Europe, then find a flight to where you DO want to go on a budget airline once you get there. Invest in a carry-on bag that fits the maximum allowed size and never pay to check a bag. I've noticed that airlines often ask for volunteers to check their bag at the gate to their final destination for free if the flight is especially full. I love to take advantage of this when possible. Also, pack clothes you want to get rid of if you are worried about having room in your carry-on for souvenirs. Throw them out (or donate somewhere) once you wear them." – Kayla
13. "Look for a city pass that can reduce the price of main attractions and save you time on lines!" – Meg
14. "Hostels can sound scary but are surprisingly nice and have a lot more amenities than other cheap accommodations. They usually offer free activities, walking tours, filtered water, coffee/tea, and breakfast. You can always do a private room if you're not into sharing a dorm." – Siena
15. "Plan for the weather and environment. Don't get stuck buying an overpriced swimsuit/umbrella/sweatshirt if you could have brought it along!" -Christina
16. "Move your Credit Card points to air miles on partner airlines and choose B&B guest houses — much nicer experience. Hit local food stalls for mouth-watering delicacies." – John
17. "Bus passes! I don't come from a city with very good public transit and tend to forget how convenient and affordable they are other places. Oh, and I order Paula's Choice sample packets of my normal skincare routine so that I don't run out to buy an overpriced mask." – Megan
18. "I'm preparing for a trip to Japan next week, and what has been really helpful has been to absorb the costs of the trip at various points in the planning… the flight was a big one but I bought it eight months ago, then paid in advance for the hotels in March, and then last month paid for the train ticket to get around the country. So at this point the only things left to buy are daily meals & activities, and only some of that cost will go beyond my normal non-vacation spending. The total cost of the trip is fairly high, but breaking it into smaller chunks made it feel a lot more manageable and had less of an extreme impact on my budget than backloading all the costs into the month of the trip." – Jenn
19. "Over the past four years, I visited 12 countries (seven this year!) because I have two jobs and a side-hustle and I know that traveling makes me happy! My personal tip is to go for a two-hour walk instead of taking a bus/taxi, etc. if you want to see a museum, castle, whatever. You can see the real beauty of the city and even if you get lost a bit — it will be a fun story in the future! Also, go to less-touristy places, ask locals where to eat — it will be cheaper and probably delicious." – Sima
20. "Budget-friendly travel idea: Typically I travel by car and always take my own meat, spices, etc. when I rent a house or AirBnB, which have kitchens and are stocked with the necessities. Making some meals at 'home' saves so much money." – Jill W.
Image via Unsplash