21 Career Quotes From Badass Women That Will Actually Motivate You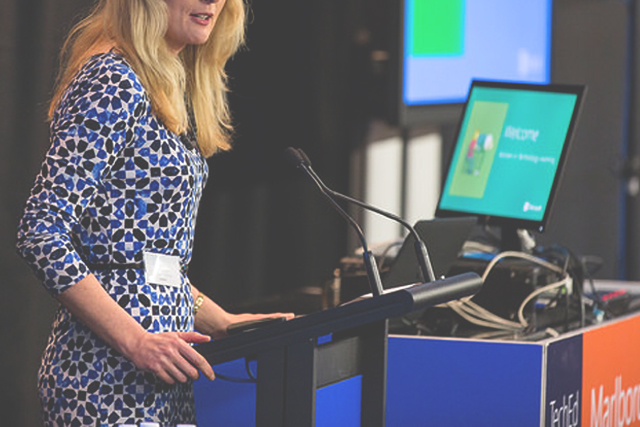 I often find myself needing an extra boost of something inspirational to help power me through a work week, but the mindless, clichéd nonsense found on Pinterest usually does nothing for me. At this point in my life, I find that the stale mantras which urge us to "do what we love," and "follow our dreams," feel empty to me. As I've become increasingly aware of what it means to be an entrepreneur, I appreciate hard-working individuals who sacrifice their immediate comfort to help themselves build long-term success. As I round out my mid-twenties, I find myself identifying with the women who work hard and put their mind toward the goals they set out to achieve, and get shit done. As a designer, I feel proud to be a part of an industry that boasts strong female representation, and where women are doing incredible things.
Below are 21 quotes about hard work and career advice straight from the mouths of some of the most successful women. Whenever I feel down, I read through some of these quotes, and I find that the wisdom contained within makes me feel more positive and focused on the goals I've set for myself.
"Speak in statements instead of apologetic questions. No one wants to go to a doctor who says, "I'm going to be your surgeon? I'm here to talk to you about your procedure? I was first in my class at Johns Hopkins, so?" Make statements, with your actions and your voice."
—Tina Fey, Actress & Comedian.
"Just because you fail once, doesn't mean you're going to fail at everything. Keep trying, hold on, and always, always, always, believe in yourself, because if you don't then who will sweetie?"
— Marilyn Monroe, Actress, Model & Singer.
"Don't lament so much about how your career is going to turn out. You don't have a career. You have a life. Do the work. Keep the faith. Be true blue. You are a writer because you write. Keep writing and quit your bitching. Your book has a birthday. You don't know what it is yet."
— Cheryl Strayed, Writer
"The future belongs to those who believe in the beauty of their dreams."
— Eleanor Roosevelt, Longest-serving First Lady of the United States
"If I could offer any advice, it would be: Be your own shrink and ask yourself tough questions like, 'Why am I doing this? Where do I want to be? And of course…what would I do if I weren't afraid?' And then be brutally honest with yourself, even if you give yourself answers you don't want to know. Pay attention to your instincts…"
"Even if I'm completely unsure, I'll pretend I know exactly what I'm talking about, and make a decision."
"You have to [go outside your comfort zone]. Andy Warhol said 'say yes to everything'."
— Cynthia Rowley, Designer
"Remember that no one succeeds alone. Never walk alone in your future paths."
"My advice to young women is to NOT be overly obsessed with their career path when they start out, to try out different avenues to help them learn what is the best fit. They will know soon enough."
"I would say network, network, network, and in the process remember you're always selling yourself."
"If you try in whatever ways you can to brighten someone's day, to be fair and respectful to everyone, and to grow your network without being "networky", you will be a rockstar. Have a plan, but be willing to deviate from it if awesome opportunities arise. While it's important to think about your future and what you want to be doing in 5 years, don't let that plan be so concrete that you ignore opportunities around you."
"Cram your head with characters and stories. Abuse your library privileges. Never stop looking at the world, and never stop reading to find out what sense other people have made of it. If people give you a hard time and tell you to get your nose out of a book, tell them you're working. Tell them it's research. Tell them to pipe down and leave you alone."
"When you do something you're not ready to do, that's when you push yourself and you grow. It's when you sort of move through that moment of discomfort of, 'Wow, what have I gotten myself into this time?"
"I think the main thing is: Just do it. Plunge in! Being Canadian, I go swimming in icy cold lakes, and there is always that dithering moment. "Am I really going to do this? Won't it hurt?" And at some point you just have to flop in there and scream. Once you're in, keep going. You may have to crumple and toss, but we all do that. Courage! I think that is what's most required."
"Take criticism seriously, but not personally."
"Someone once told me growth and comfort do not coexist. And I think it's a really good thing to remember."
"Failure meant a stripping away of the inessential. I stopped pretending to myself that I was anything other than what I was, and began to direct all my energy into finishing the only work that mattered to me. Had I really succeeded at anything else, I might never have found the determination to succeed in the one arena I believed I truly belonged."
"Don't give up. If you don't hear back from someone, follow-up. If you don't get a job, ask why not and keep applying. Do whatever you have to (within reason and normalcy) to make something happen. I applied to work at nymag.com three times and got it the third time because I took a break and spent six months commenting on everything on the site under my name, so they'd know I was smart, funny, and informed."
Alexandra Martell, Managing Editor, Online
"I was young, and I think your mistakes sort of mold you. It was important for me to make that one. After that, I definitely made it a point to not let others get in the way of what I wanted to do. Whether it's a relationship or your family or friends, the people close to you should encourage you to work towards your dreams. That was an important lesson for me to learn."
"Take a chance. Don't be afraid of what you don't know. And don't fall in love with Plan A."