3 Intimidating Restaurant Dishes I Regularly Make At Home (& How Anyone Can Master Them)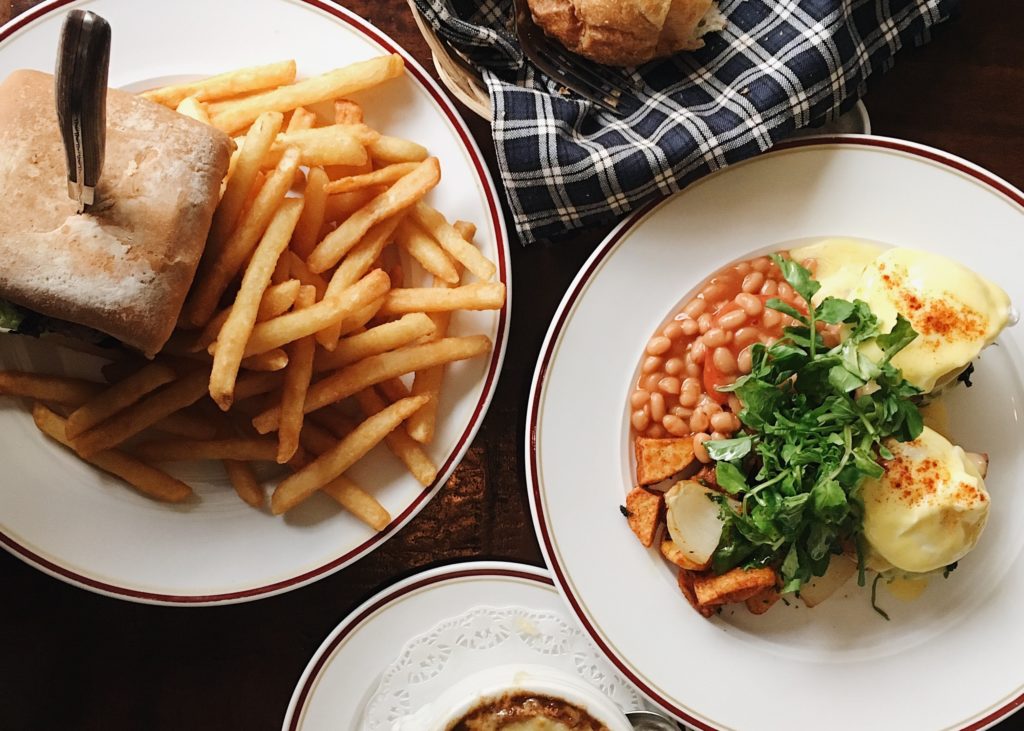 Even though I love to cook, there have always been a few dishes that I've convinced myself that I needed to eat in a restaurant because they were too "complicated" to make at home. After a little research, I discovered that I was incredibly wrong about a lot of dishes.
Here are my top three restaurant dishes I now regularly cook at home:
1. Eggs benedict 
For years, I used to tell myself that if I was going to go out for brunch, I needed to order eggs benedict. That's because the concept of eggs benedict seemed so elusive to me. The perfectly poached egg, the crunchy English muffin, and that magical hollandaise sauce; eggs benedict was this beautiful harmony of flavors that I didn't ever dare replicate at home. I didn't see the point of going out for breakfast to order fried eggs, bacon, and toast because those were all things I could easily make at home. But for eggs benedict…I happily spent the money.
My favorite part of the dish is the beautiful, decadent, and delicious hollandaise sauce that tops the poached egg. I don't know how I got this idea in my head, but I had convinced myself that this sauce must be too complicated for me to ever attempt on my own. But one day, while I was cooking breakfast, I decided to look up just how complex this recipe could be. Do you know what I discovered?  
It's literally three ingredients. 
I also realized why I loved hollandaise sauce so much. It's mostly egg yolks and butter — seriously, how could that not be delicious?  
Hollandaise sauce is eggs, butter, lemon juice, and salt/pepper to taste. It does require time management, as you need to whisk the eggs and butter over a double boiler without scrambling the eggs, but it's definitely possible. And if you don't have a double boiler (or don't have a pot and bowl of appropriate size to make a substitute for one), there's even a microwave version. The microwave version is a bit tricky because you have to be very careful with the timing of your microwave so that the eggs don't scramble, but it's definitely possible in a pinch. 
I will say, though, learning to poach an egg was harder than I thought. Here's a great video guide on it, but essentially these are the three rules to follow when poaching an egg: 
Don't salt the water; add a bit of vinegar instead. 

Really swirl the water well to create your vortex before adding your egg. Either have an egg cracked in a bowl ready to add with your other hand or have someone help you. Those precious seconds that I used to crack an egg while trying to swirl my water made a huge difference. 

DO NOT touch the egg after you've dropped it in. Just leave it for 3 minutes and let the water vortex do its thing. Don't coddle over it (it doesn't end well). 
Now that I know how to make hollandaise sauce, I can also tell when it's not made well. I recently went to brunch with some friends who ordered eggs benedict, and afterwards, they said they commented that the sauce tasted kind of off. I tasted it, and I could tell the restaurant had skimped on the butter. Ina Garten would be so disappointed.  
2. French onion soup 
Again, this was one of those recipes that I overcomplicated in my head. I'll share an embarrassing little secret. Before I started looking into this recipe, I used to think I couldn't make French onion soup because I would have to buy onions from France. For the record, it's not called French onion soup because the onions are French, it's because the technique is French. (To be fair, I thought it was like champagne, where you couldn't actually call it champagne unless it comes from a specific region of France. Nope, it's not the same thing.) Ooops….
Like hollandaise sauce, French onion soup is essentially three ingredients: onions (you can use different kinds and no, they don't have to be from France), butter (the secret to anything delicious) and beef stock (which you can use homemade or store-bought). You can always add different spices or wine to it, but considering I'm allergic to wine (I know, the horror), this is actually a three ingredient soup for me. 
I will say though that this recipe is a million times faster for me because I have an Instant Pot. But it's 100% doable in a regular pot on the stove as well. Long story short, French onion soup is simple: just sauté onions in butter, add beef stock, season it with salt and pepper, and voila! Your onion soup is French. Of course, there are many other things you can add to it, but the concept itself is pretty basic. 
If you want to take it a little further, though, you can serve it up like they do in restaurants. To truly amp up my soup, I bought some ramekins (super cheap from the dollar store, but Ikea also sells nice ones) and some slices of Swiss cheese. Simply pour the soup into the ramekins and place a slice of cheese on top. I then put it on my toaster oven and broil the cheese for a few minutes and it creates this beautiful crusty and gooey cheese on top to eat with the soup. 
Best of all, this soup is incredibly easy to freeze and can be a quick snack. I cannot believe I used to pay $7 plus tax and tip for this soup! 
3. Lobster Tails
This is probably the easiest and most impressive restaurant recipe I have ever made, and I made it because I was purposely trying to avoid the restaurant scene. I live in Vancouver, and every year they hold an event called "Dine Out Vancouver," where a bunch of restaurants create set menus at three price points for people to try. The whole point of this event is to get people to try new restaurants at a time (usually late January to early February) when it's slow for restaurants. Usually, I do participate in the event, but throughout the years I've found myself less and less interested in the set menus. Because restaurants are creating the same dish over and over again, the quality isn't as good as it would usually be. On top of that, the set menu prices were raised this year, so I took it upon myself to try out a challenge. 
Instead of spending almost $100 on a night out for myself and my boyfriend, I decided to choose some dishes and recreate them at home for a "Dine-In" night. Some things worked and some things didn't, but one of my biggest discoveries was how easy lobster tails to cook. 
First off, I know this is very specific to my situation, but lobster tails weren't as ridiculously expensive as I thought. It's probably because I live in a coastal city, but I found frozen lobster tails were 2 for $8 (for small 2-3 oz) or 1 for $11 (for a 5-6 oz) at my local grocery store. While this is definitely more than I'd pay for a regular ingredient, it's nice for a special occasion. The problem was that I didn't know how to cook them. So I watched a 2-minute video on YouTube, and it was really as easy as it looks to cook broiled lobster tails. You butterfly the tail, smear on some butter, lemon, and parsley (you can add more spices, too), and then pop it under the broiler for 5-7 minutes. When it's done, the results are magical. The lobster turns a beautiful color of red and white and looks exactly like the restaurant version. Tasty also did a similar video that's about 30 seconds, and it is actually as easy as it looks. 
I just placed them on some steaks (that I bought on sale and defrosted) and bam. It was a surf and turf dinner that literally cost me less than $30 (I made a side of potatoes as well) for two people. So if you're ever looking to really impress someone, this meal is an easy showstopper, and it takes less than 30 minutes to make. I also save my lobster shells to make a seafood chowder that is to die for. That's the beauty of cooking at home; the ingredients you buy once can often be used for many meals afterwards. 
Soothing my introvert self with restaurant meals at home
I still like to go out for dinner sometimes. But being an introvert, I'd rather be cooking at home. Not only does it save me money on the ingredients vs prepared dishes, it also saves me money on the tax, tip, and transportation fees involved in going out. 
I've since stopped using intimidation as a reason to not try something in the kitchen and run out to a restaurant. If I ever feel intimidated by a recipe, I take the time to research the steps involved first, before assuming it's too difficult to try. I've also stopped assuming that ingredients like onions need to be imported from a specific part of the world in order to make a soup.
Kimberly is the writer behind www.millenniallifeadmin.com. MLA is a career and personal finance blog helping millennials to develop the personal growth habits to successfully make and manage their money. When she's not writing, you can find her watching reruns of Gilmore Girls or on Instagram @millenniallifeadmin.
Image via Unsplash
Like this story? Follow The Financial Diet on Facebook, Instagram, and Twitter for daily tips and inspiration, and sign up for our email newsletter here.