3 Low-To-No Cost Ways I Cured My Embarrassing Hyperpigmentation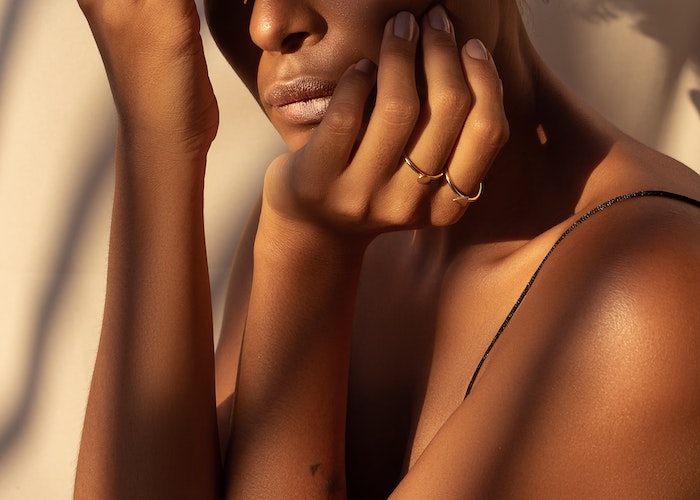 As a woman of color, hyperpigmentation has plagued me since childhood. Growing up as a competitive swimmer, I was often in and out of the water all summer, which only seemed to exacerbate the uneven pigmentation on my face. Recently, there has been a surge of attention given to brown women by the beauty industry. From hair products for those with natural curls to the uptick in color correctors, it has been gratifying to see the makeup industry finally—even if slightly—begin to address the needs of all women.
 Hyperpigmentation, in particular, has been discussed at length due to the popularity of vitamin C serums. But the truth is that a lot of these products are just too costly. From vitamin C serums that need to be refrigerated to color correctors that match the pigment of your discoloration, it's honestly a lot of work to cover up and get rid of dark and uneven spots, no matter how alluring the concept of "self-care" is packaged.
Ultimately, I sought out low-budget alternatives to the high-end products suggested by the beauty industry. While these may not work for everyone, I saw visible results within six months and hope others can benefit from these hacks, too. 
1. Cheaper Alternatives & K-Beauty Products
By now, most of us have heard of The Ordinary. The affordable beauty brand burst onto the market with a flurry of YouTube videos and influencers and honestly, it works. Their blood-like chemical exfoliant did wonders for my hyperpigmentation in just six months and cost under $10 to boot. I used it religiously at night, once every ten days before bed so that my skin wouldn't suffer from sun damage immediately afterward. If you've yet to bite the bullet on this brand or this product, I truly cannot recommend enough that you do so immediately. Other products I recommend are actual K-beauty products, not the expensive packaging that swears it takes inspiration from Korean beauty. A handful of my girlfriends and I split the cost of international shipping on a popular beauty website and each purchased the products we needed, meaning I could get a high-quality bottle of vitamin C serum for under $15. While the efforts of putting the product on every night, refrigerating it, and so on were frustrating, I did nevertheless see results. 

My recommendation is to either do the same—split shipping costs with a group of friends, or even find a group of BIPOC near your zip code through Facebook groups who might be interested—or have a Korean-American friend pick up cheaper products for you from Korea, next time they're visiting. You can also find a pen pal in the country, or even in Japan, and do a cultural exchange, sending American products over and receiving Korean or Japanese beauty products in return. Honestly, I've used all of these methods since it's a cheaper and more trusted alternative to vitamin C serums in the U.S. While cheaper brands do exist, I've found that they take a lot longer to work so while I'm comfortable using them now, when my hyperpigmentation is under control, I needed much higher quality products to really see the reversal of sun damage to my skin from when I was younger. 
2. Wear Sunscreen
This seems like a no-brainer, but I'm serious: wear sunscreen. On the days or weeks I forget or feel lazy to reapply, I definitely notice a difference in my skin texture and hyperpigmentation marks. Most Black and Brown women own a bottle of icky, white, streaky sunscreen from before the beauty industry thought to make sunscreen that doesn't leave a cast on our skins. Well, I'm telling you: if it's not expired, use it. We're at home nearly 24/7 at this point and while it may seem like you can't incur sun damage from sitting by your window inside your apartment, you certainly can. I apply sunscreen every morning and every time before I leave the house. While I used to wear makeup, I now apply sunscreen and mask up for my daily walks. If finding a sunscreen without a cast is important to you, so many affordable options now exist and I genuinely recommend making the investment. Whatever it takes to get you to wear it is going to save you so much more in the future. 
[Editor's Note: If you're prone to breakout and/or have oily skin, beware of using just any sunscreen on your face. The cream is extremely oily, blocks pores and can cause breakout almost immediately. Instead, try an affordable cream intended for use on your face, that is lighter in consistency and has a high SPF count of at least 30.]
3. Homemade Face Mask
I saved the best for last. My grandmother makes this face mask for me using ingredients that aren't overly expensive in India, so apologies if some of these may seem pricey from your local grocery store but I recommend picking them up from a South Asian grocery store near you to save on costs. However, you may actually already own these products in your pantry, so it won't cost you an additional dime at all. Essentially, mix chickpea flour (besan in the South Asian grocery store), turmeric, and orange rind and store this powder in your bathroom. Take a tablespoon to mix with water whenever you want to apply this—I usually do it in the shower—and then rinse off after a few minutes. Now, if you don't want to powder orange peel for this—you need the same quantity of orange peel powder as you do chickpea flour and about a third of that quantity of turmeric—you can always just combine the chickpea flour with turmeric and add orange juice (fresh is best) to make the powder into a finer, mask-like consistency. This mask is so gentle on the skin and the ingredients are so fresh and natural that I recommend using it every day, at least for a month, to see results.
Keertana Anandraj is a recent college grad living in San Francisco. When she isn't conducting international macroeconomic research at her day job, you can find her in the spin room or planning her next adventure.
Image via Unsplash