6 Life-Changing Korean Skincare Products That Cost $35 Or Less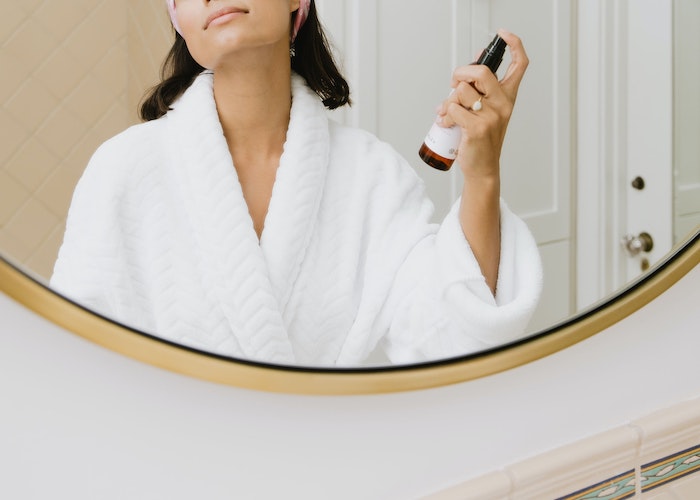 I'm just going to come out and say it: Korean skincare changed my life. A tad dramatic? Sure, but it's the absolute truth. I discovered Korean skincare back in 2016 when I started going to therapy a block away from Koreatown in New York City. On 32nd Street between 5th Avenue and Broadway (a lively block packed with amazing restaurants, by the way), there are a handful of Korean beauty stores, like Nature Republic, that sell reasonably priced skincare (I'm talking less than $50 for most items). One day when I was about thirty minutes early for a session, I decided to stop in all of them, and subsequently bought two shopping bags worth of products. I didn't regret any of it. From a green tea foot scrub and serum-packed sheet masks to an aloe vera gel and volcanic clay mask, virtually everything I got that day made a difference in the look and feel of my skin from head to toe after just a couple of uses. So I kept going back and buying more.
Then I discovered Korean beauty destinations Peach & Lily and Soko Glam through a Google search. They are e-commerce sites where Alicia Yoon and Charlotte Cho, respectively, curate their favorite Korean products, most of which they find during a number of trips to South Korea every year (it's a labor of love and commerce, for sure). If you're new to the world of K-Beauty, both websites have a handy guide you can use to find options suitable for your skin type and concerns.
After trying and testing out various products over two years, for fun and through my line of work as a beauty writer, my medicine cabinet is now filled with fantastic Korean skincare finds that work amazingly well and cost $35 or less.
Here are six Korean skincare products that I absolutely swear by:
1. Mizon All-In-One Snail Repair Cream, $19 at Peach & Lily
While there isn't a scientific consensus on whether snail extraction has any skincare benefits when used topically, there are a plethora of personal stories online from people who have seen their skin transformed after implementing a snail cream in their regimen. I'm one of those people. For about eight months, I used the Mizon version religiously every night, and over time, the texture of my skin was smoother after just a couple of days. My skin tone also evened out (I had a lot of dark marks from hyperpigmentation). I highly recommend trying it out for at least two weeks to see if it will make a difference in your skin, as it did for me, even if the idea of slathering snail secretion all over your visage may seem a bit odd, because let's be honest — you've probably tried weirder things.
2. CosRX Triple C Lightning Liquid, $27 at Soko Glam
As a beauty writer, I am very cautious not to give products a superlative label because I try so many that work really well and deserve praise all the same. But for this item from one of my favorite brands, CosRX, I'm throwing my self-imposed rule out the window to say that this is, hands down, the best vitamin c serum I've used on my face. And it's constantly sold out since it launched last year on Soko Glam, which goes to show other people love it, too. But what's all the hype about? For starters, vitamin C is a workhouse when it comes to lightening hyperpigmentation and brightening your overall complexion. This vitamin c-laden serum, in particular, is lightweight, doesn't leave your skin feeling tacky once applied, and it pairs well with virtually any moisturizer no matter if it's a cream, gel, or liquid.
3. Dr. Jart+ Dermaclear Trans-Foam Trio, $35 at JCPenny  
These gentle clay masks (Calming White Trans-Foam Clay, Moisturizing Pink Trans-Foam Clay, and Refreshing Green Trans-Foam Clay) from popular Korean skincare brand Dr. Jart+ are a mask and makeup remover in one, which turns into a foamy cleanser upon contact with water. Unlike most clay masks that I've tried, the pink and white options do not feel extremely tight on the skin once they've dried. In fact, they're the complete opposite. They have a nice hydrating and calming effect while removing my makeup and cleaning my pores. They are also great to travel with because not only are they TSA-safe, but you can also use them as a cleanser or a mask whenever your skin needs extra care.
4. Innisfree Pore Clearing Clay Mask With Super Volcanic Cluster, $15 at Innisfree
Whether you're a skincare novice or aficionado, you've probably seen this product from another beloved Korean brand, Innisfree, online numerous times, especially on Amazon — and for good reason. It goes on creamy but dries rock hard, which was a little bit uncomfortable on my first try. When I washed it off, though, my face looked brighter, and the stubborn white and blackheads I had been fighting that week were so much smaller and less red. I like to call this clay mask my "hangover cure," because whenever I have a breakout or my skin feels "under the weather," I reach for this, almost instinctively at this point.
5. Innisfree Hydrating Spa Oil-Free Gel With Sparkling Mineral Water, $29 at Innisfree
If you have combination or oily skin like myself, water-based moisturizers are a blessing from the skincare Gods themselves. Without clogging your pores (even in the summer), they replenish your skin's moisture levels. They typically come in a gel texture that sinks in within minutes so it doesn't feel like you're wearing anything at all. This featherweight option has ceramide that helps protect my skin's top layer so I look fresh-faced all day.
6. Erborian Black Cleansing Oil, $21 at Erborian
Don't be alarmed — this potent cleansing oil gets its hue from activated charcoal, a hero skincare ingredient known for its purifying properties. It draws out excess oil, bacteria, dirt, and other impurities without leaving your skin feeling tight afterward. This was one of the first cleansing oils I tried after hearing about the double-cleanse method, which involves washing your face with an oil cleanser and then a water-based cleanser (it could be a foam or gel). Korean women swear by this technique for a clear and even-toned complexion. After the first use, I was completely hooked. While the thought of cleansing my face with oil seemed counterintuitive, it actually helped my skin balance its oil production. I only have to use a little bit of this product to take everything off at the end of the day, including my stubborn eye makeup.
This post was originally published on July 5, 2018, and has since been updated.
Shammara is a featured columnist at The Financial Diet. When she's not copy-editing or writing about her financial woes, you can find her on Twitter sharing her thoughts on beauty and fashion trends and pop culture.
Image via Unsplash