3 Must-Do Tasks For Your First 45 Days At A New Job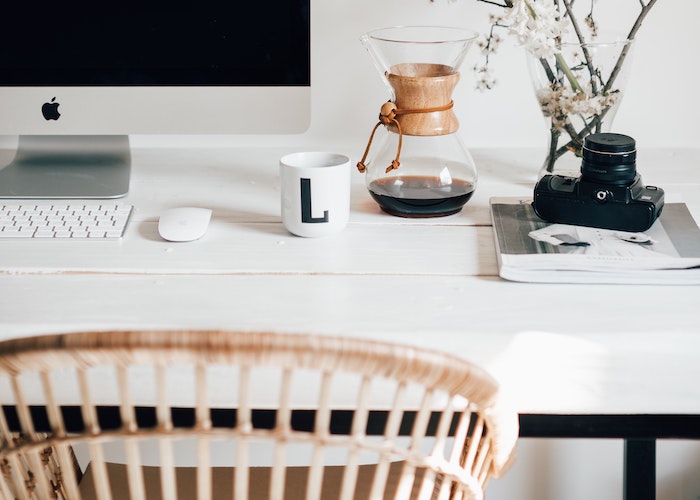 Beginning a new position virtually hasn't been easy. So much of what I know to be true, about setting yourself up for success in a new job, is difficult to translate to the virtual realm. From reading body language to showing up early for meetings to getting to know your coworkers better in the breakroom or even just taking initiative in small ways around the office—none of this is possible with virtual onboarding. But, that being said, I've managed to modify a chunk of this advice so that I still feel more connected to my new work team, from home.
1. Schedule A 1:1 Touchbase
While this isn't as seamless or simple as coffee breaks in the office are, scheduling a 1:1 (via Google Hangouts or Zoom, for example),  with coworkers during your first 4-6 weeks, is a must. Even if you don't work closely with a lot of your coworkers, it nevertheless shows initiative and drive to your boss and helps build team camaraderie. What's more, it'll likely make you feel a lot less isolated. One of the most difficult aspects of onboarding virtually is the immense feeling of loneliness and overwhelm as you navigate a new role and a new routine entirely by yourself. By reaching out to other coworkers, though, and getting to know them better—and even picking their brain about advice they have for how you can be successful at the start of a new position with your team—can help alleviate a lot of that solitary feeling.
2. Ask for Feedback
One of the biggest pitfalls to starting a new job is assuming that you're doing your role correctly and then finding out, during a semi-annual check-in, that you haven't actually been doing what your boss wanted you to do, at all. While it's easier to ask for feedback in-person, I encourage new employees to take initiative and put at least a thirty-day check-in conversation with their boss on the calendar. Even if it's just a 15-30 minute chat, it'll show you're eager to learn and improve, open to constructive criticism, and not simply lounging about at home. It's so difficult to show and prove that you're working when the majority of us are working remote, but actively taking interest in receiving feedback goes a long way.
You can also slip in this feedback on your 1:1 catchups with coworkers and ask them if there's anything you could be doing better, especially those coworkers with whom you work alongside more frequently. By opening yourself up to feedback, you're showing that you are flexible and willing to adapt, which will translate when we're finally back in an office environment, too.
3. Don't Work Too Hard
This may seem counterintuitive, but I always find it easy to push myself at the start of a new role and give it my 150%. As a result, I seem to complete tasks much more quickly than anticipated and begin impressing my boss and new coworkers rapidly. But, I then fall into a cycle where those standards that I set for myself at the beginning become the "new normal" and standard of what is expected of me at the workplace. While this isn't necessarily a bad thing, the reality is that I don't always have the energy and drive to give 150% at the office each day, or even each week. If I'm at 100% these days it's a small miracle, so I always need to be mindful that the energy I have at the start of a new job doesn't reflect the energy I will sustain as the shine wears off the new role.
As a result, the work ethic I present at the beginning needs to be realistic. In the first 4-6 weeks of a new position, be intentional about how you spend your time and mindful about how long tasks should realistically take. If your boss expects a report to be done in five days and you finish it in one, maybe wait till day three or Day four to present it to them. That doesn't mean you should lounge around, in the meantime, but more so that you should use that time to take initiative in other ways, researching the field, scheduling those 1:1 catchups or even getting ahead of other work, in a way that will make your load lighter, later.
Your boss isn't trying to overwork you in the beginning, but they do want to see what you're capable of. At the same time, they want to give you a moment to breathe and adjust to a lifestyle change. As such, take advantage of that and don't unnecessarily set yourself up for difficult deadlines or an insurmountable amount of work in the future. It's better to start out taking 4-5 days to write a report and then gradually only need 2-3 days in a few months, showing progress, rather than rushing through assignments or meeting deadlines early from the onset. 
Ultimately, starting a new job remotely is tough. But, I firmly believe that these few tips and tricks can help make the eventual transition to in-person work easier, and also render your virtual experience much more pleasant and connected.
***
Keertana Anandraj is a recent college grad living in San Francisco. When she isn't conducting international macroeconomic research at her day job, you can find her in the spin room or planning her next adventure.
Image via Unsplash