4 Clever Ways To Save On Wedding Costs (Without Downsizing Your Guest List)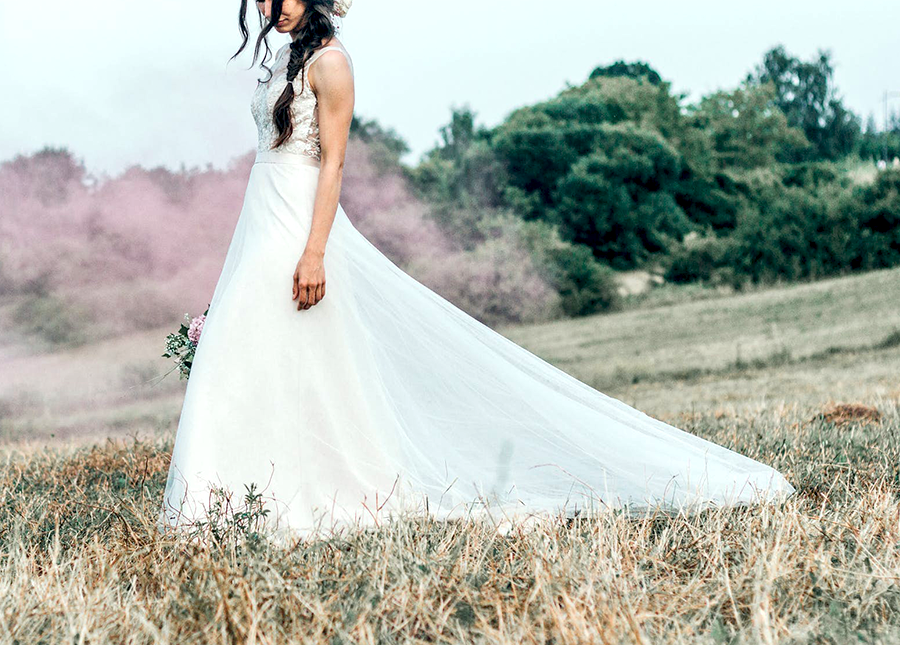 My fiancée and I are getting married this September, which means we've already booked our venue and photographer, ordered our cake and our flowers, set up our ceremony, finalized our guest list, and figured out what we're going to feed everyone. We have a bunch of little details left to fine tune between now and our wedding day, but otherwise, we're in great shape. The only downside to being so far along in the planning process is that now we have to actually start paying for everything.
There's a lot of great advice out there regarding how to keep your wedding affordable, but a lot of that advice assumes you're going to pre-emptively choose to have a smaller wedding with fewer guests so you can make do with a smaller, less expensive venue, or that you're going to DIY absolutely everything. While these are totally valid choices that many couples make, they definitely aren't workable for everyone, and they weren't workable for us. Our guest list tallied about 140 people — most of whom were family members or good friends — and we weren't willing to cut it back any further. And although there were several key elements to our wedding that we did tackle ourselves, neither of us had the time, inclination, or quite frankly the skill to go full-blown Pinterest and put the whole event together from scratch.
That being said, my fiancée and I were still intent on keeping our wedding as low-cost as possible, and thus far we've succeeded. Although we are fortunate enough to be receiving some financial help from my parents, we've still managed to spend less than $10k of our own money on our wedding and honeymoon, which feels like an incredible win. Here are a few of the most effective strategies we've used to save money without cutting back on the overall size of our wedding:
1. Recruit friends and family to help
Even if your loved ones can't afford to assist you financially, chances are they have time or talents that can still be put to use. We asked a family member who's ordained in the church my fiancée grew up in to officiate our wedding, and a graphic designer friend of mine created and formatted our invitations and table markers. My fiancée's sister, who's also one of my bridesmaids, will be handling my hair and makeup, and another friend is going to act as our MC. As long as you aren't too pushy and are willing to hear the occasional "no," there's absolutely no harm in asking the people who love you to help out with tasks that you'd otherwise have to pay a professional to do. Even something as seemingly minimal as picking up your flower arrangements to avoid the delivery fee or loaning you sound equipment so you don't have to go out and rent it yourself can save you money in the long run.
2. DIY what you can
If I'm not the least crafty person on the planet, then I'm probably in the bottom few. But even if you're as hopeless at crafting as I am, I'm betting there are still a handful of things you can manage to do yourself in the interest of saving money.
Making your own Spotify playlists is becoming an increasingly popular substitute to hiring a DJ, and just about everyone can do it. We're planning to pay for a premium subscription so we don't wind up listening to unwanted ads on our big day, but even that $10 charge is substantially less than whatever it takes to pay someone else to come sit in a booth and play music. We also made our own programs and our own centerpieces, which will cost us less than $30 in printing and supplies. As long as you're not stressing yourself to the max trying to figure out something that's far more complicated than you can handle (see: the reason I didn't attempt to make my attendants' gifts), the money you'll save should be more than worth the time you'll spend.  
3. Borrow, don't buy
Before you go on a wild spending spree to pick up all the things you think you need for your wedding day, ask your family and friends what they've got lying around. (Are you sensing a trend here?) Chances are they'll be able to provide you with some of the small-scale stuff you'll need for no cost at all. Our venue has no outdoor sound system, but we're going to borrow a speaker from a family member and rig up a modified sound system for the purposes of our outdoor ceremony. Aside from the obvious financial perks, borrowing also ensures that you won't wind up with a whole bunch of junk cluttering up your home once the wedding is over, because you'll be able to give all that junk back. Win-win.
4. Shop ahead of time
This particular tactic only works if you have a long enough engagement to spread out your preparation — which I did — and the wherewithal to start in on that preparation early. I didn't do nearly as good a job with this as I could have, but the things I did buy or obtain well in advance of the wedding saved me a lot of stress and cash later on.
Shopping ahead allowed me to pick up my shoes on clearance and find a dress that was hundreds of dollars cheaper than I expected. Because I wasn't in an enormous hurry to lock down those items, I was able to take my time, do my research, and approach the things I inevitably had to buy with deliberation, instead of with panic. Plus, shopping ahead saves you from paying even more money toward the end of your planning process, which is when most people — myself included — are really feeling the pinch.
*****
I don't necessarily buy into the idea that you should enjoy every moment of planning your wedding, but I do believe the financial aspects should be as low-stress as possible so you can focus on what matters most: the life you're about to start with the person you love.
Ellen Rozek is an administrative assistant by day and an aspiring young adult novelist whenever she's off the clock. You can follow her blog or her Twitter @EllenRozek.