4 Pro Cooking Hacks I've Learned From Meal Kits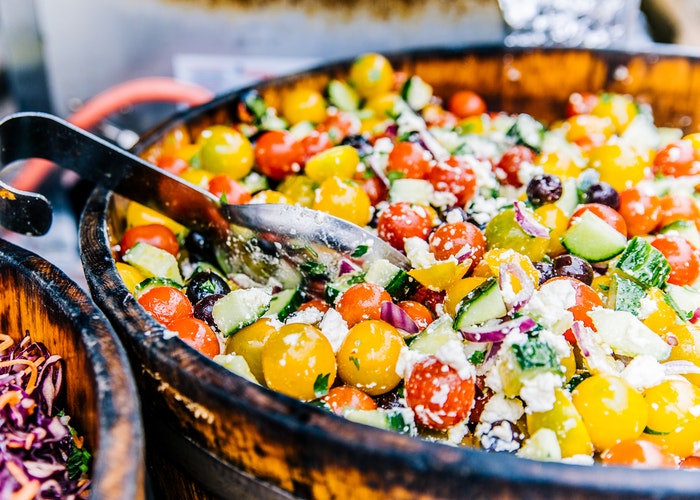 This article originally published on Jul 11, 2020.
I'm not a chef. I tend to rotate between three to five easy, simple recipes that I manage to meal prep on the fly without too much thought and satisfy my food cravings by trying out new restaurants every week. Of course, this was all pre-COVID. 
In quarantine, I've been proud of myself for expanding my recipe repertoire, but nevertheless, I've grown weary of my own cooking. I've also been on a streak of healthy eating, which has meant that my takeout options are limited. As such, I turned to meal kits—Blue Apron, Hello Fresh, and Home Chef—to get through my bout of cooking fatigue. While these kits cost more than my weekly groceries and aren't about to become a staple in my life, I did learn a surprising number of cooking "hacks" that I wouldn't have learned otherwise. While many of these may seem simple or obvious for more seasoned chefs, for a relative cooking newbie, these are budget-friendly and truly transform the flavor of your food. 
1. Chopped ginger or green onions will instantly level up your rice. 
This is the easiest "hack," and I was surprised by how much flavor it adds to a dish. I'm South Asian, so I make rice a lot, and I grew up believing that flavored rice meant a dish as elaborate as biriyani. While this "hack" is obviously not going to come near the amount of flavor as a rich, flavored rice dish like a paella might, it still adds just a little something and, chances are, you have a small bit of ginger left in your fridge that you don't know what to do with. Bonus hack: You can also keep green onions on hand at all times by regrowing them in your kitchen!
2. Don't skip the garnish.
If you're anything like me, you love watching cooking shows but roll your eyes, just a little bit, when they go crazy on the garnish. Everything from chopped cilantro to sliced peanuts to a lime wedge has always been, in my humble (not professional) opinion, a suggestion. One that I, a budget-conscious cook, have always skipped. With these meal kits, however, I decided to take the added step of garnishing my meals with peanuts or cilantro or a lime wedge since it was already included with the rest of my ingredients. And, surprisingly, garnish does add a lot of flavor. While nuts or cilantro can be a bit of splurge for such a small portion, I'm now willing to spend a few extra dollars on these for garnish because it really levels up the dish.
What's more, you can make other food staples with whatever you have left on hand. For example, you can mix cilantro with lime juice, olive oil, and a crack of salt and pepper to be a delicious dressing to add to a flatbread, salad, or even to help flavor meat or veggies. These ingredients can be used in a lot of ways beyond just a simple garnish.
3. Mayo is the perfect base.
I don't eat burgers very much, so mayonnaise has not been a staple in my kitchen. But mayo isn't just for burgers or sandwiches. I was pleasantly surprised to find that so many of the recipes I ordered through these meal kits, though inspired by different global cuisines, relied on mayo as a base for the sauces they created.
This also adds so much flavor to a simple salad and while it's likely obvious to many, I never realized mayo was such a versatile condiment! I used it in coleslaw, to marinate chicken with yellow Thai curry, and even while making Asian sauces, combining it with soy sauce or other condiments. Chances are, you have mayo in your home and don't know how versatile this item is, so I'd encourage you to look up simple recipes and get a few new ideas of how to use the jar sitting in your fridge.
4. Roast your veggies in a sauce versus adding them afterward.
I love roasting veggies. It's easy and tasty, and I often add dressing or sauce to my veggies after, they've roasted when I eat them with a salad or a rice base. In following the recipes I received, though, I was encouraged to coat vegetables with a sauce midway through cooking, removing them from the oven to add a garnish like sesame seeds on top. This wasn't something I considered before, because it seemed like adding an extra step. But it does make a difference! It gives the sauce and seeds a chance to cook and roast along with the vegetables, and I promise it only adds an extra two minutes, max, to your preparation! I roasted veggies in hoisin sauce or in a soy sauce mix with chili flakes and rice vinegar, but I'm sure you could roast these veggies in other sauces, as well, and improve the flavor of your meal. 
If these "hacks" seem too simple or easy to you, chances are, you're a much more seasoned chef than I am. For those continuing to dread their home-cooked quarantine meals, though, like me, I hope these "hacks" can improve the flavor of your dishes and revive a bit of excitement for cooking. Experimenting in the kitchen has made me more excited to cook recently, which has helped immensely with quarantine fatigue. Don't get me wrong: quarantine is still a struggle, but learning something new has helped make the time pass a lot more quickly.
Keertana Anandraj is a recent college grad living in San Francisco. When she isn't conducting international macroeconomic research at her day job, you can find her in the spin room or planning her next adventure.
Image via Pexels
Like this story? Follow The Financial Diet on Facebook, Instagram, and Twitter for daily tips and inspiration, and sign up for our email newsletter here.