5 Simple Projects Anyone Can Use To Transform A Tired Bedroom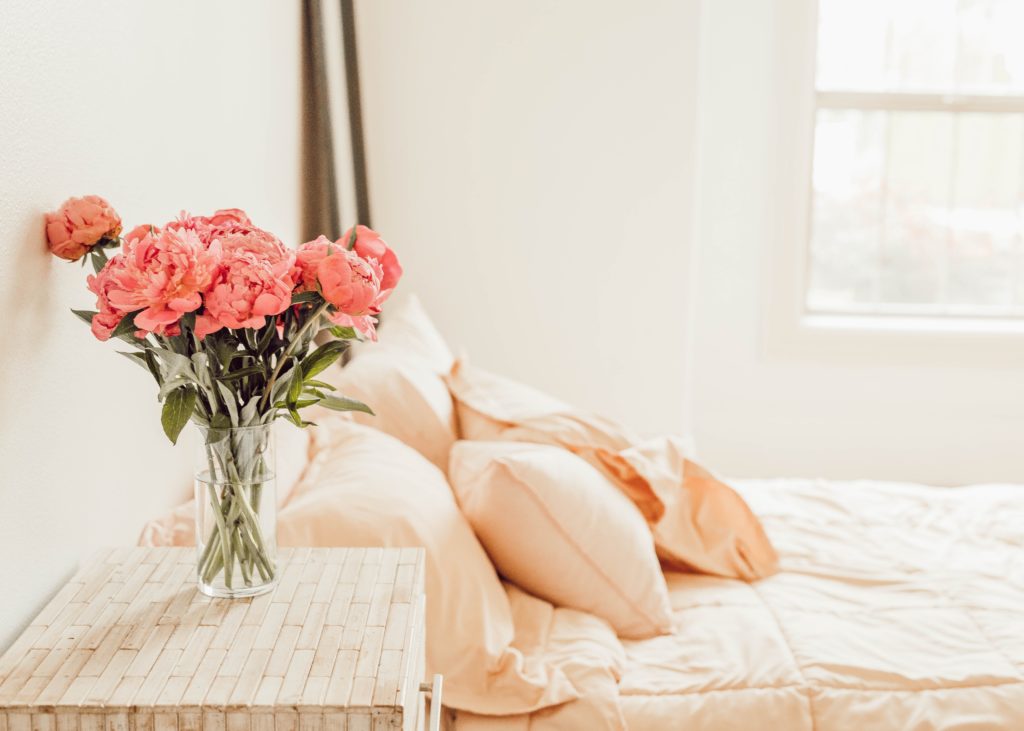 You spend more time in your bedroom than you might think. In fact, the average Americans will spend half their life — 36 years — in bed, according to data from Slumber Cloud, as reported by The NY Post. If you're spending that much time in your bedroom, it should be clutter-free, comfortable, and welcoming — a sanctuary of sleep, where you come to relax, unwind and restore after a long hectic day. If your bedroom has you feeling more stressed than relaxed, however, it may be time to change things up and make some cheap bedroom upgrades. Use these five projects to transform your old bedroom into a fresh space that you'll love sleeping in. 
5 Cheap Bedroom Upgrades You Can Do This Weekend
1. Mount Your T.V.
If you're part of the 61 percent of people who fall asleep with the T.V. on, you're probably not ready to kick it out of your room. Instead, make free up space on your dresser and give your neck a rest by mounting it on the wall. 
However, you don't jump into this project without guidance. Get it right by avoiding these common T.V. mounting mistakes:
Bad location: Choose the location carefully. It's best to place your TV in a location that can be easily seen via your bed since that's where you will likely be watching TV. This may sound obvious, but you don't want to go through all this work to find that you can't swivel your T.V as needed or that it's too high or low.

Poor mounting: Always mount the T.V. in a stud — drywall alone can't support the weight.

No access to ports: Make sure you can access all buttons and ports with the T.V. placed in the mount you choose.
2. Rearrange Your Furniture
Instantly transform your bedroom by simply rearranging the furniture. According to feng shui's ancient Chinese system of natural laws, arranging your furniture and décor in a certain way can improve the flow of energy and create a more relaxed and restful space. If you're new to feng shui guidelines, use these tips from Megan Beauchamp, lifestyle writer, to get it right:
Place your bed against a wall and avoid it being directly in line with the door.

Decorate in twos (i.e. two bedside tables). 

Don't hang a mirror.

Choose soothing, muted color tones.

Remove all electromagnetic field appliances from your bedroom.
3. Organize Your Closet
If your closet is overstuffed with clothing, shoes and accessories that you haven't worn in years, it's time to organize. An organizational system is one of the best cheap bedroom upgrades you can make. Not only will this clear up clutter, but it will save time in the mornings — no more digging through piles of sweaters to find the one you love. Plus, you can sell items you no longer wear to make a little extra cash.
If you simply don't have a close that's easy to organize, with no shelves or little storage space, invest in a customizable closet system. For example, Ikea has several budget-friendly systems that allow you to maximize space and minimize clutter. If you need help deciding what to keep, donate or toss, channel your inner minimalist Marie Kondo. If a piece of clothing doesn't "spark joy," then let it go.
4. Give it a Fresh Paint Job
Freshen up your bedroom with a fresh coat of paint. A new paint job is an easy and affordable way to improve your bedroom's look and feel. Remember, when choosing a color, soft tones are best. 
According to a study by Travelodge, people who have blue bedrooms get the best night's sleep. In fact, people with blue bedrooms get on average seven hours and 52 minutes sleep per night, compared to those with other colored bedrooms. The second best color was yellow, which allowed sleepers to get seven hours and forty minutes of rest.
Study participants who slept in purple rooms, however, got the worst sleep, with just 5 hours and 56 minutes of shut-eye. Study authors explain, "The reason for this could be that the color purple is a mentally stimulating color which makes it difficult to switch off after a busy day."
5. Upgrade Window Treatments
For many of us, waking up before your alarm is the best way to start your day on the wrong foot — and with the wrong curtains, the sun will wake you up well before your cell phone buzzes. Give your space a facelift and keep out the morning sun by installing blackout curtains. Blackout curtains are one of the best cheap bedroom upgrades, as they create complete darkness, which is important for both falling and staying asleep. 
Not only do black curtains block out light and promote sleep, but they also keep your bedroom cool in the summer and warm in the winter. Better sleep and money saved on your monthly electric bill is a win-win. 
Transform Your Bedroom
Updating your bedroom doesn't have to be an expensive undertaking. All it takes is a little imagination and a few spare weekends to organize, paint and rearrange. Use these simple, cheap bedroom upgrades to transform it into your favorite room in the house.
Jessica Thiefels has been writing for more than 10 years and is currently a full-time writer and consultant. She's written about spending, saving, salary and more for Reader's Digest, GlassDoor, Lifehack and more. Follow her on Twitter @Jlsander07 or connect on LinkedIn.
Image via Unsplash
Like this story? Follow The Financial Diet on Facebook, Instagram, and Twitter for daily tips and inspiration, and sign up for our email newsletter here.