5 Hacks For Turning Your Tiny Space Into A Legit Workspace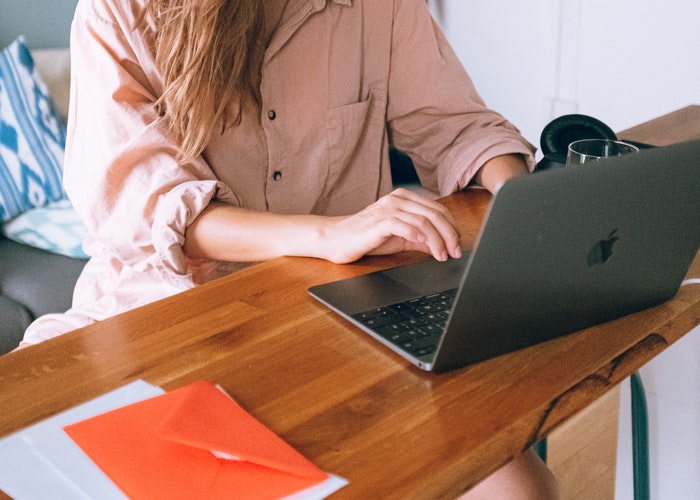 When you live in a studio or small apartment, there are two primary challenges in working from home. First is not having separation from work, physically or mentally. In an office, you may have been able to leave your frustration, writer's block, or mess behind. At home, you're stuck with it — which is especially difficult in a tiny space. Second, you simply don't have enough space to fit your office equipment and supplies. Some of us can barely fit our beds in our studios!
For all my fellow studio dwellers, here are some tips on how to make your home office work for you. And since we do not know how long this stay-at-home guidance will be in effect, the tips below are categorized by the approach or commitment level you want to have.
1. Use your kitchen counter as a standing desk.
If you're on board with the standing desk trend, double-up your kitchen counter as an office.  There are plenty of decent laptop stands for under $50, but if you want to go for a budget option, try using storage container, which you may already have (or check these out).
Place the container upside-down on your counter to prop your laptop up to a comfortable height. When you're done at the end of the day, simply turn off your laptop and toss it in the container along with all of your work materials. This way, you get your kitchen back and you can feel like you've left work behind.
2. Maximize your wall space.
When you live in a small space, there's not much room to store workplace essentials. So think about storage in terms of shelving units, hooks, and other storage options you can mount on the wall. It's not hard to find shelving storage options under $25 — there's this hanging basket, for example, that you could use to store notebooks, pads, pens and pencils, and even your laptop at the end of the day. Floating shelves are also super useful for tiny spaces.
In other words, think vertically. Along the same lines, you could opt for a wall-mounted folding desk (here's an option for under $40) or a ladder desk like this one.
3. Create visual separation.
It's hard to have any semblance of work/life balance when you live in a studio space. Your bed, kitchen, and desk all feel like one big room. It helps to create some kind of visual separation between these areas. Some options to make this work:
Arrange your dining table or desk against the back of your sofa as a "wall" for your home office.
Invest in a cute room divider with storage.
Use a bookcase as a room divider.
Use a portable clothing rack as a room divider.
ExtraSpace recommends using cubing storage units as a partition.
You could even use curtains as an easy way to create some separation between areas of your studio!
4. Try this DIY IKEA Rast hack
Design blog Addison Meadows Lane has a great DIY tutorial for turning a basic, affordable IKEA dresser into a mobile desk. It's a pretty detailed tutorial, but you could try a "lite" version with a cheap set of caster wheels and any other basic piece of furniture that could double as a mobile desk.
5. Turn your dining table into an office by day. 
Create a space that motivates you to work using what you already have. Prop up a bulletin board behind your monitor. Tack on a cheat sheet with your colleague's cell numbers, your daily to-do list, and an emblem that reminds you of your accomplishments. Now you have created a miniature office that will keep you motivated, and it only takes up half the table. Make sure your table is in a part of your room that generates the most light.
Added Tip: If you are turning part of your dining table into a desk, you are probably using your dining chairs too, which can be painful to sit in compared to your usual office chair. Add a seat cushion so your bottom does not hurt all day (Look at this option from Bed Beth & Beyond, under $30).
*****
I used to buy items for my apartment that were about aesthetics and comfort. Now, because all of my activities are taking place at home, I primarily think about usage and functionality. When considering what you will purchase for your home office, whether an item listed above or something different, think about how often you will use it and how it will function in your space. A purchase that helps motivate you to focus on your work and feel productive—which are both important parts of coping and feeling a sense of normalcy in these uncertain times—is more of an investment. So be thoughtful and intentional about what you add to your space. In addition to thinking "Where is this going to fit?" also ask yourself "What will this help me accomplish?"
Abby is a millennial working in Washington DC. She has done communications and engagement work at a government agency and non-profit and is now in the legal field. When she's not working, she's storytelling, promoting gender equality, and amplifying criminal justice reform efforts. She's also an avid napper.
Image via Pexels
Like this story? Follow The Financial Diet on Facebook, Instagram, and Twitter for daily tips and inspiration, and sign up for our email newsletter here.