5 Shocking Financial Truths About The Wedding Industry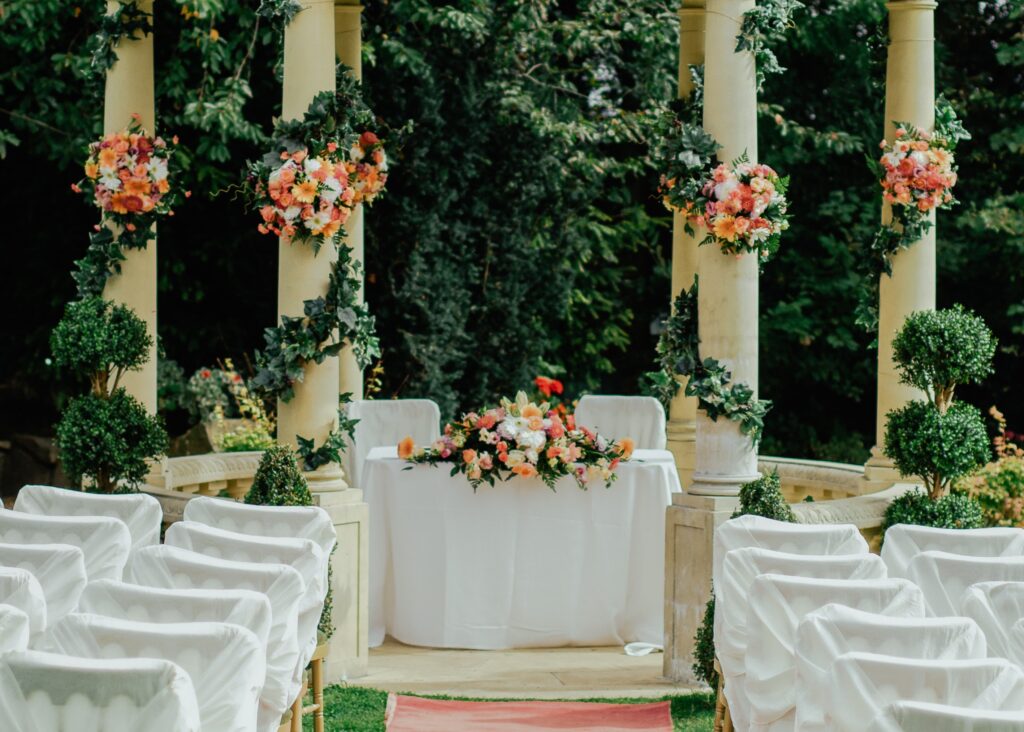 Weddings are amazing. They're romantic, they're fun, and they're oh-so-emotional. Of course, if you've ever planned a wedding, or had to foot the bills, you know that weddings are also complicated, and really expensive.
You've probably heard phrases like, "It's your day," or "You can't put a price on your dream day!" And it's hard to imagine making compromises when it comes to things like dresses, venues, your bridal party, and other things you've dreamed about since you were young.
But the fact is, the wedding industry is not exactly the fairest or most practical industry. There's a ton of things about weddings that you should be willing to reconsider – from cost to waste and the social pressures you might be putting on your guests.
1. You will always pay more for a wedding than any other event.
According to The Knot, prior to COVID, the average wedding cost more than $33,000. Many couples now report that they're planning on spending less post-COVID, but there are still certain sneaky costs you have to watch out for. For example, many vendors and industry representatives have been quoted saying that they anticipate having to raise prices in the coming years to offset what was lost due to COVID.

Keep in mind that wedding markup is already real. A 2016 Consumer Reports study found that 28% of vendors mark up their services for weddings. In Canada, a CBC Marketplace investigation found that some of the exact same vendors charged more for the same services when it was labeled as a wedding. The most common vendors for this trend are photographers, caterers, florists, and DJs.

However, many have noted that these are base costs and can be subjected to negotiation – so some figures can be haggled down.
2. Your wedding party and guests are bearing a bigger burden than ever.

Remember in Bridesmaids, how bitter Annie was at every turn that she had to shell out for dresses she couldn't afford and extravagant trips across the country? Sure, Annie might have been a little passive-aggressive, but it always bothered me that Lillian was never called out for allowing such over-the-top wedding activities to take place when not everyone was on the same financial playing field. The thing is, this is very realistic.

While you and your immediate family are probably spending the most on the wedding, there's also a huge cost burden on your guests – especially those in the wedding party. According to The Balance, it costs individual members of a bridal party an average of $728 to attend a wedding. More than half of that ($435) is for the wedding itself, which can include travel, accommodations, gifts and clothing. An additional $157 goes toward the bachelor or bachelorette party; while $148 goes toward the shower. For close friends and family members, the bachelor party and shower costs are almost identical, although they tend to spend less on the day itself – an average of $325. Even a distant friend or family member will spend an average of $372 between the parties and the wedding. American Express found that this total is even higher, especially for Millennials, who reportedly spend an average of $893 to attend a wedding – more if they're in the bridal party.

Gifts alone are a whole can of worms. According to the Knot, nearly half (47%) of Americans struggle with gift etiquette. There's an old-fashioned notion that you should spend whatever the value of your meal is – but many experts have lauded that as outdated, especially because most couples don't say what the value per plate is. LifeHacker estimates that the average cost of a gift from a close friend or family member is $179, while one from a co-worker is $66.

If you're getting married and want to be conscious of how much people are spending, be transparent about your own costs and your own desires. If you want cash instead of gifts, just say so. And if your location option means some people might feel a squeeze to come, don't be offended if they say no.
3. Wedding insurance exists, but it won't help you in a pandemic.
You might be wondering if now – a year after so many weddings and events were postponed – if you should look into event insurance for your wedding. Before you make the decisions, you should look at the fine print, weigh the pros and cons and make sure you're not doubling up on anything.

Wedding insurance itself is relatively inexpensive – Forbes found that rates for a $1 million wedding insurance policy were between $125 and $184. This type of insurance tends to cover liabilities for things like liquor or on-site injury, as well as bad weather, venues going out of business, or vendors not showing up – although most don't cover pandemics. In fact, as of October 2020, over 200,000 couples owed a collective 3.7 billion dollars on weddings canceled due to the COVID-19 pandemic, according to a study from Loanry, an online personal lender.

But you need to make sure you're insuring costs that you already have covered. For example, your venue cost might already come with insurance that covers injury and alcohol. You might also be offered insurance on things like your engagement and wedding rings, which can actually be covered as your personal possessions on your renters or homeowners insurance. Always check for redundancies and know what your insurance is actually covering.
4. Weddings are crazy wasteful.
You don't have to be a devoted environmentalist to be concerned about the environmental impact of big events. The truth is, a wedding can be an incredibly wasteful event. There's a number of single-use items like flowers, table decor and chair covers, or novelty items like your seating chart, plus napkins, leftover food and wrapping paper. According to GreenBride, weddings and receptions produce between 400 and 600 pounds of waste in one night. (And that's wasting money, too — just think of how much wedding food gets paid for but never eaten.)
But wastefulness is about more than just what's in a trash bag. Think bigger. Rings and diamonds have a major environmental impact – diamond mining is associated with deforestation, soil erosion and major human exploitation. According to the U.S. Geological Survey, a stone in an engagement ring has usually had 200 to 400 million times its volume in earth extracted. Wedding dresses, despite how expensive they are, are usually made with materials that are terrible for the earth – the average wedding dress emits 14.5 ton of CO2e. And, of course, there's the issue of air travel – if you have guests flying in, your wedding is not exactly green.

Even if you don't identify as an environmentalist, it's a good idea to take a look at your wedding planning and find ways to make it "smaller" – find a vintage or used dress; get a family heirloom ring if possible; keep your guest list small and pick a central location to limit heavy travel. As a bonus, most of those are huge money-savers.
5. Even little things can cost big money.
It's the little touches that make special days even more special – right? Unfortunately, things like centerpieces, name cards, thank you cards and party favors can majorly add up. And as gifts become increasingly commercialized, there's even more money to spend – sometimes unnecessarily.

For example, 20 years ago, if you wanted to ask someone to be your Maid of Honor, you could just ask them over a glass of wine. These days, it's much trendier to put together a DIY "Be my maid" box – or even buy one. These can range from a simple $5 box with a card on Etsy to luxury gift packs of bath bombs, champagne, and travel mugs for $50 each.

Centerpieces alone can cost close to $1,000 to have them professionally done – but you can get that cost as low as $245 if you choose to DIY, according to WeddingStats. Stationery might also seem negligible, but a 2020 survey of 27,000 newlyweds found the average cost of stationery and postage was $590 per wedding.

And, while an open bar is generally the best way to thank your guests for coming to your wedding, remember that in some places, open bars can come with extra costs – you might be required to take out extra insurance, or have a number of cabs on retainer for the night (and, if they're not required, it's still a responsible idea).
You might listen to all this and think, "But I still want my dream wedding." And that's fine – your day is your day. But whether you're thinking about getting married someday in the future or actively starting to plan, you should start to think about the costs – both financial and otherwise – that are so much bigger than just one day.
Image via Unsplash