5 Simple Thanksgiving Leftover Recipes To Keep You & Your Wallet Full This Week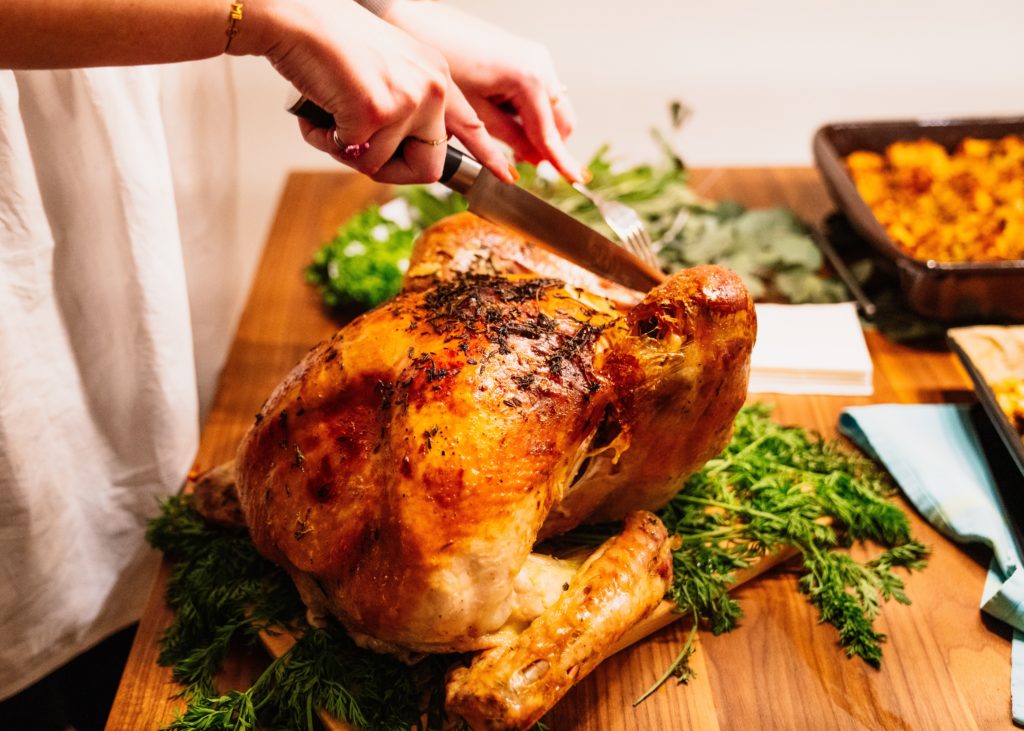 I've got a secret. Are you ready? Okay — come closer. Here it is.
I like Thanksgiving leftovers better than actual Thanksgiving dinner.
No judgment, please! I know it's a little unconventional, but hear me out. Of course, Thanksgiving dinner is delicious — a blend of nostalgia and yum all in one – but it's the meals and moments you get to enjoy afterward that make it so special. You know — once you've carved the turkey, melted butter into the mashed potatoes, devoured half a pie, the fun begins in a way it couldn't at most other times of year. 
For example, it's generally frowned upon to eat pumpkin pie in your pants in front of the fridge for a Monday breakfast, but the days after Thanksgiving? Munch away to your heart's content! The same is true for hoovering up brussels sprouts and stuffing by the handful as you do a counter-top drive-by between movies. But the best moment of all has to be the smug feeling of making something crazy-delicious with all those leftovers.
5 incredibly easy Thanksgiving leftover recipes
Here are five budget-friendly, cupboard-staple favorites to use up those fabulous leftovers* – keeping you and your wallet nice and full for days to come. 
1. Turkey-cranberry pie
Ingredients:
2 ½ cups leftover turkey, in bite-sized pieces or small chunks

¼ cup your favorite butter or oil, plus 1 tbsp for brushing

¼ cup flour

1 cup gravy (from at room temperature)

½ block frozen puff pastry, or 4-5 sheets of phyllo pastry, thawed

½ cup leftover cubed cheese – brie or another 'melty' cheese works well here

½ cup cranberry sauce

Salt and pepper
Method:
Preheat oven to 400F/200C/180C fan/gas 6.

Make a quick roux by melting butter (or fat) in a saucepan, then add the flour little by little and whisk until smooth. Let it cook for a minute or so to cook off any "floury" flavor. 

Again, adding a little at a time, whisk in your cold gravy, thinning with a little cold water if necessary, until you achieve a velvety consistency. Season with salt and pepper to taste.

Add the turkey, and mix through in the roux mixture. Tip out the turkey and roux into your baking dish, and add spoon on little puddles of cranberry sauce. If you're using it, dot cubes of cheese onto your turkey mixture now, and let everything cool.

When the filling is cool, take your thawed puff or phyllo pastry, rolling it out to fit just over the dimensions of your baking dish. 

If you're using puff pastry, place the pastry over the dish, pressing down with a fork around the edges to crimp it in place. If you're using phyllo, lay the fine sheets directly on top of the mixture, and brush each one with melted butter as you go. 

Brush the top of both pies with the remaining melted butter, then bake for 20-30 minutes until the pastry is bronzed, the filling is piping hot, and smelling fabulous. If the pastry starts to catch or get too dark, place some aluminum foil over the top, and return to the oven to continue cooking.

Serve immediately and enjoy!
2. Crispy mashed potato pancakes
Ingredients:
2 cups cold mashed potatoes

1 cup leftover cheese, shredded 

½ cup flour

2 eggs

¼ cup leftover herbs, finely chopped

Salt and pepper

2-3 tbsps your favorite oil or butter, for frying
Method:
Preheat oven to 350F/175C/160C fan/gas 4.

Combine all ingredients into a bowl, except the oil/butter, and mix well and season. The mixture should be a little sticky but should hold together in a ball.

Add your fat to the frying pan and warm through on a medium heat. 

Scoop a ball of mashed potato mixture out with a melon baller, or ice cream scoop, and then use a flat spatula to press it down into the pan, spreading it out into a pancake shape.

Fry on one side until crisp and golden, then flip and repeat – 3-5 minutes depending on your heat.

Place cooked potato pancakes on a plate or baking tray in the oven to keep warm as you work through the mixture in batches.

Serve immediately, and top with a fried egg, sour cream, jelly (for a sweet-salty delight), or finely sliced scallions, if you have them.
3. Brussels sprout and black bean quesadillas (vegan)
Ingredients:
2 cups leftover cooked brussels sprouts

½ red or white onion, finely diced

1 clove garlic, smashed and finely chopped

1 can black beans, drained and rinsed

1tsp – 1 tbsp (depending on your spice preference) Taco/Mexican seasoning

1 cup leftover cheese (use vegan cheese for a vegan-friendly option), shredded 

4 corn or wheat tortillas

4 tbsps your favorite oil or butter, for frying
Method:
Heat 2 tbsps of your oil or butter in a skillet or frying pan over low heat, and sauté the onion and garlic until soft and golden, 5-7 minutes. Tip out into a bowl, reserving the flavored oil.

Turn up the heat to medium-high and add the sprouts, cooking until they become crispy around the edges. To do this, spread them out in a layer in the pan, and leave them alone. Let them caramelize before stirring again. 

Once crispy, add your Taco/Mexican seasoning to your sprouts and stir through. Add the black beans and onions back into this mixture, and heat everything through together. Place this mixture into a bowl and put to one side.

In another skillet or pan, add 1 tbsp of your oil, and warm through on a medium heat. Take one of your tortillas, fill one half of it with ¼ of the mixture in your bowl. Sprinkle with ¼ cup cheese, fold it over, and place in your skillet. Repeat with another tortilla, cooking two at the same time. 

Cook one side of the tortilla until golden-brown, then flip and repeat, so both sides are crispy and the cheese has melted. Repeat with the fat, the other two tortillas, remaining mixture and cheese, then slice each folded tortilla in half, to make quarters.

Serve immediately and enjoy with hot sauce and serviettes (this is definitely a hand-held snack).
4. Cranberry bread and butter pudding
4 leftover plain dinner rolls, torn into small chunks*

2 tbsps melted butter, plus 1 tsp for greasing

½ cup cranberry sauce

4 eggs, beaten

1 and ½ cups of milk

¾ cup sugar (any variety is fine!)

1 tsp cinnamon

Pared/grated zest of one orange (optional)
*(Make sure the leftover rolls are not flavored! Please do not add garlic-butter dinner rolls to your pudding!)
Method:
Preheat oven to 350F/180C/165C fan/gas 5

Grease a baking dish with the tsp of melted butter, then add the leftover dinner rolls, and drizzle with the remaining 2 tbsp melted butter.

In a mixing bowl, combine all wet ingredients with sugar, zest, and cinnamon, and whisk well.

Pour the wet mixture over your leftover rolls, making sure to really soak the bread – push down with a spoon or fork if necessary so all the liquid soaks in. 

Bake in your oven for 45 minutes, or until the top is golden brown and bounces back when pressed with a finger, or a skewer comes out cleanly.

Serve and enjoy! This is fabulous cold the next day, as well.
5. Leftover nut-roast falafel (vegan)
Ingredients:
2-3 cups cooked nut roast, crumbled

3 cloves garlic, peeled, smashed, finely chopped

4 tbsps cashews (raw, unsalted), finely chopped

¾ cup spinach (or cilantro, parsley or basil, if they are to hand), finely chopped

1 tbsp cumin

4-6 tbsp flour

Salt to taste

4 tbsps your favorite oil, for frying
Method:
In a mixing bowl, combine all your ingredients, and add a little cold water as you go, mixing until you have a dough-like mixture. This can also be done in a food processor, just be careful not to over-mix to a purée. 

Using your hands, form the mixture into ping-pong sized balls (add more flour if the mixture is too sticky) and place on a plate.

Heat 2 tbsps of your oil or butter in a skillet or frying pan over low heat, and sauté the falafel balls in batches until golden and crispy, then place on a separate plate, lined with kitchen paper to drain. 

Alternatively, the falafel can be baked in a preheated oven (400F/200C/180C fan/gas 6) for 10-15 until piping hot, crispy, and heated all the way through.

Serve with hummus, tahini, yogurt, or sour cream, or stuff into pita bread or tortilla for a satisfying lunch or supper. Do not reheat the falafel once made. 
*Please follow sensible, safe food handling and hygiene practices, and consult your government's food safety recommendations for safely storing and enjoying your leftovers.
A linguist, writer, and coffee-compulsive, Eloise is navigating Canada living as a nearly thirty Scottish native. Interested in living happier, copy that sounds like a human wrote it, and the perfect Margarita, Eloise founded Olim, a communications business that's rooted in academic practice and a healthy sense of humor. Based in Toronto, she's not yet made friends with a moose, but that's not stopped her trying. 
Image via Unsplash
Like this story? Follow The Financial Diet on Facebook, Instagram, and Twitter for daily tips and inspiration, and sign up for our email newsletter here.