6 Budget-Friendly Ways To Give Your Home Decor A Facelift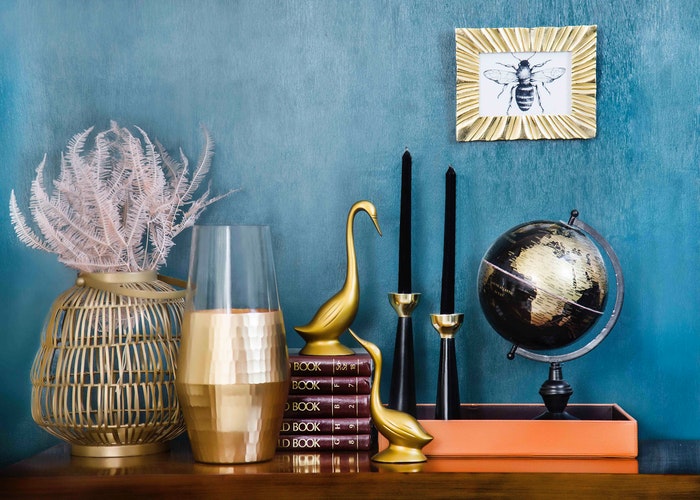 Anyone else find themselves scrolling through Instagram and getting jealous of all the perfectly put-together homes with styled rooms and spotless countertops? It happens to me all the time. 
Sure, you could completely redecorate your home, but if you're anything like me, you have a slim budget for anything extra — home decorations included. Let's be honest, food and diapers are more of a priority. 
That said, I have found there are a handful of affordable, versatile decor items that have seriously upgraded my home. These purchases won't completely transform your space, but they will give you just enough of a change to feel good about your new decor — without breaking the bank.
1. A wreath for your entryway
One of my favorite purchases was a wood-vine wreath for the front entryway.  They are so cheap and you simply change out seasonal floral stems a few times each year.  Even a simple bow can make a pretty statement on a plain wreath at the front door. 
I found mine during the 50% off sale on floral at Hobby Lobby (my all-time favorite store) for about ten bucks, but they are available at almost any craft store.  You could easily do the same thing with a DIY burlap wreath or a simple boxwood wreath, but those will be a little bit pricier.
2. A statement vase
A close second favorite has been my glass vase from Pier1 Imports.  I had my eye on this beauty for months and finally got a gift card to put towards the purchase.  There are variations of these all over the place, but for some reason, I couldn't get this one out of my mind. 
I put in a few stems and it adds height and texture, which I was missing in my decor.  I plan on experimenting with bare tree branches in the fall, evergreen boughs for the holidays — the possibilities are endless. Cue the Pinterest searching now!  Your vase doesn't have to be glass, but I highly recommend sticking to something neutral like white ceramic or vintage metal. That way, it goes with your existing decor and will look great with all kinds of seasonal foliage.
3. DIY clipboard 
Another recent addition to my decor has been a wood sign clipboard.  For the last few years, small wooden signs with seasonal lettering have been very popular. These are great seasonal home decor.  I have seen several that I love, but I  don't want to spend money on something that sits in a storage box ten months out of the year. Enter: the clipboard sign. 
I happened to see this cute tutorial by Shanty 2 Chic and figured I could come up with something similar.   I found a cute wooden sign on discount after the holidays, painted the center portion over with acrylic paint, glued on a clip and tied on a twine bow. The sign I chose had a wide enough frame to stand alone but also had a sawtooth hanger for the ultimate versatility.  I found several free printable designs online of lettered seasonal sayings, printed them on cardstock and ta-da: I have an adaptable piece of decor perfect for any holiday or occasion. I also ended up making a few extra and giving them as gifts since I had extra supplies. 
4. Pick a theme and stick with it
This one is more a rule of thumb for cohesive, simple decorating: Focus on one style for your decor. Personally, I try to mix natural elements like wood bowls, white ceramic potted plants, and woven fabrics in tan and cream. You could choose to mix different types of metal, or a Southwest theme with terra cotta, or lots of geometric shapes.  Once you settle on a theme or style for your decor, you can limit any purchases to those that fit with your theme. For example, I have found wooden pumpkins for fall and white ceramic bunnies for spring and they fit in seamlessly with my other year-round decor. I have found that sticking to one theme helps me really evaluate anything I add to my seasonal storage and I avoid impulse purchases that I regret a couple of weeks later.  
5. Bring nature indoors
Your home's decor doesn't need to be expensive.  In fact, the cheapest option for adding texture and variety is free – just look outside!  Fill a bowl with pine cones. Use pebbles around a candle for a centerpiece. Prop a piece of driftwood against a corner.  Fill a small dish or tray with seashells from your recent beach vacation. Stick a bare tree branch in a vase. Get creative, and get outdoors.  And by all means, take advantage of fresh flowers and potted house plants whenever possible. 
6. DIY garlands and banners
Maybe you'll have more luck when it comes to Pinterest, but I have an offshoot of "your eyes are bigger than your stomach," which is, "I think my craft skills are better than they are." 
That said, there are some very easy projects that even I can tackle. Pinterest has cute ideas for DIY garlands or banners that you really can't mess up.  They can be hung around a doorway, over a window, or along a mantle. (Dear next house, please have a fireplace and mantle!) I can even have my toddler help me with these and it turns into a fun activity together. 
*****
I may still drool over picture-perfect homes while I'm scrolling on Instagram, but I have become more comfortable with my own decorating skills and style.  And I no longer am jealous of the people with a bunch of "stuff." I would much rather have a few cohesive pieces that I really love than random things that clash and become clutter. Saving money, minimizing my storage, and feeling comfortable in my own home are more important to me than keeping up with the Joneses, even if they do have impeccable white countertops.  
Jessica is a busy stay-at-home mom of a toddler and newborn, and wife to an Air Force acquisitions officer. Her days are filled with diapers, crying and whining, cooking, cleaning, and plenty of coffee! With any spare time, she is constantly reading: blogs, TFD, and books, books, books. She calls the mountains home and tries to find balance in each day: with food, exercise, self-care, and spending.
Image via Pexels
Like this story? Follow The Financial Diet on Facebook, Instagram, and Twitter for daily tips and inspiration, and sign up for our email newsletter here.