6 DIY Projects You Can Do With What You Already Have At Home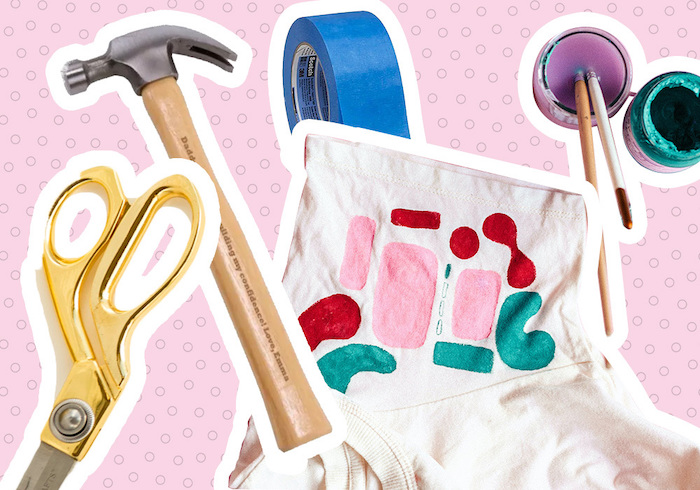 If you're anything like, well, anyone right now, you're probably looking for new ways to enjoy being at home and exploring your passions. For my family, it's become increasingly hard not to look for new ways to spruce up our house since we'll be spending the unforeseeable future inside. 
Rather than break our budget or spend a bunch of money on decor that always ends up being more costly than you'd think, what better way to turn a blank canvas into your new favorite part of the home than a DIY project you can do with items around your home?
We scoured the web for some realistic and aesthetically pleasing DIY projects you can try over the next few weeks while you practice safe social distancing. To be sure they are practical, we only chose projects that include materials most of us are likely to have lying around our home, and that you can attempt with minimal effort and tools. 
#1: Make a picture frame terrarium 
If you happen to love having photos around your home, the chances are high that you are the proud owner of multiple picture frames. The problem? Sometimes we have intentions to replace said photos and then forget. Instead, why not turn those picture frames into a new decor piece that can be a focal point on your coffee table or nightstand?
Find older picture frames and turn them into a DIY terrarium with some glue that you likely already have lying around the house. Even if you get your start by combining the frames and later painting them when you can get to a dollar store, it might be the perfect project and planter to start to grow your urban garden. 
#2: Turn wrapping paper into drawer liners 
Take your bedroom set from boring and average to stylish and fun with extra wrapping paper you have left over from the holiday season. Transition them into drawer liners.
To accomplish this practical DIY, measure the inside of your drawers and cut the wrapping paper to size. If you have double-sided tape on hand, that would be the easiest way to install the paper, but if you don't, you can makeshift double-sided scotch tape by wrapping it around your finger and taping one piece into a circle. You may have to be more vigilant, pressing the paper flat to ensure there are no bubbles. 
#3: Create work-from-home desk accessories 
If you've recently made the transition from working in an office to working from home, you might be frantically trying to make your workspace feel more comfortable. Rather than ordering products online and crossing your fingers that they ship in a reasonable amount of time, consider crafting your desk accessories.
With mismatched containers of different sizes, some paint or permanent markers, and embellishments like ribbon or fabric scraps, you can turn your empty pasta jar or soup can into the perfect pencil holder. To take your project to the next level, if you can create a wooden or plastic base for each of the containers to sit on to ensure they don't scatter across your desk and take up too much space, find some putty or tape and fasten the jars to the stand. 
#4: Put your love of wine to good use
If you're anything like me, a glass of wine to end each day is a regular quarantine routine that makes long days feel more manageable. But, of course, with many glasses of wine comes many empty bottles and corks. Since none of us are getting to the bottle depot anytime soon, it is the perfect time to practice sustainable crafting and do your worst with last night's remnants. 
For example, check out these handmade coasters that merely require corks, glue, scissors. You could also make garden markers out of corks that you can put in your plants. As for the bottles, creating your own glasses with some heat and tape or putting string lights inside for a DIY night light are perfect options for the wine lover in all of us. 
#5: Try a homemade spice mix
It's safe to say that the best DIY projects involve some food. So, if you are leaning into your love of cooking and baking, why not try to create your own homemade spices? Using groceries you likely already have at home, you can craft flavored salt recipes to take pasta and movie nights to the next level.
Not only does this DIY make for great opportunities in the kitchen, but it can also be a cute delivery to make to friends or family members who are feeling lonely. Save some jars, and use them to store your homemade salt — fresh and ready for gifting. 
#6: Marble your glass or dishware 
This last DIY idea is special to me because, for once, I actually attempted the project myself. Recently, I've seen a lot of people try hydro dipping their accessories, like shoes or sunglasses. Hydro dipping is the process of applying graphics to any 3D object by using paint, water, and polyvinyl alcohol as a film. As much as I want to attempt to hydro dip, right now isn't the time to go out and try to buy new DIY materials. So, instead, I found a way to practice the technique that is hydro dipping with stuff I already have at home. Enter marbling glassware with nail polish and water. 
To complete this DIY, all I needed was a Tupperware container that I didn't mind ruining, some duct tape, a couple of dishes or glasses that I don't frequently use, and some older nail polish. 
Once I had all of my materials together, it was time to start the process. First, I put some water into my Tupperware container. While I let the water sit and reach room temperature, I decided to tape my glasses so that they would only have paint on the top and bottom, leaving the middle part untouched. Once that was done, it was time to pour my nail polish into a container. 
You can pour your nail polish into the container in whatever design you like. I tried my best to create a swirl pattern and got caught up admiring the colors when I should have been dipping. You should immerse your glassware into the water and paint nearly immediately after pouring in the nail polish. Fully submerge the part of your glass into the water that you'd like covered, and then twist and pull the glass out of the water to reveal your design. Voila! It's as simple as that. From there, let the paint dry. 
Pro tip: Before you start mixing the nail polish and water, crack open a window or door to avoid too many fumes. I learned this the hard way. 
In short, here are the steps to take to marble your dishware:
Gather your materials: chosen glass, nail polish, container, and tape.

Tape your dishware to cover any section of the item you wish to keep paint-free.

Put room temperature water into a box that you don't care to ruin.

Pour nail polish into the water in the desired pattern.

Quickly dip the glass into the paint and remove it from the liquid to dry.
For my first time, I wasn't distraught with the result. From what I've read, finding the proper dipping technique takes practice and patience — two qualities I lack. But all things considered, I found this DIY project straightforward to accomplish, and it was a fun and quick afternoon activity that would otherwise be spent on my couch watching The Vampire Diaries. 
If you are on the hunt for new ways to keep yourself entertained without spending money, these DIY activities are a great place to start. Not to mention, a little bit of trial and error in attempting a new craft can be an equally great way to find out what you enjoy spending your time doing.
Alyssa Davies claims she's not an expert on personal finance — which is why it's easy for her to explain financial topics without getting too intense. You can find her on her blog, Mixed Up Money, where she proves money isn't boring (and that it's also a little funny). You can also spend all day ranting with her about your finances on Twitter.
Like this story? Follow The Financial Diet on Facebook, Instagram, and Twitter for daily tips and inspiration, and sign up for our email newsletter here.