6 Money Secrets I Learned From Living Abroad For 2.5 Months For $500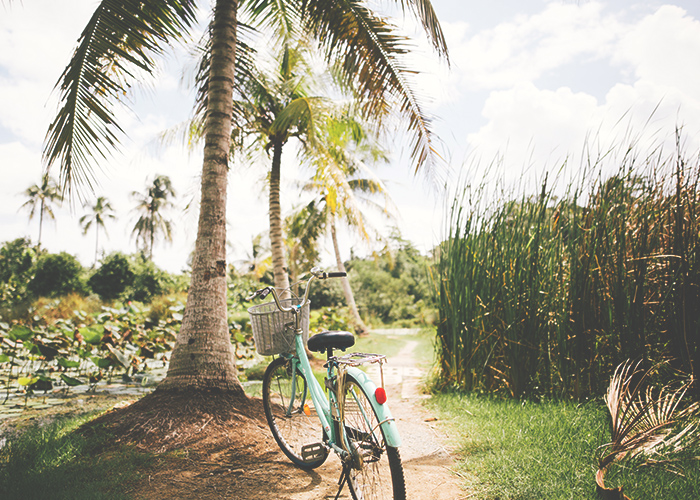 Saving money while you're on vacation may seem like somewhat of a contradiction, but it doesn't have to be. There are a number of ways you can manage and master your budget without lessening your experience while exploring a new country overseas. I say this because I have personal experience in making it happen!
I have been able to successfully (and consistently) travel the world for over two years without having to compromise either my financial health or my travel experiences. While living in Costa Rica for two and a half months, for instance, I had a strict budget of $500 USD and was able to make it stretch for the entire duration of my trip. The key is spending smart, traveling slowly, and milking connections. Here are six secrets I held onto that helped me honor both my tight budget and my insatiable wanderlust.
1. Book Smart Flights
While many people do not count flight costs as part of their vacation budget (after all, your vacation begins once you touch down, right?), I include airfare in my budget because, as a full-time traveler, every dime counts. Unless I'm flying for free, my budget is getting hit with that cost. And flight costs are no laughing matter. They can break your budget before you even start your vacation. So, how do you book flights the smart way?
To book a smart flight to Costa Rica, I used my favorite website, Fly.com's Fare Calendar. Fly.com gives a 90-day calendar view of the top affordable flight prices from your departure city. Searching flights from my home of New York City, I noticed that Costa Rica's round-trip flight prices were cheaper than almost every domestic and international flight on the list (about $200 round-trip)! I knew I couldn't pass this deal up; upon further research, I realized this price popped up often for people that consistently track airfare deals.
Here's a pro tip about when to book cheap airfare: Flying from a major city helps with pricing, but I usually also search surrounding airports of major hubs in my areas (in my case, Newark, Philadelphia, D.C., and even Boston) to make sure that I have the best deal. In other words, I expand my options to any place that a bus line can get me to for under $15 to $40.
2. Choose Local Travel For Local Fares
Another classic way that people blow their budgets before even beginning their vacations is while booking transportation within the country. Costa Rica isn't exactly "cheap" when it comes to finding affordable shuttle rides (or domestic flights) from the airport. I'm talking $50 – $150 per person, cramped in an "upscale" sprinter colectivo ("shared") taxi or about $100 on a domestic flight. Then, you have the more remote locations in Costa Rica, where shuttles don't routinely go to (as in, they don't have enough people to cram into the colectivo), so you end up paying more than $150 in one-way transportation.
To save big bucks, I embraced the bus system (and a flexible schedule) by swapping shuttle or flight fares for a $15 bus ride. To kick off my two-and-a-half-month stay in Costa Rica's Osa Peninsula (Puerto Jimenez), I hopped on a bus from SJO (San José's international airport) to downtown San José, then switched to another bus towards Puerto Jimenez for an affordable nine-hour (phew!) bus ride. It might sound long (who am I kidding? It was definitely long), but unless the $150 colectivo shuttle has the ability to magically apparate, then the driving time between the cheap and the expensive options is the same!
My total transportation cost from Costa Rica to Puerto Jimenez: Approximately $40 (including a hotel night stay downtown to catch an early morning bus ride).
3. Live That Cash-Only Life
Before leaving home to explore Costa Rica, I notified my bank and credit cards of my departure date — not that I planned on using any of my cards…but just in case.
I wanted to live a cash-only life, which would allow me to really stick to a budget while traveling by avoiding international withdrawal fees. I took out about $200 USD from an ATM in New York to last me my whole stay. I divided (and hid) the money in three parts: $60 in my pocket (or hidden wallet); $60 in my personal bag; and the rest hidden in a tampon box in my carry-on luggage. By sticking to a cash-only lifestyle, I got really good at only spending the exact cash amount I'd allotted for the day. I know what you're wondering, though — how did I eat and sleep on that budget? That brings me to my next, most important secret.
4. Make Bartering A Way Of Life
Many people suggest trading accommodation and meals for working on a farm from websites like WWOOF. I agree, but only to an extent. My idea of a vacation does not include cleaning or caring for a farm (or farm animals) in exchange for a bed. Nope. Nope. Nope.
There are other ways to barter room and board without doing that. I use HelpX.net. It is a website similar to WWOOF that posts a lot of ads for volunteering opportunities that don't involve manual labor. My skill, for example, is in marketing, branding, and social media. I have a degree in Hospitality Administration and spent my pre-traveling life as an event planner and marketing specialist. These skills are immensely helpful to hotels and hostels around the world that don't necessarily have the skill or bandwidth to boost their business and digital presence.
Key tip for searching for volunteer opportunities: I used HelpX to search for exchange postings that didn't require the volunteer to pay any fees and were seeking marketing help. No fees = happy budget. I hit the jackpot when I found an upscale yoga resort seeking someone to manage their blog and social media. I agreed to work with them for two and a half months due to a tight schedule on my part, but it was very clear that they were open to a longer relationship if needed.
The resort was more than anything I could've dreamed of. It was right on the beach, had just undergone an impressive renovation, and offered three delicious local, farm-to-table meals a day. Oh yeah, and they had WiFi. I worked weekdays from around 7am to 4pm (with short meal and pool breaks included) in exchange for 100% room and board, and free yoga. That was a major expense completely avoided, and I was able to spend weekends hopping on buses to explore other parts of the country.
5. Create Meaningful Connections
Admittedly, I often forget how important meeting new people can be. Encountering people with different backgrounds is awesome; it's extremely smart to make acquaintances with people who not only bring you happiness, but also connections on the ground.
I'm not saying you need to have an agenda for every new person you meet, but try to step outside of your comfort zone and realize that person may be able to help you one day — and you, them. Making friends in Costa Rica (both locals and fellow travelers) helped me hitch free rides on the weekends, receive free tours, get free drinks at the bar, and even receive local pricing in places I would've normally gotten gouged. It also landed me my first remote social media consultant job (because they saw me working at the resort) and has continued to bring referrals to my travel blog, resulting in increased viewership and blog-related income.
6. Total Cost Of Living In Costa Rica For Two Months:
With flights ($200) and transportation (about $150 over time), as well as tips and souvenir spending money (because we all need those Thailand elephant yoga pants even though we're in Costa Rica), I was able to spend under $500 on my trip and had the time of my life.
Olivia Christine is a travel writer, photography enthusiast, and backpacking guru. With over 30 countries under her belt, she has received top accolades for her blog (including being named one of Huffington Post's 10 Inspirational Bloggers To Follow Now). Traveling the world as a writer, reviewer, and consultant, Olivia Christine spends her free time seeking adventure, local cuisine, and new places to practice yoga. Follow her journey on her website or her Instagram.
Image via Unsplash