6 Simple Hacks That Make Flying Less Stressful & More Affordable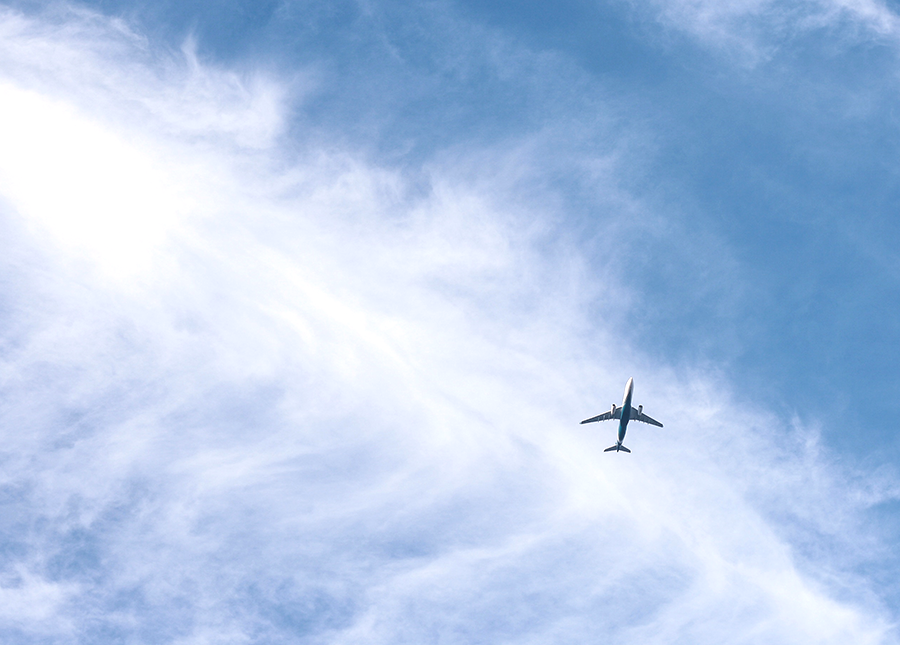 I learned a valuable lesson during a recent trip to Lake Tahoe: it's worth it to fly. We left Los Angeles during a rainstorm and were at a two-hour standstill on the highway, thanks to a landslide. Unfortunately, although we were singing shouting along to Panic at the Disco, none of the surrounding cars joined in on the fun.
What was supposed to be an eight-hour road trip actually took 22 hours, and we'd only planned on being up for the weekend. And of course, we still had to pay the full amount for the cabin, even though we weren't there for one of the nights booked.
So now I'm looking at upcoming trips in terms of time vs. money. For example — do I drive up to Napa, or should I fly into Oakland and rent a car for the weekend? I'm not really saving much money by driving, considering gas and parking expenses. Plus, if I fly, I'll save myself upwards of 16 hours and can actually see some Bay Area friends before and after the music festival. Flying it is.
So, since I'm flying more now than ever, here are a few hacks for flying like a champ:
1. Track Deals
Flight costs are notorious for fluctuating. There's a sweet spot somewhere between "two months before" and "right up until takeoff" that supposedly gets you the best rate, but nobody really seems to know what that sweet spot is. So why guess?
Tools like Hopper, Skiplagged, and even Google Flights are brilliant for not just searching for the cheapest flight, but waiting for the ideal time to buy. You just set a tracking reminder for your ideal time(s) and location, and leave it. When flight prices drop down (or surge), you'll get a notification. When I know a few months in advance, I'll set alerts on all three and just wait for the best deal.
2. Be Opportunistic
While it's great to track flights, it's even better when you see flights are unreasonably low, usually thanks to some sort of glitch in the matrix airline's system. While I can't control where these unreasonably low-priced flights are going, I can jump on the ones that sound interesting to me. Scott's Cheap Flights has been amazing for this: whenever they find said inexpensive flights, they send an email blast out to their subscribers. I've seen roundtrips to Spain or Amsterdam out of LAX for less than $300.
Even better, they've recently expanded their offerings to Asia as well, which means a lot of my bucket list trips are potentially going to be way more attainable. The trick then is staying flexible enough to jump on these deals with a few months' notice — and having the PTO saved up for it.
3. Be a Member
If you're going to be flying with an airline, why wouldn't you get the rewards for it? I sign up for each airline's frequent flyer program as I book with them, and keep all the details in a handy cheat sheet on my Google Drive. That way, I can just look up my frequent flyer number for that airline on the go — which is particularly helpful when an airline goofs and wants to make up for it with some kind of perk.
4. Take Advantage of Their Mistakes
I was just on a flight that promised WiFi but didn't provide it. I didn't care — I had my book. But when they announced that we could provide feedback on their site in exchange for a $100 gift card, of course, I went for it.
Airlines make mistakes all the time, whether it's something relatively small like missing wifi, or huge like losing luggage, they'll be able to provide reparations. Take advantage of their errors, and fly cheap next time.
5. Never Check Your Bags
Ok, this is a preference, but I have no idea how many hours I've lost waiting by the baggage carousel, only to hear that my bag was lost or on the next flight in. And even if all goes well, it's still an extra half hour on either side of the flight to check or gather your luggage.
Unless you're carrying a guitar and a surfboard with you (*cough cough* my dad), there's no reason you have to check luggage. Get a travel set for your shower gear, or better yet, grab those suckers from your hotel, and just reuse the bottles for future trips. Boom, done.
6. Fly Comfortably
I was once on a flight to Hawaii, sitting behind a group of new mothers and their very young spawn babies. Cute as they may be, the truth about babies is that every single thing they experience could literally be the best or worst thing they've gone through up to that point. Imagine experiencing the pressure change and noise of taking off for the first time, without having any context or control. That has to be terrifying. But while I can empathize with the four wailing children in the two rows ahead, there's only one crybaby I'll listen to while traveling.
These active noise-canceling headphones are my absolute best friends during flights. I keep them in my travel bags whenever I'm not using them, so I never forget them. Even when I'm not listening to music or watching something, I'll turn them on and let them cancel out all of the lovely sounds of flying. Even better, I'll keep an extra one or two rechargeable batteries in the case, so I never have to listen to a symphony of upset children again.
My other carry-on necessities include:
Kindle Paperwhite, which was a gift from a former employer, but oh man I would buy this thing in a heartbeat if I had to. I'm always in the middle of a book, but just in case, I'll download a bunch of free samples of whichever books are next on my list, too.
Plastic Water Bottle with a spout, because I'm clumsy enough without the turbulence. I'll bring this empty, then fill up at the airport.
Snacks or a whole meal for longer trips, because who wants to buy some gross airplane food, mark-ups and all?
Gum, because chewing and swallowing both help normalize pressure in your sinuses during takeoff and landing!
The only other thing that I'll always do is wear socks to the airport. TSA will always make you take your shoes off, and I feel gross walking through security barefoot. Just me?
Oh, and one last thing: don't be afraid to go alone. Traveling with a group is great when everyone can manage themselves, but if you're herding cats, you're going to have a bad time.
*****
These are just the tips I use, but I'm always looking for new apps or tools that make travel that much easier. Cheers to seeing more of the world this year!
This post was originally published on a fledgling blog meant to help the author eliminate anxiety from her life, and to help organize her thoughts.
Image via Unsplash