6 Ways To Make Travel A Bigger Part Of Your Life (Without Paying For A Plane Ticket)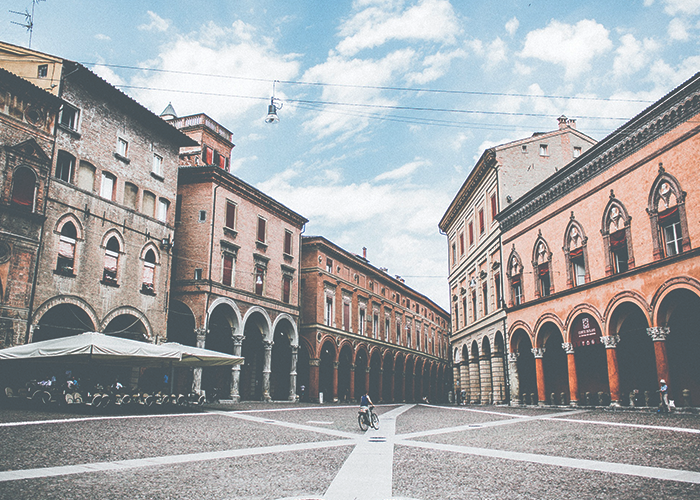 As one of those people who adores traveling and goes on and on about how important and beneficial it is, I'm also one of those people who enjoys having roots, and having a place to come home to. For me, this means living the vagabond life just isn't sustainable, but I still want to travel as much as I can. I'm a study abroad advisor, so I am connected with travel even while at work, but that doesn't mean I can hop on a flight to Spain at any time. However, there are more and more options for those of us who want to integrate travel into our life without buying a flight. Because I have limited vacation time and a budget to stick to, I've learned a lot of ways to get the feeling of exhilaration that travel brings, without ever getting on a plane. 
1. Day trips, day trips, day trips!
Travel is exciting because you're doing something new and unfamiliar. No matter where you live, there is probably something new in a one-to-two hour radius from you. Get in the car, hop on a train, book a bus ticket, and go explore. For the cost of maybe a half a tank of gas at most, you can be in a new town and get that feeling of being somewhere you've never been before. I usually do this by just pulling up Google maps and picking a direction to drive in. I like to have a rough idea of a destination (for example, looking up events in surrounding towns always helps), but I don't hesitate to stop along the way when something catches my eye.  
2. Visit a rotating exhibit at a museum or gallery.
I live in the LA area, and I have been to the Getty Museum more times than I can count. However, they often have rotating exhibits, as do most museums, so I love going back to see new art that is on loan from around the world. Basically, the art is traveling to me, instead of me traveling to it! Going to new museums is also a great time to try something new that you haven't yet acquired a taste for; maybe you've never been interested in the tapestries of Louis XIV, but are ready to expand your horizons. If you hate it, at least you didn't waste one of your precious vacation days looking at it. And if you love it, now you have something to seek out on your next adventure.
3. Try a new cuisine.
Either head to a restaurant that you've never tried before, or have some adventure-seeking friends over for dinner and explore cooking an entirely new type of cuisine. Some people even have rotating dining groups, where they pick a different type of food every month (Mexican, Indian, Cajun, etc.) and everyone brings a different dish. If you live in a big city, go explore a part of town that's covered in restaurants you've never tried. For example, I've been wanting to try Ethiopian food, because I know LA has a Little Ethiopia, and it's only about an hour away from my house. It's a thrill to go out to eat and not recognize anything on the menu, and when that's the case, I often ask the waiter or waitress to help me pick out some of the best dishes, or ask them what their favorites are. If you're feeling really ballsy, you can usually just let the chef choose for you.
4. Read a book.
If you've been daydreaming of going back to London, or the Caribbean, or wherever, but you currently can't, reading is a great escape. Maybe it's winter and you are missing the heat of summer in a big way, but you know you've still got months of ice to slog through, or maybe you have travel-envy because your friends are planning a trip you just can't swing. Find the library in your city and pick a book, be it a thriller, a romance novel, or maybe a giant coffee table book with pictures in it. By virtue of going to the library, you're going to see other books that are similar to the one you're looking for. Plus it's free, just make sure you renew them if you want to keep them for a while.
5. Find people who love to travel as much as you do.
When you love to travel, but have friends who have other priorities, it can feel very isolating. My advice is to find some friends who share your love of travel. It will by no means replace your other friendships, it will just expand your group. I use my blog to meet a lot of like-minded people, but you could also join meetup groups, find a language exchange partner, or even consider a part-time job or volunteer work that might help you meet some new travel-loving friends.
6. Host an exchange student or a couchsurfer.
Even if you might not be traveling right now, there are probably people traveling through your neck of the woods. Depending on your space, it might be worth it to consider hosting an exchange student or a couchsurfer. Don't have the space? Many travelers, myself included, often try to seek out locals through couchsurfing.com, or friends of friends who might want to just meet up for coffee or dinner, without planning to sleep on your couch. Recently, I went to brunch with friends of friends, who were traveling down the California coast. We shared some stories, ate some delicious food, and I got to be the local who was "in the know," and give them tips on where to go next.

There are so many other ways that travel can be incorporated into your life when you're at home. Keeping that mindset alive is one way to scratch the itch that the travel bug gives you, without getting on a plane.
Megan is a study abroad advisor, writer, and soccer fanatic. She is often found exploring the world around her, or looking up flights 'just to see'. She's the blogger behind Hello Megan O, and you can find her on Twitter and Instagram.
Image via Unsplash