6 Women Who Prove That You Can Make Big Career Changes At Any Point In Life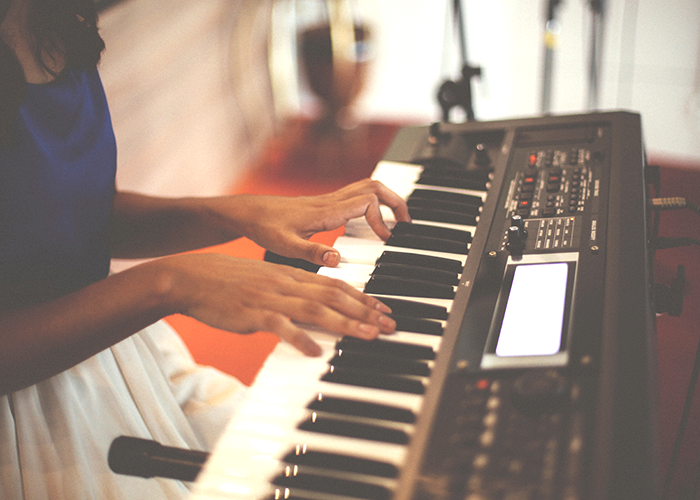 I'd always been taught that, to live successfully, you stick to one career path, gaining experience and gradually climbing up the ladder. You'd get a couple of jobs right after college, keep them for a year or two to look good on a resume, then find that one company to spend the rest of your working life with. Of course, that doesn't really work out for most people, but I had a good example — my own mother has been working at the same life insurance company since I was a baby.
But once I declared an English major in college, that idea was pretty much thrown out the window. I wasn't guaranteed any specific job, let alone an entire path laid out ahead of me. Now that I have a few years out of school under my belt, I'm not so tied to the traditional definition of what a career is. And, with freelance and working for yourself becoming more and more the norm, and so many side hustles being products of the internet, it's more possible than ever to make career changes, or earn a living with a series of project ties rather than one position.
Of course, sometimes forging a new path for yourself is easier said than done. Especially when the new path you want requires education or experience you don't have, it can be easy to become complacent in a situation you're in, even if you you don't find it fulfilling. But, while you have to take action in order to make a change, we sometimes put restrictions on ourselves because of the way we think things are supposed to work. There may be something in your circumstances that's legitimately holding you back, but the amount of years and experience you've dedicated to your current job doesn't have to be. It's never too late to start over, or to start working towards a new career on the side.
1. Barrie Davenport – Live Bold & Bloom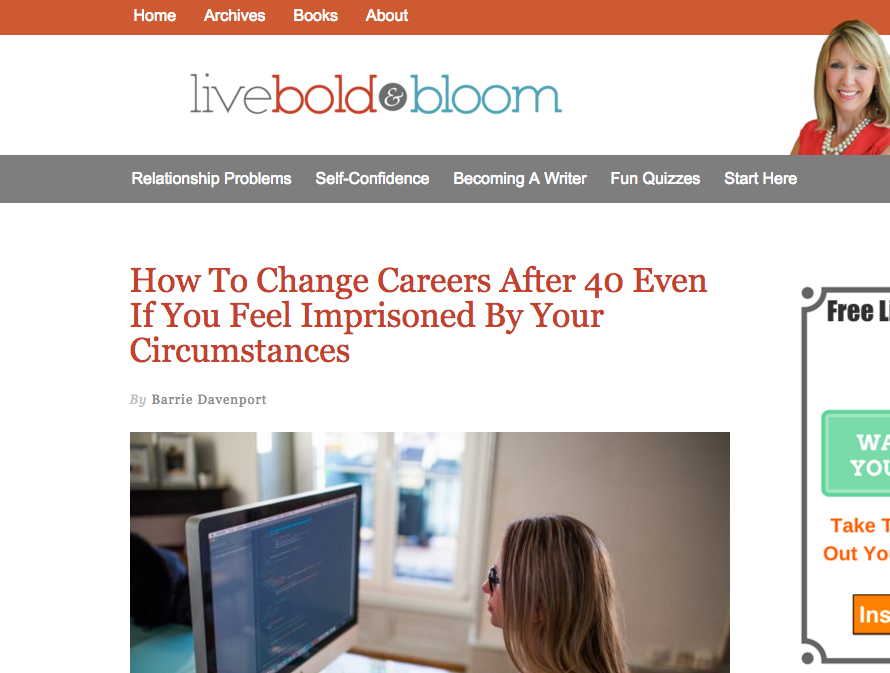 Barrie worked as a PR professional for more than 20 years in New York and Atlanta. She even owned her own consultancy before stopping to start her career and online business as a personal coach and author of 11 books. Here, she gives practical advice about starting a new career when you're in a mid-life slump, citing her own experiences: "I stopped working for a while when my children were young, then picked up my consultancy work when they were older, then cut back again to help my oldest daughter pursue her dream of becoming a professional ballet dancer. Once she left home to pursue her career, I could have easily jumped back into my public relations consultancy and been assured of a steady income working in a profession where I was experienced and comfortable. But something happens to us at mid-life. You wake up one day and suddenly the status quo is no longer interesting or even acceptable."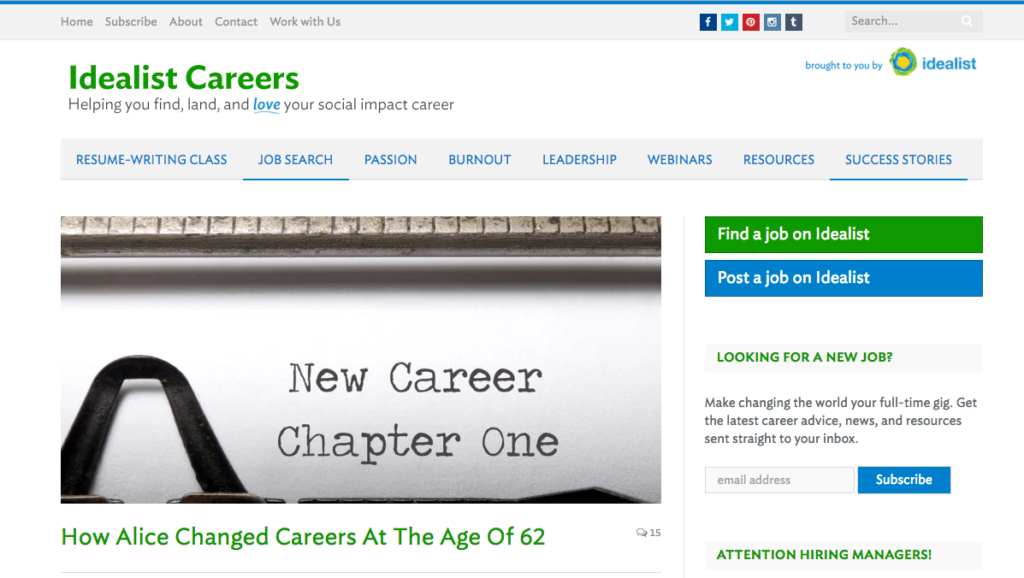 If you need some inspiration to work harder, read this woman's interview with Idealist. Sometimes it takes a bit of a push to make a big change. (And don't undermine the power of informational interviews — she went on 40 to 50 of them.) "Shortly before being reorganized out of a full-time position in fundraising support, a role she long felt was a poor fit for her interests and skills, [Alice] began taking graphic design classes in Manhattan, not far from her home, then in Yonkers, New York. Over the course of seven years, Longworth studied part-time while taking on internships, short-term jobs, and connecting with people in her new-chosen field."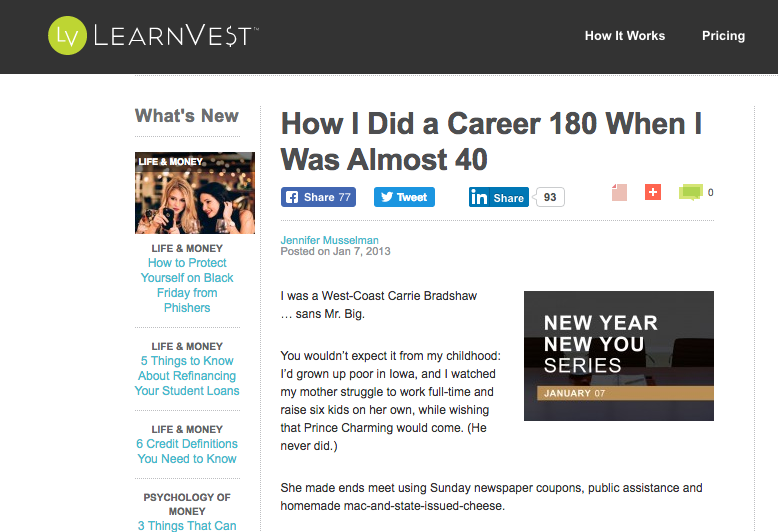 This woman took her experience in PR and put it to use in a new career in psychotherapy after 15 years. The two are actually a lot more related than people might think, and her extensive experience in the former actually helped when she went back to graduate school and started her own practice! "Today, I am an adjunct professor who oversees the development of a rehab facility–while nearing my goal of becoming a fully licensed psychotherapist. In other words, I'm a world away from my corporate job. Now, more than ever, I trust myself and my capabilities. I've also learned that when the going gets tough, I get tougher."
4. MM.LaGFleur
Age isn't the only thing that people see as a barrier keeping them from making a needed change. What if the thing holding you back from changing your career isn't even age, but pregnancy? This anonymous MM.LaFleur employee didn't change careers, but she talks about her positive experience starting a new job when she was in her first trimester. Making this change at such a vulnerable time was much easier with a company led by women than it would have been a lot of other places: "Years ago, I asked about maternity leave during a job interview, and I'm pretty sure they didn't hire me because of it. It was my third interview for the position, and I was nervous to ask, but it was important to me. As soon as I mentioned it, I watched the interviewer's face go stark white…A day later, I got the call that they were going with somebody else."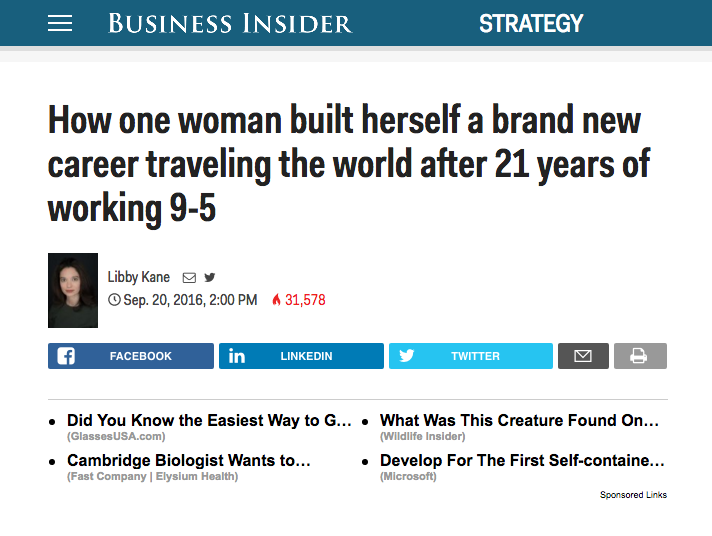 I cannot tell you how many headlines I've seen about young people traveling around the world for months or years instead of starting a "real" job. I can't imagine ever wanting to that myself, and sometimes my gut reaction is one of (uncalled for) judgement. So reading about this woman, who worked as a chiropractor for over two decades, made regular travel a priority throughout her adult life, which allowed her to start a new career running a blog and being a Travelocity ambassador — which has allowed her to visit over 50 different countries. In this interview, Cacinda says that learning the "business of travel," including "learning new technology, buying the equipment needed, learning to write creatively, learning to organize the workflow, figuring out social media, hiring virtual assistants/other writers, and planning strategy."
6. Claire Novak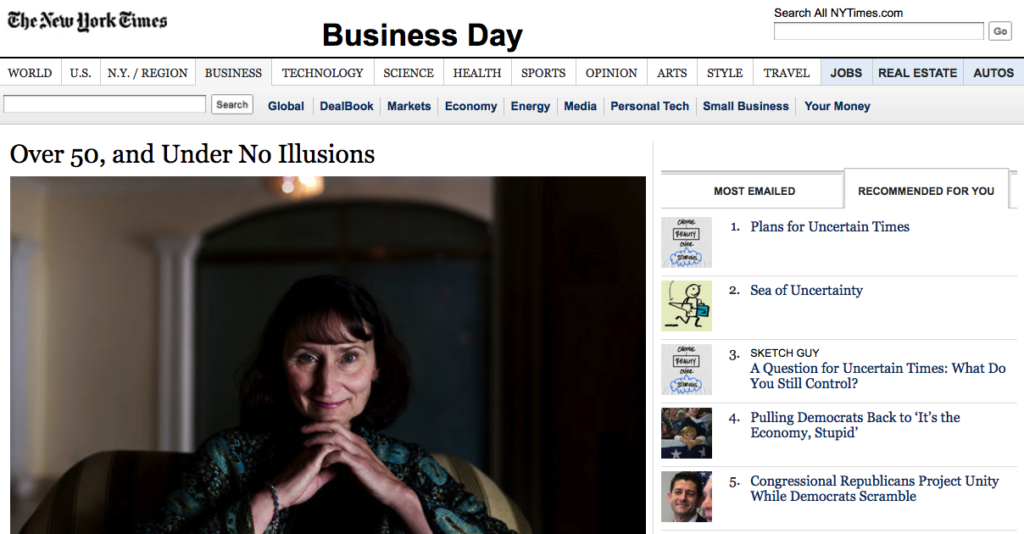 Here is a woman who didn't just start a new job, but an entirely new adventure in her late 50s, making a move from Pennsylvania to Pakistan. "After 18 years working in Chester Springs, PA, doing management training for a range of businesses, she moved to Islamabad, Pakistan, in November [2012], to work as a human resources adviser to nine power companies…How did she end up making such a leap? She had formerly done work for someone in Egypt, who e-mailed her a job description and asked if she knew anyone who might fit the bill." Be sure to check out this awesome NY Times article to read about four more people who made giant career leaps later in life.
Holly is the Managing Editor of The Financial Diet. Follow her on Twitter here, or send her your ideas at holly@thefinancialdiet.com!
Image via Unsplash