What 7 Brides Regretted (Or Would Do Again) On Their Wedding Days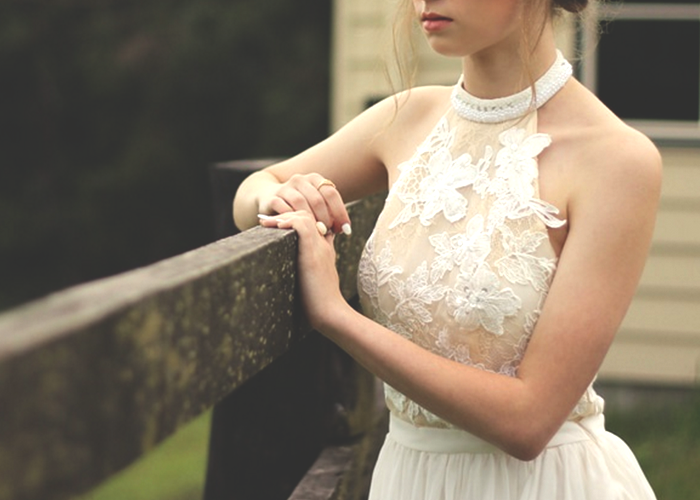 A wedding is a celebratory, beautiful, and exciting event. And parts of wedding planning mirror that same positive, love-emitting energy. That being said, the details of the day can feel overwhelming, with so many advice articles on timelines, invites, etiquette, or when, where, and how much to spend. 
While there's no determined right or wrong way to wed, most ladies who have tied the knot look back with a similar "hindsight is 20/20" feeling and can quickly name both the decisions they're glad they made, and the ones they'd make differently if they were to do it all over again.
Here are seven brides on their Do Again and Do-Over wedding-day decisions.
—–

Jen:
One thing I'm so glad we did is limit how many flowers we bought. Flower prices are OUTRAGEOUS and as pretty as they are, and I just couldn't justify spending thousands of dollars on them. The only flowers I got were my bouquet, bridesmaid bouquets, flower girl petals, and mother corsages. I made my own centerpieces
.
Another thing I'm so happy we did was add a video package to our photo deal.  For me, this was a MUST. The pictures came out beautifully, but the best part of the package was the video, for sure. It came out amazingly, and we laughed and cried reliving our wedding. We also got a great deal on a photographer using Groupon! We figured all photographers have the same digital software now, so we did not want to spend a fortune. Our photographer was very cheap and everything came out incredibly.
Kim:
I'm glad we didn't stretch out our engagement. We were engaged in May and married in October. It was a bit of a challenge finding a dress in that timeline, although it ended up being perfect because I found my dream dress as a sample. (The dress was cheaper than the alterations!) It was a long enough engagement to fit showers and celebrations in, but not so long that it consumed my life and everyone around me.
If I were to do it all again, I'd still be involved in a low-maintenance way. We had a tropical theme and vision, but I didn't need to see 28 different versions of palm fawns to achieve it. I'm glad that I was able to go with the flow. After our reception, a few friends and family members walked to the hotel next door because their bar was still open. We decided to join them, rather than head to our suite –- we found the band that we had originally wanted was playing, and more family and friends showed up. It was Our Reception, Part II, and it was so much fun!
Lastly, I'm happy that we spent money on what was most important to us and that we were thrifty in other areas. Open bar, check. Photographer, check. Killer band, check. All-day spa and glitz? Nah…my friend is a hairdresser and her gift was to come to my parents' hotel room and our venue and do all of our hair. We had a football game on the TV while we ate sandwiches and had a few beers and bubbles before the ceremony. It was so much fun! Best menu available for the guests? Nah, a fun, casual buffet was nice. No one remembered the food. They all talked about the rum punch and the band and family and friends.
Gen:
Our wedding was not religious. It was at a courthouse that I actually appear in almost daily, in front of a judge that I look up to like a mentor and almost father. Having someone perform our ceremony who is special to us made that day even more amazing. My wife was gracious enough to agree to have the Judge perform our ceremony, and I think that's because she knew how much he meant to me. Hopefully that made it special for her, too. If not, well, that's just another reason she's the best.
Be selfish and think about you and your spouse. Selfishness is a negative quality of mine that I work on constantly, and my wife is the complete opposite. She's the most giving, thoughtful, and least-selfish person I've ever known. But for our wedding day, we did what we wanted and we didn't worry about anyone else, even our families. I don't mean to sound harsh, but this is one of the only days that's really to celebrate you and your spouse and your love. And I just don't think a lot should get in the way of that. (Footnote: I understand this may not be as easy of a decision if families have chipped in to help with the wedding cost. We didn't have that consideration for our wedding, so it was an easier decision for us.)
Alison:
Go inexpensive on the dress. I am so glad I bought mine off the $100 rack. Honestly, the alterations cost more than the dress. I wish I had looked for one that just FIT for $100!! Not to mention, there is no way for your guests to know whether your dress was from a resale shop (I know at least one person who did this) or cost the down payment of your home. Also, veils are worn for a short period of time, and I know some women spend over a grand on the veil alone. I'm glad I didn't stretch our budget for mine.
I loved our rehearsal dinner for the fact that it reflected my husband and our personality as a couple. We decided to make it a low-key and casual event at a BBQ joint in Iowa, and I would do the same thing all over again.

Jen:
One thing I should have done is tried on my dress when I picked it up. I was told that there was no need for a "fitting" or to try it on, and that I should just take it and go. Well, it turned out that the seamstress had messed up the bustle and it didn't work on my wedding day! I had to try to party with a full train, and needless to say, the dress ended up ripping pretty badly.
Kim:
I wish we had filmed our wedding! We got married before the video trend and felt having a nice photo book would suffice. Ten years later, we both remember the day a little differently. We wish we could look back at loved ones we have since lost, or have a good laugh at a toast, dance move, etc.
Kristin:
One thing I definitely wish we had done is paid for our wedding photo album as part of our photography package. We assumed we would pay for and design the album after the wedding — but there just always seems to be something else we've needed to pay for since our wedding. Now, it's almost three years later and still no wedding album!
Alison:
I wish we would have taken into consideration the predicted temperature for our wedding! I personally would have gone with something lighter and airier, had I known it was going to be 100-plus degrees! Also, looking back now, having been a part of other weddings, I would definitely either pick a color and allow bridesmaids to choose their own dress style or choose the dress and let my bridesmaids choose their color. Either way, I'm sure my bridesmaids would have appreciated being able to wear the dress again.
Gen:
If we had it to do over, we'd have a better contract with our photographer. This could apply to any wedding vendor, but our only vendor was the photographer. The pictures turned out beautifully, but we had quite a few communication issues about when the final pictures would be available to us after the wedding. It created unnecessary stress that could have been avoided if we'd just included some sort of deadline in the contract. Even though it can be uncomfortable to negotiate a vendor contract –- particularly when the photographer is a talented amateur or someone just starting out –- it would have avoided a lot of problems.
Our wedding was just us and some of my colleagues who helped arrange the wedding. None of our close friends were there, even those who lived in town. It was that simple. But in hindsight, I think we should have worked to include them in some way, be it a card with a picture after the wedding and a thank-you note for their friendship and support throughout the years, or some other little note that made it clear we love our friends and we appreciate their support so much. Just something to let our friends know that even though it was an extremely intimate wedding (really just us and the judge), we didn't lose sight of the support and love we have around us.
Becky:
If I were to do it all over again, I would most definitely do more of an appetizer, drinks, and dessert reception, rather than a full, sit-down dinner. I love evening weddings and it's much more fun to dance when your stomach isn't stuffed with dinner! Also, while I LOVED visiting Greece for our honeymoon, I would likely select a closer destination post-wedding. A 14-plus hour travel day, right after a stressful wedding planning period, led to a tearful breakdown in a Greek airport!
Ali L:
I felt the place where we overspent and could have saved was the flowers! I wanted the most beautiful flowers. After getting married, I realized, the flowers mattered but in the grand scheme, not so much in reality. Also, there were other flowers that looked like my flowers that I could have easily used for myself or my bridesmaids. I say spend on the things you truly want that are important to you: your photos (for me, memories), your gown (fashion is my life), etc.
What are your Do Again and Do-Over wedding-day decisions?
Image via Pexels