7 Restaurant-Quality Meals To Cook This Week That Are Actually Easy-As-Hell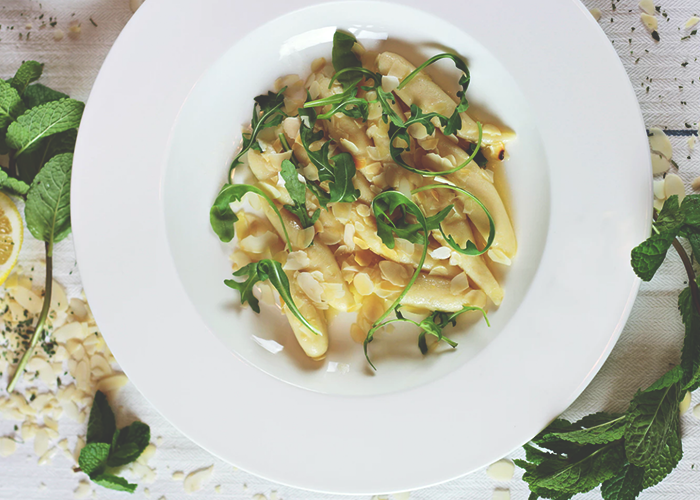 Dear Self,
You have to stop going out for dinner. And ordering delivery. And walking to the bagel shop next door for breakfast even though you literally have two dozen eggs in your fridge. You're better than this.
I had to have this conversation with myself this morning, breakfast sandwich in-paw, because I know I need at least a week or two off from buying my food out instead of cooking at home. Usually, I'm pretty good with this. However, the past few weeks have been a little rough. A few difficult life-things have had me feeling bummed out since the new year, and although I've been mindful and careful about how and where I'm choosing to spend money during this more emotionally foggy time in my life, the place where I kind of just go bananas is on dinner. We've all been there: coming home at the end of a long workday in the -5 degree winter chill while simultaneously feeling a little emotionally frail is the perfect storm of circumstances to prompt a speed dial to your favorite Indian takeout spot before you've even considered the option of doing something as simple as assembling a salad or boiling a pot of water for pasta.
So this weekend, I sat down with my notebook and had a good ole' Pinterest session with myself to find the yummiest, comfort-foodiest, and easiest-to-assemble dishes I could whip up this week for Drew and I so we don't have to suffer through another week on cold french fries from last night's misguided burger-order. Here are seven recipes to try this week (because seriously, we probably all need a break from going out and ordering in).
Recipes like this make me  c r a z y  (in a good way). This creamy avocado sauce is a nice vegan alternative to cream-based cheese sauces (and also great for those with often-sensitive tummies like myself), and it is so rich and flavorful and fresh. This particular recipe calls for gluten-free pasta, which is great if you need that, but if you're a fan of gluten you can also use whatever pasta you prefer.
Although I've never made this particular recipe or had an actual written recipe similar to this, some iteration of this garlicky herb chicken with a side of veg (asparagus in this case) is my #1 go-to meal when I'm not feeling creative or inspired in the kitchen. My herb chicken (which tends to consist of whichever herbs I gravitate towards and grab first when I hit the spice rack, but always consists of a shit ton of garlic) is what my boyfriend refers to as his "favorite meal" when I make it, so it is sure to be a hit with whomever you're serving it up to. This recipe only requires one pan, so it is painfully simple and almost impossible to mess up. Just add way more garlic than necessary, and you're good to go.
This is something I'd almost definitely make to accompany the above herb chicken and asparagus dish, because your girl needs carbs wherever she can get them. But baked sweet potato fries are also a glorious, easy-to-make comfort food that I love whipping up to eat as a snack with a simple Greek yogurt dip — literally just mix whatever herbs and spices that make your heart sing into a cup of plain Greek yogurt and dip those babies right in).
4. Fluffy copycat IHOP pancakes
Decided to toss this fluffy, pillowy pancake recipe into the mix, both because I'm a total brinner girl at heart, and also because breakfast is a weak spot for me restaurant-wise since I love diner food. If you're craving some easy pancakes that are just a little more elevated and delicious than your go-to Bisquick situation, these are insanely simple and good.
I'm very Pro-Chipotle, so any recipe that resembles their classic burrito bowl gets me excited. But this sweet potato recipe is especially good, because, in addition to looking exceptionally flavorful and delicious, it also is a pretty easy, one-skillet recipe. I'm definitely picking up the ingredients for this one when I grocery shop tomorrow.
6. Simple penne with vodka sauce
For the nights you're just craving something warm and comforting, a heaping bowl of pasta always does the trick. If you're in the mood for something different than your basic marinara but still simple and classic, this easy vodka sauce recipe is perfect; it offers all the ease of your go-to quick sauce, with a creamy, tangy, savory twist.
7. Spinach and goat cheese frittata
I'm extremely into frittatas for pretty much any meal with almost any fillings, but the second my mind goes to "frittata" it automatically follows up with "goat cheese," which is, IMO, the ultimate frittata filling. This spinach, red pepper, and goat cheese combo is so simple and so ridiculously good — I made it for my family on Christmas morning (with the addition of bacon, because I figured it couldn't hurt, and it certainly didn't hurt).
Mary writes every day for TFD, and tweets every day for her own personal fulfillment. Talk to her about money and life at mary@thefinancialdiet.com!
Image via Unsplash