7 Home Décor Fixes That Will Instantly Upgrade Your Space – Even On A Budget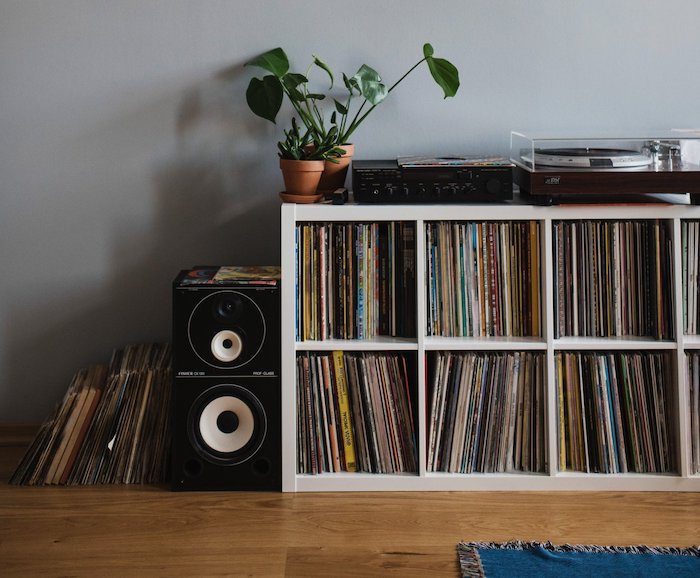 This article originally published on July 5, 2020.
I have moved five times in the past eight years, with another move planned this winter.  Some have been within the same city, others out-of-state, but all of them have been apartments until our current townhome.  And regardless of location, all of our rentals had a few things in common: grungy tan linoleum and carpet floors, sub-par appliances, and boring, white walls everywhere!  
In the last few years, I have paid off some debt and been able to put some money (albeit a small allowance) towards making a house (or rented room) into a home.  These are the big-impact changes I have made that maximize a small budget and transform a dingy white box into a comfortable living space for my family.  
1. Cut out contact paper for a show-stopping accent wall. 
White walls get so boring, but renting usually means you aren't allowed to paint anything. You could always inquire if your property manager would allow you to paint a room, but don't get your hopes up.  A super inexpensive option to add whimsy and contrast is to purchase a roll of colored (or patterned) contact paper.  Cut out simple circles or triangles and arrange them on an accent wall to add some quick personality and color to a room.  It's basically the easier, cheaper version of wallpaper. 
 If you're hesitant to try it, pick a small space to experiment with, like the laundry room or bathroom.  Just imagine varying sizes of rose gold triangles behind the bed (classy, yet fun!), or colorful circles bubbling above the washer and dryer (hello, whimsy!).  A friend of mine chose a black & white theme for her son's nursery and the black triangles over white painted walls looked so sharp, for a little dude.  Put them up with tape while picking a layout, then peel and stick!  They are easily repositioned and you won't be wasting money if you change your mind 6 months later.  An afternoon of easy DIY (no clean-up!) and $5-10 later, you'll have a personalized space complete and ready to enjoy.  When you're ready to move (or try a new look), just peel off and go.    
2. Repaint furniture for a pop of color in a plain white room.
You can add color to plain white walls by simply repainting furniture.  I found an old dresser at Goodwill and painted it blue for the kids' room.  Outfit old furniture with new handles, choose a color you love, and turn a boring piece of furniture into a focal point.  I checked with my local Habitat for Humanity ReStore first, but ended up buying drawer pulls off Amazon.  I used chalk paint, which was easy to use, but any old paint will work.  There are so many tutorials available for chalk paint or repainting furniture in general, but the gist is to sand down rough spots, paint 1-2 coats (you may need a top sealant depending on what you use), distress if desired and you're done.  Your painted dresser, nightstand, or bed frame will stand out in front of the white walls and break up the monotony.  And really, if I can manage a project like this, you can too.  It took me longer than I expected (surprise!) but it was well worth it.   
 3. Coordinate your storage baskets.
After being in several rentals over the years, especially apartments, I have found that extra storage is usually lacking.  I am a huge supporter of reducing the amount of "stuff" you own, but beyond that, I think it is important to have a home for everything.  I ended up picking up a number of baskets to use as storage throughout the house, especially the entryway and in closets.  Some I found on clearance, others I found at Goodwill or were given to me.  When I was choosing the baskets, I had a specific purpose in mind.  Don't make a purchase assuming it will work.  Size really does matter! I was also selective about finding similar-looking baskets.  For me, it fit my other home-décor to stick to natural fiber baskets or wood wicker.  Be choosy – you don't want random baskets making things look cluttered even when things are "put away." 
 4.
Plants, plants, plants
I am a notorious black thumb, but I will admit that potted plants add a real sense of "home" to any rental. They add color and literal life to any area.  Do your research and purchase easy-to-care-for plants and look up their specific sunlight requirements to fit your situation.  If you really are opposed to having house plants, try some realistic faux flowers or ornamental grasses.  Even a few tall plumes of feathers in a vase would do the trick!  You're looking for something that adds texture and variety to your décor.  I get that some people just aren't plant people, but trust me, having some natural greenery does wonders for a boring white room. 
 5. Add a wreath to your front door.
Our townhouse is in one of those suburban neighborhoods where each house is pretty much a carbon copy of the one next door.  I have found it is nice to set your space apart with something bright and welcoming at the door.  You will have to be a little choosy if your front door/porch is exposed to the elements, but otherwise, the possibilities are endless in terms of finding (or making) something that fits your style.  Personally, I have a couple of wreaths I switch out throughout the year.  My front step is small so I don't have room for much else, but a large standing Welcome sign adds a warm and inviting touch that doesn't take up space.  You could also do a seasonal display for the holidays.  (Take a peek at Pinterest and you'll have plenty of ideas to consider!) Potted flowers always look so cheery and "homey" as well.  Just make sure it's something you'll love and enjoy seeing each day as you come home if only to break up the cookie-cutter monotony. 
6. A simple fire pit can transform a patio.
I'll admit, my husband and I are a bit introverted.  That, combined with the fact that we don't live close to family or the core of our friends, means we tend to spend a lot of time at home.  Because of our home-body status and the inability to do much with our "backyard" (just because there's a tiny patch of grass, is it a backyard??) because of our lease, we decided to purchase a stand-alone fire pit for our tiny back patio.  It allows a more inviting atmosphere and a gathering space for us to enjoy summer evenings (into the fall as well!).  Throw in a couple of comfy chairs and a side table, and we are set for the night.  The kids love that we can roast marshmallows for s'mores.  (I won't lie, I'm excited about it too!) Just check your lease for any stipulations they may have regarding fire pits.  And adding furniture to a back patio or front porch essentially enlarges your living space, so take advantage of the rent you pay for that area!   
7. Opt for a big area rug to hide your floors.
Typical rentals have sub-par carpeting, at best.  You win the jackpot if you get new carpet or hardwoods.  Regardless of the condition of your floors, finding a nice area rug will add color and dimension to your space.  Plus, it hides any unsightly stains or wear and tear.  Some reasonable options can be found at IKEA or Wayfair.  Just be sure it is a durable (preferably washable) rug that you can reuse for years, and/or take with you in your next move.  Most of us have probably perused Joanna Gaines' line of rugs and swooned just a little bit over one (or ten) of them.  But let's be real – I sure can't afford them and I'll guess you can't, either.   And to be honest, there are some very reasonable options that look very similar.  As with any purchase, do your research: price check your options and double-check the fine print for returns. Like curtains, the right area rug can bring your mismatched furniture and décor together to create a polished look for your home.
I still hope to buy a real house one day, but until that day comes, I have learned how to adapt any apartment into a place to call home.  The keys I have learned are to embrace a style, choose simple items that bring things together, and add color and life to an otherwise boring rental.   The challenge is to do so in a way that won't break the bank, but it's a challenge we can all rise to!
Jessica is a busy stay-at-home mom of two toddlers and wife to an Air Force acquisitions officer.  My days are filled with lots of crying and whining, house chores, and cooking —  and plenty of coffee and tea!  With any spare time, I am constantly reading: blogs, TFD, and books, books, books!  I call the mountains home and try to find balance in each day: with food, exercise, self-care, and spending.  
Image via Pexels
Like this story? Follow The Financial Diet on Facebook, Instagram, and Twitter for daily tips and inspiration, and sign up for our email newsletter here.