All The Things I Actually Don't Miss From Life Before Quarantine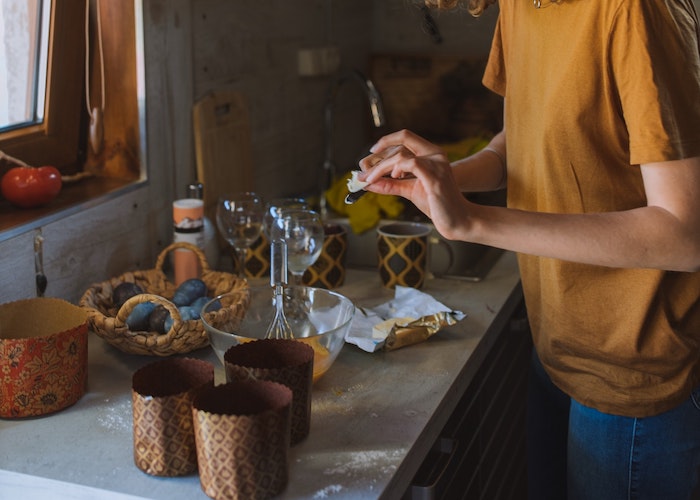 It's been exactly two months since the LA mayor mandated that we Angelenos must give up our large gatherings, brunches, and date nights at the Arclight movie theater. Even though I'd been working from home for the last year or so, the safer-at-home orders still hit me hard, as it did pretty much everyone. There's a lot to complain about when we talk about quarantine, but I'll try not to continue to do so because, by this point, we're all probably tired of talking about it.
At the risk of sounding very Cumbuaya-esque, whenever I feel myself growing negative or anxious about the pandemic and how quarantine has impacted our lives, I try to offset that with all the ways my life has changed for the better, even if those silver linings seem small and difficult to come by. There are things I genuinely don't miss from my "before" life, and looking at the experience from a different perspective helps — especially on bad days. Or bad hours, because I don't know about you, but I still continue to oscillate wildly between "everything will be OK" to "OUR LIVES ARE RUINED FOREVER" throughout the day. 
Here are some things I actually don't really miss from the Old Days™.
1. The internet being jaded about layoffs
In March, I lost my job due to the pandemic. Before that, I had never experienced a layoff, so I was really expecting the worst on LinkedIn. I had heard horror stories of recruiters ignoring messages, being blown off by hiring managers, or just being straight-up ghosted before an interview.
While I'm sure that's unfortunately still happening, I'm also experiencing a massive influx of kindness not only from recruiters, but well-connected individuals who are offering to put people who are out of work in touch with companies they know are hiring. And I'm seeing this all over LinkedIn and other social media platforms in a way that I never did before — and I work in media, where there's basically a mass layoff every Friday. It's inspiring and gives me hope that we'll continue to help each other out, even when things do go back to normal. 
2. Not having time to truly enjoy cooking and eating meals
I now make the time to make time with food. Especially with breakfast and dinner, I carve out space to mindfully cook. Not only is cooking a way to avoid spending extra money on takeout, but I've learned that it's an activity that helps me destress.
3. Waiting in lines at restaurants 
I miss going out to eat terribly, and I am angry with the old me who would order takeout to avoid getting changed out of my pajamas. But I do *not* miss the 45 minute-long waits to get seated sometimes. Or finding parking, which sometimes took longer than waiting for a table. 
4. Feeling like I HAD to have a big 30th birthday party
I am honestly relieved I can't do a big "thing" for my 30th birthday. Throwing parties or even planning nights out at bars stresses me out, especially if it's a birthday. I secretly worry none of my friends want to come, or that they'll be bored, or that I'm just the worst host in the world. Like, please give me all the attention because I'm a Gemini and it is my birthday, but also don't make me plan anything.
I'm happy to be having a small (and safe) get-together at my brother's house with just the family in a couple of weeks. (I still bought a fancy birthday dress because #yolo.) 
5. Spending almost zero time with my S.O.
So, this situation has actually nothing to do with COVID-19 for me personally, since my husband happened to break his hand during quarantine and had to go on a medical leave of absence, thus having to stay home (with me). However, with a lot of jobs becoming remote (or unfortunately extinct, either/or), some of us are getting the chance to spend more time with our live-in significant others and roommates — whether we like it or not.
I'm personally grateful for the change, even if the circumstances aren't exactly what I pictured whenever I wished we could spend more time together. Now, for the first time (ever) we see each other during the day — every single day. We make and eat breakfast and lunch together, take the dog on walks, and I have another human being to communicate with IRL. Aside from occasionally driving each other bonkers, we both agree this has been great for our relationship. 
6. Not having the time to read or watch shows 
Being "too busy" was something I mostly brought upon myself back when I had a full-time job since I'm certainly just as busy these days. But not having the option to take leisurely strolls through the aisles at Trader Joe's, or going out with friends has definitely given me more time to finally get to my book and TV show queue. Also just living through a global pandemic has made me more aware of the need to take care of myself — and that includes taking breaks and allowing my brain to unplug sometimes.
7. Not caring about fixing up my house
Before the pandemic, I felt like I didn't have the time to do small things around the house, like replacing lightbulbs (I am THAT lazy), or take on bigger projects like painting my closet. I'd honestly just be too tired to care or even enjoy the changes. Since sprucing up the house is safer than going out, I'm finally using this time to redo, fix, or polish up certain areas of my house that have been bugging me for months. 
*****
Who knows, maybe once all of this has blown over (*fingers crossed*), I'll keep up some of these new lifestyle changes. I know that eventually, the cars will return back to their natural habitat (aka, the 101 freeway), and that my husband will go back to work. I am hopeful that we'll all continue showing each other more compassion and tenderness. It's made this collectively nightmarish reality so much more doable.
Gina Vaynshteyn is an editor and writer who lives in LA. You can find more of her words on Refinery29, Apartment Therapy, HelloGiggles, Distractify, and others. If you wanna, you can follow her on Instagram or Twitter.
Image via Pexels
Like this story? Follow The Financial Diet on Facebook, Instagram, and Twitter for daily tips and inspiration, and sign up for our email newsletter here.