8 Ways To Transform Your Grimy Bath Into A Grown-Ass Spa Experience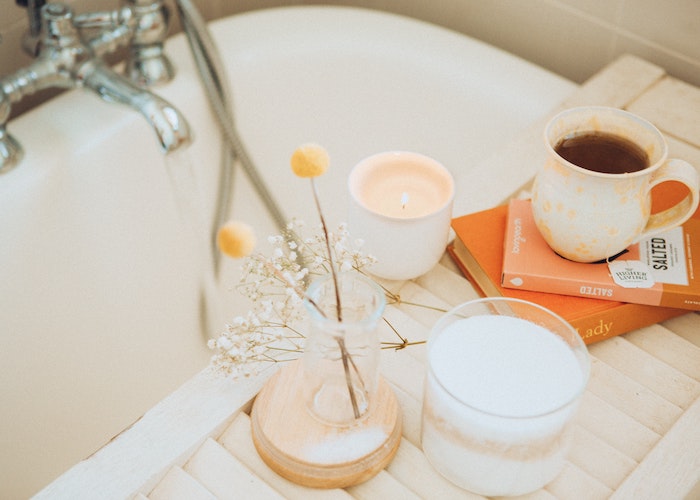 Confession time: I never understood the allure of baths. As a twenty-something millennial, that almost feels sacrilegious to say, but it's true. For the longest time, I thought I hated baths. Sitting in lukewarm water as my skin cells floated around me? *Shudders.* It wasn't until I moved to a new home with a tub that hadn't been used by generations of college students and gave the concept one final try that I realized baths are the best — if you do them properly. They are also a free or relatively cost-effective way to "treat yourself" when you're in need of some self-soothing.
From prepping the tub, eliminating distractions, adding tranquil touches, and entertaining yourself mid-soak, here's how to have the most relaxing bath ever, from the pickiest bather in the world. 
Must Haves:
A suitable, clean tub

Water between 90-105 degrees Fahrenheit 

Candles/mood-lighting

Bubbles, bath bombs, oils, and/or flower petals

Snacks and sips

A tray or chair

Entertainment (book, Netflix, hand..?)
1. Be Realistic About Your Tub
First thing's first: You need to take a good, hard look at your tub to evaluate if it's up for the challenge. I, personally, am a tub snob. Very few tubs will get me excited to have a bath. The first step is the hardest: Ask yourself if your tub is one you'd actually want to bathe in. If you live in an older place and can afford it, consider getting your tub reglazed. It's a few hundred bucks but it makes your tub look and feel like new. If not, work on cleaning your tub like you've never cleaned it before. Which brings us to the next step.
2. Clean, Clean, & Clean Some More
Once you've decided your tub is worthy of a bath, the next step is to hardcore clean it. While this might seem like the most miserable step (and yes, it is), it's crucial in order to unwind. Trust me, nothing ruins a bath like coming across random, floating hairs mid-soak. Here's a quick recipe for a squeaky clean tub: 
Mix ¼ cup baking soda and ¼ cup dish soap.

(Optional) Add 10 drops of essential oil.

Dip a dampened sponge into the mixture.

Wipe the whole tub down.

Let it sit for 10 minutes.

Wet your sponge again.

Scrub, scrub, scrub (starting from the back and ending at the drain).

Rinse it all off.
3. Set The Vibe
I still have nightmares of the time I walked in on my husband taking a bath with the lights on. Case in point: Don't do it (unless that's really your thing…). Setting a tranquil vibe is half the battle when it comes to creating the perfect bath environment. Candles, crystals, soothing music — hell, put a few house plants in the room — anything to make the space feel less the place where you go to pee, floss, and scroll through Instagram from the toilet. Put some tealights around the tub, turn off the overhead lights, light some incense, and pretend you're somewhere far, far away, full of astounding views and stiff drinks.
4. Get The Temp Just Right
One of the most important aspects of a bath is — shocker — the water. This is where I have failed time and time again. Too cold and you feel like medieval wench sitting in a bucket, too hot and your skin starts screaming and you have to spend the next 45 minutes adjusting the nobs before giving up and just draining the tub. Thankfully, it doesn't take a science degree to get the water right. First, fill the tub with warm (not hot, not cold) water about halfway. From there, add in your scorching water for a few minutes. Once it reaches about ⅔ full, test the temperature with your wrist or elbow. The ideal bath temperature is between 90 and 105 degrees Fahrenheit, but it ultimately depends on personal preference. Rule of thumb: If your skin turns pink, it's too hot.
5. Get Creative With Your Water
Jumping into a tub of warm water is nice and all, but what makes this experience different from a glorified hot tub is what you add to your bath. Whether it's piles of suds, dozens of flowers, or those bath bombs your aunt got you years ago, this is where you really make your bath your own. 
Bubbles: Few things are more playful than a pile of bubbles. Grab your favorite suds, add a more-than-healthy amount, and disappear in a cloud of soap. Sure, your floor will be covered, but that's what towels are for.
Bath bombs: Bath bombs may have been the craze in 2015, but they're just as fun in 2020. Toss one (or more) in and watch as the colors change and swirl around you.
Oils: Add a few drops of essential oil (6-8 at most) to reap the benefits and add a spa-like level of luxury to your soak.
Flowers: Dream of having one of those Bali-inspired flower baths? With a little patience, a lot of petals, and some tweaks in the water temperature, you can make it happen at home. This tutorial is the best way to bring the tropical vibes to your one-bedroom apartment. 
6. Ditch The Phone
After you add your bubbles or spend an hour artfully placing flower petals, snap a few pics for the 'gram (don't lie, you know you want to) then stash your phone in the other room. If you need to get the classic "legs sticking out of the water" shot, take it then turn your phone on silent and flip it over. If you're spending your entire bath stalking your ex's cousin's neighbor's girlfriend, you're going to miss the chance to actually unwind and your bath — while envy-inducting — will be pointless. Ditch the distractions and spend this time actually, you know, relaxing. Social media can (and will) wait. 
7. Bring On The Feast
The most exciting part of bathtime for me is the excuse to stuff my face in private while I try to avoid dropping my food in suds. Whether you opt for some white wine and a cheese board or you go the pizza and beer route, this is your time to whip out a tray, pour the whole bottle, and chow TF down. No, not every bath needs a four-course dinner, but if you're looking for a great time, you're not going to regret requesting a bucket of fried chicken à la Rachel Green. Snag a tray or make your own and get ready to dine in soapy style. 
8. Add The Entertainment
For some, sitting in water and letting their mind wander is the definition of relaxing. For me, an anxiety-riddled adult, the idea is enough to cause a mild panic attack. Instead, I like to have a wide range of distractions entertainment options available to keep my brain peacefully occupied. Snag a new book, put your laptop on a chair and catch up on raunchy teen dramas, listen to podcasts, belt along to your favorite feel-good music, or even bring in your favorite waterproof "toy." This is your time to feel good — however that might be — so use it guilt-free and just make sure the door is locked… You know what they say: What happens in the suds, stays in the suds. 
(This article was originally published June 2020)
Rachel Varina is a social media, digital marketing, and editorial expert living in sunny Tampa, Florida. When she's not creating content or collaborating with brands, you can catch her devouring thriller novels and supporting pineapple in the great pizza debate with her husband and two rescue pups by her side. You can find her on Twitter and Instagram.
Image via Unsplash
Like this story? Follow The Financial Diet on Facebook, Instagram, and Twitter for daily tips and inspiration, and sign up for our email newsletter here.