9 Easy Tweaks That Elevated My Home Meals To Takeout Level (& Curbed My Delivery Habit)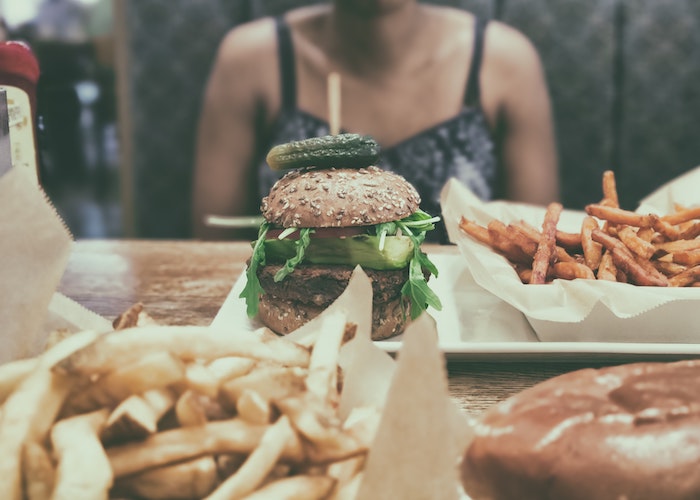 Recently I did a 30-Day No Takeout Food Challenge and truthfully, for someone who averaged about  1-2 "outside meals" per day, at minimum three days a week, I was impressed at how doable this journey was for me. And it's not because of my wavering willpower, but instead, I had practical, rewarding, and more importantly, delicious hacks, along the way.
With that said, check out the nine tasty tricks and tips that made my no-outside-foods challenge, possible:
1. Invest In Exotic Sauces + Condiments
Prior to kicking this challenge off, I thought about what it is I enjoy most about outside food. When I thought about the one thing that every place has in common (when it comes to me ultimately deciding to order food), the answer was simple – customization. And oftentimes what "customizes"  outside food orders are the sauces themselves. I have literally craved pork and chive dumplings from my neighborhood noodle spot, and then no longer wanted them once I realized they forgot their specialty chili oil. Once, I waited in line at a Chick-Fil-A for over 20-minutes, only to find out at the register that they ran out of their signature dipping sauce, and so I left with zero chicken — despite having stuck it out for nearly half-an-hour in line, half of which was spent outside in the cold.
My point? I find that, at least for myself, sauces are what make the meal. Or rather, they are the thing that "leads" the craving. I purchased Chick-Fil-A sauce from Target for $3.99 and it instantly made my journey to not eat outside food, easier. I add it to my spinach sandwich wraps, I dip my own homemade chicken in it, and just overall, I found it satisfied the savory side of my cravings, for when I felt like something that "tastes like outside food," if that makes sense. Since then, I've added other yummy condiments to my regular grocery list (including 'Spicy Electric Eel' sauce). Though I've never made sushi at home, I've used it as a glaze on my salmon and it's delicious!
2. Buy New Flavors Of Old Favorites
Ok, so this was probably one of the most "duh" hacks on my journey, that I'm honestly shocked I hadn't done sooner (as in, Why did I not do this before?) Upon gearing up to do my first round of grocery shopping for my 30-days Of No-Takeout Challenge, I decided to get different variations and flavors of my existing food favorites. So this meant, instead of my go-to Boar's Head Salsilito turkey and Havarti cheese, I tried Boar's Head Jerked turkey and dill Havarti cheese.
Other swaps I made included:
Honey pecan cream cheese —> onion & chives cream cheese
Strawberry yogurt —> peach yogurt (so good, FYI!)
Sea Salt Chips —> Himalayan Salt & Avocado Oil Chips (I will never go back to regular after this!)
Brown Sugar Steel-Cut Oatmeal —> Cranberry, Almonds and Dates Oatmeal
The verdict? Not only have I found a few new favorites to add to my grocery list (some of which will be permanent swaps, all of which are now in rotation to my shopping list), but playing around with changing the flavors of my go-to food items allowed my tastebuds to have a jolt of something new and exciting, very early into my challenge. With that said, my cravings were now for these new flavors that I had yet to grow tired of, or even close to accustomed to! I highly recommend that, if you are attempting to eat at-home more, try some food swaps that make sense for you. Meaning, don't do a complete 180 on all flavors, but maybe go 90 degrees to the left with it. Lol! If you know you like certain foods already, try them as flavor choices for your snacks and meals.
PS: Jerked turkey and dill Havarti cheese on a spinach wrap with Chick Fil A Sauce, and Himalayan salt + avocado oil chips on the side? Yeah. I haven't craved a chicken burger since. Not kidding!
3. Load Up On Hidden Proteins
So this is an interesting one that is actually diet-friendly and super low-effort and non-invasive (in terms of completely changing what you eat). A ton of food items and food favorites now boast "+Protein" on their labels. My guess is either that:
A) the FDA felt consumers had awful muscle composition and needed protein snuck into their foods or,
B) everyone is so obsessed with having a big booty these days, that protein is now the "in" thing to consume.
On top of that, a good protein source is no longer limited to just meats and meal replacement shakes. Now they are casually in your Chobani yogurts, Quaker oatmeals, dry pasta and Skippy "Protein" peanut butter. They do not alter the taste of any of these items, at least from what I can tell.
What's good about protein is that it is filling. However, if you are going to start replacing half of your cupboard and pantry with protein-plus versions of your usual foods (like I did), keep in mind to drink much more water, as too much protein could lead to health issues.  However, this probably won't concern you if you have pretty healthy kidneys and/or if you're super gym rat who lives off protein in food form, shake form and powder form, as well.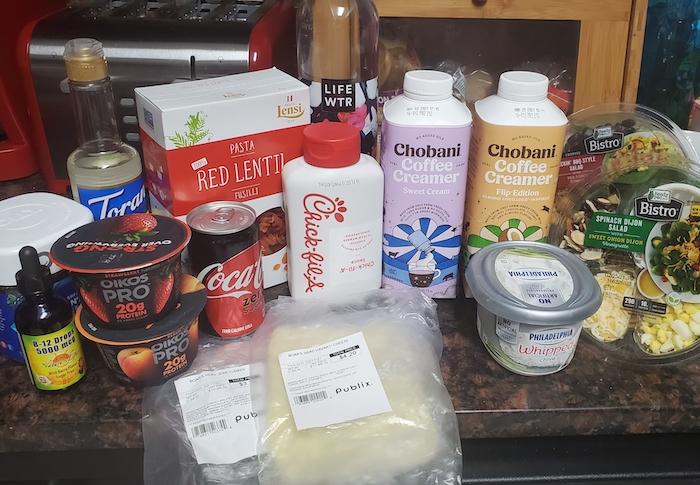 4. Stay Hydrated
It's no secret that most of us are working from home these days and eating out of sheer boredom. I find that a huge reason why I'm over-hungry is that I'm under-hydrated. This doesn't mean that water will curb my craving for a Shake Shack burger, however, when you drink your daily recommended water intake, you'll find that you are actually "full" more often times than none. Yes, you have to work on your cravings, but that can easily be satisfied with quick bites at home. When your body is hydrated, two important things happen:
You are filled up on liquids and your cravings are less
Your body's homeostasis is better balanced, promoting good health overall.
The thing is, you don't only have to stay hydrated wit just regular, degular water. I prefer everything from plain ol' water, Alkaline water (which I find actually sits in my stomach longer but flushes me out better, later), lemon and cucumber water, watermelon, or classic tea! Even romaine lettuce has agua in it! All of these different variations of H20 helped me stay full and fueled and honestly, made me feel hungry less often. Not to mention, when you "feel good," and your body responds well to better health (better sleeping habits, regularity, more energy, less bloating, etc.) you naturally begin to sort of be put off by junk food.
5. Have Pre-Packaged Foods
It's been a while since I wrapped my head around the idea of buying "packaged foods." Aside from the fact that most packaged or frozen foods are high in sodium (read those labels!), they also tend to be expensive. Plus, let's face it, a huge part of adult-ing is swapping out packaged meals for meal-prepped foods stored in tupperware. Like seriously, when I think of a complete pre-packaged lunch, I think of Lunchables.
However, during a sale at my local grocery store, I realized that Bistro Salads were on sale, 3 for $10. While I'm not a big "salad" girl in terms of range (just give me grilled chicken over romaine, please) I decided to get different flavors, such as: Santa Fe (which included black beans, corn and tortilla strips) as well as Spinach Dijon (which include cold spinach as the base,  almonds, cranberry and the most delicious sweet onion vinaigrette dressing).
Now, while these were huge money savers (approx. $3.33 a salad – far less than what I'd pay for any outside lunch if I was working in the office), I found that it also felt nice to have that "prepared food" sensation during my lunch break. It made my remote-work experience feel a little less, well, at home. It reminded me of being back at the office and grabbing food downstairs. Something about having a meal, that I didn't make on my lunch break, actually felt pleasantly nostalgic and super promising, for a COVID-free near future *crosses fingers*
6. Find Your "In Case Of Emergency" Indulgences
This is super important. We all have indulgences. Mine is coffee (black) with vanilla-flavored syrup. I would get this at McDonald's every morning, every day. Yes, you read that correctly. I almost kept this in my routine because it's not "take-out" or even technically "food" for that matter, but then I decided a few days in, to cut this off too. So I bought vanilla-syrup and made coffee from home, but Black coffee at home wasn't quite the same (to be fair, I know the main reason why is because I have not invested in a coffee pot or press).
I was drinking instant coffee (yuck, I know), but it didn't work by itself, even with the syrup's help. This is when I discovered Chobani's Sweet Cream creamer and my goodness – it is perfection! This makes any crappy coffee instantly good, and it makes stellar coffee pure heaven! I found that this made my mornings and breakfast that much better.
Now, of course, I can't have hot coffee and creamer each time I have a sweet tooth. With that said, I made sure to have a few things on hand that still allowed me to indulge responsibly:
Coke zero (7.5 oz can): Caffeine (coffee, Coke, etc.) is an appetite suppressant. A small can of this when I've already eaten my food in the house, but still want that "outside" meal feel, usually curbs whatever sweet treat I'm greedily missing. Also, as an adult who has cut back on drinking anything except for water with her meals, I find that soda gives me that fast-food restaurant,  fountain drink vibe.
Chocolates: I'm not making excuses for these. I like them and I ate them. While I didn't have these in abundance, I did keep some Dove Dark Chocolate "cubes" around, as well as Godiva Dark Chocolate (with the ganache centers).
7. Take Your Vitamins
Ok, so this is a huge, overlooked must-do. I started every morning off with vitamins. This included B-12 drops, a probiotic, Emergen-C for immunity, and a juice shot (either a Vitamin-D + Zinc combo or a green shot!) I took all of these with a 32 oz bottle of water. Also, they can be taken on an empty stomach and before breakfast. I have an extremely sensitive stomach so it's important that I know what is water-soluble and what won't wreck my digestive system to shreds when taken on an empty stomach. I realized that having my vitamin cocktail, water and then after, my coffee, kept me full for hours (and full of energy).
During my lunch, I'd take the vitamins meant to be taken with food. This is my multi-vitamin and a B-Complex. Sometimes I'd skip out on the B-Complex, but it does convert food into energy. I find that taking vitamins regularly gives your body nutrients, and nutrients curb cravings. For example, I'm anemic, so having iron in my system regularly (by way of sticking to my multi's), makes me not crave a medium-done steak or a bacon cheeseburger (well, not as often, anyway).
8. Track Your Success Daily
Fun fact: I have this app called 'Daylio' which is a mood tracker, but it has also turned into a progress tracker of sorts, for me. Daylio allows you to not only "rate" your day with your overall mood, but you also choose icons that represent things you did or didn't do that day. At the end of the week, you see your weekly progress report, and you get to view which days you were "Sad, Meh, Okay, Good or Rad," and what you did on those days.
Long story short: I added "No Takeout" as a "goals icon" and it was an incentive for me to click one more icon from the "goals" list, at the end of each day. I also noticed that achieving said goals felt good, and those were days that I upgraded my "Okay" day to "Great!" Ultimately, as with any challenge, you should have fun tracking it, incentivizing it, and rewarding yourself, in the end!
9. And Finally, Yes — EAT WHEN YOU'RE HUNGRY
Do not, I repeat, do NOT wait until you are starving, to eat something. I realized that when I have takeout food on the brain, I will literally be so hyper-focused on the, "To order or not to order," internal debate of it all, that I skipped meals. Like, literal hours would go by. And then, once I'm super hungry, I make the argument in my head that, "I didn't eat all day," and that I deserve whatever I want, and I order the food. I may even over-order my usual amount. While this is not only financially irresponsible, this is also unhealthy, mentally and physically. I would find myself somewhat binge-eating after not eating all day when there was plenty of food at home. I would feel under the weather since I allowed my blood sugar to get so low, only to spike it with a ton of food. As for mentally, I'd often feel guilty afterward.
During my challenge, since there was no, "Should I, or should I not" element to ordering food, I simply ate when I was hungry. And there were so many options: foods that I meal-prepped, foods that could be prepared in under 5 minutes, tasty snacks, and so forth. You name it. I noticed that I would eat more throughout the day, but eat smaller portions since I ate regularly, and I was always satisfied. I even lost weight and found that the weight I did have, I carried it much better (less bloating)! I feel I regulated my metabolism drastically, due to having a healthier eating pattern.
What I learned from this is simple. In the beginning, I thought takeout, though costly, was "convenient." Well, you would think it is "convenience" that motivates you to order it, but the reality is, in the time it takes me to decide what to order, as well as the actual delivery time itself (or if I'm picking up, getting dressed and the commute), I could've easily cooked something. Plus the reward of saving money is better than *most* desserts!
***
Hopefully, my tips can help you on a similar journey. Though I do not plan to cut out eating outside entirely (I'm an NYC girl and there are a zillion restaurants in our beautiful city), I do plan to limit restaurant foods to dining in, as much as possible. This means once a week or even twice, max. I enjoy restaurant eating as a form of celebration and self-care, to be honest. But as for giving Postmates and Uber Eats all of my money, all the time – not so much anymore!