9 People On How 2020 Shook Up Their Life Goals — And What They're Doing To Adapt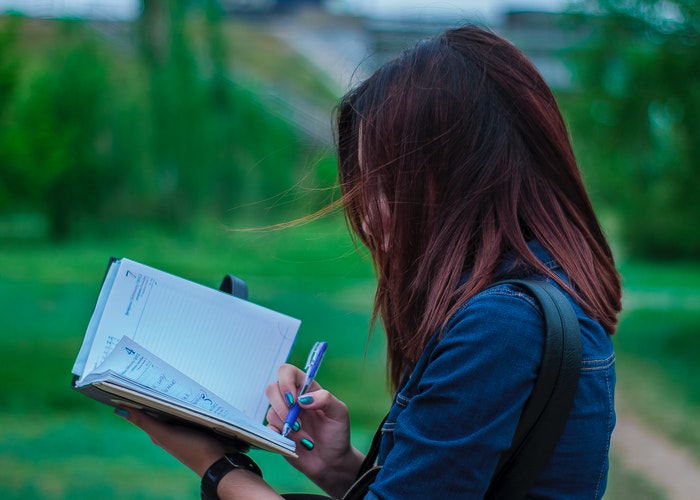 It's fair to say that 2020 hasn't been our year. As it turns out, a global pandemic hasn't proven to be financially advantageous for most (life insurance companies, maybe? Toilet paper brands?). I know my personal and financial 5-year plan was charred beyond recognition the second I was laid off, and while I've made a slow comeback, other factors in my life have made goals that much harder to achieve. Right now, I'm mainly in survival mode — as are many other people.
I wanted to see how others were coping during this time — how their 5-year plans had been impacted by COVID-19 and how or if they've been able to combat their losses. Here are nine people who were awesome enough to reach out and share how 2020 affected their lives, as well as their financial (and personal) plan of attack to regain control.
1. I want to work for myself.
"I have no idea if this perspective is helpful to anyone else, but 2020 has confirmed that my life and livelihood have improved working for myself. I'm kind of an internet vagabond: I make videos, write, consult, and sometimes make dog treats on camera. It's a weird life! But working for myself for over a year has helped me to expect the unexpected, and wow has this year been unexpected.
My five year plan usually looks like this: ??? But now I feel more confident planning that it will look like this: ??working for myself??" –Christina Wolfgram
2. I want to give every opportunity a chance.
"I had a goal in mind to be married at 24, and have made a significant career move by my 25th birthday on July 7th. Late last year, I had missed out on the opportunity to continue with a relationship that could have led to marriage, and in January I sabotaged an interview that could have helped me to stop working in my current role at an orthodontist office, and use my finally get to use my communication and media degree from Sacramento State University.
After these two feats, I came up with a goal to give every opportunity I come across a chance because I realize that I never know what great things I could have gotten out of a missed opportunity. Having this goal ties into my 5-year plan of having a significant career because the lockdown in March put a pause on my goals, and lessened the opportunities I had to achieve them. Staying at home for 6 weeks in a row and doing subpar social media for a company with no direction made me feel discouraged. In my current role, I have no guidance in improving my skills and have no room to grow. I was more desperate than ever to start in a new role where I could learn from the best and contribute something great.
Listening to The Financial Diet is what got me back up on my feet. I used the recommended products she mentioned like Skillshare. I took classes to brush up on my videography skills and implemented those skills back into my work in doing social media in my current role. I took advantage of the LinkedIn Premium 1-month free trial to get great advice from recruiters, and even started connecting more with my peers from college. Taking advantage of socially distant virtual meetings has been the biggest blessing in getting back on the path to achieving my 5-year goal. It's a non-intimidating way to put myself out there, and as I keep my head up high day after day it becomes easier to realize that I will get what I want as long as I put my best foot forward." –Hanedi Karajeh
3. I've decided to take a chance and start my own business.
"I was working a full-time job while running my fitness website, Fitness Savvy, on the side. The 5-year plan involved getting to a stage whereby I could leave full-time employment to do my business full-time. The process would have been slow and steady because of time limitations.
I was struggling to raise finance for my business so I had come to accept this. When the lockdown was announced, people were no longer able to go to the gym, and so my website traffic increased by over 1000%.
This allowed me to bring my plan forward by at least a year, leave my job, invest in video equipment for a YouTube channel, and draw some of the loans I made to the company to get my house done up. From a business perspective, we will produce much more content and invest in this area.
From a personal point of view, I have set aside a chunk of the business funds to allow me to pay myself for at least the next year – so even if things are moving slowly with the business, I still have a contingency plan.
Once the dust has settled, in one year from now, I will then take another look at the five-year plan, as it is a little difficult at the moment to predict!" –Robin Young, CEO of Fitness Savvy
4. I've expanded my skillset to stay afloat.
"Before the COVID-19 pandemic I was a full-time actor and model (and former journalist), but since in-person shoots and castings are much more difficult given the social distancing restrictions, I've pivoted to focusing on a different career over the next few years. I'm now a full-time social media influencer and marketing consultant for brands (I have over 560,000 followers on Instagram now!).
I've learned how to professionally shoot content at home for brands (with professional lighting and camera equipment I purchased during lockdown). I'm currently shooting myself for Olay, NYX Cosmetics, REVOLVE, Tend Skin, and other companies, and shooting product shots for some others. I had some photography experience in the past (while studying at NYU and Choate) but lockdown has helped rekindle my passion for it, and has encouraged me to pursue furthering my skills. After lockdown ends, I intend to continue focusing on producing and shooting content for brands rather than participating in traditional modeling shoots. Being my own photographer, retoucher, stylist, makeup artist, etc. has been really empowering and freeing." –Jarry Lee
5. The pandemic pushed me to pursue my dream.
"2020 has been the worst and the best year so far for me.
I worked for an American bank holding company as a product manager. I loved my job because I was happy with the salary, company benefits, and location. My next 5 -years was supposed to be just that: Continue working on a job that I love and live the life that I'm comfortable with.
Then the pandemic happened…
I am currently on maternity leave, and my return to work was postponed because of the pandemic. Fearing that I might not have a job to go back to, I started my business as an Instagram marketing strategist.
In a way, the pandemic has pushed me to pursue my dream. My business is slowly taking off and now I am looking at options to go back to my job part-time while expanding my business.
My next 5- year plan no longer exists. I am trying to figure out if I want to pursue the entrepreneur lifestyle at full power, which has proven to be super rewarding but very challenging. Or I should go back to my 'stable' 9-5?" –Yuan
6. I'm postponing my debt payoff to keep more cash on hand.
"For my husband and me, we've temporarily put a pause on paying extra towards our mortgage principal. Instead, we're putting all extra money into a savings account in case my husband loses his job.
While we did have a 3-month emergency fund already, in the current economic situation it will likely take longer to find a new job.
Our 5-year plan was to pay off our remaining mortgage amount. We've since changed this to a 10-year plan. Unless something changes, we will keep the account with extra money to allow greater flexibility in the future." –Steffa Mantilla
7. We're postponing having a baby.
"We had to take a hard look at our financial goals during this crisis and make some adjustments. First, we planned on doing a major home renovation and are now postponing it until we have a clearer idea about how the recession is going to impact us. Instead, we are considering getting an Airstream for the side of our house to create a work from home space that's separate from our daughter, without the same expenses of the renovation.
I've been the sole income for the last couple of years as my husband has worked on his startup. We originally were talking about having a second baby around this time of year but have decided to wait a few more months so he can figure out his employment situation to bring in a second income while we focus on ways to save money for another baby." –Rachel, CEO of The Confused Millennial
8. We're taking on side gigs.
"As a happily married small business owner with two small daughters, I can certainly speak to how we've pivoted from our initial plan:
1. Loading Up on Cash: Where we initially thought my husband would retain his job as a school-based ABA Therapist, he was laid off and unemployment (in NJ) has been a no-call/no-show at this time. So we are saving as much cash as possible which is allowing us to pay our current bills in a timely fashion and still save toward our next step…
2. Buying a House: We are early in the process of buying a house through the NACA program. Since the program is designed to help low to moderate-income families, we were able to meet with our counselor and still get pre-approved even with our income fluctuation. This is also due to the fact that we have no credit card debt, student loan debt, or car notes.
3. Leaning Into the Curve: Since unemployment has been out of the picture for us, my husband has taken up a job as an Amazon delivery worker to ensure that we'll stay on track with our savings and home-buying goals. He's also working as an ABA Therapist a few hours per week. Thank God, as a consultant, I still have my biggest client and have picked up new freelance work from customer referrals.
4. An attitude of MORE Gratitude: While we certainly hope my husband will be able to receive unemployment, we have decided to take each day as it comes and do what we can to keep hitting our benchmarks. We most definitely appreciate the blessing we have in having all that we need, plus some extra on the side." -Tenin Terrell
9. My major life milestones will have to wait.
"In the beginning of the year, I had three distinct 5-year plans: go to grad school, buy a house (haha) and plan to start a family. I was finishing one of my plans — going to grad school —  and I was ready to start the other two. I'm a private school teacher in the Southern Hemisphere (Brazil).
At the start of the quarantine, I was afraid for my Master's because my workload at least doubled, having to adapt my lesson plans and record videos, which left me with almost no time to actually write my dissertation. For better or worse, my last day on the job will be June 30th. My school lost too many students and they cannot pay my salary anymore. So this plan, even if it had big bumps, will resume normally, and I believe I will be able to defend it by the end of the year.
Homeownership went down on my list of priorities. I wanted to look for apartments around July, and buy something for January of next year, but this will have to wait at least one more year. As mentioned, I will lose my job soon, and even though I have enough savings to make a down payment and still pay the bills for a couple of months, I don't think this is a sound idea now; I prefer to wait.
Finally, family planning is the one item I'm really uncertain about. One reason is I made homeownership a requirement for it in my mind. My fiance and I are getting married in October (our idea was always to just go to a registry and sign the papers, no wedding ceremony), but I'm not sure when we can start preparations for a child. We both have started saving money for them in January, and we will keep these savings going." –Luisa Ferreira Gusi
Gina Vaynshteyn is an editor and writer who lives in LA. You can find more of her words on Refinery29, Apartment Therapy, HelloGiggles, Distractify, and others. If you wanna, you can follow her on Instagram or Twitter.
Image via Pexels
Like this story? Follow The Financial Diet on Facebook, Instagram, and Twitter for daily tips and inspiration, and sign up for our email newsletter here.