9 Women On The Awesome Beauty Products They Started Making At Home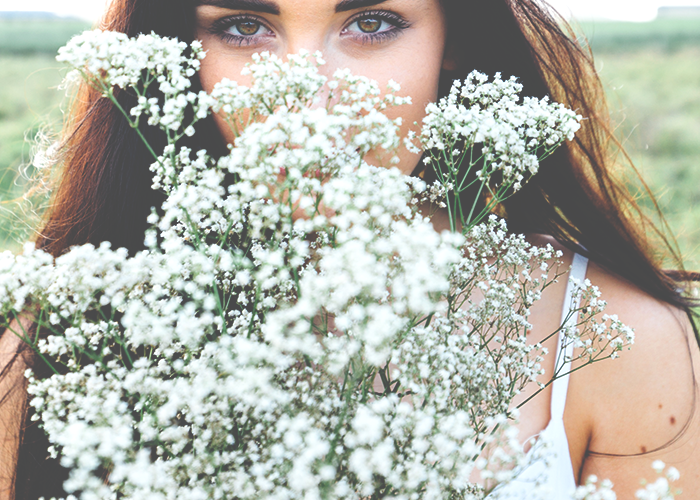 The idea of making homemade beauty products always intimidated me, and women who made their own cosmetics at home — like beet blush and natural liquid foundation — just plain blew my mind. Before I read a short excerpt from a Shailene Woodley interview a few years back (random, but true), talking about how she made all her own beauty products, I frankly didn't know it was a thing. Then, I started noticing how many people were doing it, and that a lot of women around me already had their own go-to homemade beauty products stashed away in their bathroom cabinets. Currently, I make-at-home DIY face masks to prevent breakouts, but I'm looking to branch out a bit into more ~advanced~ DIY beauty territory.
Below, I've gathered together some tips and tricks from my friends to get the scoop on some of the best homemade beauty products they whip up in their own kitchens. What's incredible is that a lot of this stuff is made up of ingredients you most likely already have at home. These are fantastic recipes that I'm really keen to test drive. Check them out!
1. "FACE MASK. The simplest and most effective DIY beauty thing I've ever learned about was the honey mask. To do it, you just need some organic honey, spread it thinly on your face, leave it on for about 15 minutes, gently wash it off with some warm water and whatever gentle cleanser
you'd normally use. It's cheap, effective, and not the kind of thing you have to run out to the store to get five random ingredients to get. I can pretty much always do a honey mask, and every time I do one, I wonder why I don't do it more often. Your skin feels so lovely after! (And this is coming from someone with problem skin.)" — Chelsea
2. "TONER. One of the easiest things to make at home is toner. I've been making my own toner for years now, and the recipes online are so simple that I'd have to be a fool to continue overspending on it. Apple cider vinegar
+ water works really well as a toner on its own (and that stuff also works wonders for your hair). I found a great toner recipe on Wellness Mama, which uses witch hazel
and Vitamin C. It's simple: you combine all the ingredients, put it into a bottle, and dab it on your face with a cotton ball or tissue whenever you're ready to use it. Easy." — Leigh Anne
3. "PORE-MINIMIZING MASK. It's an extraordinarily simple recipe to whip up, it's basically just baking soda
and water. I have issues with larger pores on my forehead and nose, and I use this mask twice a week to help minimize them and smooth out my complexion. Once you scrub off the mask, your face will feel incredibly soft and super clean. All it is, is equal parts baking soda and water (or lemon juice if you'd rather something with a little more ziiiiing. Stir it up, slap it on, leave it for 10 minutes, and let it dry. Careful to avoid getting it anywhere near your eyes or nose — it'll sting pretty bad." — Jessie
4. "DIY LIP GLOSS. This might be a little overkill for some people, but awhile back, I saw this recipe for homemade lip gloss posted by one of my favorite food bloggers. I ended up making it a few years ago as part of a DIY Christmas gift for all of my friends, and it was huge hit. Yes, it's a little involved to make them, and you do have to set aside an afternoon to make a batch, but it's really cool to have homemade lip gloss on hand. It's neat to have control over whatever color you feel like mixing up, and I have to say, I feel really impressed with myself every time I use it." — Steph
5. "LIP SCRUB. I make a mean homemade lip exfoliator, which is my answer to the Sugar brand lip scrub (which costs $24)! There's a nice recipe for a simple one that uses honey, sugar, and vanilla, which anyone can put together using things they already have on hand. It's kind of funny because I have to keep myself from eating it as I'm putting it on. It tastes really nice! After I give my lips a good scrub and rinse it off, it's ridiculous how soft they feel. It's also nuts when you consider how much money you save with a simple swap like this. I especially love using it during the winter when my lips are chapped as hell; this stuff keeps my otherwise dry lips nice and moisturized." — Danielle
6. "TEXTURIZING SPRAY. A long time ago, and I'm so embarrassed I'm actually telling you this, I had read an interview with Ashley Olsen (LOL, I know) who said she used salt water texturizing spray to keep her hair looking faux beach bum. Of course, she used an expensive brand I couldn't afford, so I learned how to make my own. WIN.
There's a simple recipe for a sea salt texturizing spray online here, which is perfect for those of you who don't live close to the beach, but still want to get that full, wavy, and tousled look. Heading to the beach on the weekends was always one of my favorite parts of the summer, and using this spray
year-round makes me feel like I have a little bottle of it stashed away in my cabinet. — Reese
7. "LEMON BATH SCRUB. Anytime I go out for a date, I try and put a little extra care into my beauty routine. I don't really like using perfume, so I'll use a DIY scrub in the shower instead. Nothing feels better than coming out of the shower smelling like lemons. I just followed a simple recipe for a salt scrub made with herb + lemon + olive oil that I found online, and I started using it ever since. You can also swap the salt with sugar if you want to be more sweet smelling." — Lily
8. "HAIR MASK. My husband's mom gave me one of her most precious recipes for homemade beauty products when we first got married — her olive oil and honey hair mask. Though it was extremely easy to whip up, it was a little joke between us since I always complimented her on her stunning mane of black hair (which she's kept up beautifully well into her 50s). The fact that she 'passed the recipe down' was a really sweet gesture. It's essentially equal parts honey and olive oil, and a little bit of yogurt all mixed together. You put it on after a shower, let it sit for about 20 minutes, and completely rinse it out. It's super hydrating for my hair and leaves it feeling silky and soft." — Alina
9. "TEETH WHITENER. I'm obsessive with my dental hygiene regime, and keeping my teeth bright white is a big part of that. I used to use Crest white stripes, but they were always such a pain in the butt to put on and patiently wait while they worked. They also made my teeth feel really sensitive, and a box was expensive. Then, a friend of mine told me that she used a simple at-home mixture of baking soda, peroxide (food grade), and peppermint oil
to whiten her teeth. I tried it for myself, and I was immediately hooked. It actually worked! I've been using it twice a week for about a year now. You simply put it on your toothbrush and brush with it for a few minutes before rinsing. Then, you follow it by brushing your teeth with normal toothpaste." — Danica
Image via Unsplash