Climbing The Ladder
A Full Financial Breakdown Of How One Woman Is Following Her Creative Dream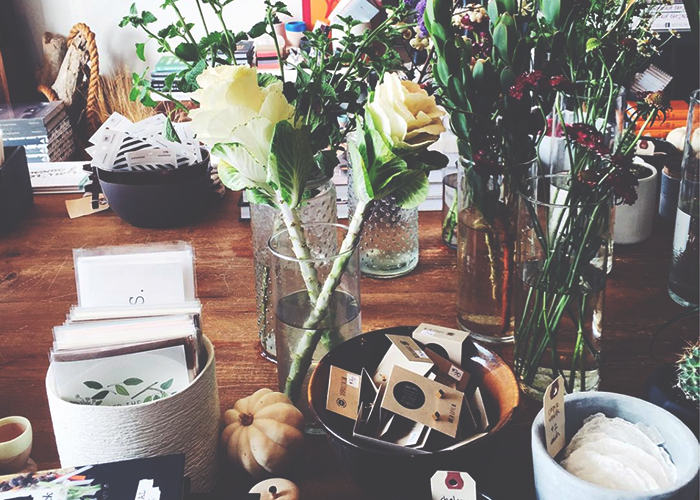 When it comes to things I find frustratingly inauthentic, hardly anything ranks higher than inspirational words without context. I think it's admirable for anyone to want to leave the world in a better condition, but those words seem empty without the proper story behind them. When someone touts "follow your dreams at any cost" or "do what you love" without talking about the process they, personally, have gone through to be in a financial and emotional position to do these things, my skepticism peeps up.
Can you do what you love because someone supports you? Do you have a day job? If so, what is it? Do you live minimally and sacrifice material possessions in order to build your dream? What kind of sacrifices or personal concessions have you had to make in order to 1) do what you love and 2) feel qualified to spout off this advice without regard to how it might make someone feel? I'd be more inspired by those stories. I'd be more inspired by the pithy words if I knew where the wisdom for those pithy words was born from.
So, instead of sitting here armchairing my philosophies, I'm going to embody them. I'm going to give the truth behind my own mantras about dream-pursuing and creative freedom. Here's my context, financially and professionally, for how I'm actually building my writing career:
From 2009-2014, I was full-time working as a web designer for my company, Shatterboxx. I was enjoying the work, but it wasn't the fulfilling creativity I had grown up dreaming about. I wanted to be a writer and I was tired of hedging on that dream, so I decided to take myself very, very seriously.
In 2014, a month shy of my 29th birthday, I took a full-time writing job which paid $40k/year and then I received a raise to $48k after 6 months. My husband was working as a valet attendant at the Four Seasons and was making enough to contribute about $1200/month. It was barely enough money, truly, to pay our monthly bills. We were living in Los Angeles paying $1620/month for rent. We also had two cars, which meant double the insurance and gas, as well as an annoying amount of debt that I had accumulated from my younger days of being financially irresponsible.
When we moved to Seattle about 6 months into the job, our monthly expenses increased because apartments were (surprisingly) more expensive in Seattle than in LA. We also had to pay an astronomical and offensive amount for parking per month. (I think it was like $175/car per month, so $325ish. I can't remember the exact amount.)
My full-time salary was not enough, so I was always relying on a bit of money that came from an online course I created a couple years ago which was still bringing in revenue. I occasionally took on some web design clients, too. I worked a lot. My husband worked a lot. The only difference between us was that he had to work minimum wage jobs, and I had the opportunity to make more money. (He's a green card holder. I immigrated him to the US in 2013 after we met abroad in Paris. He's from Tunisia.)
When I quit the full-time writing job after a year, I went freelance. That was back in May 2015, which means for over six months, I have been taking on writing jobs, web design jobs, social media consulting jobs, and running sales for that online course. I would say I probably bring in around $50k/year right now. My husband drives for Uber and contributes $1200/month to our living expenses. I created another online course that essentially failed and made less than $2k. That hurt, but was another reminder that my energy needed to be focused on my writing and nothing else. My way of self-sabotage has always been to take on a million things at once so that, when things don't work in my favor, I can say, "Well, I didn't give it my all."
Fuck that. I am giving my all now. No more hedging. I am going for broke.
So, I have been hesitant to take on anything steady, because I am developing a book in conjunction with a literary agent I signed with back in July. After years of waiting for the right situation and the right amount of money to take risks with my writing career, I just decided that this is the time and I am going to do whatever I can to make it work. That means I am making less money, but I am also sacrificing in ways I have never been willing to. I have curbed all my spending habits. I went through all my monthly bills and reduced them to only the most important. I won't say I am living in squalor, but I am rethinking the things I thought I needed.
Before I was more responsible, I racked up some debt (about $14k in total still left to pay off) and I have one student loan (around $16k left to pay off), so I am still undoing those mistakes. I never use credit cards now. I don't even have credit cards in my wallet. Only a debit card and cash. I am not saving money right now, much to my own frustration.
However, I made a conscious choice to not worry about saving at this time, because I knew, for myself, that worrying about money in that way would keep me from taking professional risks that I feel are necessary to take. I have given myself an arbitrary timeframe for my creative career and if it doesn't pan out, I will make a different plan.
I don't have a safety net. If really in a dire situation, I could shamefully beg my mom for money she doesn't really have, but I haven't had to borrow money from her in years and I don't consider that a viable option. I would rather take a full-time "real job" than ask her for money.
I am building my dream, doing what I love, while also taking on many projects that are not within the scope of "what I love." I am also the primary financial provider in my marriage. My husband contributes, but I will likely always be the one who makes more money simply because I am a college-educated American and he's a new immigrant. But also, a good amount of our monthly bills are attributed to my past mistakes and my current needs, so it wouldn't be fair to pressure him to help pay for those. In reality though, I enjoy being the provider. It makes me feel strong and capable.
If someone were supporting me, I feel like I would lose my drive and hunger for making things work at any cost. I do believe my commitment to self-sufficiency has driven me in a lot of ways I am proud of. I have been relying on myself since I was 18 years old, with minimal financial help in my late teens and early twenties from my mom. I worked full-time while putting myself through college. I have moved back home two separate times for logistical reasons. One time I moved back home for about six months when I moved from my college town and took a job in San Francisco. I planned to save up enough money to move to SF, but I quit that job within two weeks and was running my own web design company within a month. The second time I moved back home, I was waiting for the visa to come through from immigration for my then-fiancé (now-husband). I lived at home for eight months, a stretch of time I never expected to be that long, but immigration takes its sweet-ass time with granting visas.
This is the long version of how I "do what I love." It's a lot of doing what I don't love in order to have the time and energy to do what I actually love. I am building toward eventually focusing entirely on writing, and while I probably could manage to do that as a freelancer, I don't enjoy relying on publications to accept pitches and to pay on time in order to pay my bills. Plus, to not have to rely on my writing to pay all my monthly expenses, I feel like it gives me a certain level of creative freedom and flexibility I find necessary in building the kind of writing career I really want to build. Since I have the web design skills — and web design pays so much better than writing — this is a viable and lucrative option for me while I write and work on the things that truly matter to me.
It may not be as glamorous and succinct as an inspirational quote, but it's the truth.
Jamie Varon is a writer based in Los Angeles. Find her here: Twitter / Facebook / Instagram