A Totally Candid Conversation About Work & Money With A Professional Model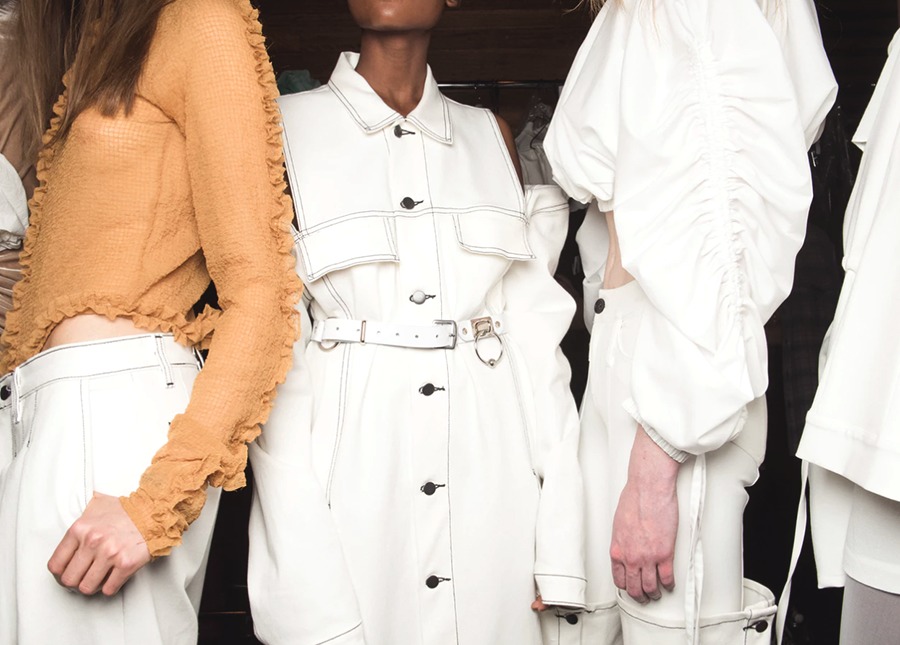 Haven't many people wanted to be a model at one point? Getting paid simply for being beautiful. It sounds too good to be true.
For some girls, it is. There may be those Hollywood stories about a conventional beauty beating the odds and succeeding in the industry, but there are just as many about a girl succumbing to drug addiction or breaking under the psychological toll of fame. There are so many false promises and pretenses that it can be hard to know whether a career in the modeling industry is worth pursuing.
I met up with Iyanla Galletti, model and boss babe "unable to be defined by one thing."
How did you get your start?
I participated in a beauty pageant, and my pageant coach took a liking to me. After she introduced me to photographers and a makeup artist, I had to educate myself on the way the industry works — basic things like where to look for a job and what I, as a minor, was allowed to do.
What do you mean by that?
As an underage model, you're not even allowed to shoot in a bikini. I had one photographer pester me to do a lingerie shoot, even though I was underage. I'm lucky I knew the law.
Yannie, on that note, what's the one thing you'd say anyone starting a career in modeling should know?
When you're starting out, freelance, a lot of it is free work. I started building my portfolio when I was fifteen. Only in the past couple of years, after working with big clients, have I started to see actual money.
Define "actual money."
I booked a commercial with Apple this past month, and they paid $1,200. Bare Minerals also paid $1,200 for my work with them — while Ulta paid me $4,000 to be in their campaign.
Do jobs like that come often?
It really depends on the season and your look. If you're a high fashion, editorial model, your season is going to be all the time, because there are Fashion Weeks everywhere [laughs]. If you do more print work, your season will be before the holidays when companies shoot their ad campaigns. Regardless, you need to save at least half of what you make, because the industry is inconsistent.
Really? What's the lowest paid or most unpleasant job you had to take in order to pay the bills.
Girl, I try to be positive because I'm so fortunate to be in this industry, but one time I was stuck in a hot, tiny room with four other girls trying on and getting photographed in a designer's clothes. He kept us there for 12 hours and paid 50 dollars. Still, I paid my phone bill, so I was happy.
That's amazing. Many Black models, Jourdan Dunn and Naomi Campbell notably, have criticized the industry for their blatant racial discrimination. As a model of color, have you experienced any unfair treatment? And has this affected your income?
I am White America's Black girl and I sit in that privilege. Many of my darker sisters with curlier hair, they get passed over for jobs I get because I am the type of Black many designers and casting directors want. I think more people of color, specifically Black people, should step behind the lens and direct, photograph, or work as makeup artists. This way, we can create more jobs and represent more types of beauty to combat some of the unfair treatment Black models receive. I've been on shoots where the makeup artist or hairdresser refused to do my hair, claiming they lacked the knowledge. That's ridiculous.
I agree, especially when you spend so much time to book a shoot. From casting to booking to the actual shoot itself, how many hours per week do you spend working?
I am literally working all the time. I've been on one shoot where my agent calls me about another job immediately after it. When I'm home, I'm always looking for the next thing.
How much do you make from a typical job (photo shoot, makeup campaign, music video, etc.)
It really varies — last month my lowest-paid job was $150. My highest was $1,200.
Wow. With numbers that varied, is it hard to save and budget?
Well, not for me, because I took an economics class and I'm pretty good with money. In general, whenever I get a job, I pay my bills and put a set amount first in my savings account and then travel account (my form of self-care). If I have anything left over after that that's great, but if I don't, I won't outspend my disposable income.
Do you think many models need a part-time job?
Many models do, especially men who tend to make less in this industry than women. I had a part-time job — there's no shame in it.
What do you plan to do after modeling?
I'd love to support my family by investing in some of their business ideas. We weren't well off — my mother raised me by herself — and I know sacrifices were made. I'd love to help people in my community by providing them with opportunities to better themselves.
Sayoni is a Kentucky born, Philadelphia raised, Colorado educated, wannabe novelist and MFA candidate living in New York City. She is especially fond of Japanese food.
Image via Unsplash
Like this story? Follow The Financial Diet on Facebook, Instagram, and Twitter for weekly tips and inspiration, and sign up for our email newsletter here.