An Exact Breakdown Of How We Spent $6K On A 40-Person Wedding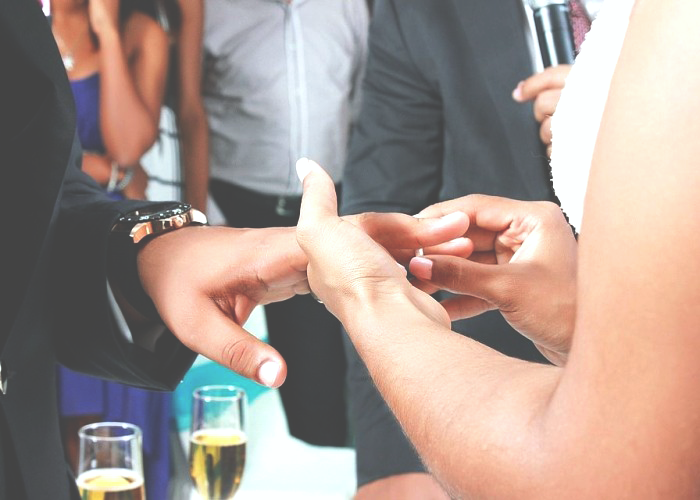 When I first started planning our budget wedding, I did the first thing I always do when I don't know how to do something: I started Googling. While a fair amount of information popped up, I couldn't help but notice that pretty much anything I read about weddings under $5,000 were stories about couples who threw really small ceremonies and had another reception for friends/family at a later date. And the cost of those receptions was conveniently never mentioned. So I decided to document my attempts to do the whole shebang for as little as possible. My plan was to come in around $5K, and the grand total ended up being $6,004.41. This includes our 40-person wedding and reception, the larger reception we threw the next day and our mini-honeymoon in West Virginia.
While the total is a little bigger than my original goal, I am beyond happy with all of our choices and I feel really good about where we ended up. It's a lot of money, to be sure, but it was a meaningful day for a lot of people aside from just us, so I feel confident that we spent the money well. If I can give one piece of advice for someone looking to throw a budget wedding, it would be: don't be afraid to call in favors. We were really lucky to have lots of talented friends and family who were more than willing to pitch in. All three of my sisters pitched in — one lent her calligraphy skills and made all the food labels, and another grew flowers for the bouquet. One of our friends played guitar as I walked down the aisle. Our friends and family were incredibly generous, and our budget wedding wouldn't have been possible without all of the freebies.
Other than all of the favors, here is an exact breakdown of our $6K wedding:
Venue
We had our wedding at a cidery (MillStone Cellars), and I'm so glad it forced us to keep things small. The barn was stunning, the view behind us was booming with gorgeous colors, and it was just the right size for a carefully-curated group of people we adore. We ended up setting up a few different tables with open seating and it worked out just beautifully.

Final cost (for four hours of space rental and two kegs of cider): $1,830
Photography
When we started planning the wedding, we talked a lot about doing photography on the cheap, and I'm so glad that we ended up paying to use a professional photographer. One way that we saved on this expense was to only have our photographer around for three hours, which cost $750. We didn't care very much about pre-wedding photos, so it made sense to only have her there for three of the four hours of the actual wedding. Having only one photographer was definitely limiting in some ways (I noticed there weren't any pictures of food aside from cheese), but overall I don't feel like it was a sacrifice.
If I'd known from the beginning that we'd be hiring a professional, then I never would've entertained spending $300 on an Instax camera and film, but that turned out to be one of my favorite parts of the wedding. All the photos turned out so naturally joyful because they were taken by friends, and it was great to have something fun for people to do. The guests loved having a little memento to take home with them, and there's something about polaroids that are so precious. If I could do it over again, I would've provided some pretty pens and encouraged guests to write a note for us on the picture they left. (On that note, we have not yet completed thank you cards, but we're estimating that will add around $75 to our final total.)
Final photography cost: $1,388
Food
We did all of the food ourselves. And by "we" I mean "mostly my husband with some help from friends/family on the day of." This was probably the area in which we saved the most money. It's hard to say exactly how much it would've cost us for something comparable, but our final price of just over $1,100 included dinner for the wedding guests, as well as most of the reception food the next day, and all of the groceries we bought to keep on hand for guests.
We kept the menu simple so that it wouldn't require too much prep time and it all came together surprisingly easily. The reception was also pretty easy, though we did a lot of running around and neither of us had anticipated how tired we'd be. We used nice cheeses that we bought in bulk from Sam's Club (which I highly recommend!). My husband's aunt makes amazing jams and sent us a selection, which rounded out the cheese plate perfectly.
The cake was orchestrated and executed by my amazingly talented sisters. I'll have to bug them for the recipe, because it was the most delicious chocolate cake I've ever eaten. It involved hazelnut filling and fudge frosting. They decorated it with some of the flowers that one of my sisters grew. Full disclosure: My mom very sweetly footed the bill for the ingredients for the cake, so they're not in the budget. I would guess it came out to around $100 including the necessary supplies (pans, etc).
Final cost of food: $1,136
Music
There's always bound to be stuff that goes wrong and the biggest problem we ran into during the wedding was the music. We'd created an Amazon playlist, and we had two speakers that we knew would fill the space just fine. What we didn't know — and didn't adequately check — was whether the wifi would work consistently. Unfortunately, it didn't and the music had some trouble a couple of times. It wasn't the very worst thing in the world, but it was the big error of the evening.
Final cost: $0
Flowers
I got my wedding flowers at Trader Joe's and I truly love their flower selection (and the prices that come with them). My sister grew some gorgeous bouquets for the centerpieces, but they didn't come in too well. At the last minute, we asked our cousin, who works on a farm and makes beautiful flower arrangements, to work her magic when we realized we were going to be short on flowers for the centerpieces.
For the bouquet, I'd started drying flowers this summer and they weren't looking so good for the October wedding. We used a few random blooms left in our garden (thanks to the warm October) and some dried flowers that my sister brought over the morning of the wedding. We combined those with pieces from the Trader Joe's bouquets and voila! I loved how the bouquet felt like a natural assortment of wildflowers and it smelled incredible.
Final cost: $84
Centerpieces and other decor
My husband made liquor bottle centerpieces which looked perfect with our Trader Joe's bouquets. Aside from the fact that they were free (we'd been collecting the bottles for a while) and made out of recycled materials, my favorite part was that guests were super excited to take them home as a wedding favor.
Our biggest expense in this category was globe lights from Target. They were an investment, but definitely worth it because the ambient light added so much to the space. We ended up donating the lights to the venue afterward. We had nowhere to put up a dozen strands of globe lights, so it seemed like a good way to put them to use. We also found plain, unscented candles at Big Lots.
Final cost: $200
Outfits
I bought my dress online from a vintage site that I thought had a better reputation than it actually did. Fortunately, my dress came exactly as expected. The quality was not as great as it could've beenand the fit wasn't perfect, but for a dress that I'll probably only wear once, it worked. The shawl I wore is one I made ages ago when I was living in New York. The yarn is absolutely lovely but the finished project was so wedding-y that I never had an excuse to wear it — until my wedding day! I didn't intend to wear it while walking down the aisle, but it was chilly and I honestly love how it looks in the photos. My husband's suit was dapper as hell. We could not have been happier with how it came out, especially because it was $400.
Final cost for both of us: $983
Wedding makeup
I don't think I've ever worn as many different kinds of makeup products as I did on my wedding day, but I'm glad I did. My wedding makeup stayed perfectly through the whole evening, including crying and dancing (I never even had to touch it up!). My biggest tip is to use tons of luminizers for a healthy, ethereal glow, and to invest in a good setting spray to ensure it lasts through the night.
Final cost: $45
Wedding hair
My sister, Arlene, was the one who finally convinced me that it would be worth it to get my hair done, and I'm glad I took her advice. One million bobby pins and a can of hairspray later, my hair stayed almost totally in place for the entire night. My birthday was in September and my sister offered to pay for my hairdo as my present.
Like I said, this budget would not have been possible without the help of our friends and family, but it also required a lot of preparation, research, and hard work from my husband and I. I'm thrilled by how it turned out. These calculations don't quite add up to the final total of $6K because I skipped some little things (like our mini-honeymoon fees), but if you have any questions about how we pulled off our budget wedding, leave a comment and I'll try to get back to you.


Image via Pixabay