An Exact Breakdown Of Our $11K Wedding (And How We Could Have Saved Half That Money)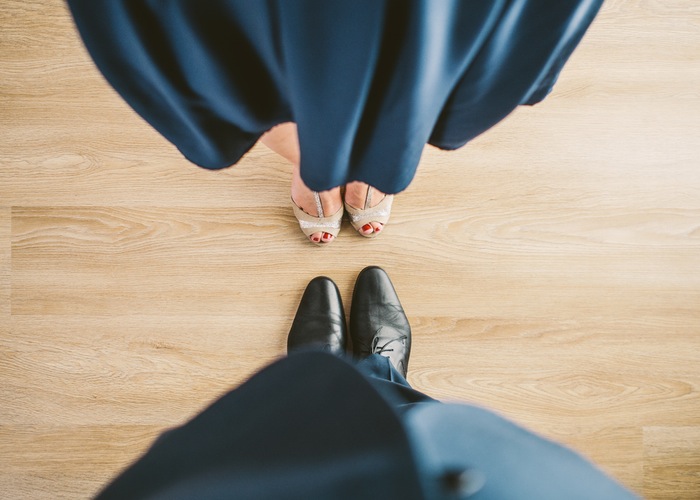 I am constantly trying to optimize my personal finances, but my wife and I just faced a significant financial challenge: we just got married. Traditional marriages in the United States are known for their extreme expense, and this can be especially true if marriage comes at a critical time in our young lives. A wedding can set you up for success and good financial habits, or it can limit your ability to meet other goals early on (home ownership, etc.) because it can push couples into debt right as their marriage is starting.
I'd like to give full visibility into what my new wife and I did. By no means did we save every possible dime in planning our wedding, but we struck a balance. We wanted our wedding to be a special day, but also needed the day to fit with our financial priorities. We splurged here and there, but still came in well under the often cited mean for wedding costs in the United States (which is approximately $30K). Our rough budget was $10,000.
In my opinion, one's general financial position plays a large role in what is reasonable to spend on a wedding. For me, I am out of school, working as an engineer with no student debt, and I have a positive net worth with 20% equity in my home, and a secure retirement account. My wife is currently in school, studying to be a registered dietician.
What we spent on the wedding:
We both have medium-to-large families, and a large group of peers and friends that we would have loved to invite to our wedding. However, we decided to do a small wedding with close family only. We rented a seven-bedroom lodge in the mountains for the whole weekend. We had four grandparents, four parents, three siblings, one sibling's fiancé, one aunt (who was the bride's matron of honor), one uncle, and one dog. We didn't invite any cousins or any other aunts and uncles. We got married by a waterfall in a state park by my grandma, who is a pastor.
Here is an exact breakdown of our wedding expenses: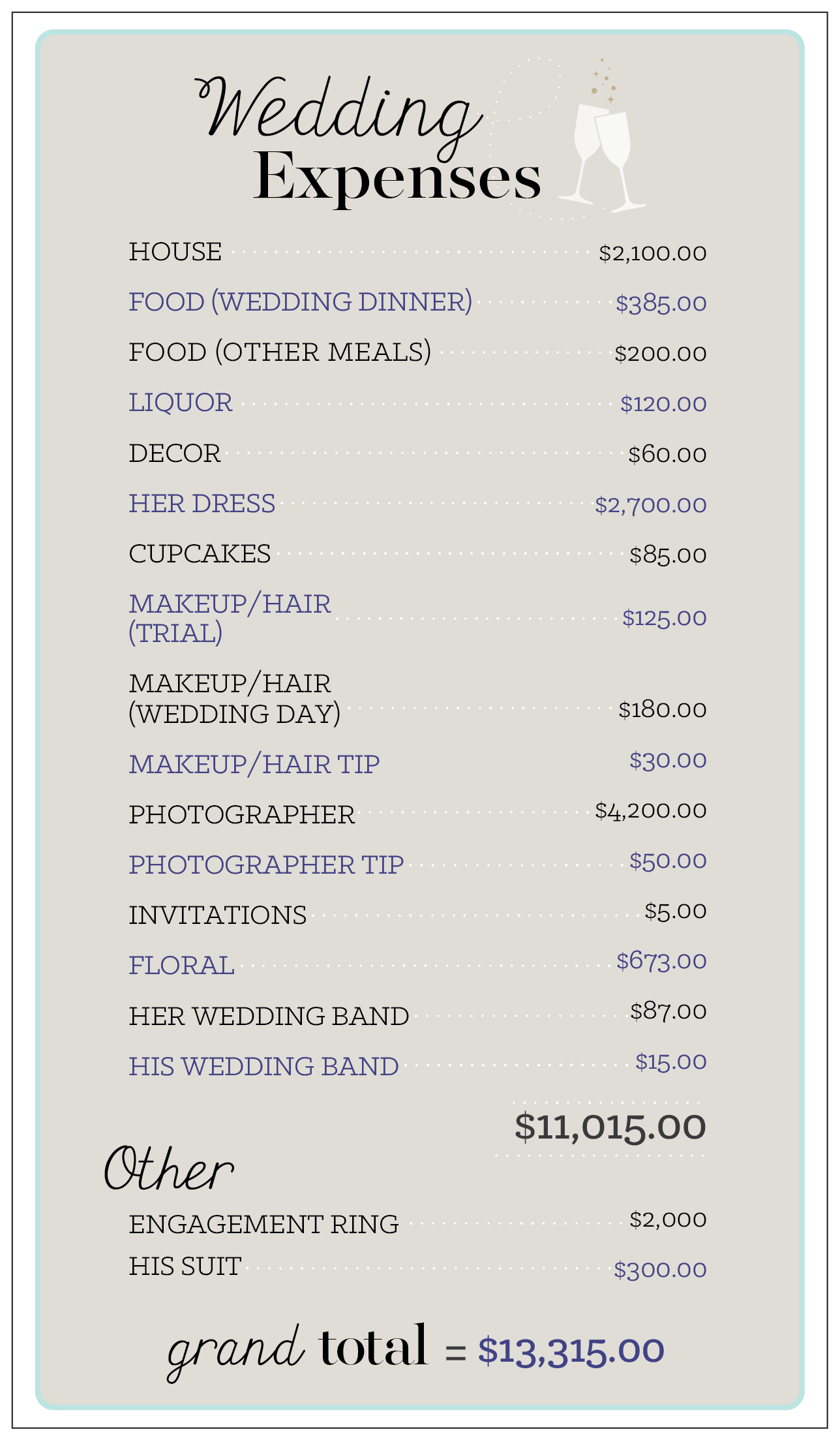 After combing through the budget, I discovered what we could've spent on our wedding: $6,300
We went through our budget after the fact, and I made a wedding post-mortem, to discover exactly where we could've cut costs. As you see, we splurged in some areas. We decided we were in a secure enough financial position to accommodate these costs. However, if we had outstanding debt, did not yet own a house, or did not have our current income, we would've definitely made cuts. Here are some simple ways we would've reduced costs if we wanted to do our wedding for nearly half the price:
1. We didn't have to rent a big house for the whole weekend. We would still have needed a venue for dinner, but could've easily saved on accommodations, which would have cut our costs by at least $1,000. We also would've avoided the cost for all the other meals (which we did pretty cheaply anyway). That would have saved an additional $200.
2. We could've cut back on my wife's wedding dress. She actually bought a $400 dress that we were very tempted to go with (it wasn't officially a wedding gown, but was a beautiful white dress). We decided later to go a bit extravagant and buy a more expensive one. Had we opted for the first dress, we would've saved $2,000.
3. The photos. My wife loves photography, and getting a quality photographer was one of her highest priorities. However, had we needed to reduce, we would have still been happy with our photos if we hadn't spent so much on photographers. We could've cut back and employed a photographer for much less time and saved $1,500.
Was it worth it to spend $11K instead of $6K?
It is just over a week after our wedding, and we currently agree that we don't regret anything. My wife says the more expensive dress made her feel confident and special. And when we decided to go with the expensive photography, it wasn't just for memories. It is also to have beautiful art around our house. I don't regret the house for the weekend at all. The deep conversations and friendships that formed between our two families are priceless. We also understand what things (specifically, what opportunities) we will cut back on this year to make up for the money that we spent. We can think of this money as coming out of the budget for other things that we would enjoy (renovations on the home, vacations, a newer car). This view helps us put the decision to spend $11K in perspective. When I asked my wife if she had any regrets, she says that, as of now, she has none, but maybe in a few years she will be able to reassess on what we could've done differently.
Ultimately, we are happy that we decided not to throw a huge wedding for over 100 guests. I do not think that is the wrong way to go, and I am not an expert on wedding costs, but what I'm trying to demonstrate with my story is that there are alternatives to renting a ballroom for 200 people. We were both incredibly happy with this wedding. The time we got to spend with our closest family members was amazing, the level of stress was low, and it was truly an intimate experience we will cherish forever. I love a good party, and we do also want to celebrate our friends. However, instead of having them at our wedding, we are throwing a party this weekend to celebrate, and we are just spending a few hundred dollars on booze and food. For us, separating the party and friends experience from the family wedding was the best decision ever. But take what you will from my example, as this is just my personal opinion. Obviously, as my post-mortem budget reflects, we could have done things differently, but I am happy to be adding to the conversation of alternative wedding solutions that don't cost $30K.
Will is an engineer, a newly wed, and a personal finance enthusiast.
Image via Pexels