Entertaining
An Extravagant Three-Course Double Date Dinner For Less Than $20 Per Person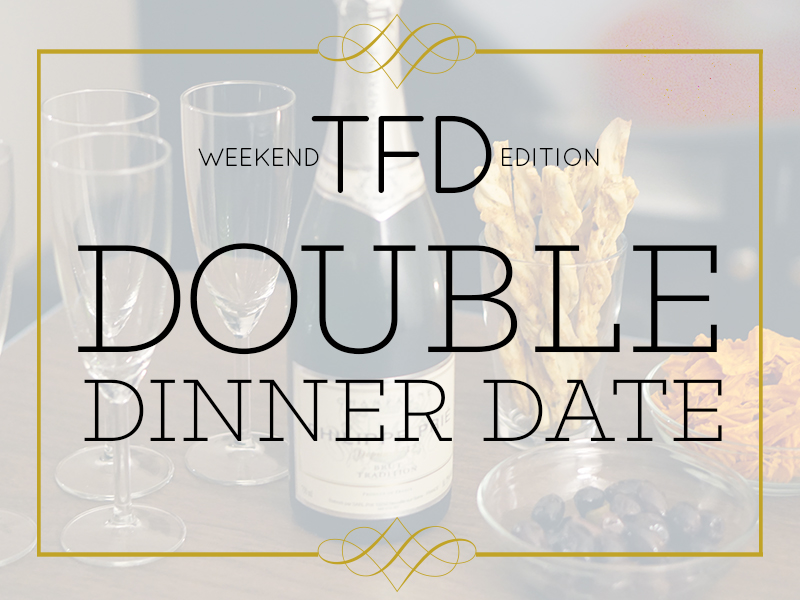 There are few pleasures greater in coupledom (and life in general) than finding a couple you really, really love. And particularly in the cold winter months, when eating large meals and drinking tons of wine seem the only viable activity, spending weekends at restaurants and bars with your beloved couple friends can become a go-to activity. But going out can be very expensive, and the act of sitting at a table and paying for someone to bring you your dinner isn't what makes it fun (most of the time). It's their company.
So why not save a ton of money by taking the ~elaborate dining experience home~, at least once in a while? You can have multiple courses and several bottles of wine, and linger around the table for hours, all for a fraction of the price of a restaurant experience. Plus — and perhaps best of all — you can collaborate on the meal, making the cooking and prep as much a part of the experience as the meal itself. Break out a bottle of wine during the cooking process, and you've got an all-day experience that leads into an incredibly memorable evening.
This meal consists of three courses: an aperitif, braised pork shank with garlic whipped potatoes, and chocolate mousse. It sounds daunting, but the truth about braised meats (aside from their heart-stopping deliciousness) is that they are relatively low-maintenance. This main course is technically a two-day affair, but only because you brine the meat overnight for maximum flavor and tenderness. Now, before we get into cook times/recipes/etc, I should say that the cost breakdown for us was a little under 80 dollars, or 20 dollars per person. (This includes three bottles of wine.) We specifically chose a braised meat because these cuts tend to be the least expensive (and most delicious, in my opinion), and for the pork itself, a lot of the seasoning/herbs/broth will be things you already have.
The prep and cook time on this are a little wonky because, as I said, there is an overnight brine, but count approximately 10 minutes of prep the night before, one hour of active cooking time the day of, and 3 hours of stewing (in which you are doing nothing). Here is a breakdown of how it will go:
WHAT YOU NEED
2 lbs pork shank (likely two smaller shanks)
1 sack yukon gold potatoes
4 tablespoons butter
1 cup milk
6 cloves garlic
1 yellow onion
2 tablespoons olive oil
Chicken bouillon for 1.5 cups broth
Salt & pepper
Thyme, bay leaf, whole peppercorns
1 cup sugar, 1 cup salt (for brine)
3 bottles wine (two red, one white or sparkling — don't forget Wines Till Sold Out)
Nibblies for the aperitif (I chose cheese crisps, sweet potatoes, and olives)
2 eggs
¼ cups granulated sugar
2½ cups cold heavy whipping cream, divided
6 oz semi-sweet chocolate (about 1 cup semi-sweet chips)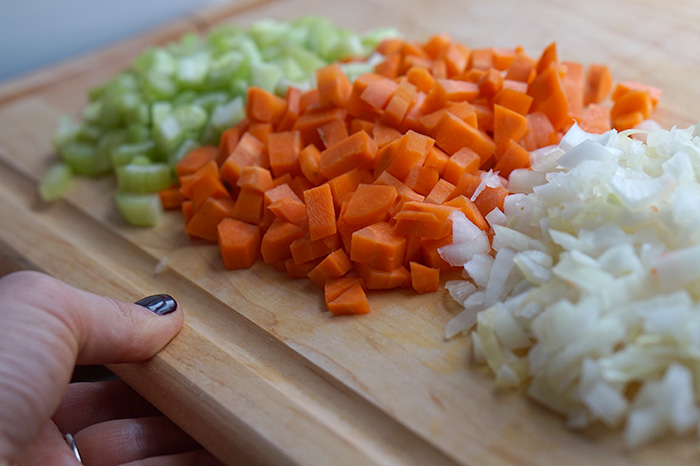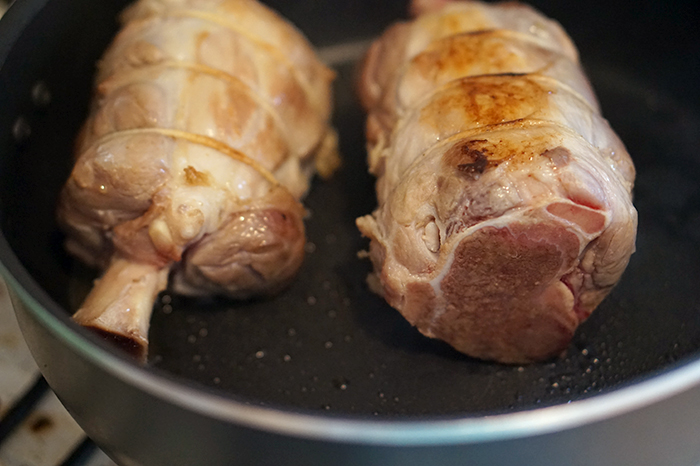 THE NIGHT BEFORE
Make a basic brine (I didn't have brown sugar so I used regular, up to you), enough to submerge the shanks completely. Add a bouquet garni with herbs, a few garlic cloves, and some whole peppercorns. Let sit in the fridge, covered, overnight.
THE DAY OF
Invite your friends over about four hours before you want to eat, pour some drinks and hand them aprons. Get everyone involved, so the cooking is part of the fun.
Remove the shanks from the brine, rinse them well, and pat them dry. Sear them on all sides in a large pan with the hot olive oil, enough to get it brown all around. Should take between 5-10 minutes. Set them aside.
Dice 2 large carrots, 2 celery stalks, and half the onion to form a mirepoix. Cook the mirepoix down slowly in the leftover porky oil until soft. (Do not add salt here, but you can add a bit of pepper if you like.)
Add the shanks to the mirepoix and mix them up together (add a bay leaf here as well), then add approximately 1.5 cups of one of your red wines (I used a Chilean here, but many different wines would work. You can always ask your wine salesperson for advice.) Add 1.5 cups of chicken broth, then fill the rest with water until the shanks are totally covered.
Bring it to a boil, then cover and take it down to a simmer.
Note: This is going to simmer for 2-3 hours, or until it's tender as hell and falling off the bone. You're going to want to salt & pepper to taste, as well as add some more thyme towards hour two of the cooking.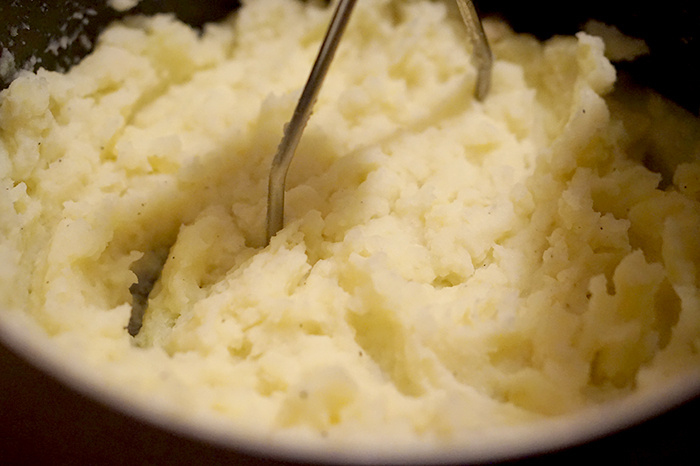 GETTING CLOSE TO DINNER
You're going to want to make the mousse about two hours before you want to eat. The recipe we used is here (we confess that we didn't use an original recipe, but this one is so easy & delicious that we really didn't need to).
The potatoes are simple — peel as many as you want for four people (I used six large), and peel 3-4 cloves of garlic. Boil them together, and mash into a light, whipped texture with the butter and milk (salting and peppering to taste). The garlic mashes directly into the potatoes. It's amazing and hassle-free.
Set out the aperitif nibblies, and open the white or sparkling. At this point everything is ready but the shanks, but those really just cook on their own, all you need to do is stir occasionally. Linger over the aperitif, and don't worry about micro-managing the food.
MAIN COURSE 
Remove the shanks into a bowl and cut the strings. The meat should be falling off the bone, luscious and flavorful. Reduce the remaining liquid/mirepoix into a slightly thicker jus, until it's about half what it was before. Add the shanks back in (bones too), and stir.
Serve a large pile of the whipped potatoes with pork, veg, and ample broth onto a plate/shallow bowl.
Put the rest of the wine you cooked with, as well as the other red, on the table.
ENJOY.
Once your tummies have sufficiently returned to normal, attack the mousse. But I recommend lingering over the wine for quite some time before moving to dessert, because you will feel like a gout-riddled medieval king after a big serving of this pork.
Espresso, if anyone wants it.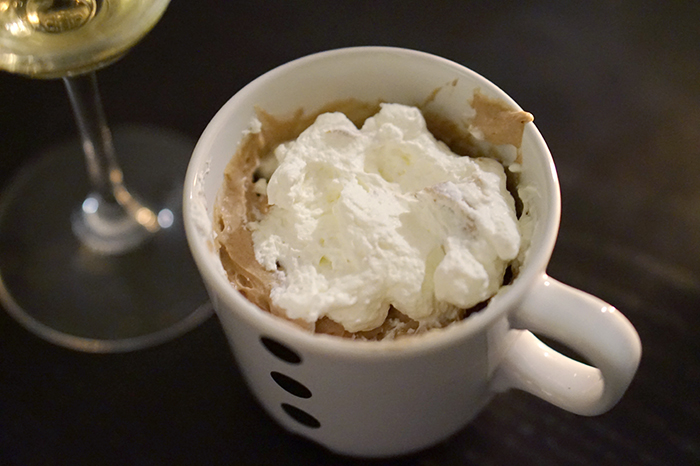 This meal, I guarantee you, will leave you all looking around the table at one another like "What is this magic? How did we do this with our own hands?" But it's easy and requires little prowess. (This was our first time brining or braising meat ourselves, and we did a ~spectacular job.) And more importantly, getting used to the idea of entertaining yourself (at a fraction of the cost) and looking at the prep as part of the adventure is one of the fundamental changes in mindset we all need to make. Going out should be a rare and exciting treat, not the go-to choice because you think you can't cook, or you don't want to put in the effort to do it yourself.
Going out can be fun, and you'll never quit it entirely. But entertaining at home — particularly with an intimate little group of people you love — is warmer, and ultimately more rewarding. Yes, it saves you a ton of money (especially if you do it regularly), but that isn't the only reason why getting in the kitchen with friends should be a big part of your life.
Feel like you'll never save enough money to be a real person? So did Steph Georgopulos. Read about it in Some Things I Did for Money.