An Honest Conversation With A Successful Business Owner Who's Also A Single Mother Of 2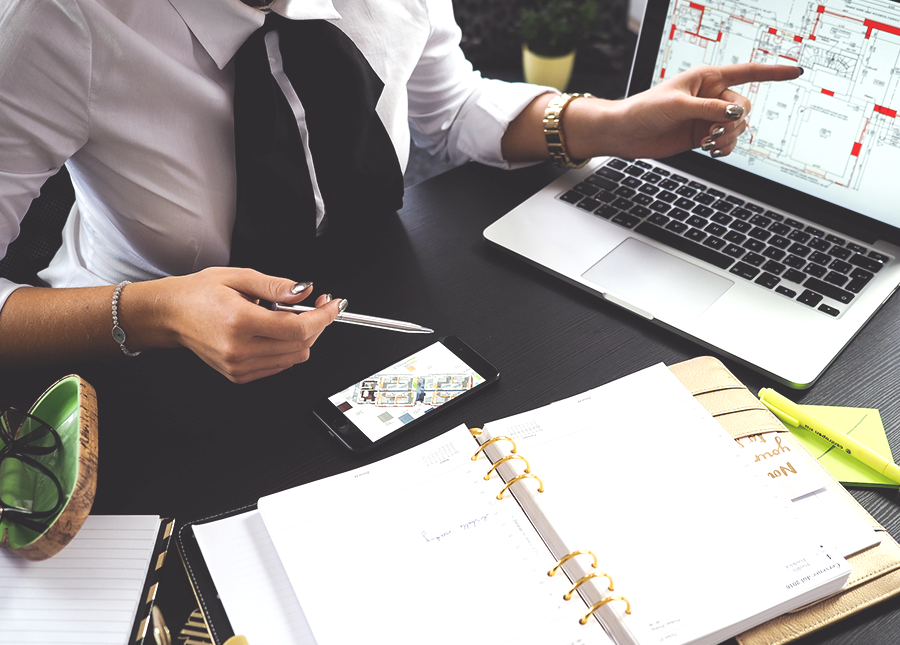 As much as I love being careful with my money and finding new and inventive ways to budget and save, one of my biggest expenses has always been beauty treatments. I know that some women do their own manicures and color their own hair, but I am happy to pay someone to do it for me. Any time I have considered cutting it from my budget, I cannot help but remember that when I visit a hairdresser or nail technician, I am usually helping support a working woman or a business that is run by a woman, and often that woman is also a mother. There is also the social benefit of visiting a good salon; they can provide the same sense of community as a church or a healthy work environment.
My local hairdresser, Lisa, is a mother of two who runs the talking heads salon in Northampton, England. She has been my mother's hairdresser for over 10 years, and I have also recently become a regular. I sat down with Lisa to ask her some honest questions about moving from a high-end salon to buying her own hair salon eight years ago, and keeping her business going as a working mother.
Phoebe: First, I wanted to ask you what made you take the risk of opening your own salon.
Lisa: I was working at Richardson's, which is a high-end salon in Northampton. My eldest daughter was 20 months old. One day, the woman who had trained me in college and owned this salon invited me over for dinner and told me she was going to retire, and she had a proposition. She offered to sell me her salon because she felt I was passionate about the job, and I had enough experience under my belt to run my own business. Naturally, I was very nervous because my job gave me stability and a steady income for my daughter, but I was feeling as though I was just plodding along and going through the motions at work. Being given the chance to have my own salon was a once-in-a-lifetime opportunity, and normally when hairdressers do this, they have to buy a place and all the equipment — but this salon was already kitted out, I just need to decorate it, put a sign outside, and build a client base, which I already had. I knew that most of my clients would follow me if I left my old job, so I just decided to go for it and make a change.
Did you find it challenging raising two small children and running a business?
Absolutely. My daughters are 12 and 7 now, so they have both grown up in an out of the salon. When I had my youngest daughter, I didn't have anyone to help me with childcare, so I had to get some people in to help run the place for me. I think my original plan was to take three months off of work, but that was quickly shortened to six weeks. One of the biggest issues that working mothers face is not having proper childcare facilities in their workplace, but because I owned my salon, I could literally have both of my girls with me while I was working. 
Now that your daughters have grown up a bit, are they more involved in the salon?
Absolutely. When they aren't with their, Dad they will come into the salon and do-little bits to help out. Obviously on Friday, Saturday and Sunday, I am working constantly, so they have to entertain themselves and talk to the clients, and they are quite good at finding little bits to do to help out. Monday is my day off, I have a childminder who picks my girls up from school a few days a week, but Tuesdays, Wednesday, and Thursdays are really important to me because they tend to be slower at the salon, so I get to spend time with my girls and be their parent.
I suppose that has coincided nicely with your eldest daughter approaching her teenage years?
Exactly — your children need a different type of attention when they get older. They need to be able to come to you with their problems and ask for advice about boys or when they fall out with their friends. I never want my daughters to feel as though I'm too busy to be their mum, and that no matter what I'm doing, they can come to me when they need help. The thing that I'm really happy about is that my salon is turning a profit, and I have been able to hire an assistant who can hold the fort when I need to focus on my home life.
I like that I am at a point in my life where I can get a bit of extra help and also be a mentor to someone who is just starting out in my line of work. I can pass my experience on to someone younger and give them a bit of responsibility while I'm focusing on my family. I'm really proud that in 11 years, I have raised two amazing children and kept a business going on my own.
Absolutely, and none of that would have been possible without your client base — as one of your clients, I can vouch that you are an excellent hairdresser and colorist. When I tell people about you I always say that I can't believe I can get such an excellent haircut and highlights for $60 when normally that would cost me at least $150. You've got me as a customer for life!
One of the things the woman who sold me my salon told me was, "Lisa, you're only as good as your last haircut." I have never forgotten that. I've known some of the ladies who come to me for almost 20 years, and they feel like old friends to me, but at the end of the day, I'm providing a service to them at a good price — and if I take their loyalty for granted, they could all turn their backs on me tomorrow. You see a lot of salons come and go, and they only last for six months or a year, and I don't want that to happen to me. I can't take my eye off the ball for one second, or I could risk everything. I have to graft every single day to make sure I keep all of this going.
I really see that with your salon, that you care about your clients, you know all about our lives, it can feel like a social visit or even a therapy session.
Yes, that's really important to me as a manager — many people go into business with their eyes shut and they don't know what it takes to create the right environment for their clients. I've always strived to make my salon a warm, welcoming environment. I think about what I would want if I was going to get my hair cut and recreate that for my clients. Last year, I celebrated my 10-year anniversary at the salon, and I shared a bottle of prosecco with the ladies here. I'm going to print out the photos of that day and put them around the salon because I wouldn't be here today without hard work and their loyalty to me. I'm in a new relationship, and my partner always tells me I don't give myself enough credit for all the work I've put into my salon. My title might be a managing director, but to me, I'm a hairdresser. That's who I am.
What are your plans for the future?
Lisa: I would like to keep mentoring junior hairdressers, so I will carry on with that, but one thing I've always wanted to do with my place is not just hairdressing, but make it into a beauty salon. So, we're going to start doing nails, waxing, massage so that women can get everything done in one place. Women used to visit the beauty salon one every two weeks and have everything done at the same time because it was affordable. I think because my prices are quite low — women can visit more often, and it isn't an unattainable luxury. My girls are growing up, and I'm still young. I'm only 39, so I've got a bit of entrepreneurial drive coming out of me at the moment, and I'm looking to expand.
What would you say was the biggest financial pitfall you've encountered by having your own business?
Definitely the recession, people naturally making cutbacks on what they spend their money on in times of financial crisis and many women didn't feel like having their hair cut and colored was necessary. I managed to retain about 70% of my clients through Groupon deals, and six months after a near meltdown, I was back turning a profit again.
I find people's spending habits really interesting, and you naturally observe them when you own a business. Seven years after a terrible recession has made women really analyze their disposable income, and they think, "You know what I'm not a big drinker, I don't go out much and I don't hoard makeup or clothes, what I really want to do is look presentable." That's what they prioritize, the image they project when they leave the house — I think it's self-respect, investing in your appearance. It's almost going back to the way our grandparent's routine, men getting a haircut and shave, women getting their nails done every two weeks.
It seems that here in England, people are preferring to spend their money in local shops buying small batches of coffee and cheese or eating in local cafes.
That's right, especially in my area, we like to support our local shops. We buy our clothes in the thrift stores along my road, we eat in the cafes, buy bread in the bakery. It's great having a big, successful franchise, but small businesses look after their bread and butter and look after the community. We really care about the people who live around here, and we look out for one another. I like my clients to not only leave my salon with a good haircut, but their mood lifted after a stressful day. It makes me so happy that I am able to give back. I could move my business into a larger salon and charge a lot more, but at the end of the day, the business model that I have works really well and customers keep coming back, so I'm going to keep doing what I've been doing.
Phoebe Prentice-Terry is a writer, teacher, and survivor of David Cameron's various experiments in human misery. She likes Gin and Tonics, French skincare products, and is most proud of her collection of Wolford bodysuits.
Image via Pexels