Budget Before & After: Aleisha's $400 Midwest Bungalow Bedroom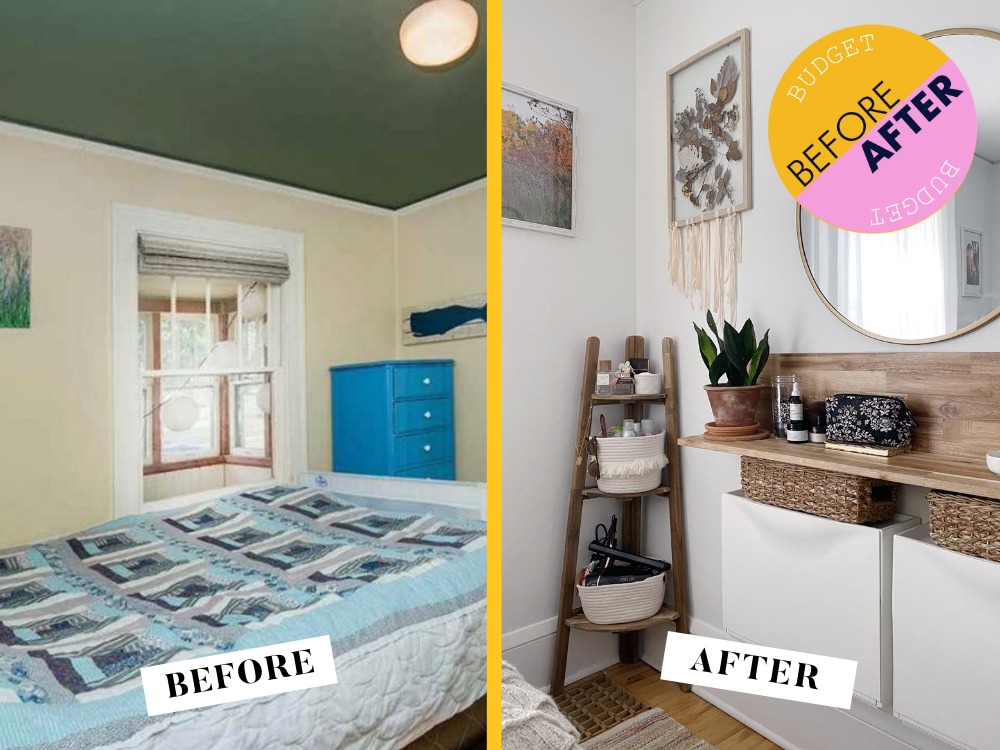 Welcome to Budget Before & After, a new TFD series where we highlight home decor projects our readers have pulled off on a budget. This week, we're featuring Aleisha from Midwest Kismet, an art historian who recently revamped her bungalow bedroom. Follow Aleisha's Instagram page for more enviable home decor photos!
Tell us a little bit about yourself.
I live in Saint Paul, Minnesota with my husband and our two bunnies, two dogs, and lizard. We are first-time homeowners living in a 900 square-foot bungalow, built in 1924. I'm an art historian, specializing in twentieth-century American design and print. My husband and I both love to collect vintage treasures and have slowly been curating an authentic space that feels both fresh but full of character. 
What made you want to redo this room?
Our bedroom is only 10 x 10 feet and we have a king bed—do the math, it's tight! So, when we purchased the house and I saw the dark green ceiling and dated yellowy-cream walls, I insisted we update the space before moving anything into it. I knew it needed to feel brighter and simplified if we were going to make it work for us.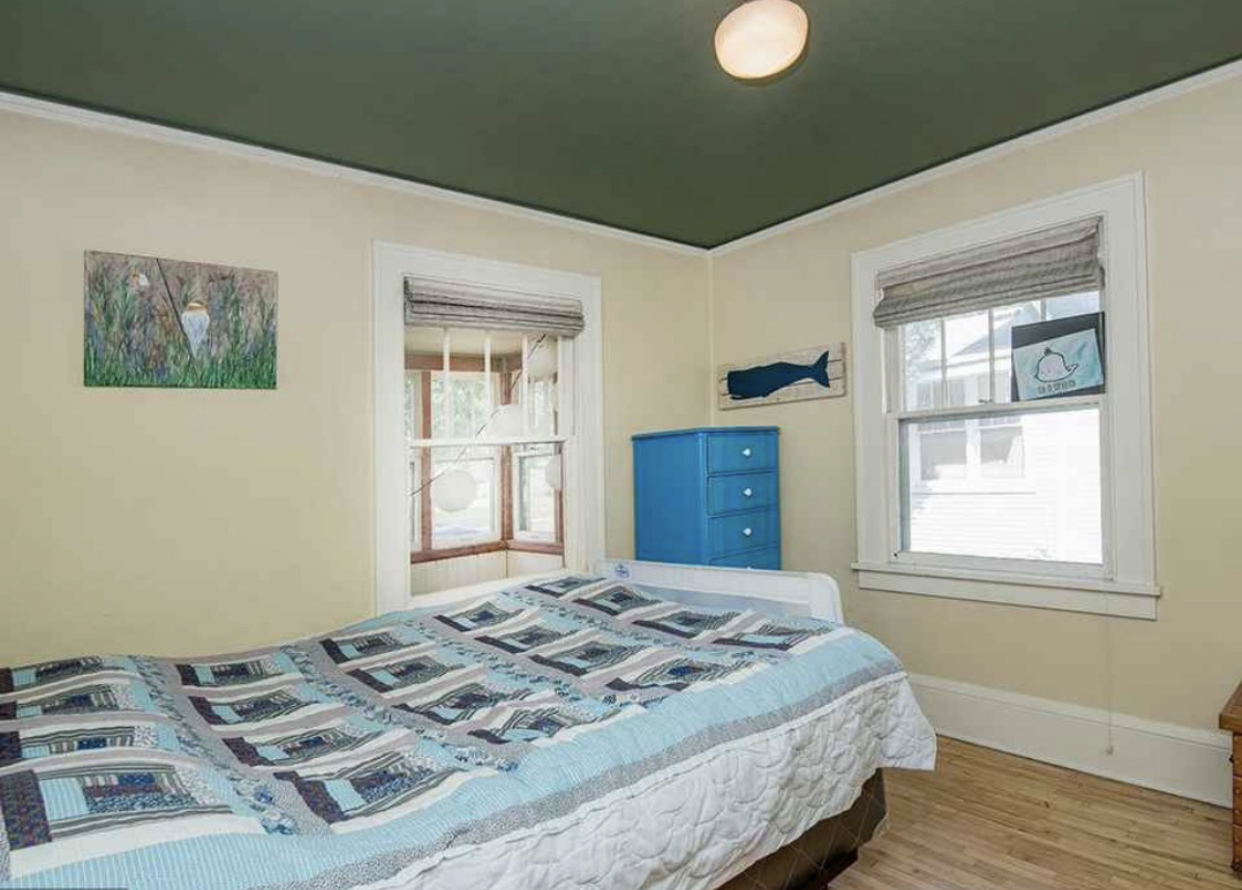 Tell us what you changed.
To begin, paint! Oh, the magic of paint. We used Sherwin-Williams Extra White to enhance the abundance of natural light in the room by painting the ceiling and every wall. Then, we changed the old 1950s light fixture to a modern matte white pendant lamp. It is a bit oversized for the space, but it adds just the right amount of drama while remaining subtle as it blends into the white walls. Finally, we added sheer white curtains over both large windows to diffuse the sunlight and keep the palette consistent. 
It's easy to decorate a room when you have the space to add in all the things you think you need, but it's much harder when your normal options are no longer available.
Then came the tricky part, how to add organization in a room that did not allow for a dresser? The trick was not searching for a narrow dresser (and subsequently becoming frustrated when almost every option was too deep), but instead, it was thinking about the components of a dresser—a surface and drawers. By configuring my own wall-mounted "dresser" I found a slim storage solution that matched my aesthetic goals and kept the bedroom feeling spacious. I achieved this by placing a shelf over two shoe cabinets and centering a mirror above. In a similar vein, I fashioned a plant stand with tiny baskets from the kid's décor section to sort my hair products, perfume, etc. to take advantage of valuable corner space.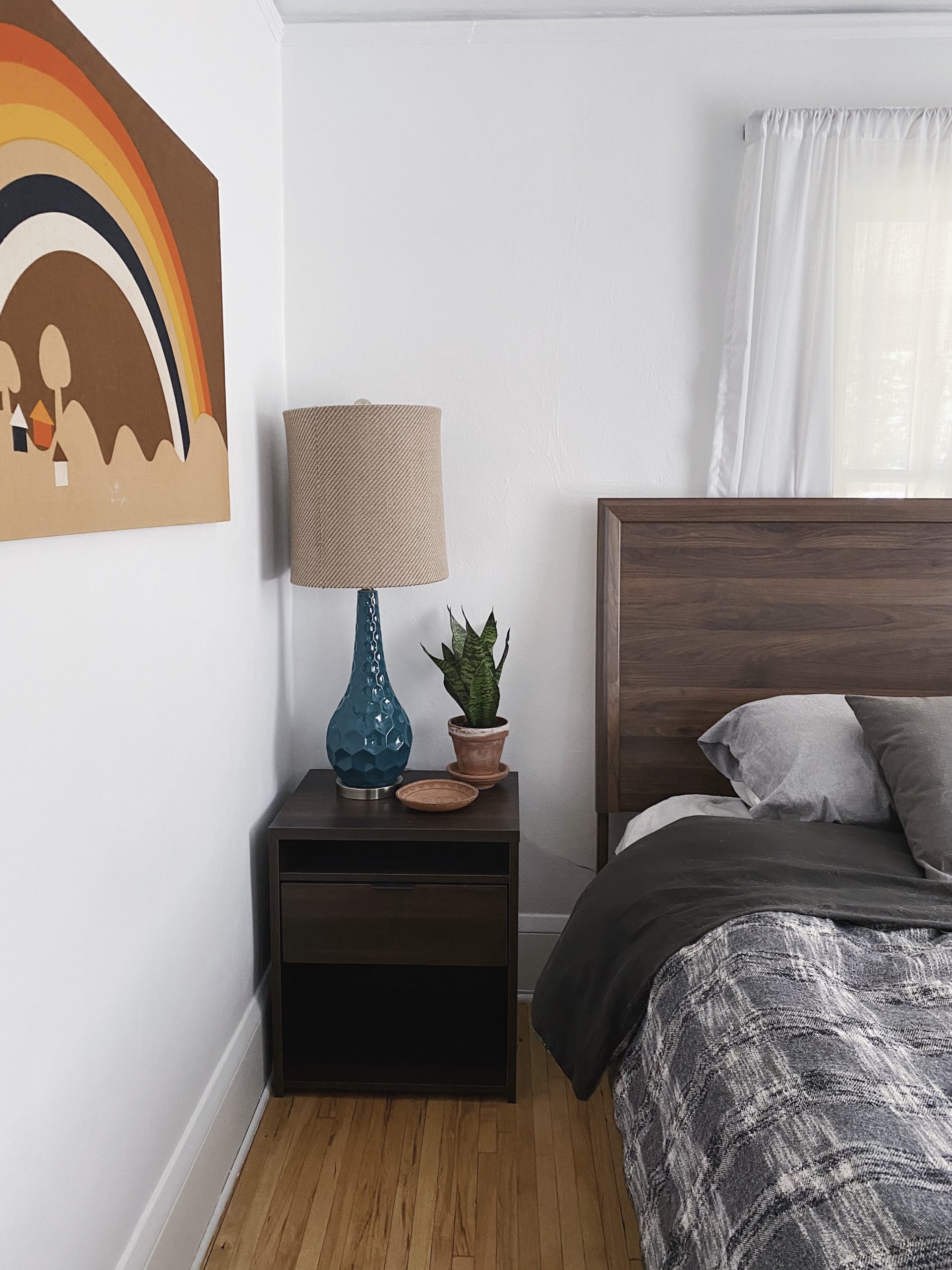 How much did you spend?
We spent about $400 to give this room a new look. The light and mirror were my big "splurges," adding up to one-fourth of the budget. We spent about $200 on organizational items (including things like the shelf, shoe cabinets, plant stand, and baskets), $50 on paint, and then the remainder on a small runner to go on the floor in front of the vanity area 
How long did it take you?
The project took about a week and a half, but I'm sure we could have finished it sooner if we had a plan in mind. The extra time mostly derived from not knowing how to solve the vanity dilemma and visiting multiple stores in search of the "perfect" formula of shelving and drawers.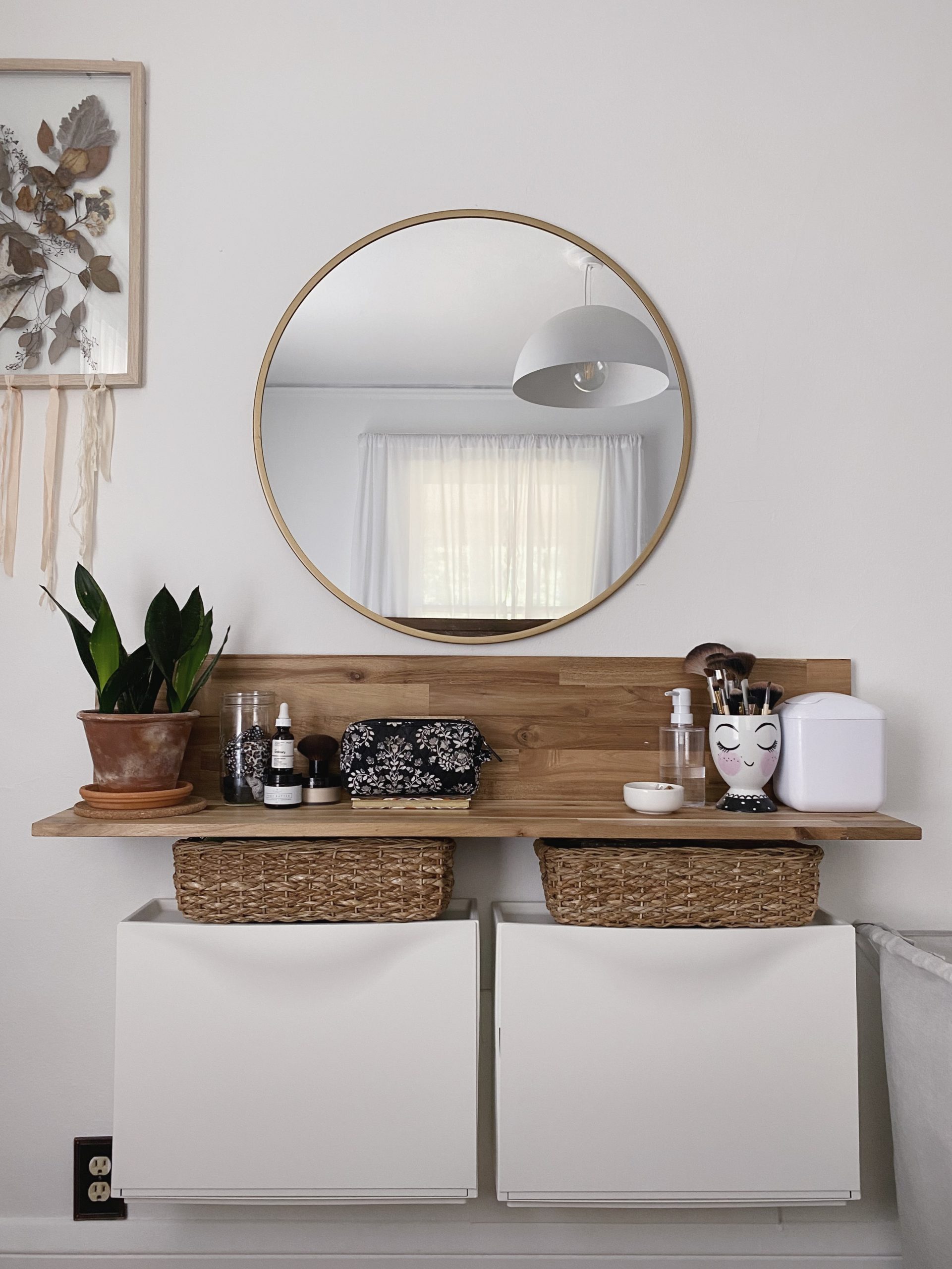 What was the biggest challenge?
Using my imagination. It's easy to decorate a room when you have the space to add in all the things you think you need, but it's much harder when your normal options are no longer available. Focusing on the function of the space and breaking down its components allowed me to consider unconventional applications of décor and furniture and arrive at a unique set up that suits my needs entirely.
What are a few of your favorite pieces?
The light fixture! When I bought the light, almost everyone thought it would be too big, or worried it wasn't meant for a bedroom space but I'm so glad I stuck to my vision because it completes the space. I also really love the artwork on the walls, which includes two of our engagement photos, a vintage midcentury modern linen piece by Tampella, and pressed flowers from my wedding bouquet.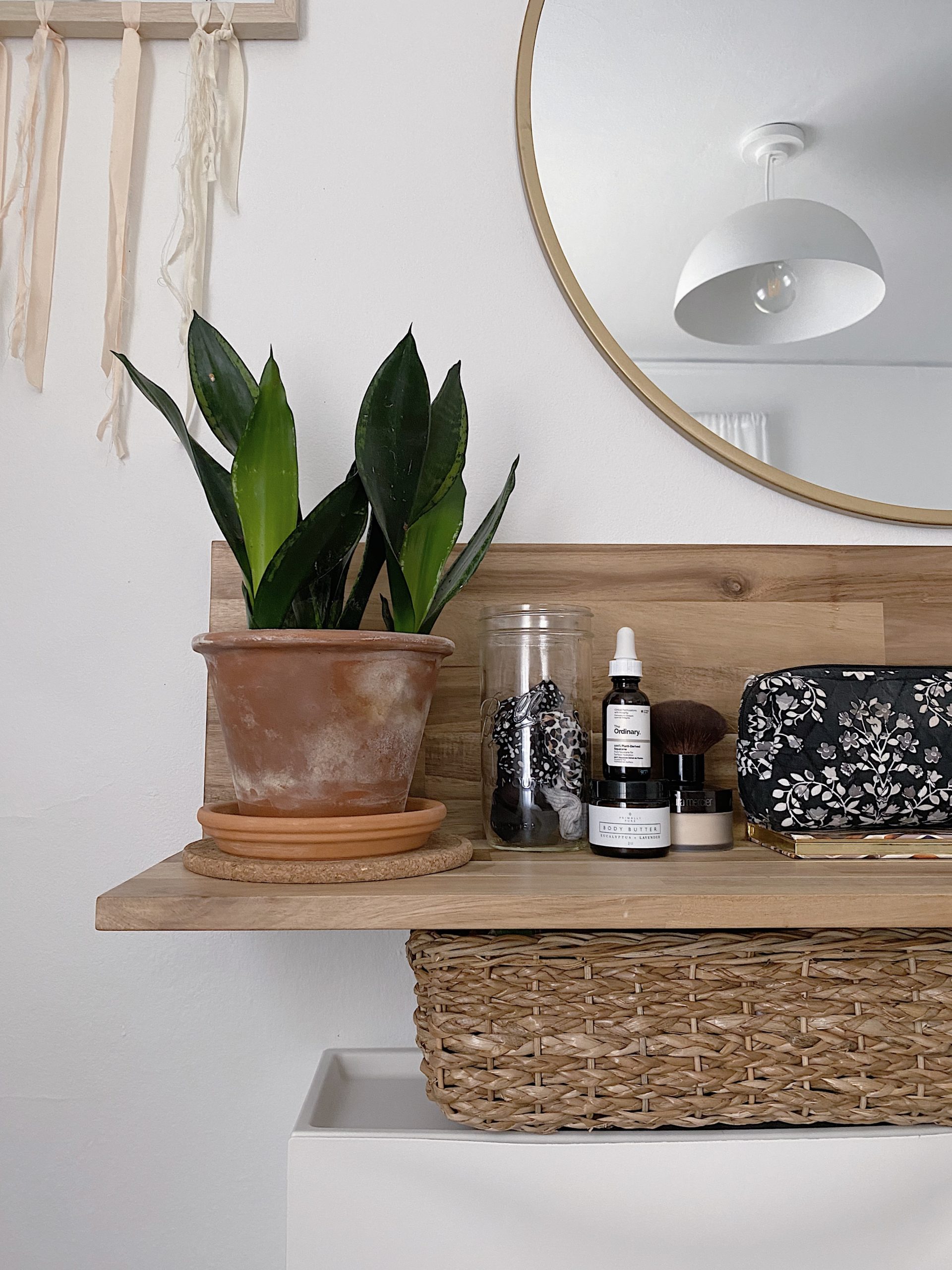 Any advice for someone who wants to tackle their own budget DIY home makeover?
Start small. Painting the entire room white and changing out the old cream outlet covers to a pretty beaded brass option did not cost much but made the room feel updated and uniform. And, most importantly, take risks! 
Follow me on Instagram for more budget renovations and vintage finds!
We'd love to feature your (inexpensive) upgrade! Send a before and after pic and a sentence or two describing it to submissions@thefinancialdiet.com with the subject "Budget Before & After."
Like this story? Follow The Financial Diet on Facebook, Instagram, and Twitter for daily tips and inspiration, and sign up for our email newsletter here.