Design Your Life: Carrie Bradshaw Edition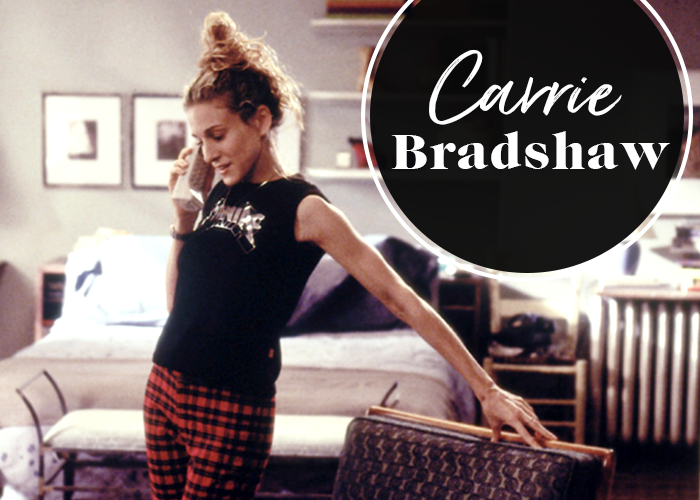 To see all of the posts in the Design Your Life series, click here!
I don't think I'm the only one who, at times, idealizes lives and aesthetics other than my own — fictional characters, beautiful cities, even entire seasons can be inspiration. I find myself wanting to emulate what I see, but feeing overwhelmed at how much it might cost to do so. (Every time fall hits, for example, I want to justify a substantial wardrobe upgrade just to celebrate the crisp and cozy weather.) Ultimately, though, I think that taking bits and pieces of this inspiration and actively designing your life with what you love — cooking themed meals, getting a few select wardrobe pieces, doing fun projects, even watching certain movies — can capture the mood you're looking for without spending yourself into a black hole.
So I'm starting a weekly series called Design Your Life, which takes a different inspiration each week and figures out what to eat, build, do, and wear to bring that unique feeling into your own life. This week, I'm starting with Carrie Bradshaw, an iconic (if expensive) style guide that we have all probably imitated at one time or another, whether we'd like to admit it or not. I broke down how to get a little bit of her life into yours, without breaking the bank.
To let's get to it!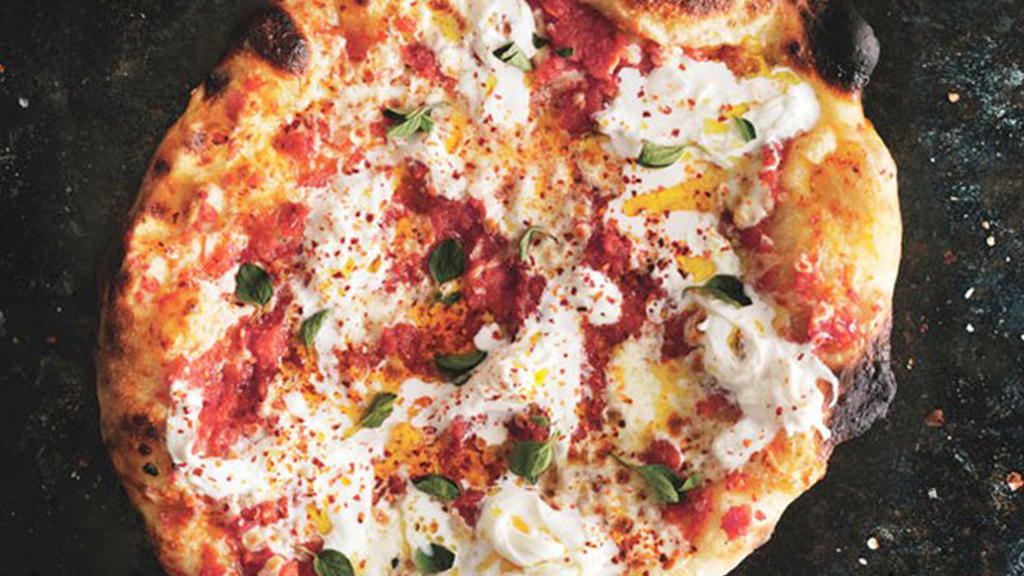 Carrie is a die-hard New Yorker, and what NYer doesn't love a good slice of pizza to satisfy a late-night craving for something gooey and cheesy after an evening of gossip with their girlfriends? However, there's no need to drop money on an overpriced slice. It's super easy to whip up amazing pizza at home, and Joe and I make pizza nearly every time we host friends for dinner, because it's fun, inexpensive, and satisfying to make. With a little prep work, you can whip up a classic NY style pizza at home using this fantastic pizza dough recipe (which I've used again and again). Get creative with toppings or go classic with these amazing sounding Italian combos. Remember a pizza stone to make sure you get a crisp crust!
And no Carrie-themed dining would be complete without the iconic Cosmo, which to this day feel like the perfect combination of fancy and silly. And again, there's no reason to go out and spend $15 on one of these bad boys (and yes, they can go for even more in New York). Simply invest in a few staple items for your bar cart, and you can whip up one of these any time the mood strikes you. Ina Garten has an incredible recipe here for you to check out.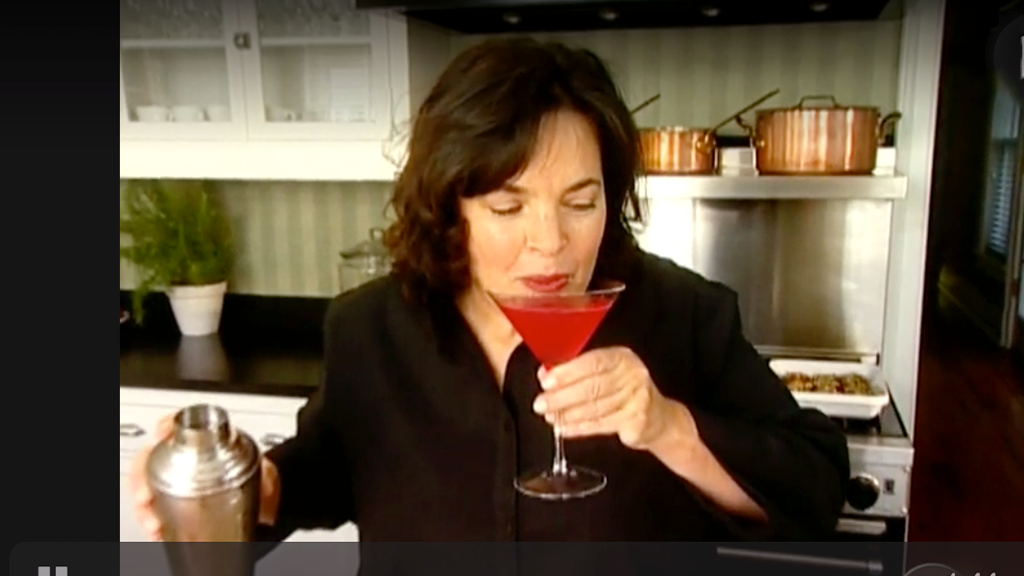 (That is perhaps one of those most glorious and soothing photos of Ina, so please enjoy.)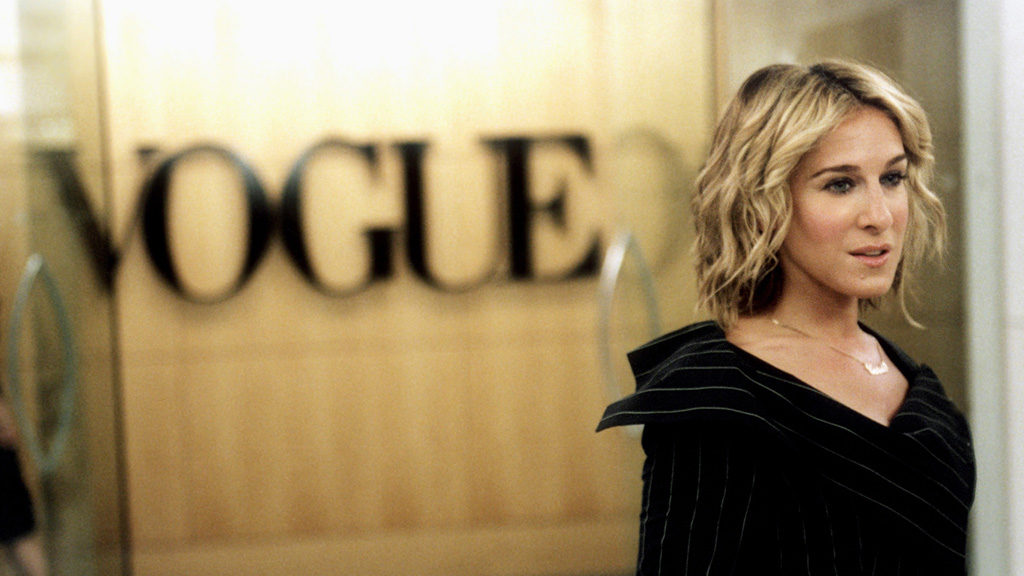 Do you guys remember the episode where Carrie goes to the Vogue offices and gets shown around the VOGUE CLOSET?! Gah. I still have dreams about being able to walk through there and lift a few items off the rack to try on. If you're interested in picking up shoes that are very similar to the Urban-Shoe-Myth-Mary Janes that she squeals over, might I suggest checking out these Sam Edelman Women's Nora Dress Pumps.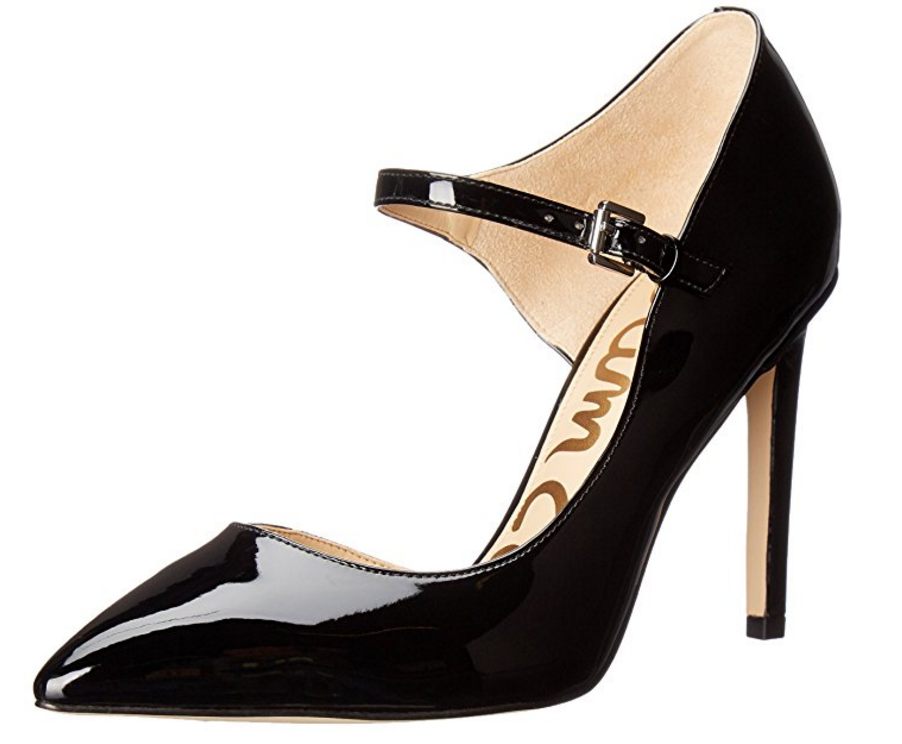 A lovely pair that look quite similar! And, let's be honest, I could link a DOZEN of Carrie's outfits and examples of the stuff she wore and where you can find them at fast fashion stores to recreate her look, but who needs that?? No one needs to be out here buying tons of stuff they'll throw away in a season or two and waste hard-earned $$$. Instead, focus on slowly building up your wardrobe and investing in high-quality items that will work hard for you for the long haul, and elevate your look, because they're well-made. These patent leather black pumps are classic, won't go out of style easily, and can be worn again and again.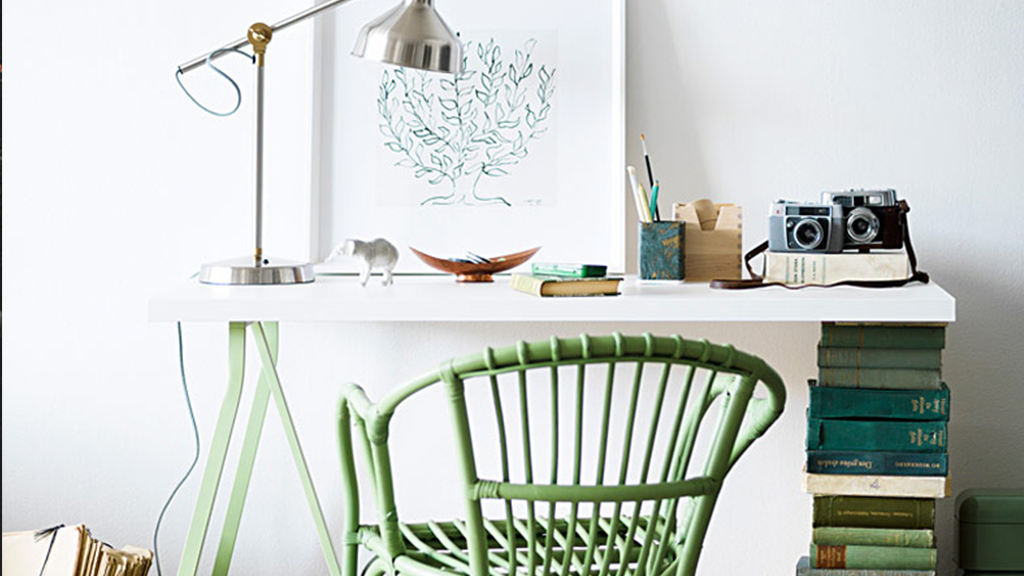 We all know that perfect little desk that Carrie sits at by the window, where she thinks ~deep~ thoughts and writes unforgivable puns. Having a desk like that, which has an incredible view of a charming and quaint street in Manhattan's West Village, is the dream of many New Yorkers I've met. I, too, wanted so badly to have a sizable place to work at home, where I had a view of the street outside, but the reality was that I needed something super small and compact to fit into my space. Joe helped me build a custom desk with just a big ol' slab of reclaimed wood and four iron hairpin legs, which was inexpensive and simple to put together. A DIY like these are a great way to spend a weekend at home brushing up on your handyman skills, and the things you learn while tackling something like this will last you forever, and they will undoubtedly come in handy again. Check out this roundup of (super!) quick and easy desk DIYs to start brainstorming your own project. I think that Carrie would generally turn her nose up to an activity that demanded a little bit of elbow grease, but not us! *Bicep emoji*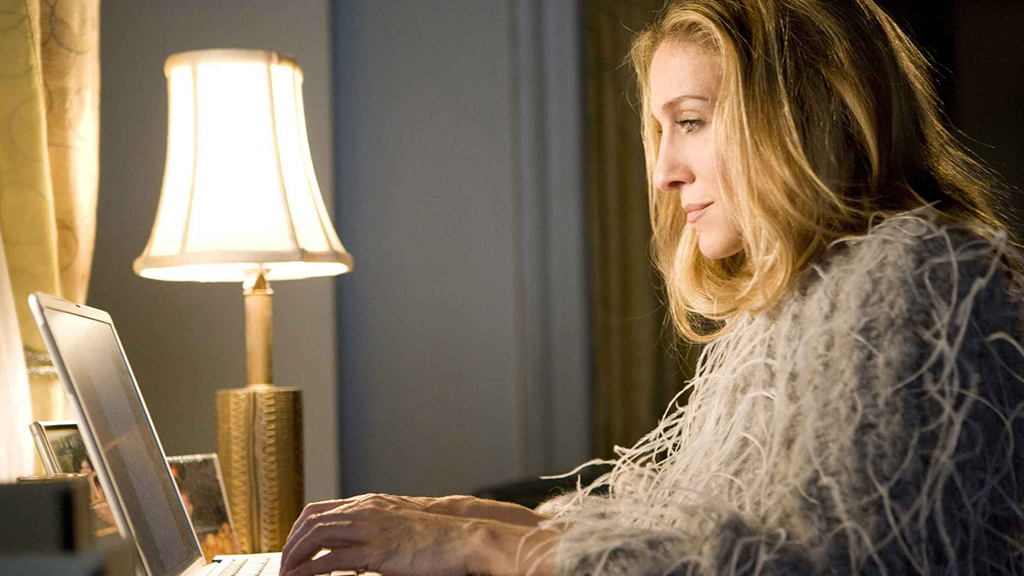 Carrie is a full-time writer, and if you're going to build a life that resembles hers, you're going to need to have impeccable grammar skills, strong creative and analytical writing skills, to feel comfortable with expressing yourself and your innermost thoughts, and you'll need to get into the habit of writing every day. I do a fair amount of writing on this site, and I downloaded a program called Grammarly to help perfect my ~prose~, emails, and notes to myself. I like to think that I've come a long way since I started writing here at TFD, and I think it's largely due to seeing where I make mistakes when writing and how to correct them, which Grammarly helps you to do. And, If you're already a grammar whiz, I suggest enrolling in a few online writing classes using a service like Skillshare or Lynda.com. They have a roster of truly rockstar teachers, and you've bound to learn something great.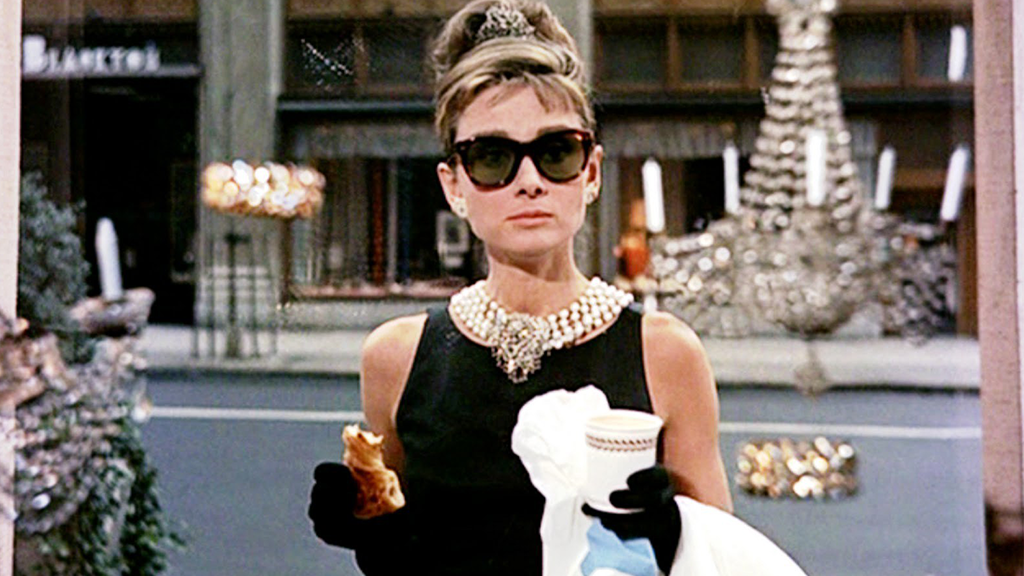 Carrie is clearly a true romantic at heart, to the point that she would read Love Letters Of Great Men – Vol. 1
 in bed for fun. It's this emotion that powers her through six seasons of romantic ups and downs — from the Post-It breakup dude to The Russian — and in the end STILL comes out with her belief in romance (and of the existence of The One) intact. I think we all know that Carrie would love nothing more than to curl up in bed on a chilly night, sip a homemade cocktail, and watch a very classic romance movie. So, I've gathered a short list of movies that you, too, can watch at home to indulge in your most irrationally-romantic self.
And, obviously, if you haven't yet seen all the episodes of Sex and The City, might I suggest picking up the Sex and the City: The Complete Series box set. Trust me, you will always find a reason to re-watch your favorite episodes, or re-binge on the entire series.
That's it for our first Design Your Life. And remember, no matter what your inspiration is, there are ways to take the essence of what you love without draining your wallet to replicate it completely. The smarter you are about where you spend, the more you'll get to enjoy what is worth spending on.