Design Your Life: Ina Garten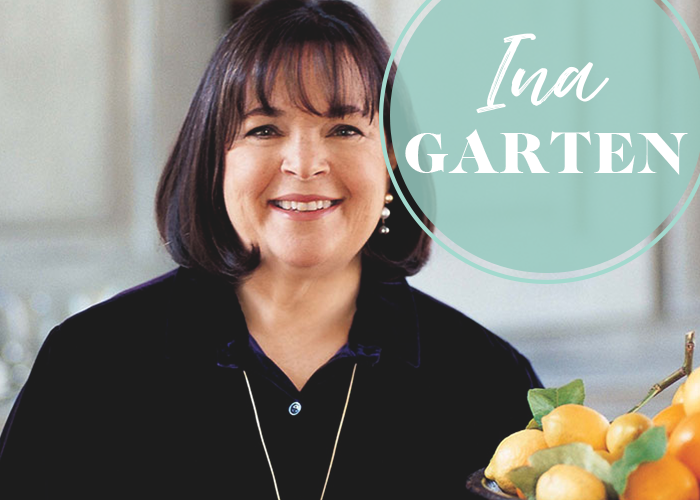 To see all of the posts in the Design Your Life series, click here!
Barefoot Contessa was the first Food Network show I became a die-hard fan of. Every Saturday morning in high school, I worked a 6 AM to 2 PM shift in a kitchen at a local nursing home. From 10-11 AM I had an hour-long "lunch" break, and I'd spend it in the lounge downstairs watching back-to-back episodes of this show. At first, I just put it on because I was bored, but a few minutes into the first episode I watched, I was hooked. I found Ina's voice incredibly soothing, her joy for cooking and entertaining infectious, I adored her billowy style, and was enamored with her use of the phrase "how easy was that??" Despite her having a pretty unrealistic lifestyle for someone like me to relate to — growing a lot of her vegetables in her own backyard, Hamptons garden, purchasing the highest-quality ingredients money could buy, throwing fabulous dinner parties for super interesting friends, etc. all seemed wildly unattainable for me at the time, but I loved slipping into her world for an hour during my break.
Watching her show inspired me to bake more — I would spend hours researching different pies, cakes, and the perfect scone recipes to try out in the kitchen. Ina always seemed to be putting together chic brunches and lively soirees for her and Jeffrey, and it was during those episodes that I first became drawn to the idea of cooking as an enjoyable and leisurely activity and not just a way to feed yourself. Also, you've gotta respect an older woman from the Food Network to have as impressive an Instagram presence as she does. (*throws side-eye to Martha Stewart*). Take a look at some of these gems!
https://www.instagram.com/p/BS9xREFjEhk/?taken-by=inagarten
Putting a garden to bed! How soothing! Ina's approach to life is an aspiration to me — she takes care with whatever she cooks, she celebrates the everyday and makes normal gatherings feel celebratory and special, and she takes having fun seriously. (Anyone see the episode where she makes goblet-sized whiskey sours?) She indulges in buying flowers and whipping up a strong cocktail to enjoy al fresco, and those are things I can get behind. Not everyone is going to have the luxury of time and money to live a life exactly like Ina's, but you don't need to spend a lot of money to take a leaf out of her book and enjoy life to the fullest. So, let's jump right into this week's installment of Design Your Life — Ina style!

So. much. that's. applicable. here. (!) Seriously, I can actually think of no better scenario than having an Ina/grandmother-esque figure in your life to throw incredible dinner parties, invite you over to their seaside Hamptons mansion, and bake you endless desserts. This "To: Eat" section is perhaps the most important one here — it's what Ina's all about. You can transform any casual, weeknight dinner party into something truly amazing with just a little extra effort. Ina's gotta a massive library of recipes to choose from — 1,234 to be exact. And you can check them out here.
According to this article, Ina's balsamic beet salad is one of her most popular dishes ever, but when I think of Ina, I think of roast chicken — more specifically, her perfect roast chicken and her chicken with forty cloves of garlic. Chelsea first introduced me to that one, and I still haven't shaken my sense of wonder. Here are some of my other favorites which I've personally made throughout the years and would highly recommend:
Easy Tomato Soup and Grilled Cheese Croutons (OMG)
Parmesan Chive Smashed Potatoes
You can pretty much pick any of these recipes and be totally set with something delicious to serve up for a solo dinner, or when hosting friends. Also, if you want to make it a true Barefoot Contessa-inspired evening, invite friends over for a potluck and tell everyone to bring something along. We mention this all the time on TFD, but it really is a wonderful way to flex your culinary skills (or practice recipes you want to perfect!).
And you don't have to just stop at the food — there are simple and elegant ways to decorate tables for parties. There are a few great resources online, from DIY sites to bloggers who've put together truly wonderful tips for making decorations at home. Actually, a great way to search for table decoration ideas is to look up "wedding DIYs." You can find everything from creative name cards to simple flower arrangements, which are sure to make any dinner feel more intentional. Also, Ina herself offered up 12 tips for styling a table in her book, which you can read here.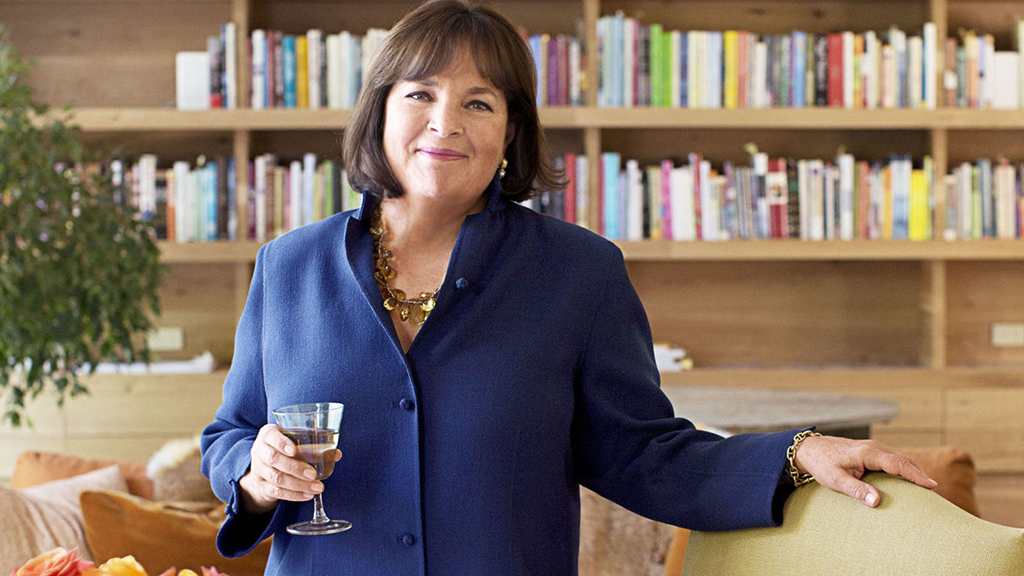 If you're going for the classic Ina style, you've gotta have a closet with some button downs, comfortable loafers, oversized shirts, and pottery-mom jewelry (that is to say, chunky necklaces, heavy pendants, and sensible earrings).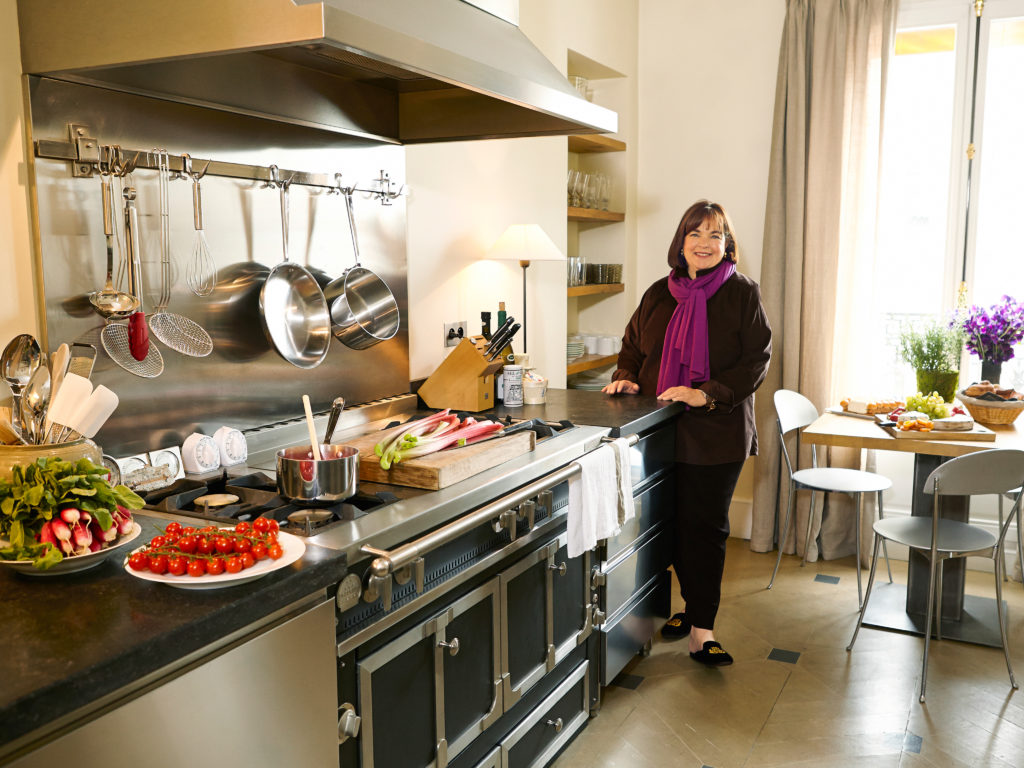 Image via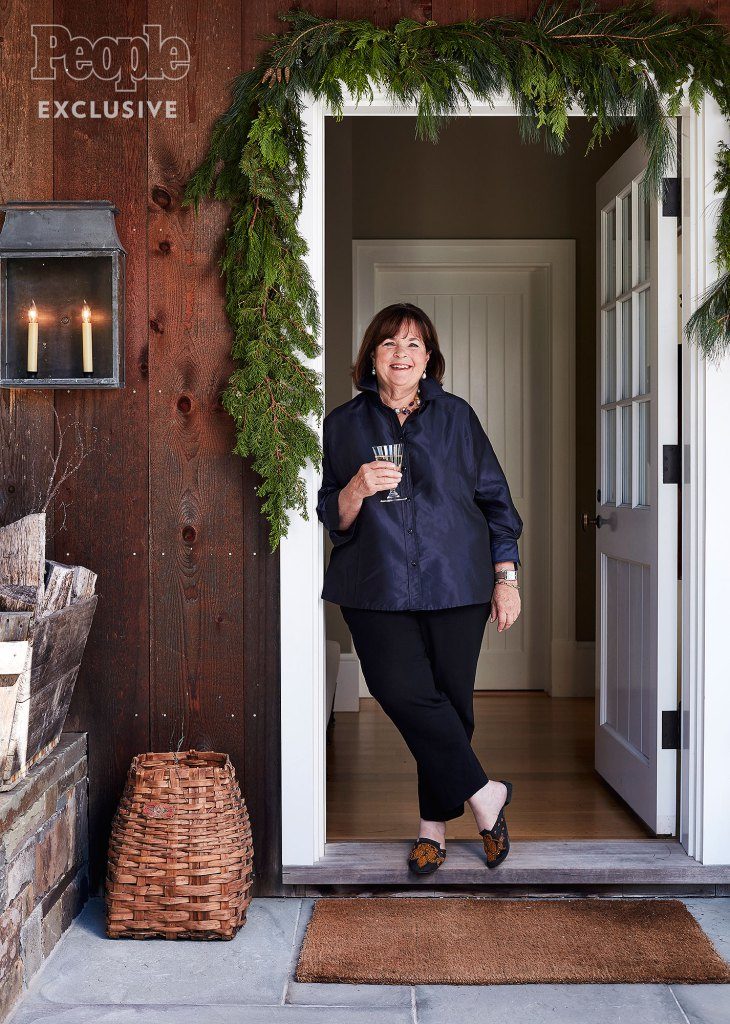 Image via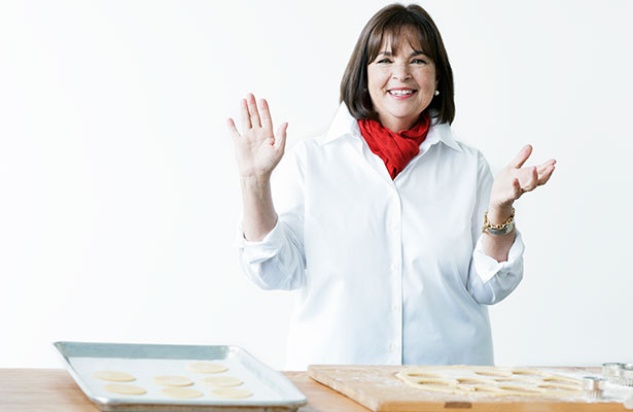 Image via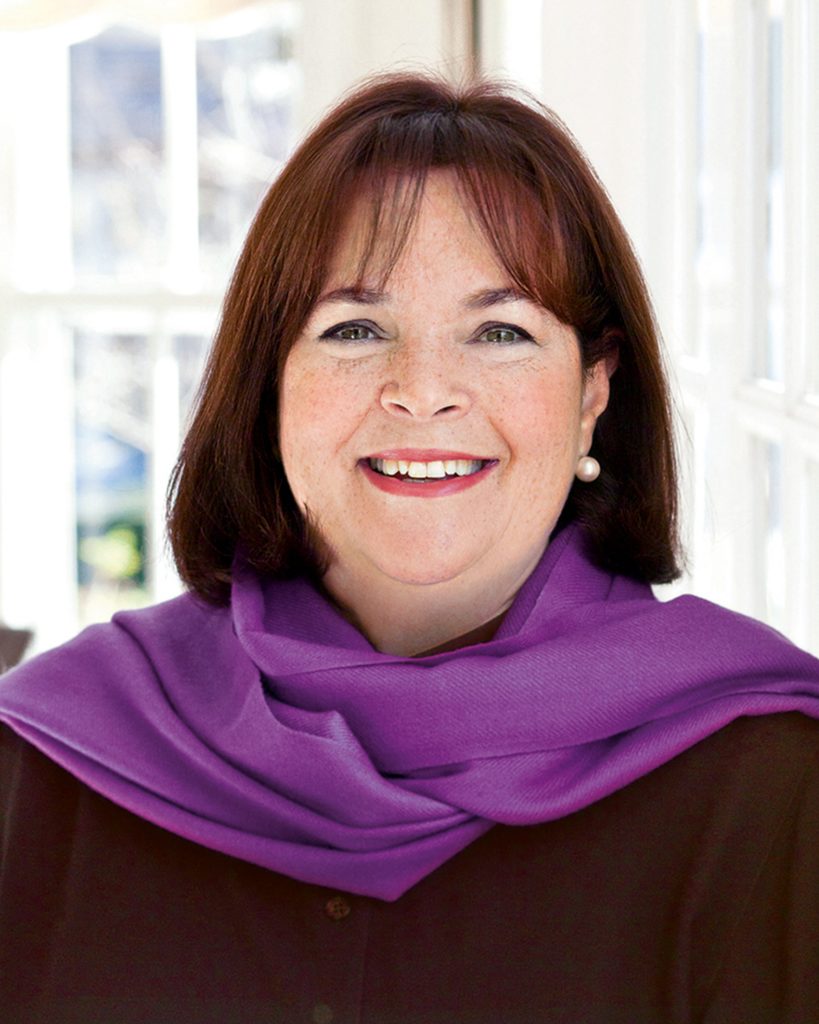 Image via
Boxy button downs, like this Japanese oxford, might make you look a few sizes bigger as a result of the cut, but if we're going to take notes from Ina's easy-going style, this shape is key.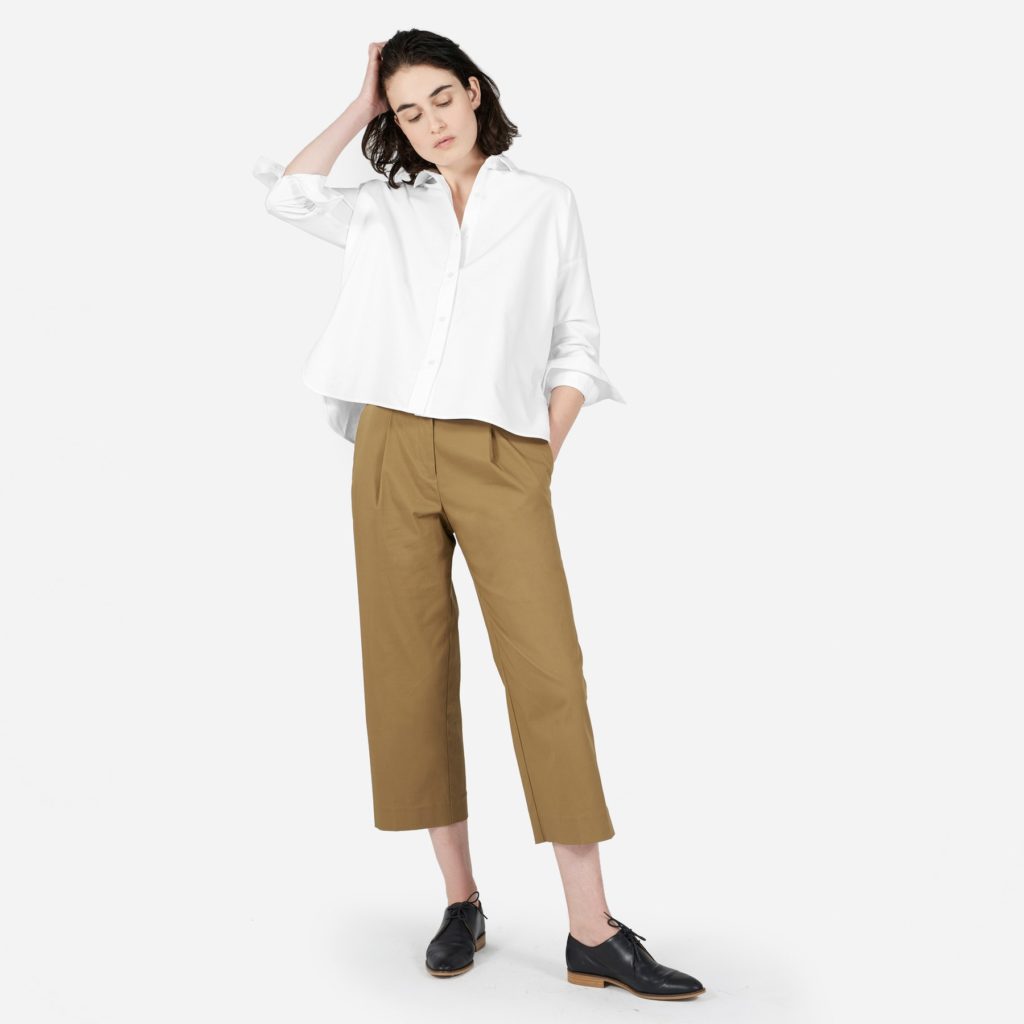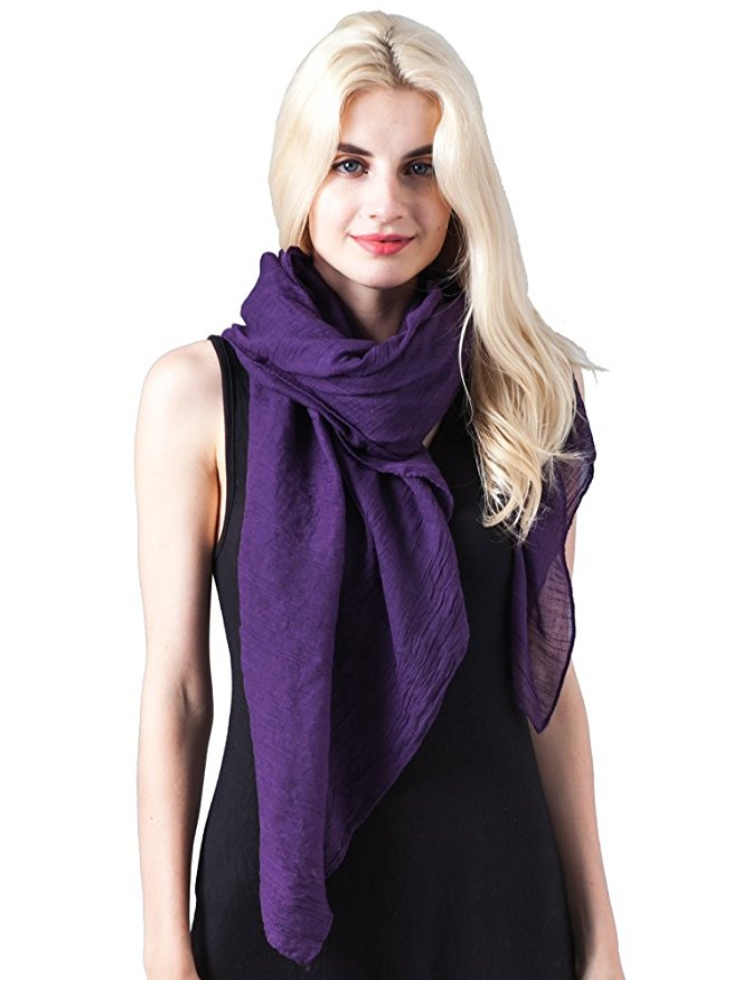 Amazon has a whole bunch of oversized chic scarves here, in a bunch of different colors.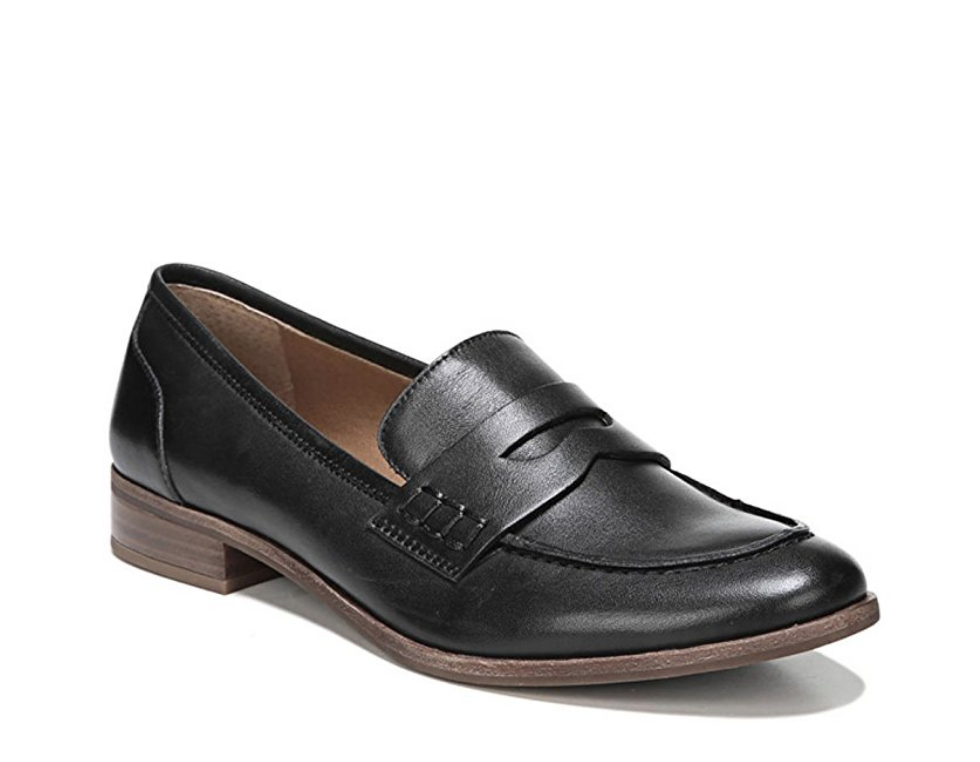 Comfortable  loafers for a long day of cooking.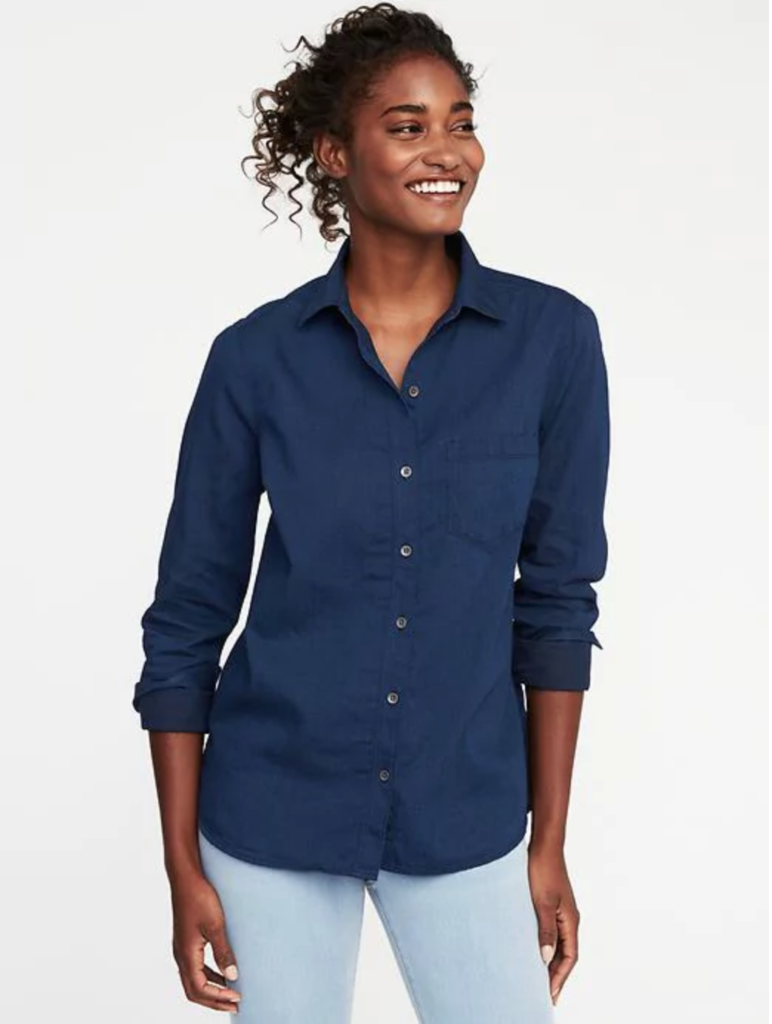 And, of course Ina's iconic dark blue button-down shirt found here.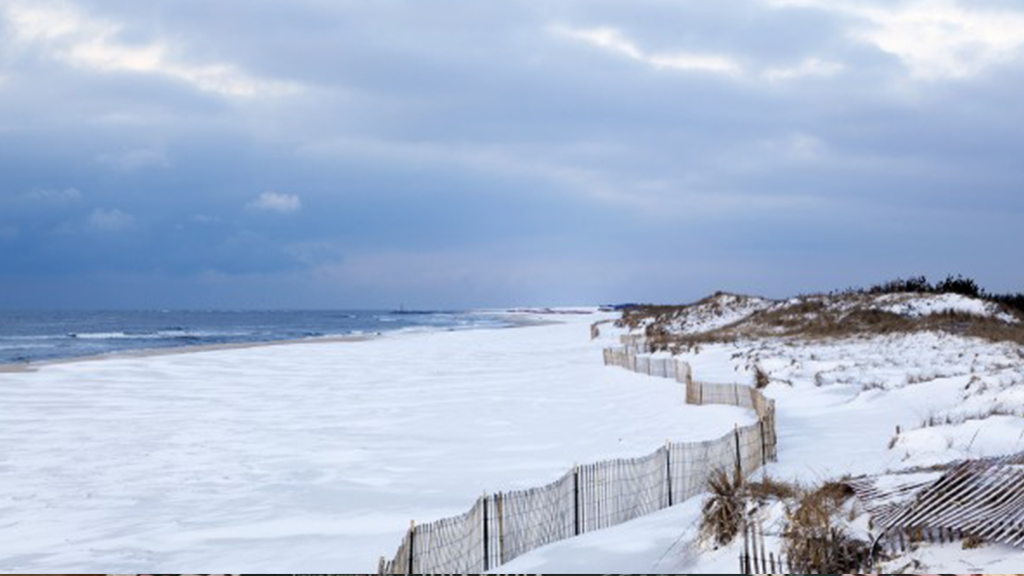 Ina's home in the Hamptons is the set for her show, so going out and spending time someplace with charming beach vibes it a natural fit. But we're heading into winter, and I feel like it'd be irresponsible of me to suggest going somewhere beachy — like the Hamptons — during the cold-weather season. But there's something about it that seems incredibly cozy and wonderful. The idea of looking out at a frosted beach and icy waves while you are indoors putting together a pot of stew seems super romantic and charming. Perhaps more so than being in the middle of nowhere looking out at trees (which I adore when covered in snow, but a snowy beach is a real #treat). Check out these articles to help you decide where to travel and what to do in a beach town in the winter:
Make a pot of mulled wine, throw on your coziest tartan patterned scarf, and enjoy the hell out of what can (and should be) a year-round destination.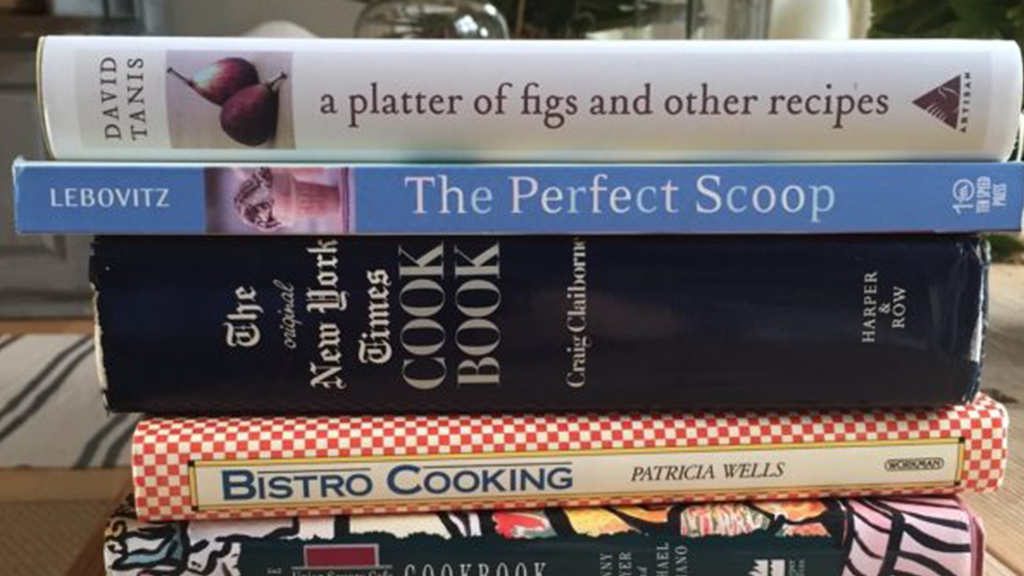 Image via
Read cookbooks.
Ina has her list of favorite cookbooks that she talks about on her website here. If you've never opened a really "foodie" cookbook before, written by a seasoned chef, I encourage you to pick up one that looks the most relevant to your lifestyle/dietary needs/skill level. Having even a basic proficiency in a few cooking techniques makes it easier to navigate problems in the kitchen that might arise, and you'll have an easier time adjusting things and fixing them as you go. Essential to keeping your cool and throwing a successful dinner party!
Brush up on your entertaining skills.
Like I mentioned earlier, knowing how to properly set and decorate a table for guests is an enormous adult life skill that a lot of people don't pay attention to, but is one that will serve you well for your entire life. And, if you haven't brushed up on your table manners, dinner etiquette, and basic way to properly set out silverware — no judgment here. It took a year straight of working in a kitchen and setting up a dining room for nightly meal services until I actually started getting the hang of it. There are some awesome guides here, here, and here to help you learn how to do things the "right" way. But, as long as you and your guests are having fun, improper fork placement is not the end of the world!
Go to a seasonal trade show or market to discover new foods.
If you never go out your culinary comfort zone and try new foods and flavors, it's inevitably going to hurt your chances of being a well-versed home cook. And, with the holiday season coming up, try to find a themed food activity, trade show, market, specialty store, food stall or vendor for something new. It'll help you become more experienced with flavors and pairings, and will ultimately allow you to develop your own flare with tried-and-true recipes that you can make your own.

It's no surprise that Nancy Meyers — the queen of showing lavish kitchen sets, home cooked meals, and stunning restaurants in her movies — was actually inspired by Ina Garten. According to this Bon Appetit article called "Nancy Meyers' Favorite Movie Food Scenes Are Inspired by Ina Garten":
The secret to a successful romantic comedy isn't the amount of rain-soaked reunion kisses—it's roast chicken. Queen of the genre Nancy Meyers tells Bon Appétit that it's the "good luck charm meal" across many of her movies, including when Diane Keaton and Jack Nicholson eat it at a French restaurant in Something's Gotta Give and Meryl Streep cooks one for Alec Baldwin when they consider getting back together in It's Complicated. "Ina Garten talks about Jeffrey's favorite meal being her roast chicken," Meyers points out. "So it must be a universal way to show love."
That being said, if you enjoy watching Ina Garten work her way around her own kitchen, might I suggest watching a few of these other classic, visually rich, and sometimes fully food-oriented TV shows and movies!