Design Your Life: Julie & Julia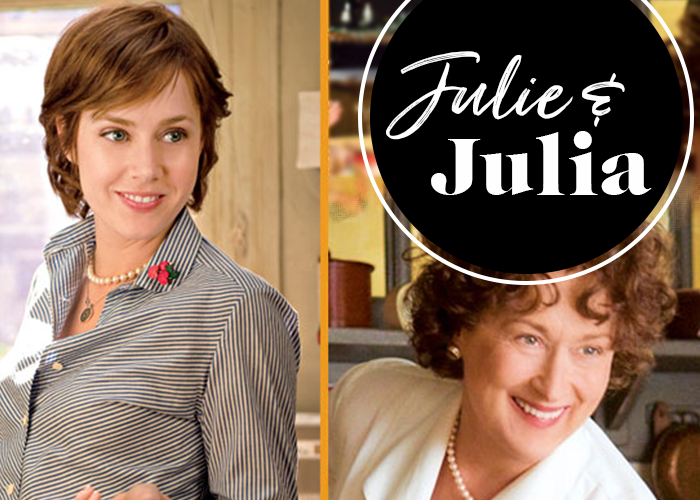 To see all of the posts in the Design Your Life series, click here!
I was introduced to the movie Julie & Julia about two years ago, and have since watched it roughly 10 times. I had zero expectations of it, but walked away feeling absolutely delighted, inspired to cook a hell of a lot more, and fascinated by the lives of the two women featured in the movie. (Also, fun fact, when I was in the midst of raving about this movie while out at a bar with friends one night, I accidentally called it Meryl & Meryl, LOL.) The movie intertwines the lives of two incredible women — the great Julia Child and modern-day, NYC-dwelling Julie Powell. The latter is looking for something in her life to serve as an inspiration and a metaphorical "light at the end of the tunnel" to get her through her job in a post-9/11 New York, whose cubicle overlooks the remnants of the twin towers. She starts a blog and chronicles her way through every single recipe featured in Julia Child's Mastering the Art of French Cooking.
I felt that the movie version of this story would be the absolutely perfect candidate for the Design Your Life series, since I find aspects of both women's lives to be aspirational and inspiring. Julia is fearless, bold, and self-assured, and lives a wonderful life with her husband, Paul, in France. I admire the way she does what she wants, indulges in amazing food, doesn't fit the mold of being "traditionally beautiful," doesn't take "no" for an answer, and just lives her life, overall, like a complete badass. What I love so much about Julie is that she, too, knows that she wants more for herself, and instead of letting herself slip into a depression or funk, she takes charge of her own life, embarks on a year-long project, and remains committed and passionate the whole way through.
So, without further adieu, let's jump right into how you can design your own life to resemble a bit of what these two women did in their own! Bon appétit!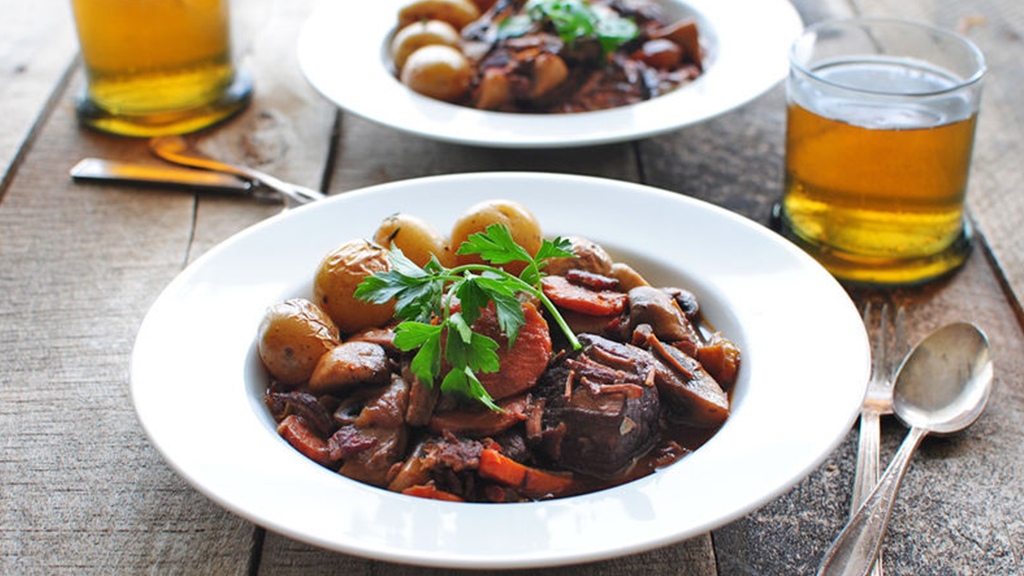 One of the dishes that is featured prominently in the movie is Julia Child's famous beef Bourguignon. A New York Times article describes it thusly:
Like coq au vin, its sister dish from the Burgundy region of France, beef Bourguignon is a stew of meat slowly simmered in hearty red wine along with pearl onions, mushrooms and crisp, cubed bacon.
Chelsea and I have made Coq au vin several times for TFD and for dinner parties with our respective guys, and the combination of bacon + meat + red wine, slowly simmered away for hours, is just divine. (Like, so divine that I after typing that sentence I emailed Joe and was like COQ AU VIN FOR DINNER TONIGHT.) In the movie, the first time Julie makes beef Bourguignon, she burns it horribly, but she doesn't give up — and neither should you! This upcoming cold-weather season, tackle a new dish and try your hand and this classic French recipe. You can follow this recipe on Epicurious, which 100% of users say they would make again. <– The highest compliment. Serve it with roasted potatoes and a green vegetable side, and you're all set. Oh, and don't forget the red wine 🙂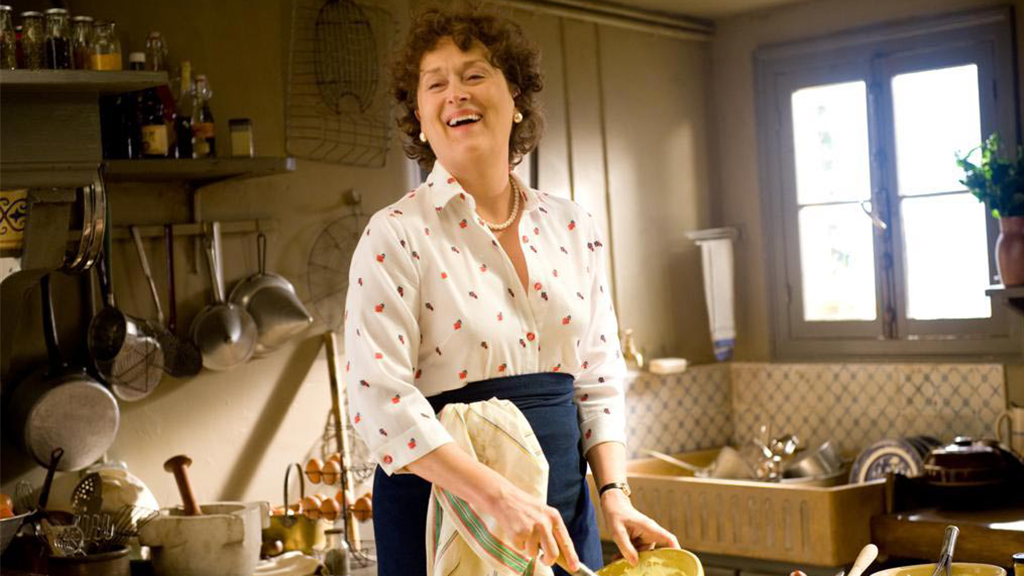 Even though the movie Julie & Julia is nearly 10 years old already, and Julia's bit is set in the 1940s, I was still very much swooning over some of the fashions featured in the movie. The patterned, button-down shirts, full skirts, chunky quirky strapped heels, ahhh. It made me seriously want to invest in some cute and comfortable kitchen-to-dinner heels, a full skirt, and nice apron a la Meryl Streep's fabulous cooking at home look. Amazon has a lovely selection of full, vintage-inspired, casual party swing skirts
, and they come in a bunch of different patterns. This one below is one of my favorites: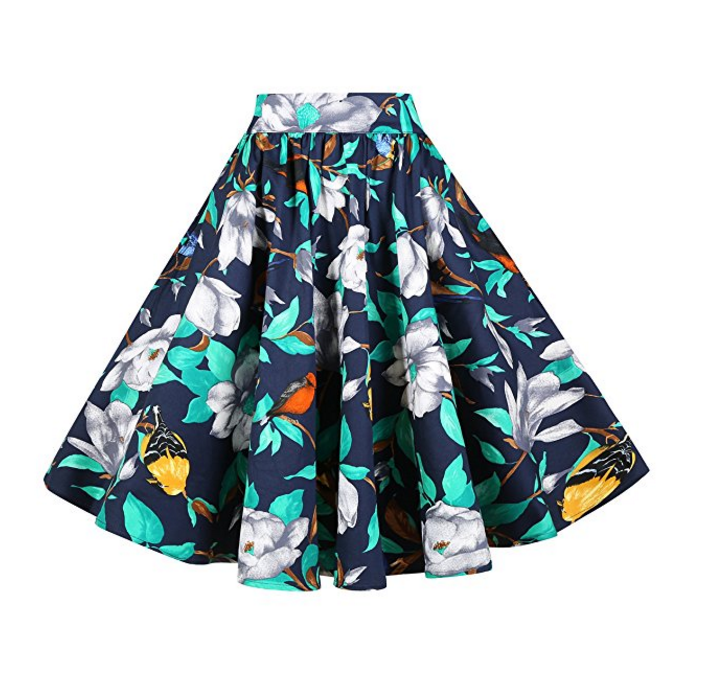 Also, look at the way Julie layers her shirts and tucks them into her high-waisted skirts. So fun!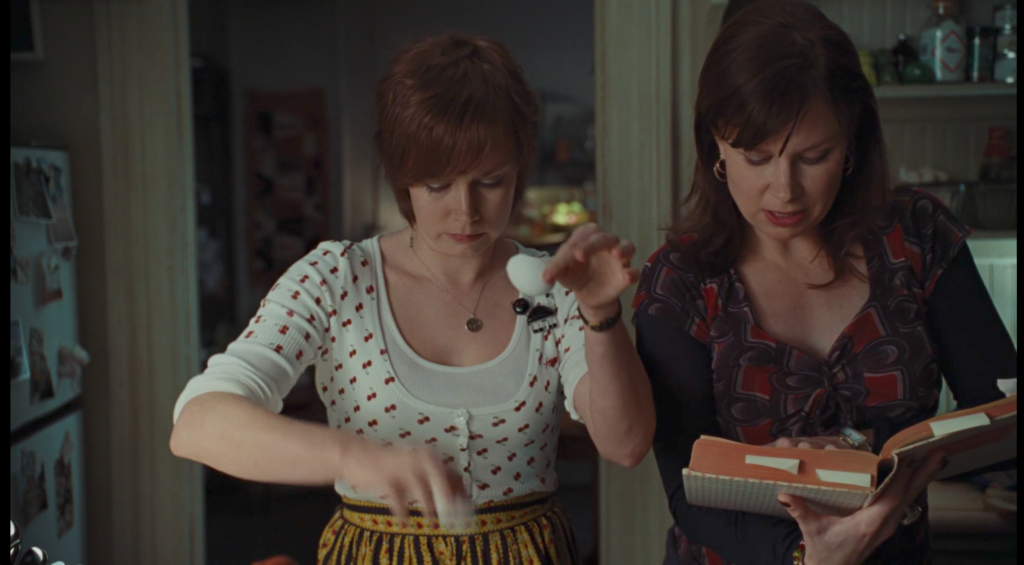 They have a really big selection of patterned and button-down shirts over on Modcloth here, which you should definitely check out. And, to protect your clothes, it's essential to have an apron to cover yourself in case something spills, splashes, or splatters onto what you're wearing. Check out this adorable Rooster Apron
or this French Toile one that has an attached towel
. You'll thank yourself later when you accidentally drop a ladle filled with red sauce, and it fucks up your entire kitchen floor and most of what you're wearing. #beenthere.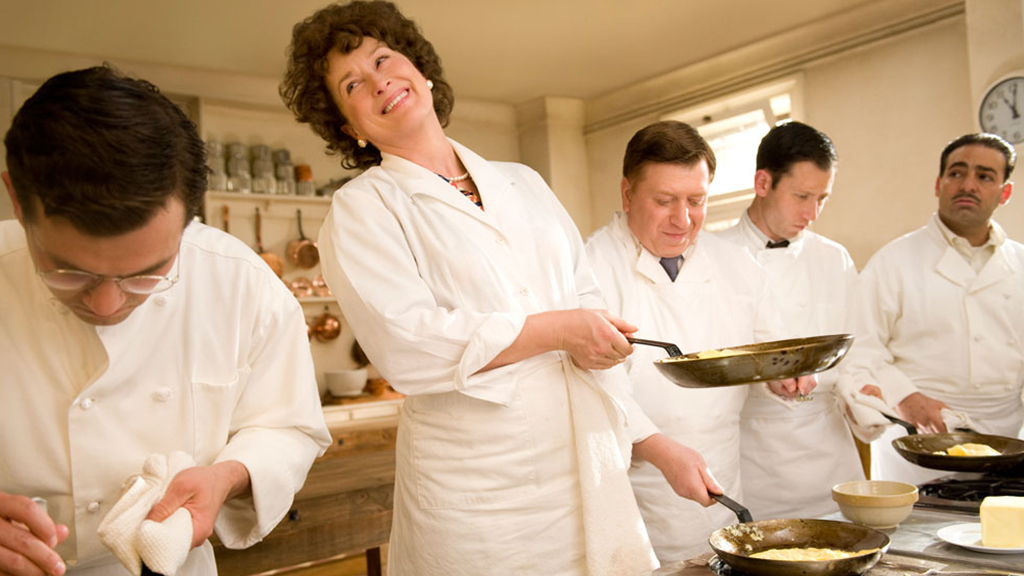 Ahhh, there are endless activities to do to live a Julie & Julia inspired life. Naturally, a lot of them have to do with cooking — take a look!
Take a cooking class. An obvious choice. I've always wanted to take one, but the closest thing I've ever gotten to it was a cheese + wine pairing class. It didn't exactly elevate my cooking game, but it did make for an entertaining night out with friends. If you do a little digging, it's not hard to find cooking classes on offer near you, and I used this website to search for some in my area. Whether it's learning basic knife skills, or how to properly roast something simple like a chicken, they're SUCH a worthy and fun investment of your time that will repay you for years on end.
Read My Life in France
, by Julia Child. Chelsea has this book, so maybe I'll knick it off her bookcase one day and give it a read. I loved this excerpt from a New York Times book review of it, which said:
READ no further if you dislike France, consider the French irritating, find French cooking pretentious and the French art de vivre overrated — because Julia Child liked everything about France. And her memoir, "My Life in France," is an affectionate merci for all that France gave her.
Read Julie Powell's book Julie and Julia: My Year of Cooking Dangerously
. In the same vein of reading Julia Child's book, it would also be worthwhile to read the book that inspired the movie. Julie recounts her days cooking and living in a tiny NYC apartment (a dynamic that hits close to home for me!). Check it out!
Discover local culinary delights. This is perhaps one of the most rewarding things you can do, which is inspired by the way these two ladies live — get more invested in the way you eat, grocery shop, and experience local foods. Take your time strolling through your weekend farmer's market, take an active approach to selecting ingredients by asking your butcher, fishmonger, or sommelier questions, and research local restaurants, cafes, and bars you might have overlooked. The world opens up when you take a more vested interested in what you cook and eat — it's one of life's greatest pleasures!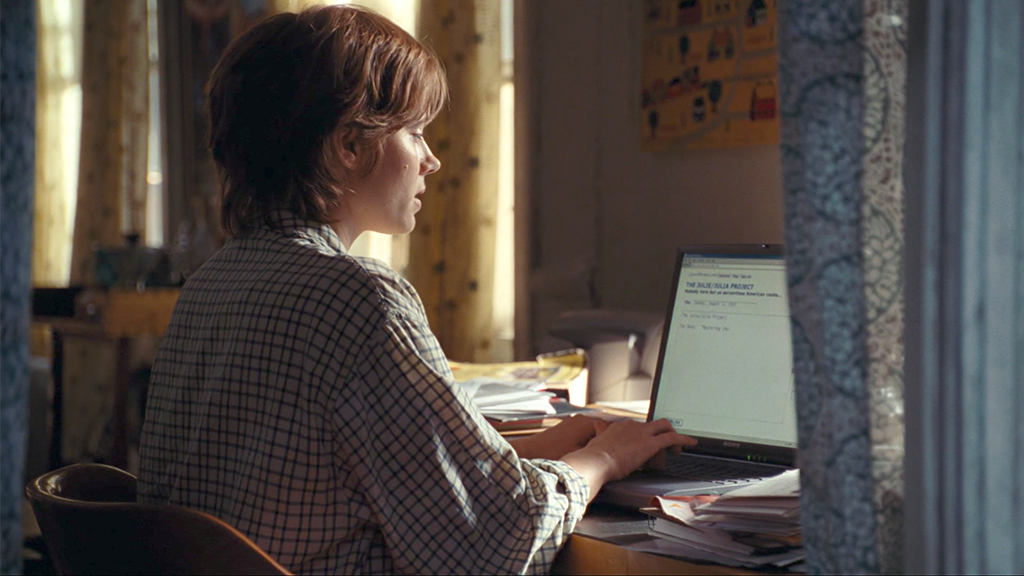 Like I said earlier in my intro, there's nothing more impressive than selecting a year-long task or challenge and sticking to it all the way through. It takes serious willpower and dedication to do so. (I've been guilty of starting many a hobby and just kind of letting it fizzle out over the course of a few weeks.) In Julie's case, she signed herself up to a blog and created her own dedicated URL to keep track of her process along the way and hold herself accountable.
What's so great about blogging is that anyone can do it. If you have something to say or want to talk about, access to a computer, and possess decent enough grammar skills, blogging is totally something you can start tomorrow. To set yourself up, use a service like Squarespace or WordPress (<– I've used both, and love them). Skillshare also offers a lot of great classes on how to get started in blogging as well as a whole library of resources to help make your blog beautiful and more creative. I used to keep a design blog where I could talk about my passion for design, and being able to look back on my old entries is extremely rewarding. Blogging is just a really neat way to document thoughts over time, and it's an awesome and inexpensive hobby, so try it out today!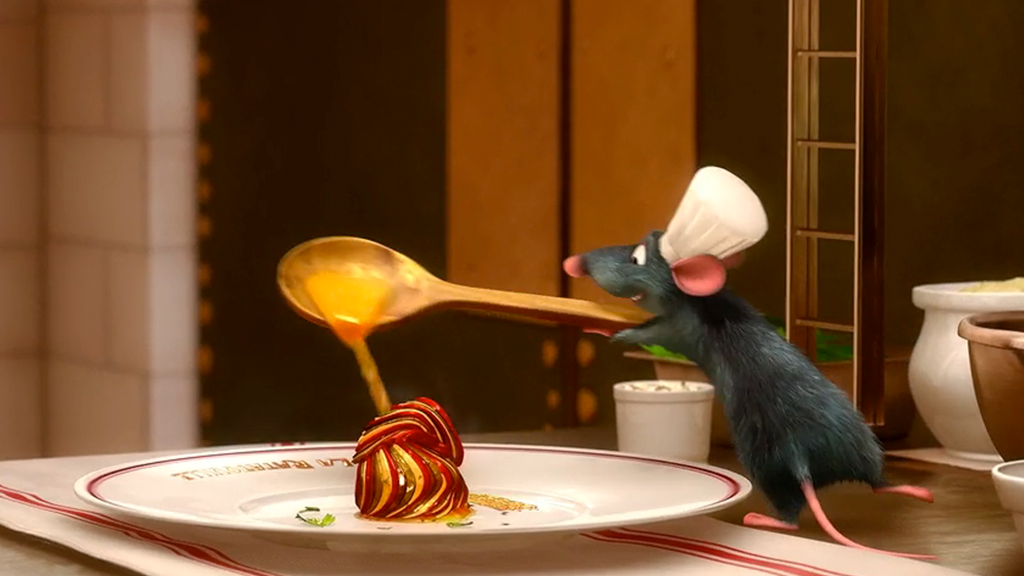 Obviously, if you haven't already watched the movie Julie & Julia, do yourself a favor and clear your evening plans, pour yourself a big ol' glass of wine, fix yourself some snacks, and put this movie on ASAP! If you've already seen this gem, might I suggest indulging in some other movies that carry a heavy dose of either: Meryl Streep, French inspired living, lots of cooking/eating, dreamy interiors, and riveting females leads.
I've seen all of the movies above, and man there's nothing like a little escapism into the lives of interesting characters living beautifully — it's a cure-all for literally any off day or a bad mood. Try it sometime!
Thanks for reading, see you back here next week!