DIY Before / After — My $150 Holiday Home Makeover On My 800 Sq-Ft Space

This season is centered around people over presents. It's simpler; it's cozier.
I live in Dallas, Texas with my husband, dogs and many throw pillows. We are renters living in a 800 square-foot duplex, built nearly 100 years ago. Ever since I could hang J-14 posters, I've been in love with home decor. Like seriously, you can view my home on TFD and Apartment Therapy because yes, I am that obsessed. And neurotic.
Historically, the holidays haven't always been 'merry' for me. Not for any one particular reason, but rather, for many "mini" reasons. Between the stress of seeing family, the shameless consumerism, and the constant emotion of feeling "lost in life" I felt like the holidays just spotlighted all of the things I hated about myself. And as strange as this year was, it helped me reconnect and reestablish my relationship with others. For the first time — possibly ever — I've welcomed the holidays and even started decorating earlier. This season feels different. Simpler, coziest, and centered around people over presents.
To celebrate the season, I wanted to add a festive feeling to the home and give some holiday spirit to our small duplex. And frankly, when you spend at least 23 hours per day in a home, any decoration helps it feel refreshed and renewed.
The Budget — $150
For starters, my husband and I were starting from scratch; we had previously donated our old bin of Christmas decorations. Plus we knew sticking to a smaller budget would make the most sense this year. We spent two weeks with his family for Thanksgiving, and we'll be spending two weeks with my family for Christmas. So we set the budget at $150.00. 
KITCHEN — $0
We have fun with our chalkboard wall that we "installed" over the summer in the kitchen. And by "install," I mean using contact paper. It's unbelievably durable and can withstand a weekly washing. Anyhow, we update the board with our favorite holiday movie quotes in the script or funky lettering. 
LIVING ROOM — $120
Before: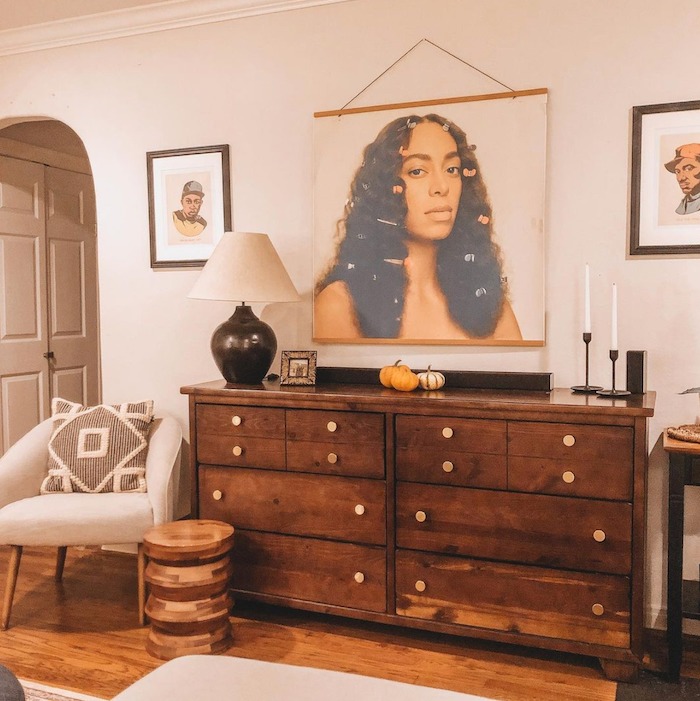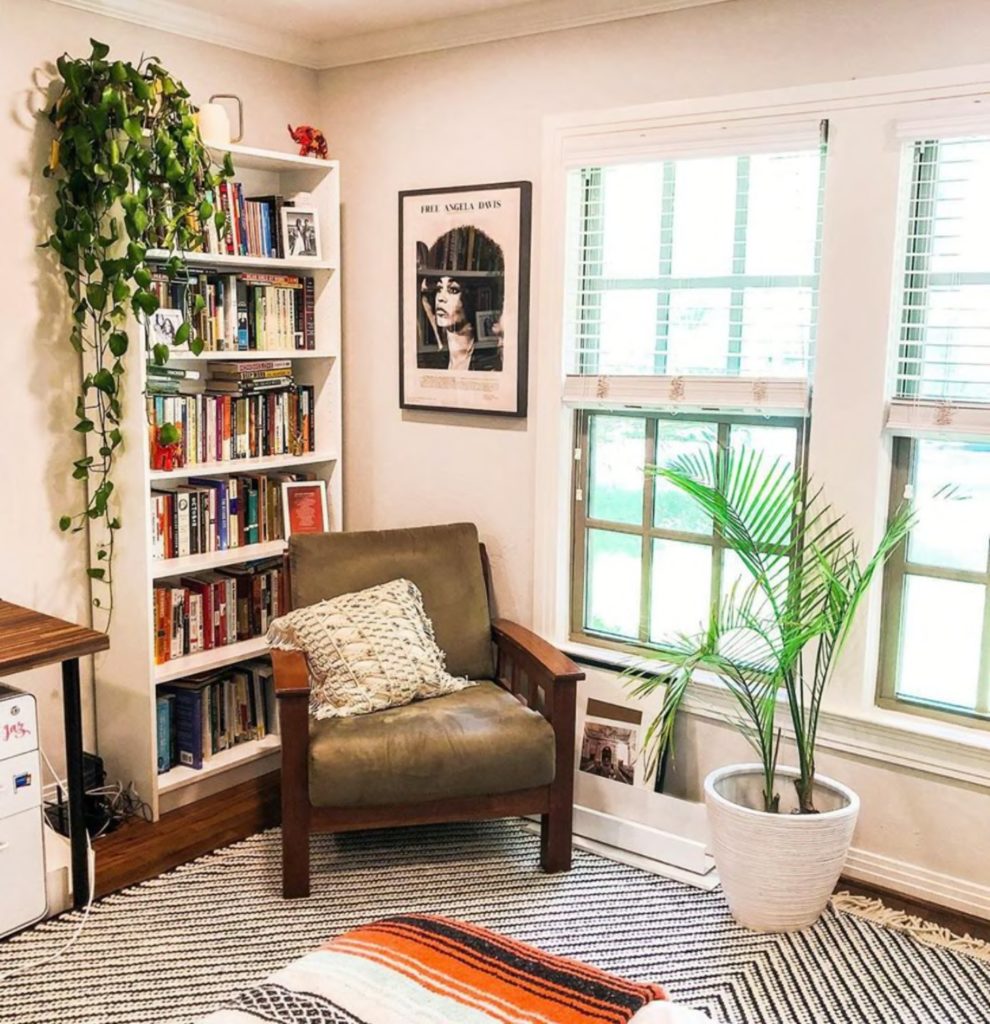 After: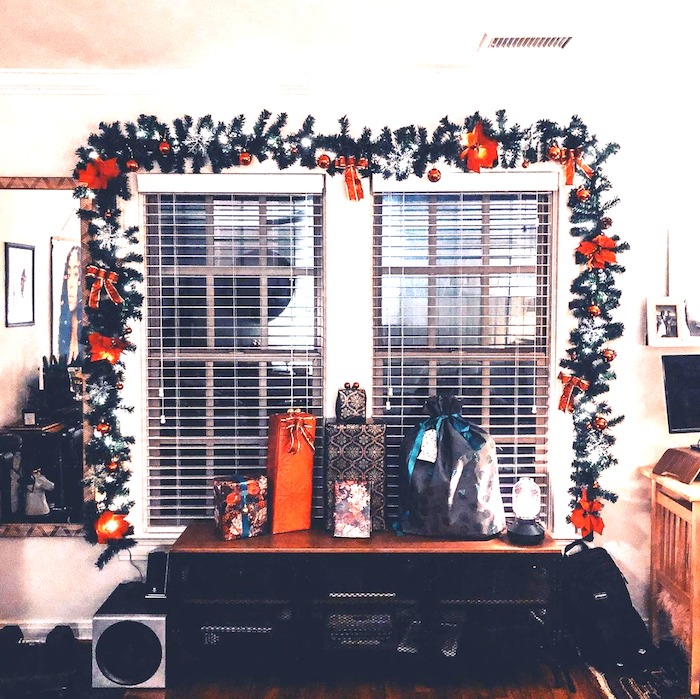 This year, my design inspo was inspired by New York City and old school tradition when decorating this year. I've played with ultra-glam and alternative looks in years past, but with the year being so chaotic, I wanted to create a warm space and emulate what Christmas meant to me when I was a young girl. Though I am not a New Yorker, I always saw images on the screen of decked-out windows, larger-than-life details, gold trimming, and classic colors. 
For the windows, I hung up two sets of extravagant garland for $45 each. My package came with a set of gold ornaments and a set of red ornaments, as well as a six-foot string of lights. I used half of the red ornaments to add dimension to the garland and kept the second half to adorn the fake Christmas gifts. Yep, those are empty cereal and shipping boxes wrapped in the paper I snagged offline* (but can be found at a dollar store or any discount store for cheaper). I used the gold ornaments from the package to fill a vintage vase from my great-aunt, who passed away several years ago. 
Finally, I draped a more minimal garland* under the Solange print and added existing candles from the dining room for an ultimately sacrilegious take I call, "Oh Solange Night." 
ENTRYWAY — $20
View this post on Instagram
I live in Dallas, so seeing snow that sticks is nothing short of a Christmas miracle. And because I was hoping to bring the NYC snow to Texas, I bought a *snow projector! I purchased mine during a cyber sale for $20, but they usually retail between $35 – $70 depending on features.
At first, my husband thought it was a joke and found the whole thing hokey. After one beer and a night of holiday movie viewing, he admitted he was wrong, and that I was right. And now I don't need anything else for Christmas.
Finally, we replaced one of our wedding photos with a hand-drawn illustration; my husband made it inspired by the greatest holiday movie of all time, Jingle All The Way. 
"GYM"
View this post on Instagram

First, by "gym," I mean we have a Peloton in our living room. Remember the string of lights I stripped away from the Solange garland? I wrapped it around my Peloton for a "fit-mas ride." (I made that word up.) WARNING: Ensure that the string is wrapped tightly and kept away from the pedals. You will hurt yourself otherwise.
DINING AREA — $10
I tucked away some of the more "summertime vibes" decor and put beloved chotskies like my donkey salt and pepper shakers and antler ring holder in the dining room. Quick swaps like this allow for an accessible and low-stress refresh in any home. 
Next, I updated the table's centerpiece with a bowl of monochromatic ornaments. Having one tone or color adapted in various textures elevates otherwise traditional Christmas decor from predictable to sophisticated. Finally, I wrapped a string of battery-operated lights that we already had around the bowl for an additional twinkle.
Before: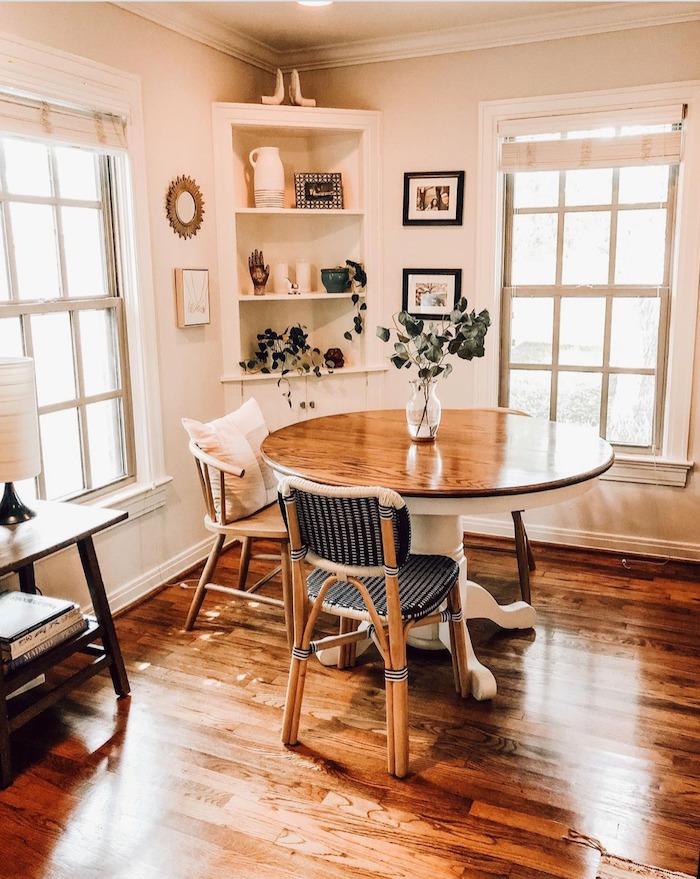 After: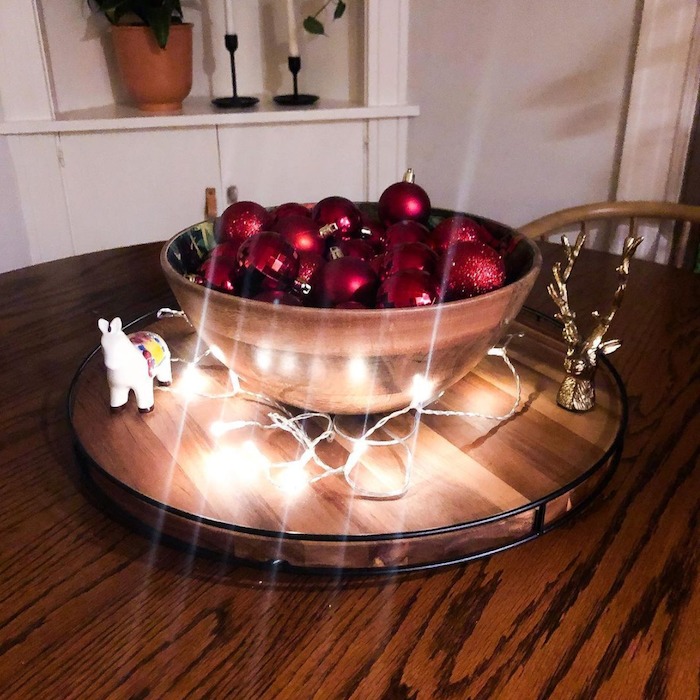 *The items I bought were sold-out or no longer available when writing this piece. This asterisk denotes that the hyperlinks are dupes and not the exact piece bought by myself.
Grand Total
Between everything, I came to roughly $150 – $175, and a went a little over my intended budget. 
Here's the itemized breakdown of everything:
Previously purchased and upcycled with holiday decor
The entire project took about a week. Most of the time went into the inspiration board and understanding the vision I wanted for the space. My neurosis showed itself when I made a Buzzfeed quiz on holiday home decor to figure out what my style should be for the year. Ultimately I determined our theme was "The City That Never Snows," because Dallas, New York City, snow, get it?
***
Aside from my detailed planning strategy, the hardest part about redecorating my place for Christmas, was staying within budget and not giving into the urge to run away with different ideas. We have limited storage and space, so while I would have loved to update my desk area or the bedroom, I had to remind myself that ultimately, in doing so, all of this will need to come down and placed somewhere else. 
If you're looking to decorate your own space for the holidays (or just in general for the upcoming year), while on a budget, my biggest piece of advice is to create a mood board and develop a thoughtful blueprint. It should not add restraint to your imagination, but instead, should help you develop a flow and give intention to your purchases.
Jazmine has been a contributing writer for The Financial Diet since 2015. While her spending habits have changed over the years, her advocacy work surrounding social change and mental health has not. She hopes her writing and activism can empower all women to occupy their space at work — and everywhere else. Outside of TFD, Jaz (as she likes to be called) is a career coach, full-time writer, and a plant + dog mom residing in Dallas, Texas. She spends her "fun money" on trips to Trader Joe's, throw pillows, and white wine. You can follow her Target shopping adventures here, and learn more about her at JazmineReedClark.com.
Image via Pexels  / Jazmine Reed-Clark