All The Money I've Spent On Quarantine DIY Projects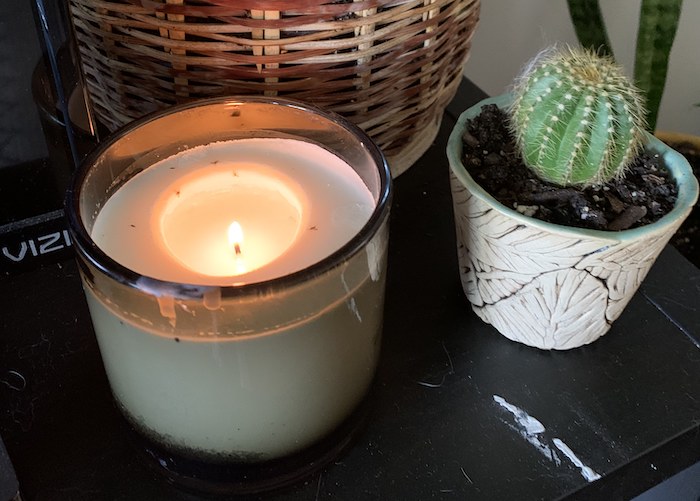 For most of my childhood, I envisioned my life to be similar to Laura Ingalls Wilder of Little House on the Prairie: I wanted to sew, cook with vegetables I grew myself, and make candles in a cozy little house. Thanks to Taylor Swift, this aesthetic is now known as Cottagecore and marketed as a more sustainable, cheap, and cozy way to live. Being quarantined to my two-bedroom apartment with my equally crafty sister gave us plenty of time to test out a variety of DIY projects. Here's a list of every project I've tried so far during quarantine, how much it cost, how difficult it was, and whether I'd do it again.
1. Baking Bread
Cost: $4.67/113g of yeast, $4.67/2.5kg of flour
Difficulty: Varies
One week into quarantine, my partner announced he wanted to try baking loaves of bread from scratch. Little did we know this would become the ultimate quarantine trend over the next few months. We've tried bagels, white bread, whole wheat bread, hot dog buns, and hamburger buns. Our favorite recipe is as basic as you can get and doesn't take much baking knowledge or skill. On the other hand, we've had a lot of bagel-and-bun-fails after spending a couple of hours waiting for the bread to proof, rise, and bake. One of my top bread baking hacks is to substitute bananas for eggs when you're making banana bread. It makes the bread extra moist and vegan! We're definitely going to continue baking bread and bagels once quarantine ends. 
2. Gardening
Cost: $8.99/bag of soil, $1.99/seeds
Difficulty: High
I am a plant and gardening addict. With over 125 indoor plants by February, I am itching to start seedlings indoors to prepare my outdoor vegetable garden. This year I spent $296.28 on soil, seeds, and patio-sized greenhouses. I've also only harvested a handful of tomatoes, two peppers, and two pots of lettuce. That said, I have a lot of vegetables that will be ready near the end of the summer. I have planters on my balcony, which I've always found harder to keep a happy garden in than planting directly into the ground. Temperamental weather, wind, and failed seeds can all contribute to a sad harvest. The learning curve for gardening is very, very steep, but always worth it. Your food just tastes better when you've grown it yourself. For beginners, I suggest starting with peas or pole beans, cherry tomatoes, and radishes. They don't take long to sprout and have a high yield.
3. Cross-stitching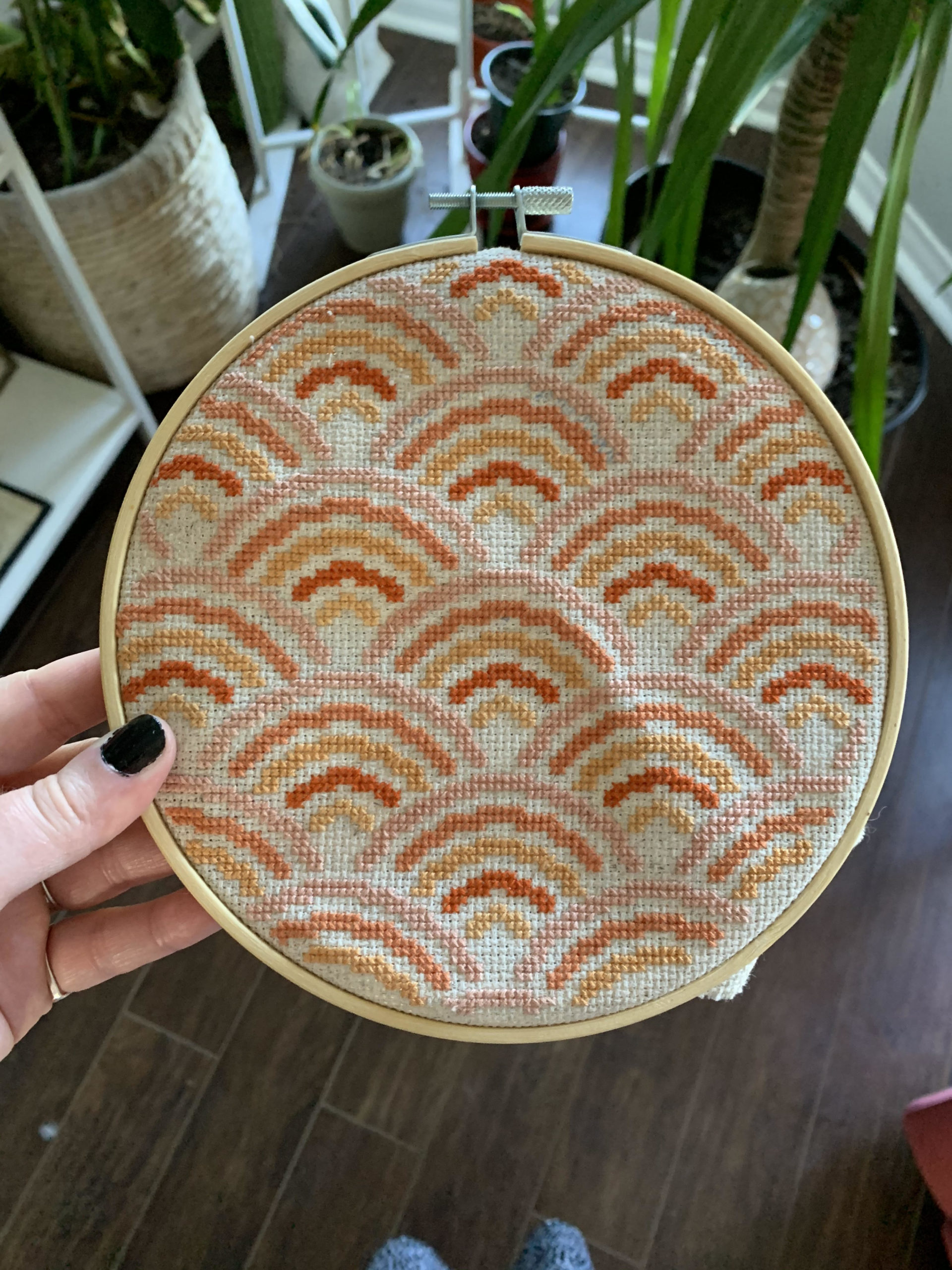 Cost: $170.90 for thread, hoops, and fabric to complete 10 patterns, $30 for 10 patterns
Difficulty: Low
I learned to cross-stitch when I was about six years old and revisited it during quarantine as a way to entertain myself during Real Housewife binges and the few road trips I've taken. The concept is simple: you create an image by making a series of crosses. This craft requires patience. I'm talking hundreds of hours to finish an eight-inch hoop. The options for patterns are endless, and I highly suggest browsing Etsy to find a pattern that appeals to you. I'm slowly making my way through the patterns that I have, but I know it'll be a while before they're reading for display. If you're looking for something meditative, I highly suggest taking up cross-stitching.
4. Candle Making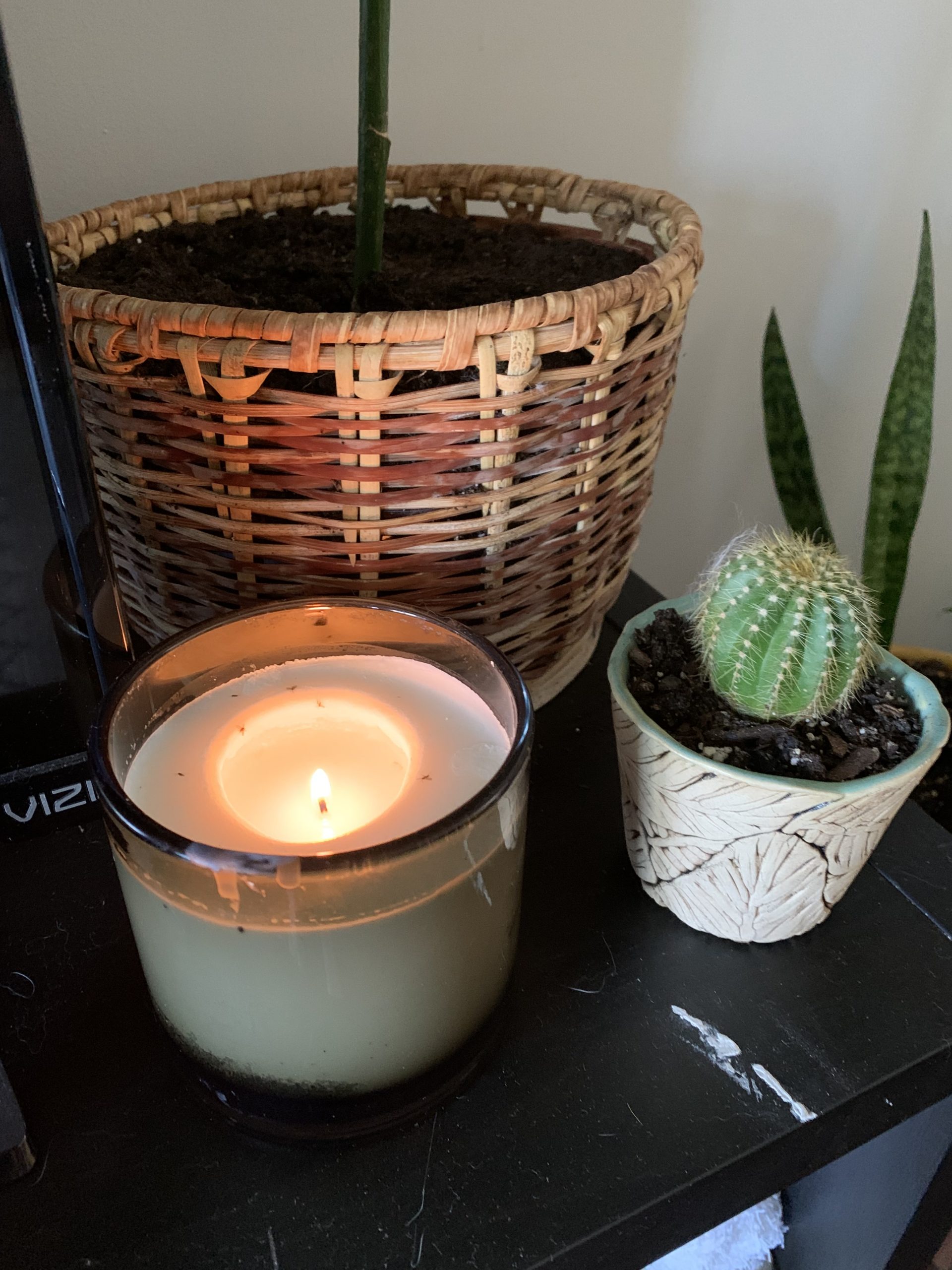 Cost: $28.99/50 wicks, 100 wick stickers, and pouring pot; $43.48/10lbs of soy wax; $32.99/18 5mL of essential oils
Difficulty: Low
If you were to ask me what I missed most during lockdown, it was pursuing Marshalls and Home Sense (the Canadian version of Home Goods) to smell candles. I burn candles all the time. My family calls it my daily seance. Making candles was as easy as melting the wax over a double boiler, adding in essential oils, sticking a wick to the empty candle holder, and pouring in the wax. I reused empty candle holders, mason jars, and plant pots to be sustainable. I was able to make 31 candles from the 10lbs of wax, working out to about $2/candle!! It will take a while to work out the exact recipe of essential oils needed to throw scents as well as I'd like, but I don't think I'm ever buying a candle again.
5. Macramé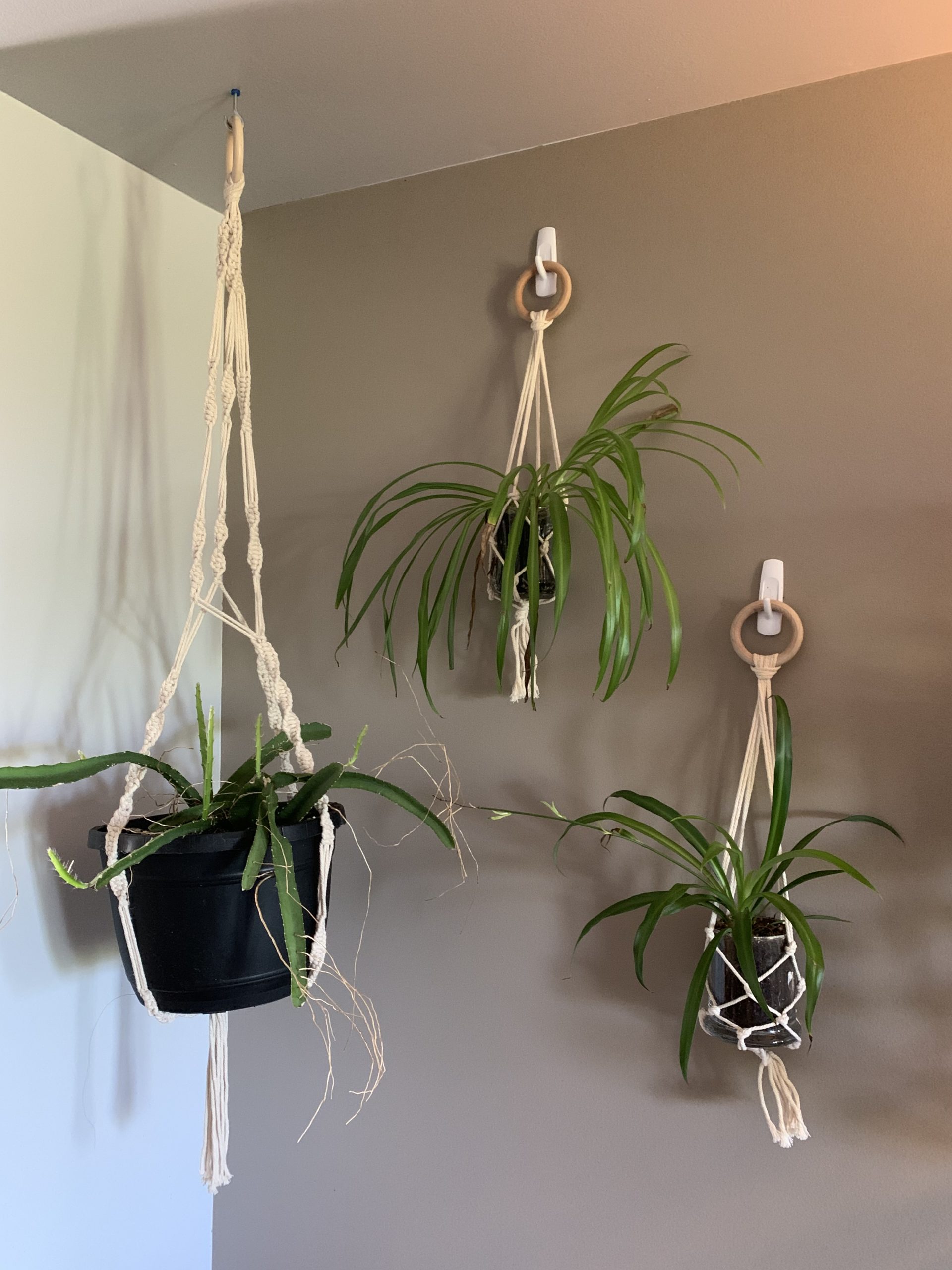 Cost: $13.99/100m of cord, $18.99/30 wood rings
Difficulty: Low
Remember making friendship bracelets out of twine at summer camp? Macramé is essentially the same idea: you use a cord to tie knots around itself and form an endless number of home décor pieces. I've stuck to plant hangers (see my obsession with plants above), which takes about an hour using a 3mm cord. You can find tutorials on basic knots on YouTube and Pinterest, and then adapt as you go to make the type of hanger you want. It's an easy, meditative skill you can use to impress all your friends and make room for more plants in your home. Somehow hanging ten new plants as opposed to putting them on shelves made my partner more amenable to me bringing them home.
6. Knitting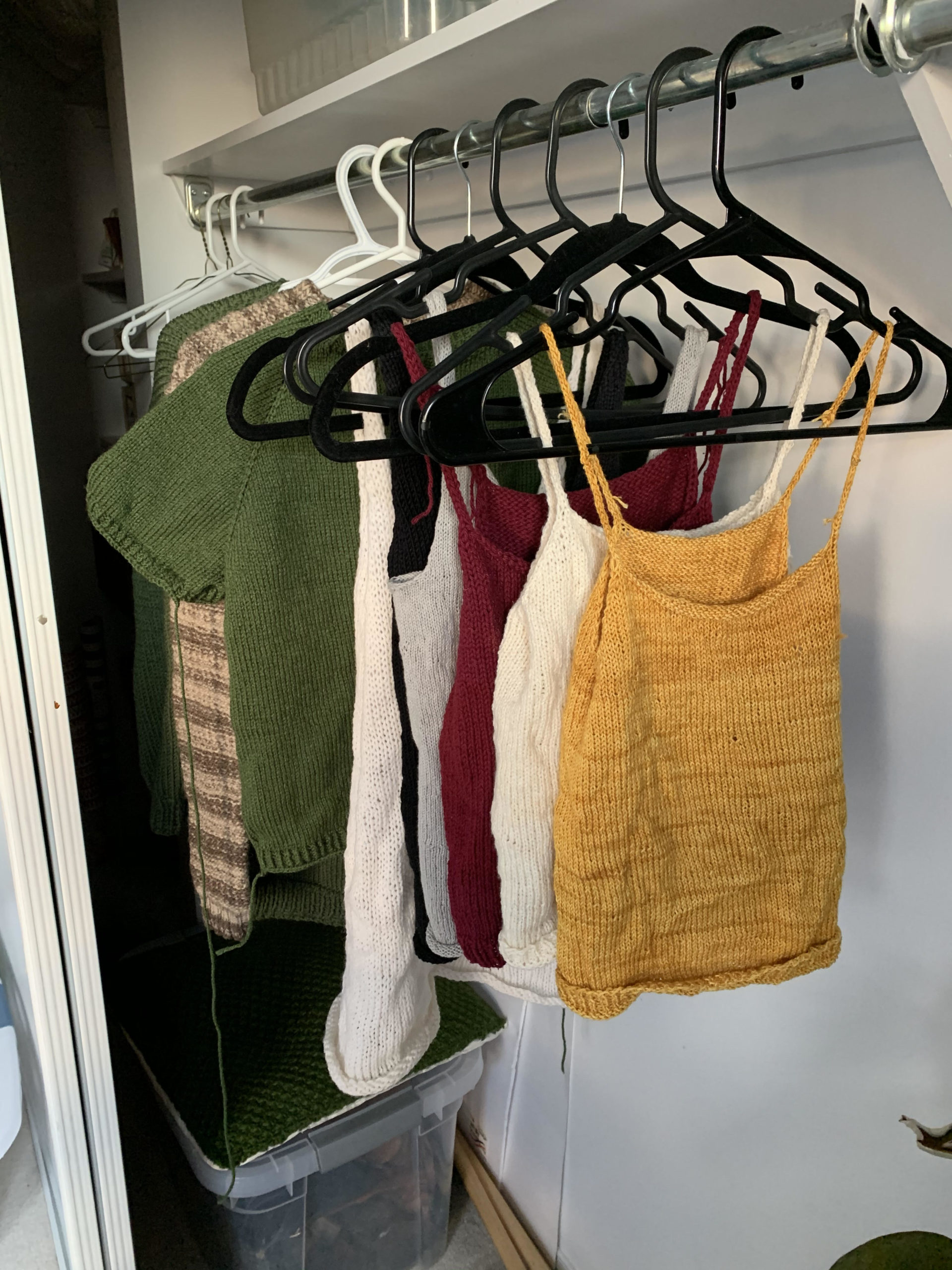 Cost: Average $12.99/skein of yarn, $11.99/pair of needles, $5/pattern
Difficulty: High
Full disclosure: I've been knitting since I was six, so I didn't actually try knitting during quarantine, I just had a whole lot more time to do it. The learning curve for knitting is pretty high, but once you get the hang of it is incredibly meditative and a great anxiety-reducing hobby. Knitting can be cheap, with supplies at the dollar store, but it can also be very expensive as you start falling in love with natural fibers and fancier interchangeable needles. What I love most about the knitting community is how willing we are to support other knitters in terms of purchasing patterns and yarns. Ravelry is the place to go to source patterns and yarn ideas. During quarantine, I finished ten tank tops and a sweater. Be warned: Knitting is not a speedy hobby, but man it is satisfying to be able to say you made the clothes you're wearing.
7. Painting
Cost: $7.27/5 brushes, $15.48/four rolls of tape
Difficulty: Medium
The master bathroom in my rented apartment had a bright purple accent wall, which didn't exactly jive with my black and green botanical bathroom décor. Too many hours on Apartment Therapy gave me the motivation to paint the purple wall away. I gave the whole bathroom a refresh with the paint I already had in my apartment. It took about three hours to tape and paint and another hour of touching up, but wow it made such a difference. Painting packs a punch in terms of impact for easy home improvement tasks. It's something I'll continue doing in the future.
What I hope people take away from living through this unprecedented time is that it's important to take time to slow down, express ourselves creatively, and develop hobbies that aren't focused on consumerism. There are more sustainable ways to live which are not only friendly to our wallets, but also to our planet.
Like this story? Follow The Financial Diet on Facebook, Instagram, and Twitter for daily tips and inspiration, and sign up for our email newsletter here.