Everything I Thought I Needed To Own In Order To Look Professional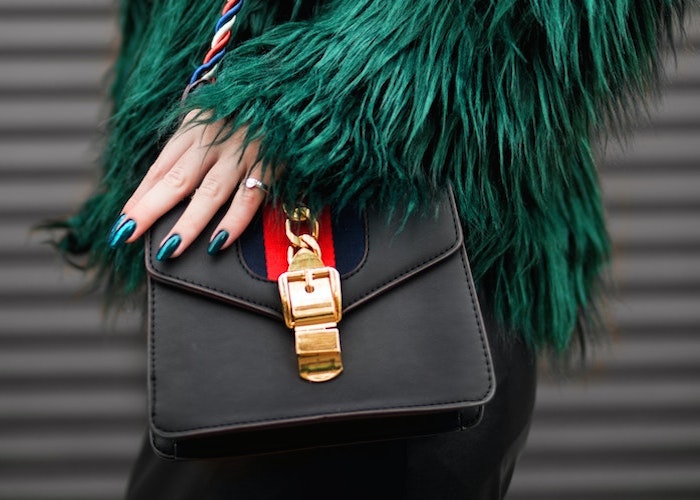 In my early 20s (which is almost a decade ago, at this point), I had a very distinct image of what looked like success. Success wore fitted clothing from J.Crew (nothing ever fit awkwardly, or was too loose or too tight on the limbs of someone successful), walked in stiletto heels without limping, and owned an expensive gym membership she used every day before work. Success didn't wait for sales or shop entire seasonal wardrobes from thrift stores and Forever 21. Success's kitchen had an island with marble countertops, a cherry red KitchenAid mixer, and the kind of coffee machine that has a frother attached.
I wasn't picturing wealth, per se. Rather, I assumed that a successful person could afford a well-curated life because they were skilled, confident, and never thought about their possessions as "rewards." A successful person's lifestyle and everything in it was a necessity. 
I followed my career idols like Eva Chen and Jenna Lyons on social media, observing the rituals they shared with their thousands of fans, the clothes they wore on days they deemed #OutfitOfTheDay, and snippets of their fun and fearless lives. I equated success with tasteful frivolousness, and I wanted to have that too. 
When I got my first full-time job as an editor in Los Angeles, I did everything in my power to emulate the powerful women I read about on the internet and in magazines, as well as the powerful women in my company. I bought my first Clare V. clutch (half off, used on Poshmark), asked for ridiculously expensive Balayage hair at the salon when I couldn't even pronounce "Balayage," and started assembling an arsenal of makeup that wasn't from the drugstore. 
I tried so, so hard to transform into the version of success I had in my head — but even when I was finally able to technically afford a designer bag without buying it second-hand, I realized that success is complex. And, not surprisingly, the harder I tried to look successful, the more I felt like an imposter, wasting her money on costumes, theater jewelry, and clown makeup. Here are some of the things I thought I had to buy in order to feel like I had my life together (and for everyone to know that I had my life together).
1. An expensive blazer
Nevermind that you can buy a nice blazer on sale from GAP that looks just as chic and fitted as one from a department store that'll set you back $300 — I wanted a pricey blazer for no particular reason other than that's what I thought successful women wore to the office. Even though I had my eyes on a particularly cool black blazer from Rag & Bone, I bought one almost exactly like it from the J.Crew Factory store online — for less than $70.
2. Louboutins
Louboutins, for me, were the ultimate symbol of elegance and rebellion. Sure, it's just a black stiletto heel, but it has that shocking pop of red one can see at the right angle. A couple of years ago I caved and bought a pair, putting the purchase on a credit card and trying my best not to think about the fact that I had just spent $700 on a pair of heels I would most likely wear once or twice a year (times I have worn these shoes in 2020: 0). They're extremely beautiful, but they're also extremely painful to wear if you're on your feet for longer than 20 minutes. I ended up buying a pair of black Sam Edelman heels (on sale) for about $80, and found I could actually walk in them without buckling. If you want a pair of Louboutins, I suggest getting them used.
3. A Fitbit
In 2017, every ambitious woman I knew had a Fitbit wrapped around her wrist. It supposedly showed she was disciplined, cared about her health, and was willing to invest in her body (this was also at the height of athleisure). Eventually, I figured out that pretty much every feature I needed for my lifestyle was already on my phone, and no product will sustainably motivate you to care more about your health. Shocker, right?
4. Furniture from West Elm
Up until two years ago, all my furniture was either a hand-me-down from my brother, or from IKEA/Target. I saw West Elm as an extension of the brand I wanted to become: effortlessly classy and a smart fusion between functionality and fun. Visiting the West Elm store for the first time, I'd sit on couches that were not only stunning but comfortable. Coffee tables with gold accents were highlighted with ornamental stacks of books and candles that served a purpose but were also gorgeous. Everything from West Elm was curated, and I thought that if I purchased my furniture from a store like that, then maybe my own home would look and feel the same way.
**Spoiler: You can find gently used West Elm pieces online, and you might find that you're better off scoring cool accent pieces from garage sales and vintage furniture shops.
5. Anything cashmere
Cashmere is soft, delicate, and basically useless if you actually want to be warm. I ended up buying a cashmere blend from Everlane during a sale, and I still have to layer a button-up underneath it during winter. It is cute, though.
6. A meal subscription service
"Oh, I don't cook, I don't have time," is something I'd hear so many wealthy people say. Instead, they'd do delivery or as a last resort, subscribe to a meal subscription service. This is honestly one of the biggest scams in the history of scams, but also I kind of get the appeal. It's time-consuming to put a list of meals and groceries together, and when you're really busy, you do want to be as efficient with mealtime as possible. I wanted to jump on the meal subscription service train because it looked so luxuriously convenient. Later, I had to review several meal kits and realized they took just as much time as any other dish you'd put together yourself — you just paid more for it.
7. Diptyque candles
I literally just wanted one of these $70 candles so I can burn the wax down and use it as a glass holder for lipstick. I don't even think these smell any better than the candles you can buy from P.F. Candle (or honestly even some of the Hearth & Hand candles from Target). You are purely paying for that fancy-ass label — plain and simple.
8. Cheese from an actual cheese shop
Along with knowing the names of cheeses aside from "cheddar," "cheddar jack," and "parm." Not that there's anything wrong with nice cheese — nice cheese is very delicious, but you can buy them from Trader Joe's and not spend a fortune.
9. $20+ wine
You know, just in case a guest pops by unexpectedly and expects to be poured a glass of elegant, aged wine that won't leave them with a headache the next morning. Honestly, nobody cares about the brand of wine as long as it's not cooking wine, and if they do, get new friends.
10. The latest phone
The latest iPhone (and latest tech in general) was something I thought prosperous folks invested in every single year (even though newly-released phones can be close to $1,000), even if their current phone functioned just fine. The camera is always better, the features are always more intuitive, and the design is consistently more sleek than the last. But honestly, I have never had it in me to drop that kind of money every single year unless I needed to.
11. La Mer face cream
Pretty much every celebrity will list a La Mer product as their "must-have," and I've heard from beauty editors that it's "life-changing." I coveted a jar of my own for years and finally got one for free from one of the beauty editors I used to work with. It's gorgeous and smells like a decadent and palatable version of baby powder, but…it's…not…that…great? Ever since I read about Sunday Riley's fake reviews on Sephora, I've been much more suspicious of overpriced skincare and beauty products. Some are worth it, but never for $300.
Ultimately, being able to separate material goods from my self-worth was the best thing I could possibly do for myself. Now my version of success includes having a high-yield savings account, financial stability, and knowing the value of what I already own — and being forever grateful for it.
Gina Vaynshteyn is an editor and writer who lives in LA. You can find more of her words on Refinery29, Apartment Therapy, HelloGiggles, Distractify, and others. If you wanna, you can follow her on Instagram or Twitter.
Image via Pexels
Like this story? Follow The Financial Diet on Facebook, Instagram, and Twitter for daily tips and inspiration, and sign up for our email newsletter here.