Everything You Need to Do Before Signing a Lease for An Apartment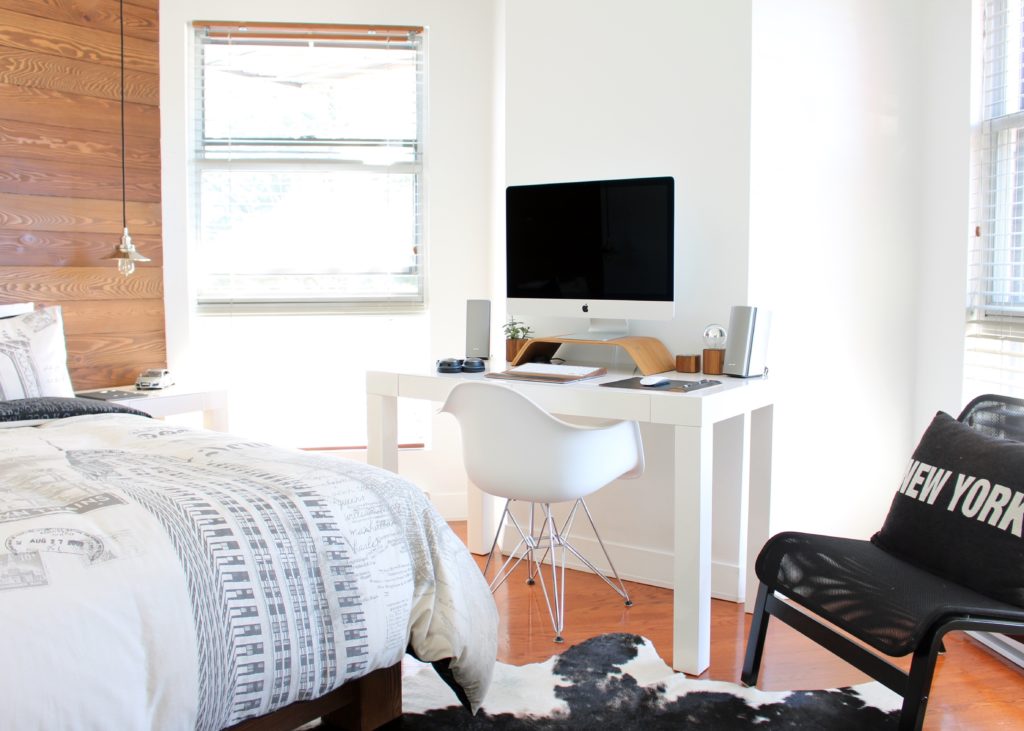 This article is brought to you by CreditRepair.com. 
The first time I decided to move out of college housing and into a proper apartment, I was more than a little unprepared. While I managed to fumble my way through the experience, it could have gone a lot more smoothly. Now that I've had several years of experience renting, here is my list of everything you'll need to prepare, plan for, and have on hand before you sign a lease for an apartment. 
Having a solid credit score opens more doors in life than you may think — like having your application approved on your dream apartment. With the help of CreditRepair.com's team of experts, staying on top of your credit report is easier than ever, so you can focus on reaching your goals.
Download our free apartment search checklist here.
Step #1: Estimate your monthly housing budget.
The very first thing you need to do is figure out what your real budget is for renting an apartment. Every apartment I've lived in has required that the adults living in the unit have a combined gross income of 2.5 to 3 times the monthly rent, but the price quoted on an ad or property management site is just the starting point for your calculations. There are so many other things that you should take into consideration when you're figuring out how much you can spend on your housing:
Utilities.

Sometimes the rental price will include utilities, such as water and garbage pickup. Other times, the apartment complex will split those bills among all the units to be paid on top of rent. Utilities like gas, electricity, and cable/internet will typically be under your name. 

Parking.

About half of the apartment complexes I've lived in included one covered parking spot as part of the monthly rent. Everywhere else, I had to pay a fee on top of rent for a parking spot. 

Pet fees.

If you have pets, you'll likely need to factor in an additional monthly fee on top of the normal rent price. Apartments vary a lot on how this is handled, so research the area you're looking to move to in order to get a better idea on these prices.
Renter's insurance.

Get quotes for renter's insurance so you have an idea of how much it will cost for personal property, liability, and loss-of-use coverage. Many landlords require proof of coverage before or shortly after you move in. Even if it's not required, you really should consider getting a policy anyway to protect yourself and your belongings.

Other miscellaneous fees.

My last apartment complex allowed me to pay rent online instead of with checks — for a small billing and processing fee.
Once you have accounted for all those items, you'll have a better idea of what your housing every month will really cost you. Then you can start searching for apartments that are truly in your price range.
Step #2: Plan for one-time costs.
Once you've figured out what you can afford to spend on housing every month, your next step is to estimate what your one-time costs are going to be. You need to have additional cash on hand whenever you start apartment hunting so you can pay various fees and deposits:
Application fees.

Many landlords run background and credit checks on prospective tenants. I've been charged anywhere from $25 to $50 whenever I've submitted a rental application. 

Security deposit. Laws regarding how much can be charged for a deposit vary, and what you are charged may also be influenced by how good your credit score is and whether or not you've ever been evicted.
Pet deposit.

Pets typically require a deposit on their own on top of the security deposit.

Last month's rent.

The apartment complexes I've lived in have been split on whether or not they require last month's rent up front on top of everything else. If you're asked for this, it will be on top of the first month's rent you'll be required to pay before you move in.

Move-in fees.

I've had some apartments charge me move-in fees or lease initiation fees and others that didn't; this will likely depend on your local laws and rental market. 

Moving costs.

Whether it's packing supplies, rental vehicles, movers, or pizza to thank your family/friends, moving from one place to another will still cost some cash.

Utility deposits.

Sometimes utility companies will require you provide a deposit when setting up an account for the first time (often added to the first bill). 
If you're prepared to cover these one-time costs, you'll have a much smoother apartment leasing experience. The first time I went apartment hunting outside of college housing, I was taken by surprise by a lot of these items. 
Pro tip: If you're facing a high-security deposit because of a low credit score, it may be wise to hold off on the application process until you've sufficiently improved your credit score. And if your score is low due to inaccuracies or negative claims, CreditRepair.com can help.
Step #3: Prepare your documents and information.
The documentation and information landlords ask you to provide when you apply can vary. All of it is generally designed to prove either your identity, income, and/or rental history. The landlord will likely expect you to have the following when you apply:
Photo ID.

Many apartment complexes will ask for your photo ID in order to tour any units, so make sure you have one with you. If you decide to submit an application after a tour, you will need some way to prove who you are, and a photo ID is a commonly accepted option.

Proof of income.

Recent paystubs are a pretty common way to prove your income. If you're self-employed or have irregular income, the previous year's tax returns are also a good way to demonstrate you meet the apartment's minimum income requirements. Some places may want to verify your employment by contacting your employer.
Previous addresses or reference letters.

I've never needed to provide reference letters from former landlords, but I have been required to provide the addresses of the last three places I've lived at or all the addresses I've lived at for the last five years. Consider these the equivalent of a reference check when you are job hunting.

Personal check.

If you decide you like the place enough to apply, you'll need a check to pay your application fee. Some landlords will also let you pay with cash or a card, but I've always been able to pay by check. 

Credit history check. Landlords will typically check your credit history on their own. 
You might want to take all of this with you if you live in a fast-paced rental market or need to sign in a hurry. That way, you can apply and/or sign a lease on the spot. If you're on a more relaxed timeline, you can get in touch with the apartment complex later and ask what documentation they want you to provide.
Another thing you may want to research at this point is how to get a cashier's check or money order. While many apartments accept personal checks for application fees, they may not for first/last month's rent, security deposit, move-in fees, and other one-time costs. At the last apartment I was in, the landlord insisted on a cashier's check or money order to cover everything when it came time to sign the lease.
Step #4: Tour apartments — with your application documents ready to go.
Once you've figured out the money side of things and squared away your documentation, you'll want to start checking out potential apartments. There are a couple of items you'll want to bring with you in addition to a photo ID:
Phone or camera.

Take pictures of the units as you are apartment hunting. This is especially helpful if you are touring several apartments in a short span of time. It's easier to keep track of what each apartment looked like and what features they had when you have pictures to review. 

All of your questions.

Before you go out to look at an apartment, make sure you have a list of questions to ask the landlord or property manager. You'll want to ask about utilities, pet deposits/rent, amenities, accepted payment methods, policies regarding subleasing/breaking a lease, (overnight) guest policies, grace periods for payment, and so on. Ask about anything that's important to you, like the nearest bus stop or grocery store, what school district the apartment is in, and how to submit maintenance requests. Be sure to ask all of these questions at every apartment so you can thoroughly compare your options — and write the answers down!
You can make searching for your next apartment a much easier experience if you do all your planning and preparation ahead of when you need to sign a lease.  If you've accounted for everything I've listed, you should be good to go — just make sure to double-check with the apartment complex on what exactly you'll need to bring with you when it's time for you to sign the lease. Good luck on your next apartment hunt!
Be sure to download our free apartment search checklist before you start your journey!
Think CreditRepair.com could help you? Check it out to learn how they can help you work to repair, build, and maintain your credit score by working directly with the credit bureaus to challenge any unfair, inaccurate or unsubstantiated items on your credit report, and teaching you how to understand both your own score and the rating system.
Audrey is an editor and writer who spends her free time on young adult books and video games. You can reach her on Twitter or through her website.
Image via Unsplash
Like this story? Follow The Financial Diet on Facebook, Instagram, and Twitter for daily tips and inspiration, and sign up for our email newsletter here.