Exactly How I Made $36K By Style Blogging As A Side Hustle Last Year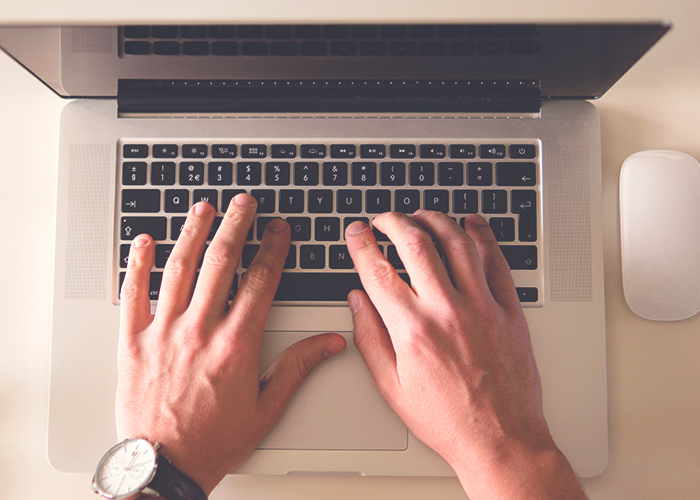 Have you ever read a book that changed your life? I've only read one that actually changed my life: The 4-Hour Workweek
by Tim Ferriss. Like many other millennials, I fell in love with the idea of becoming not only financially independent, but also location independent. I wanted passive income. I wanted early retirement. I wanted to work for thirty minutes a day from my laptop on a beach in Southeast Asia.
Who wouldn't, right? But, in pursuit of this dream, I've learned something: This lifestyle is sort of a fairytale.
Over the past three years, I've realized that I don't really want a four-hour work week. I'm not overly worried about how many hours I put in during a given week — at least not right now. Maybe that will change if I have kids, but right now, I just want freedom and control over my time. I wanted to find a way to generate revenue that wasn't so dependent on me being there in the flesh so that I could do it on the side.
That's why I started my online business, The Modest Man. I used to call it a blog, but it's really a resource for shorter men who want to dress sharp, feel confident and live well. I published my first article in April 2012 and wasn't sure if the site would ever generate real, full-time "quit your job" revenue until this year.
Here's a quick snapshot of 2015:
Unique Visitors: 791,648
Total Revenue: $36,566
I know that after taxes, it's not too much, but it's proof that the concept works, which is why I chose to leave my 9-to-5 at the beginning of this year (2016). This means from 2012-2015 it was still my side hustle. I did freelance marketing work last year to keep the lights on at Modest Man Headquarters (aka my apartment). Even with the freelance gigs, I didn't make as much as I would have if I'd been working a salaried full-time job, but let me tell you, I am in love with the entrepreneurial lifestyle.
I got to travel a lot this year. From a 10-day hiking trip to weekend getaways and industry conferences, I said "yes" to so many opportunities I might've had to turn down if it weren't for my mobile business. Of course, I brought my laptop
with me on these trips. I kept up with email and even created content when possible. But that's the great thing about my business. There's no distinct barrier between work and play, because I love my work enough that I feel like I live outside these norms. I haven't had a case of the Mondays in months. Needless to say, I'm hooked!
How I Make Money
I started posting income reports on The Modest Man for two reasons. First, some people are curious about if and how my business makes money. I wanted to answer these questions and provide as much transparency as possible. Second, I want to inspire other would-be entrepreneurs to take action. As you can probably tell by now, I'm pretty sold on this lifestyle, and I want other people to understand what's possible and realistic, and what isn't.
If you want the nitty-gritty on how I make money blogging, you can check out this post. Basically, revenue from the site falls into three categories:
Advertising

Affiliate Commissions

Digital Products
I'll briefly describe each category and share a lesson I've learned about it over the last three years.
Revenue Stream #1: Advertising
Advertising brings in roughly 60% of the total revenue. This includes banner ads and sponsored content (blog posts and emails).
Here's what I've found to be the best strategy for selling ad space:
Trying to sell it directly (i.e., a company pays you to place a banner ad on your site), and filling any unsold inventory using an ad network. I've had more luck with actual ad management companies (AdThrive, Federated Media, Sovrn, etc.).
If you sell directly, try to sell sponsorship packages. Instead of offering a 30-day banner ad on your site's sidebar, put together a premium package that includes a blog post, email, social media promotion and a banner ad. And I recommend charging more than you think you should. You can always negotiate down, but you can't exactly negotiate up.
Revenue Stream #2: Digital Products
I only sell one digital product right now: The Modest Man Style Guide. It sells one-to-two copies per day, and it's pretty consistent (which is nice).
Here's what I've learned about selling digital products:
You need to make sure they're extremely high quality. The content and design should be top notch, and the sales should reflect this. The original version of my guide didn't do nearly as well as the new and improved version, which was better quality.
Better content + better design + better name = better product = more sales
If no one is buying your ebook, it might be because they don't like the way it looks or its title, so I recommend experimenting with different names, designs, and prices.
Revenue Stream #3: Affiliate Commissions
Affiliate marketing can be a huge part of your online business. I know some bloggers who make five figures a month from the Amazon Associates program. For me, it's nice to have, but I don't think it will ever outpace advertising or digital product sales.
Here's one thing I've learned about affiliate marketing:
Amazon converts really well. The only downside to Amazon is that their tracking cookie only lasts 24 hours, but their conversion rate makes up for this. I haven't had much luck with big affiliate networks, but I think most niches have a handful of affiliate program that are very profitable. You just have to experiment a lot and try to find the ones that work for you.
How I Plan To Keep Making Money
My overarching goal for this year is to double traffic and revenue (from last year). I want my business to generate a consistent $10k/month. To get to that point, I need do a few things:
Get my finances in order. I need to take a salary instead of drawing what I need from the business, keep better records, and hire a tax accountant.

Redesign the website. If it looks half as good as TFD, I'll be a happy camper.

Hire some help. I'm not ready for a full-time employee, but I definitely need help with email, social media, photo editing and content creation.
This means investing a lot of the revenue right back into the business, which I'm convinced is crucial for growth. Honestly, it's harder to let go of responsibility than money. I like creating content, controlling my inbox and even touching up my own amateur photography. But that doesn't mean I'm the best person for the job and trying to go it alone isn't sustainable.
So… What's Your Side Hustle?
If you already have a blog or online business and are looking to monetize, I hope you found this post useful. There are so many ways to grow and monetize a website, and everyone's experience is unique. In my opinion, the key is to stick with it for long enough to see some motivating results. If you don't have a side hustle, I think blogging is a great place to start. Even if you don't have or want your own site, you can write for other sites to start getting your name out there, which is the first step toward getting paid. If writing isn't your thing, find another side hustle to pursue. It's fun, addictive, rewarding, and it might just change your life.

Brock runs The Modest Man, a style resource for shorter men. He also enjoys practicing Brazilian jiu-jitsu and making breakfast for dinner. You can connect with Brock on Twitter.
Image via Pexels