Exactly How We Threw A Classy Dinner Party For Six For Under $50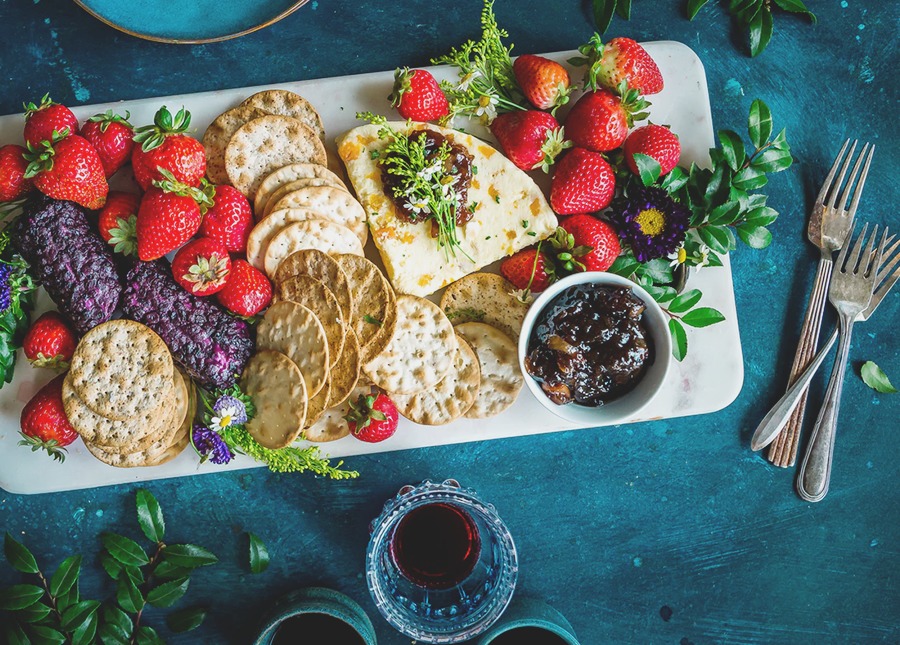 A dinner party for six is anything but a party. Try balancing the schedules and dietary whims of six adults in Los Angeles, and sometimes it can seem like more of an expensive migraine inducer.
Still, as budget-conscious new parents desperate for adult interaction, my wife Laura and I like the idea of entertaining at home. No childcare costs, and we can avoid a pricey restaurant tab (and parking fees). According to one estimate, a mid-range "nice" dinner for two in L.A. costs $56, though that seems super low to me.
Laura and I also like challenging ourselves to near-impossible feats and recently decided to test if we could host a classy dinner party for just $50. We only have four friends left who tolerate our child-dominated/last-minute-cancellation lifestyle, so our headcount was locked in at six.
It wouldn't be easy — we weren't talking about a menu of instant ramen and PBR — but it'd be a good experiment ahead of the holidays. To make it work, we'd need to borrow some of the strategies that got us through my wife's lean grad school years: comparison-shop, DIY as much as possible and a few other savings tricks.
Our first move was to pick an entree. A native Seattleite, I chose salmon — usually reasonably priced and more sophisticated than chicken. We did some research on the cheapest place to buy and landed on Costco, where we picked up nearly 3 pounds of Wild Steelhead Salmon for $25.89 ($8.99/pound). That's a great deal, considering you can easily pay up to $17/pound for salmon, according to Consumer Reports.
Before leaving Costco, we bought a gorgeous floral arrangement for just $8 to use as a table centerpiece—easily a $35 savings compared to the overpriced but conveniently located flower guy we only hit when we're late to a funeral.
Our next stop was Trader Joe's, where I can always count on finding cheap staples and produce. We grabbed two bundles of asparagus for $3.89 each and a box of Israeli couscous for $1.99. I wasn't sure this would be a hit, but we decided to give it a shot.
Many of us know Trader Joe's Charles Shaw line of wines, famously dubbed "Two Buck Chuck," thanks to its original $2 price tag — though, oddly, it now costs $2.99 a bottle in most places. (Turns out, this is a retailer trick — research has shown that the left digit on a price tag disproportionally affects our perception. So $2.99 still feels like $2, even though it's basically $3.)
While that's a pretty typical go-to budget wine, a quick Google search suggested we could find better quality options at Aldi, where we bought a Moscato and Merlot for $2.89 each. Bonus: If you go for lesser-known brands, you can pretend they cost you more than they did. A well-designed label goes a long way.
Our next task was actually preparing the dinner. In lieu of buying a pricey, premade marinade for the salmon, I opted to make my own rub from scratch, using ingredients I already had in my cabinets. Anytime you can make spice mixes, rubs or salad dressings at home, it can save you. (One spice bottle goes a long way.)
All in all, it was a great evening. The fish came out great, and the asparagus was delicious. The couscous was less of a hit. But here's a free tip: Upon serving anything you aren't certain about, refer to it as "Granny's Famous Recipe." No one can criticize your cooking if you're paying tribute to your late grandma! In a final cost-cutting measure, we'd asked another couple to bring dessert and wrapped up the meal with blueberry crumble pie.
Budget breakdown:
Food:$35.66
Flowers: $7.99
Wine: $5.78
In total, we spent $49.43 on the evening — and our guests were none the wiser. When I asked them afterward if it was obvious we'd hosted the party on a budget, they were impressed at how much we were able to get for the money and equally thrilled they didn't have to feel indebted to us for a pricey night out.
Now just one question remains: What can I buy for 57 cents?
Read the original article on Grow. Copyright 2018. Follow Grow on Twitter.
More from Grow:
Image via Unsplash